Hello and welcome to the 234th installment of the SWD.
Military events/news are listed below by the governorates:
Aleppo:
Turkey-backed Free Syrian Army in the northern Aleppo arrested an Islamic State's commander/leader from the city of Al-Raqqa. Mohammed al-Zaher (Abu Musab) was arrested as he tried to flee to Idlib.
Idlib:
Hayat Tahrir al-Sham dismantled an improvised explosive device planted on the road between Sarmada and Kafr Dariyan.
Russian Air Force carried out more than 16 air raids over Abu al-Duhur area.
Hama:
Syrian Arab Army backed by allies reportedly took control of Al-Shakusiyah village and the farms west of Abu Lafa, from the Hayat Tahrir al-Sham. However, Hayat Tahrir al-Sham's director of media relations, Imad Eddin Mujahid, denied any SAA's advances by saying that they've tried to progress, but their attacks were repelled. The aforementioned localities should be treated as disputed, at least until either side can provide evidence of the control.
Russian Air Force targeted Abu Dali, Marijeb Jamlan, Al-Ruwaida, and Tal al-Khinizir.
Deir al-Zour:
Syrian Democratic Forces captured Al-Rughay, Adil, and Al-Kawashir from the Islamic State.
Syrian Arab Army fully captured the city of Deir al-Zour from the Islamic State. The capture was confirmed by the Syrian Ministry of Defense and the General Command of the Army and Armed Forces.
Islamic State claimed destruction of a Syrian Arab Army's position near the T-2 airport after the mortar shelling.
Several unconfirmed reports indicate that the Syrian Arab Army's units crossed into Syria through Al-Qaim and have started attacking IS-held areas east of Al-Bukamal (Albu Kamal).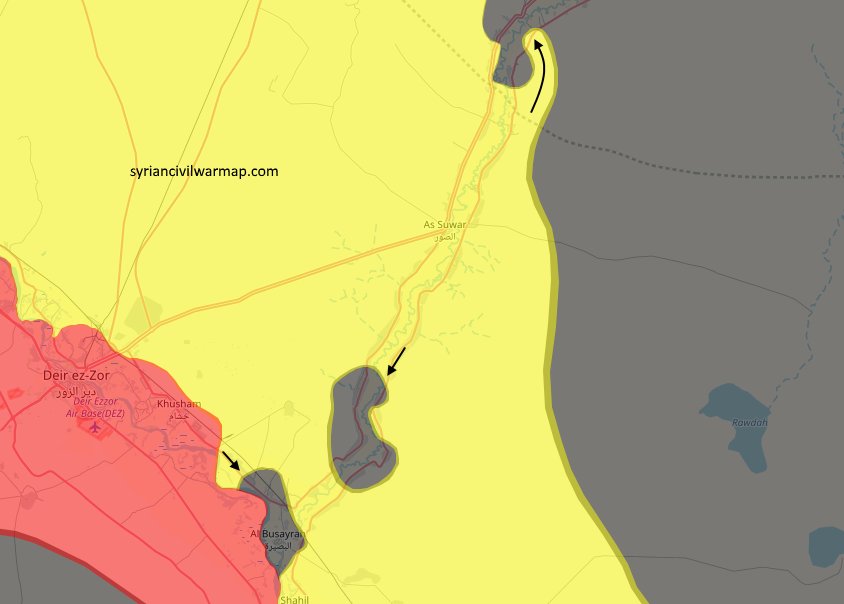 Situation east of Deir al-Zour. Source: Syrian Civil War Map
Quneitra:
Jaysh Muhammad and Jabal al-Sheikh operations room launched a new offensive against the Syrian Arab Army and allies. The offensive's aim is to connect Beit Jinn with the mainland rebel territory in Daraa and Quneitra. The offensive caught SAA by the surprise and achieved its goals very early, by capturing Qasr al-Nafal area and Tel al-Hara. However, during the day, SAA & allies managed to recapture all of the lost territory, returning the status quo, at least for now.
Rebel offensive started with a VBIED attack on Hader, which killed 13 and injured 23 people. It is unknown how many of the individuals affected by the explosion are military personnel.
Hayat Tahrir al-Sham's commander and one of the commanders of the current rebel offensive in Quneitra, Sayel Hassan al-Air (Abu Zeid Azre), was killed at the outskirts of Hader. Al-Air was from Izra in Daraa, and the rebel "Daraa Martyrs Documentation Office" confirmed his death. The same office confirmed death of one more rebel fighter from Daraa belonging to the Free Syrian Army.
Death tolls from today's rebel offensive have been estimated at around 10 for SAA & allies and eight for the rebel forces.
Current situation around Hader. Source: Global Event Map
Iraq
Anbar:
Iraqi Joint Operations officially announced the capture of Al-Qaim, Al-Karablah, Saada, and Husaybah border crossing from the Islamic State. Battle of Al-Qaim was expected to last longer, but Islamic State's fighters retreated north towards the desert with minimal resistance. Islamic State's Amaq Agency released a statement claiming destruction of a mine-resistant ambush protected Cougar vehicle, and two other vehicles during the confrontation with the Iraqi forces south of Al-Qaim.
Several sources suggested that the Syrian Arab Army & other allied units have been assisting the Iraqi forces in the western Anbar. After the capture of Al-Qaim, the next obvious step for these units is Al-Bukamal (Albu Kamal).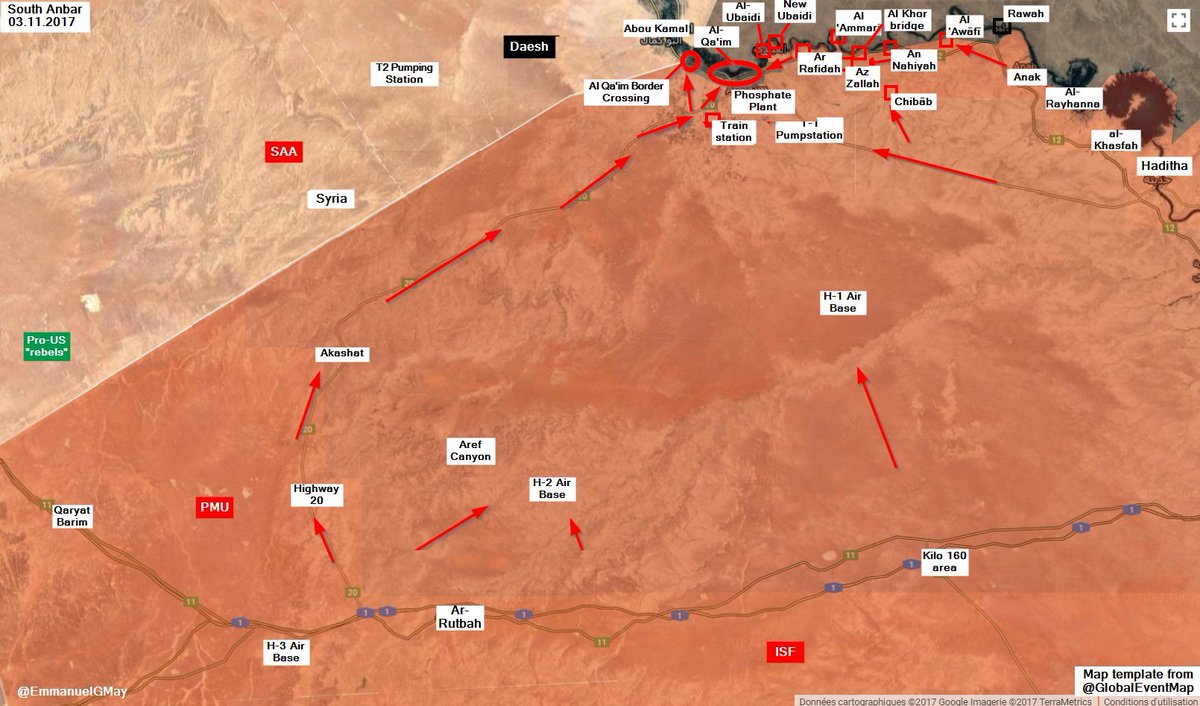 Situation in the western Anbar. Source: Emmanuel
CJTF-OIR

:
On the 2nd of November 2017 CJTF-OIR has conducted nine strikes in Syria. CJTF-OIR's main focus in Syria at the moment is Deir al-Zour region where they did six strikes supporting SDF's operations against IS destroying an IS line of communication, a VBIED factory and an IS headquarters.
Other areas where three strike occurred are Al-Bukamal (Albu Kamal) and Al-Shaddadi destroying an IS line of communication, an IS vehicle and damaging a heavy weapon. Full report on CJTF-OIR strikes conducted in both Syria & Iraq can be found here.
Amaq Agency:
Other:
Intellectual credited property used may vary from an edition to edition.
Feel free to voice your opinion in the comments section below, constructive criticism is welcomed.
For those of you interested, you can follow us on an official Twitter account @SyrianWarDaily, or me personally on my biased twitter @joskobaric where I occasionally tweet some things.