Hello and welcome to the 233rd installment of the SWD.
Military events/news are listed below by the governorates:
Aleppo:
General Commander of the Syrian Democratic Forces' Manbij Military Council, Mohammed 'Abu Adel', was wounded in an assassination attempt, which targeted his vehicle with an improvised explosive device. The incident occurred last night close to Al-Jazira roundabout in the city of Manbij.
Ahrar al-Sham in Northern Aleppo joined Al-Jabhat al-Shamiya, as a part of establishing Faylaq al-Jabhat al-Shamiyah. The new group would be under the command of the Syrian Interim Government and its Ministry of Defense. Faylaq al-Jabhat al-Shamiyah would be one of the three Faylaq (Corps) under the command of the Ministry of Defense, along with Faylaq al-Sultan Murad, and Faylaq al-Jaysh al-Watani.
Syrian Arab Army, backed by allies opened a new front, southwest of Khanaser, against the rebel forces. SAA was able to capture Al-Rashidiyah, Hijarat Kabira, Hijarat Saghira, and Jubb Awad. However, rebels regrouped in the area and led by Hayat Tahrir al-Sham, reportedly recaptured Al-Rashidiyah and both parts of Hijarah. Furthermore, HTS reportedly targeted a technical mounted with a 14.5 mm machine gun.
Situation southeast of Khanaser before the rebels' counterattack. Source: Step News Agency
Hama:
Hayat Tahrir al-Sham captured Talal al-Suruj, Al-Khazan, Abu Hariji, and Aniq from the Islamic State, after the latter's failed attack last night. HTS reported to have killed six IS' fighters and wounded several more.
Free Syrian Army's Al-Firqa al-Wusta (Central Division) released a statement reporting the destruction of Syrian Arab Army's tank with a TOW missile, at the outskirts of Al-Shakuziyah.
Homs:
More info is available on the newly-formed Jaysh Homs, commander of the group is Essam Juma. Juma stated that Jaysh Homs operates in both Northern Homs and Southern Hama. Main area of the group's operations is the city of Talbisah, but it also has presence in the other areas of the pocket.
Jaysh Homs has strong relations with the 'Northern Homs Countryside Operations Room', as several formations of the group are a part of the operations room. The operations room, which was formed in the October of 2015, consists of several prominent groups in the area, such as; Faylaq Homs, Ahrar al-Sham, and Hayat Tahrir al-Sham.
Juma concluded by saying that Jaysh Homs seeks to achieve justice, provide security, by unifying the rebel groups, and wishes to cooperate with 'revolutionary institutions' and relief organizations.
Deir al-Zour:
Syrian Arab Army made big advances against the Islamic State in the city of Deir al-Zour, capturing Al-Hamadiya, Al-Baajn, Abu Abed, and Sheikh Yaseen districts, as well as advancing in Al-Ardi and Al-Rashidiyah. Several sources reported complete capture of Deir al-Zour from the Islamic State, but these reports should be taken with a grain of salt, until confirmed by the Syrian Ministry of Defense.
Syrian Arab Army and allies made even more advances in the desert towards the Al-Bukamal (Albu Kamal). This set of advances sets SAA at approximately 45 kilometers (28 miles) away from the city of Al-Bukamal.
Situation in Deir al-Zour, HD version of this map can be found here. Source: Muraselon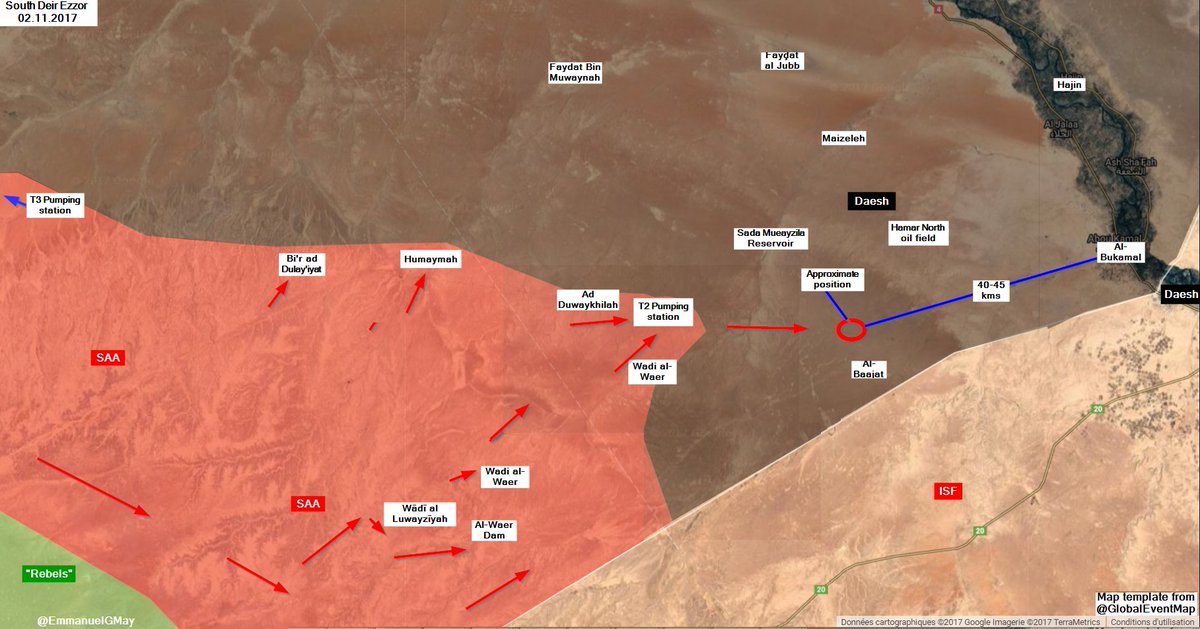 Situation in T-2 – Al-Bukamal region. Source: Emmanuel
Damascus:
Syrian Arab Air Force conducted three raids over Jaysh al-Islam's stronghold of Douma. The airstrikes reportedly targeted residential areas, killing four civilians and injuring several others. Mosques across the Douma called for the cancel of Friday's prayers due to the bombing of the city.
Ain Terma was also the subject of today's attacks by both the Syrian Arab Army and the Air Force. Several surface-to-surface missiles and an airstrike targeted the locality, injuring one civilian. Two airstrikes also hit Zamalka.
Islamic State's Amaq Agency released a statement claiming that IS' sniper killed two Syrian Arab Army's soldiers in Al-Tadamun neighborhood, southern Damascus.
Iraq
Salah al-Deen:
Islamic State reportedly conducted two suicide attacks against the Iraqi forces, north of Baiji, according to the Amaq Agency.
Diyala:
Amaq Agency released a statement claiming Islamic State's attack killed six "Shiites" and wounded five more in Brawanat al-Saghira area, Al-Muqdadiya.
Anbar:
Islamic State destroyed Iraqi Army's tank and a bulldozer with anti-tank guided missiles, north of Akashat region, near the Iraqi-Syrian border, according to the Amaq Agency.
CJTF-OIR

:
On the 1st of November 2017 CJTF-OIR has conducted five strikes in Syria. CJTF-OIR's main focus in Syria at the moment is Deir al-Zour region where they did seven strikes supporting SDF's operations against IS destroying a fighting position and damaging a line of communication.
Other areas where two strike occurred are Al-Bukamal (Albu Kamal) and Al-Shaddadi destroying two IS vehicles. Full report on CJTF-OIR strikes conducted in both Syria & Iraq can be found here.
Amaq Agency:
Afghanistan:
Yesterday, Islamic State's improvised explosive device killed a leader of a militia loyal to the Afghan government, as well as wounded three other elements.
Other:
Intellectual credited property used may vary from an edition to edition.
Feel free to voice your opinion in the comments section below, constructive criticism is welcomed.
For those of you interested, you can follow us on an official Twitter account @SyrianWarDaily, or me personally on my biased twitter @joskobaric where I occasionally tweet some things.