Hello and welcome to the 232nd installment of the SWD.
Military events/news are listed below by the governorates:
Aleppo:
Jaysh al-Ahrar's commander, Abu Saleh Tahan survived an assassination attempt at Hayat Tahrir al-Sham's checkpoint close to Al-Barqum, in the southern Aleppo countryside. Even though, HTS has been accused of attempting to assassinate Tahan, the group's official statement denied any involvement in the act and said that they started investigating the event to find out what happened.
Jaysh al-Ahrar was formed in the December of 2016, and Abu Saleh Tahan played an important role in the formation of it. Two months ago, Jaysh al-Ahrar split from the Hayat Tahrir al-Sham due to an internal dispute. The most notable group in Jaysh al-Ahrar is Liwa al-Tamkeen, which controls the city of Binnish and its surroundings.
Hama:
Hay'at Tahrir al-Sham's Ibaa News Agency reported that the group repelled Syrian Arab Army and allies' attacks on Talat Umm Khazim and Al-Mushrifa. Additionally, HTS reportedly destroyed two SAA's tanks with TOW anti-tank guided missiles, one of the tanks was destroyed south of Abu Dali, and the other one on Talat Sarha front. Ibaa News Agency also claimed a dozen of killed SAA & allies' soldiers, and showed footage of eight dead soldiers.
National Defense Forces captured a warehouse containing materials for the manufacture of improvised explosive devices, along with the improvised explosive devices in the village of Rameem al-Awabid, eastern Al-Salamiyah countryside.
Homs:
Six smaller rebel groups in the Northern Homs pocket merged into Jaysh Homs, new Free Syrian Army linked group. Jaysh Homs consists of Tajmae al-Wiyat wa Kataib 313, Tajmae al-Wiyat wa Kataib Suyuf al-Haqq, Kataib Sayf al-Islam Khitab, Liwa Ansar al-Haqq, Liwa Ansar al-Sunnah wa al-Shareia, and Liwa Talbisah.
Reports suggest that Israeli Air Force targeted a copper factory south of Homs. The locality has been described as the weapons depot for the Syrian Arab Army & allies.
Deir al-Zour:
Syrian Democratic Forces captured Al-Tallabah, Rubaydah, Harijiyah, and Hadin from the Islamic State. On a different front, SDF reportedly captured Jadid al-Bukhayr from the Islamic State.
Syrian Arab Army made more advances in the city of Deir al-Zour against the Islamic State, capturing Al-Jubailiyah neighborhood and several localities inside the city, such as; the public park, and the legal school. Before the SAA's advance started, IS-held parts of Deir al-Zour were subjected to intense aerial bombardment and heavy preemptive shelling.
Russian Air Force conducted several airstrikes over the village of Al-Sabha in the eastern Deir al-Zour, causing only material damage. Air Force also continues intense bombardment of Al-Bukamal (Albu Kamal) and its surroundings, in preparations for the eventual SAA & allies' attack on the city.
Body of a Moroccan IS' fighter was found yesterday near the train track in Al-Bahra village, eastern Deir al-Zour governorate. The fighter had multiple stab wounds on his body.
Syrian Arab Army and allies made additional progress on T-2 airport front, reportedly advancing another 11 kilometers (7 miles) towards the border with Iraq. These latest advances put SAA & allies around 50 kilometers (31 miles) away from Al-Bukamal (Albu Kamal).
Islamic State's Amaq Agency claimed destruction of SAA's tank with an anti-tank guided missile, southeast of Al-Mayadeen.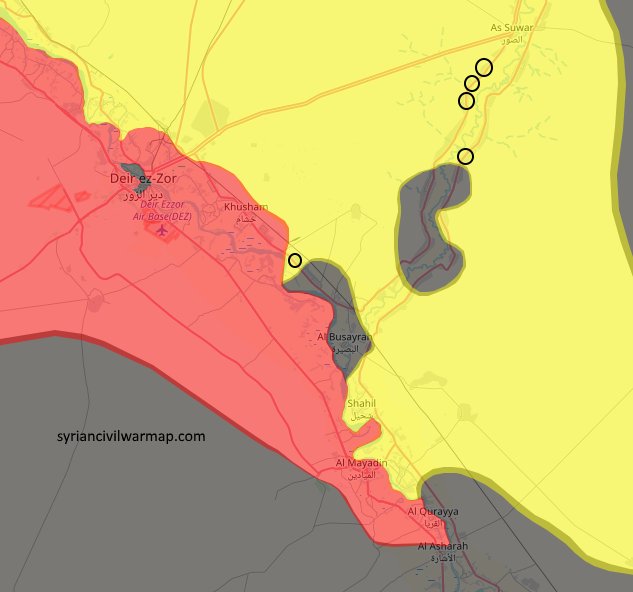 Situation east of Deir al-Zour. Source: Syrian Civil War Map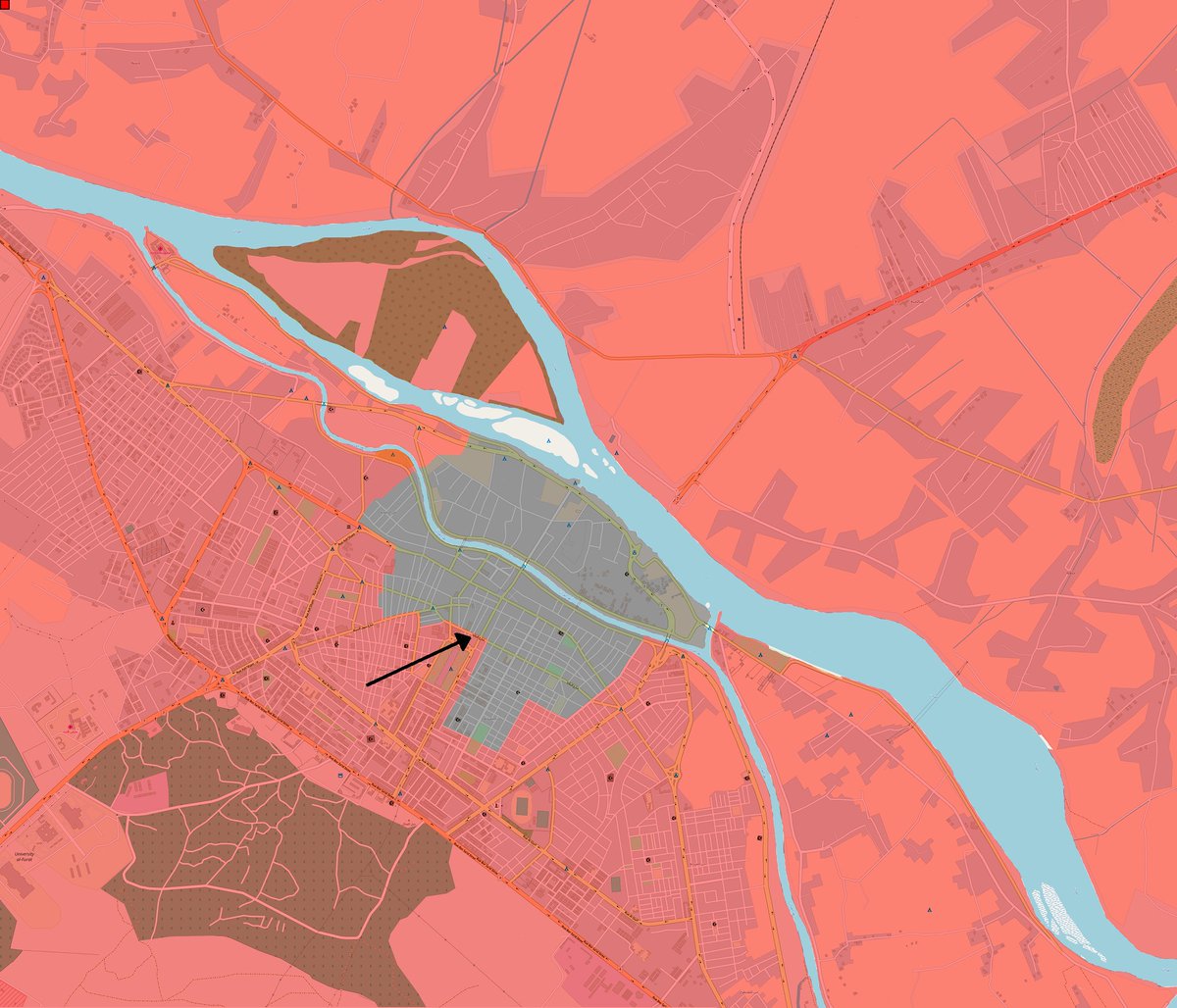 Situation in Deir al-Zour. Source: Lucio Cienfuegos
Damascus:
Syrian Arab Army launched five surface-to-surface missiles against the rebels stationed at Jobar-Ain Terma Front. Furthermore, SAA shelled the outskirts of Hawsh al-Dawahirah.
Islamic State's sniper killed one Syrian Arab Army's soldier in the Al-Hajar al-Aswad district, south Damascus yesterday, according to the statement from the Amaq Agency.
Daraa:
Syrian Arab Army's artillery targeted the city of Alma, the road between Al-Karak and Al-Masirah, and the neighborhood of Daraa al-Balad in Daraa city.
Rebel "Daraa Martyrs Documentation Office" released a monthly death toll for the month of October. During the October, the office documented 47 deaths in the rebel-held territory of Daraa governorate. Number of killed rebel fighters is 26, the remaining 21 are civilian casualties. Complete report from the "Daraa Martyrs Documentation Office" for the month of October can be found here.
Iraq
Anbar:
Yesterday, Islamic State's Amaq Agency claimed destruction of four Iraqi Army's vehicles with improvised explosive devices on the road between Rawa and Anah.
Baghdad:
Iraqi Security Forces conducted supervision and anti-insurgency operations in Al-Lahib, in the western sector of Baghdad. Security forces discovered 25 IS' improvised explosive devices, three mortar rounds and 54 detonators. Furthermore, in the Kilo 5 area, south of Baghdad, four Austrian artillery shells were found and safely removed.
CJTF-OIR

:
On the 31st of October 2017 CJTF-OIR has conducted eight strikes in Syria. CJTF-OIR's main focus in Syria at the moment is Deir al-Zour region where they did seven strikes supporting SDF's operations against IS engaging four IS tactical units, destroying three fighting positions and an IS vehicle, and suppressing a fighting position.
Other area where one strike occurred is Al-Bukamal (Albu Kamal) destroying an IS training center. Full report on CJTF-OIR strikes conducted in both Syria & Iraq can be found here.
Amaq Agency:
Other:
Intellectual credited property used may vary from an edition to edition.
Feel free to voice your opinion in the comments section below, constructive criticism is welcomed.
For those of you interested, you can follow us on an official Twitter account @SyrianWarDaily, or me personally on my biased twitter @joskobaric where I occasionally tweet some things.