Hello and welcome to the 231st installment of the SWD.
Military events/news are listed below by the governorates:
Aleppo:
Turkey-trained Free Syrian Police arrested two of the biggest drug traffickers in the city of Azaz. The suspects were monitored for a while and during their apprehension police forces found 15 thousand of various narcotic pills.
Hama:
Syrian Arab Army clashed with the rebel forces on Marijeb Jamlan and Abu Lfa fronts, as the former tried to advance. Free Syrian Army's Al-Firqa al-Wusta (Central Division) released a statement saying it has destroyed SAA's tank on Marijeb Jamlan front with a TOW missile. Another SAA's tank was reportedly destroyed on the same front. However, SAA and allies were reportedly able to advance on a front a bit to the south, capturing Rasm Al-Sawi, Rasm Al-Ahmar, and Mushairfat Adwan from the Hayat Tahrir al-Sham.
Abu Amara Special Task Brigade announced it detonated an improvised explosive device in the engineering company used by the National Defense Forces in Al-Salamiyah.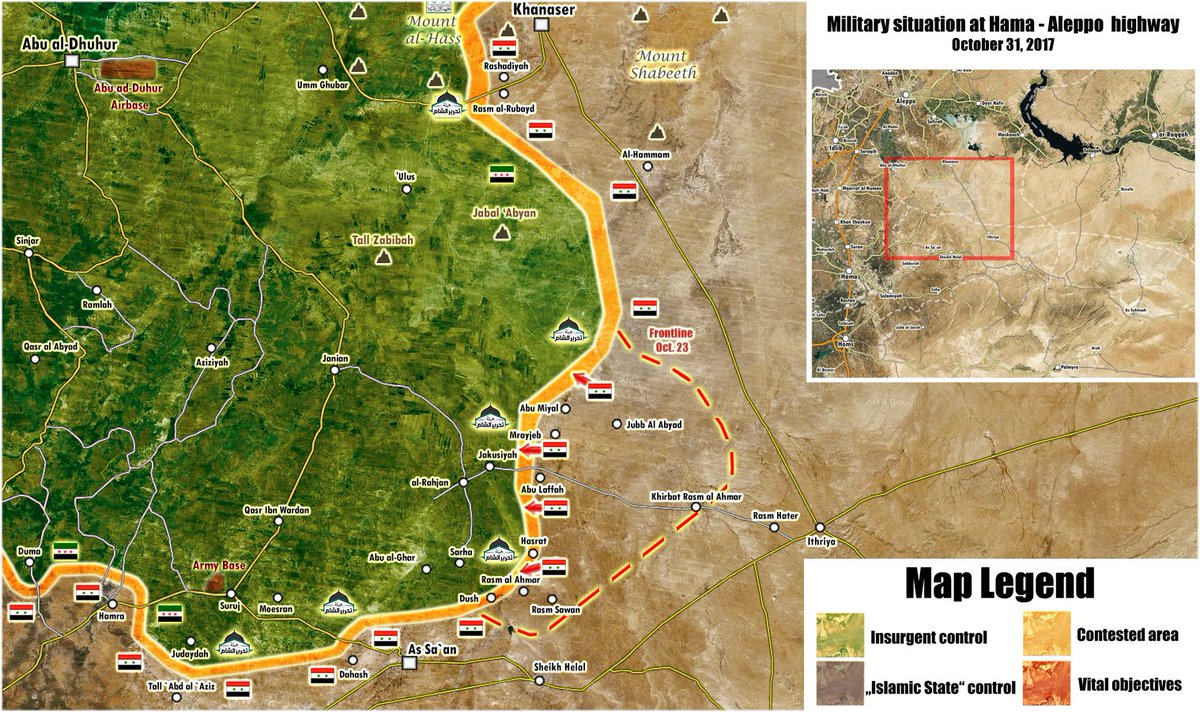 Approximate situation in the northern Hama governorate. Source. PetoLucem
Deir al-Zour:
Spokesperson for the Syrian Democratic Forces' Al-Jazeera Storm (Asifat al-Jazeera) operation, Laila al-Abdullah, confirmed reports that SDF took control of Al-Harijiat al-Sharqi, Islah al-Rabida, Ja'ar, and Al-Fadin from the Islamic State in the vicinity of Khabur river, east of the city of Deir al-Zour. Al-Abdallah added that operations are continuing on two axes in Khabur area and around the village of Akidat, southeast of Deir al-Zour. Al-Abdallah also commented the situation around Al-Omar Oilfields by saying that fighting with the Islamic State is still ongoing in the area.
Syrian Arab Army and allies made important and sizeable advances against the Islamic State in the city of Deiz al-Zour. Syrian Ministry of Defense confirmed today's capture of Al-Kenamat, Al-Matar al-Qadim (Old Airport) and Al-Resafa neighborhoods.
Islamic State's Amaq Agency reported destruction of SAA's bulldozer with an anti-tank guided missile, near T2 airport.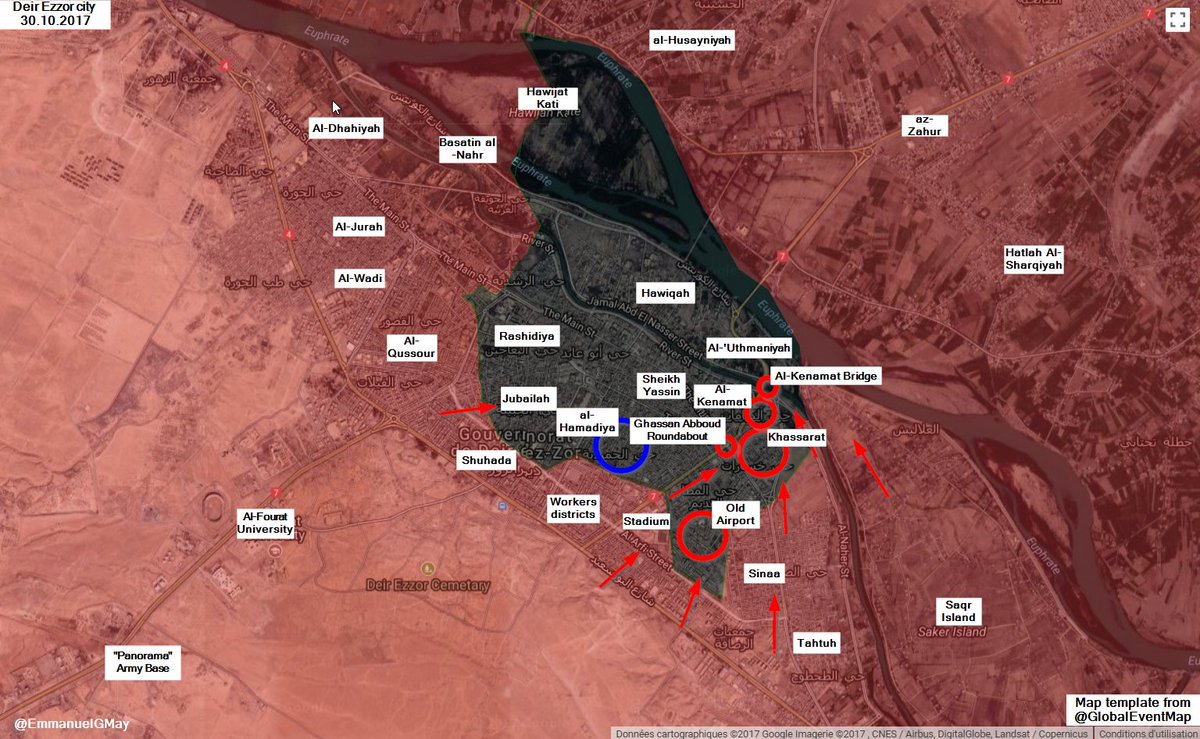 Situation in Deir al-Zour. Source: Emmanuel
Damascus:
Syrian Arab Army's artillery once again shelled several rebel-held localities in the East Ghouta, some of which are; Ain Terma, Jisreen, Kafr Batna, Harasta, and Hazeh. Casualties from the shelling have been widely reported by a number of outlets that set the death toll at seven killed and 25 wounded.
Iraq
Nineveh:
Iraqi Army took control of Ibrahim Khalil border crossing with Turkey from the Peshmerga.
Anbar:
Iraqi Army and Al-Hashd al-Shaabi (Popular Mobilization Units) made significant advances against the Islamic State east of Al-Qaim. Iraqi forces captured a handful of villages, such as; Umm al-Woulf, Hussein al-Ali, Umm Tinah, Albert, Afit, Al-Khasim, Al-Rafidah, Al-Jurun and Al-Safira. But the most important captures are the old and new part of Obeidi.
South of Al-Qaim, Iraqi Army's 1st Infantry Division, under the direct leadership of the Brigadier General Jabbar Kazem, fully secured and combed the Saad air base. Forces found 15 mobile devices, two rifles, and four PK machine guns left behind by the Islamic State's fighters.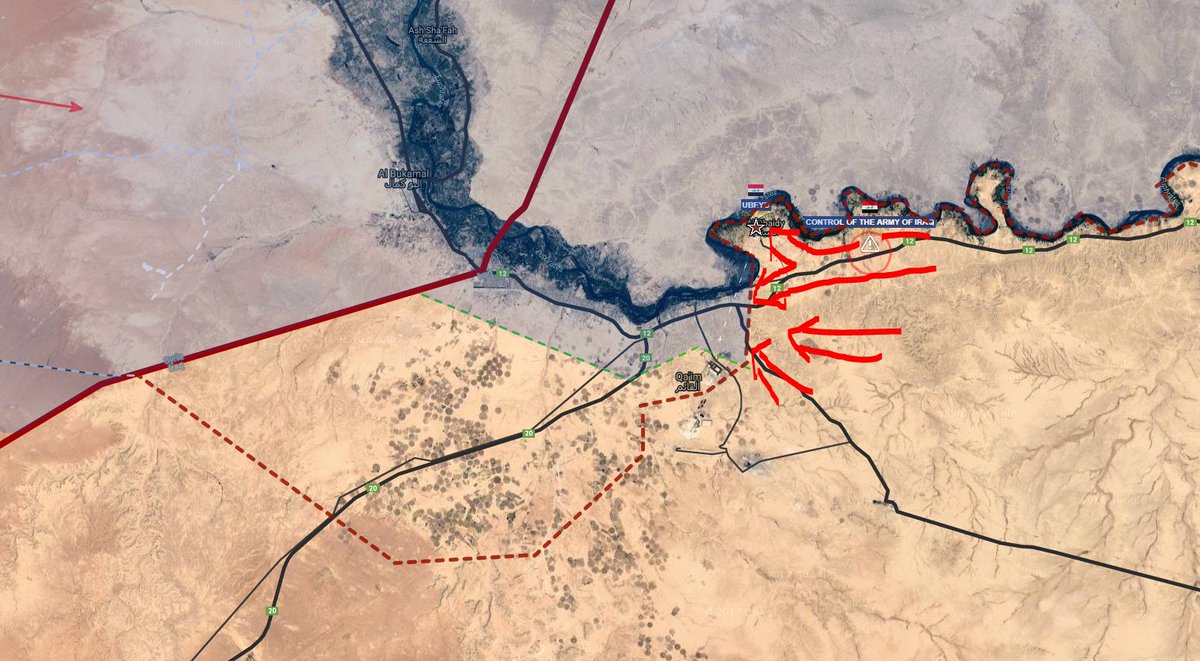 Situation in the western Anbar, arrows show attacks by the Iraqi forces. Source: GeromanAT
CJTF-OIR

:
On the 30th of October 2017 CJTF-OIR has conducted four strikes in Syria. CJTF-OIR's main focus in Syria at the moment is Deir al-Zour region where they did two strikes supporting SDF's operations against IS engaing two IS tactical units.
Other area where two strikes occurred is Al-Bukamal (Albu Kamal) destroying a vehicle and an IS headquarters. Full report on CJTF-OIR strikes conducted in both Syria & Iraq can be found here.
CJTF-OIR released a news release regarding the elimination of several IS leaders in the last few months. CJTF-OIR listed eliminations in the chronological order:
Abu Ahmad al Muhajir, a senior military officer involved in procurement and R&D, killed on Sept. 16, 2017 in Mayadin, Syria.

Hajji Ibrahim, a senior military officer involved in procurement and R&D, killed Sept. 20, 2017 in Mayadin, Syria.

Bin Ladin Dhu al Fiqar, a senior military commander, killed Sept. 25, 2017 in Mayadin, Syria.

Shahin, a ground commander, killed on Sept. 26, 2017 in Mayadin, Syria.

Abu Walid al Shami, a weapons R&D developer, killed Sept. 29, 2017 in Mayadin, Syria.

Abu Hajir al-Iraqi, a military procurement official involved in R&D, killed Oct. 2, 2017 in Mayadin, Syria.

Abu Mahmud al Halabi, in ISIS administrative official, was killed Oct. 3, 2017 near Mayadin, Syria.

Abu Walid al Qamishli, a commander responsible for a network of fighters in Hasakah Province, killed Oct. 3, 2017 near Al Haidin, Syria.

Abu Taburak, a UAS researcher and developer, killed Oct. 7, 2017 in Al Qaim, Iraq.

Abu Asia, a UAS facilitator, killed on Oct. 9, 2017 in Abu Kamal, Syria.

Abu Suhayb, an ISIS leader, was killed Oct. 12, 2017 in Al Qaim, Iraq.

Eliminating these militant leaders and facilitators, directly responsible for command and control, research and development, and planning, degrades ISIS's ability to conduct attacks on civilian targets in Iraq, Syria, and throughout the region.
U.S. and Coalition forces will continue to strike ISIS leadership in order to disrupt the organization's ability to plan and attack the U.S. and our interests around the world.
Amaq Agency:
Afghanistan:
Islamic State took responsibility for today's suicide attack in Wazir Akbar Khan neighborhood, Kabul. Attack happened near the Australian embassy and killed at least seven people, mostly government employees.
IS' Amaq Agency reported assassination of the head of the court of Laghman province. Assassination took place yesterday in Jalalabad.
Other:
Intellectual credited property used may vary from an edition to edition.
Feel free to voice your opinion in the comments section below, constructive criticism is welcomed.
For those of you interested, you can follow us on an official Twitter account @SyrianWarDaily, or me personally on my biased twitter @joskobaric where I occasionally tweet some things.