Hello and welcome to the 228th instalment of the SWD.
Military events/news are listed below by the governorates:
Raqqa:
The Syrian Democratic Forces drive ISIS forces back to the IS-held national hospital. The US-backed forces stopped less than 150 away from the hospital but found themselves unable to storm the hospital is full of civilians, which ISIS are using as human shields. The US-coalition is unable to bomb the hospital, too.  Meanwhile, the SDF local commander, Amjad Siryani, said "We're at the end of Raqqa. There are two positions left".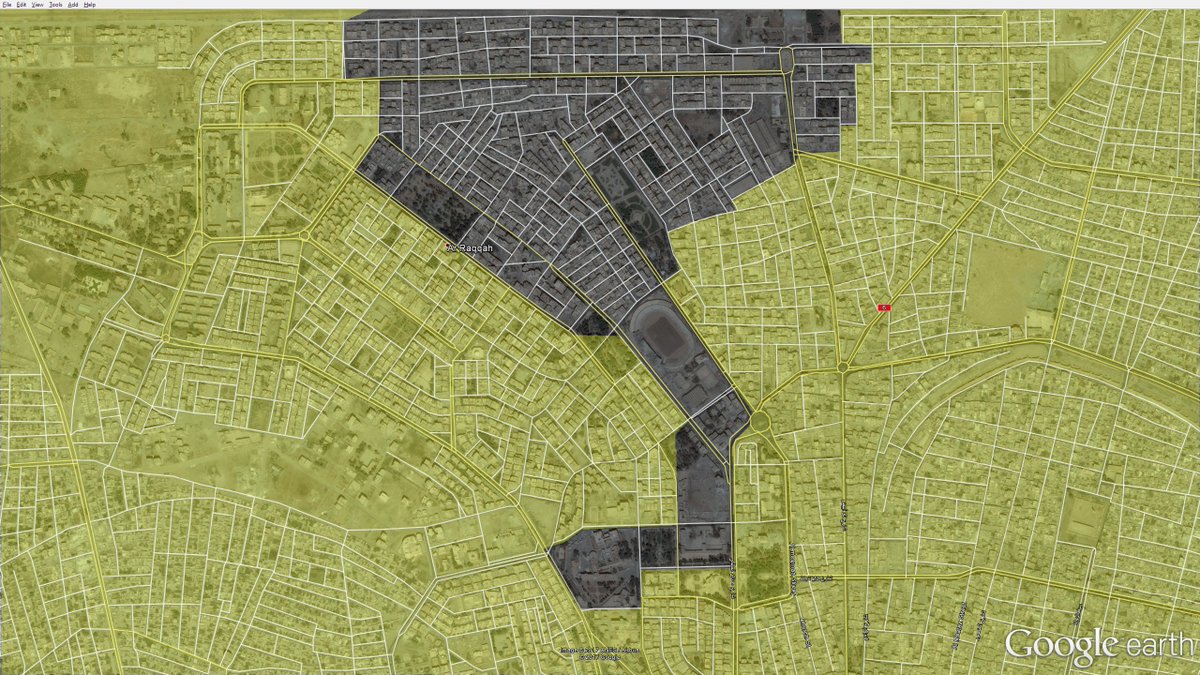 The Islamic State militants are surrounded by SDF forces in the Stadium and National Hospital.
Meanwhile, the death toll of civil victims in September is of 3000 people, the deadliest month of 2017 so far – according to AFP.
A US convoy with Apache helicopters left the city of Ain Issa in the direction towards Raqqa city.
Aleppo:
The Al-Bab city court issues orders of prison and exile for 23 individuals who worked with ISIS in the city.
Meanwhile, in the HTS-held Aleppo areas, the opposition group named "Kata0ib Ibn Tamiyyah" defected from HTS and has taken over Darat Izza and its nearby mountain with the help of the locals.
Idlib:
Government and Russian air strikes killed at least 25 civilians across Idlib.  This implies that Russian and Syrian government forces violated the Turkish-Russian safe zone agreement.
Latakia:
The Russian Air Defence forces in Syria fired two Pantsir missiles at a militias Grad salvo fired from Hama countryside into Syrian cost. This might be the reason why Russia and Syrian air force bombed opposition-held areas in Idlib.
Hama:
Government forces bombed different parts of north Hama.
The Syrian Arab Army and its allies captured Rasm al-Abaykah and Rasm al-Abd in east Salamiyah countryside from ISIS after retreating yesterday.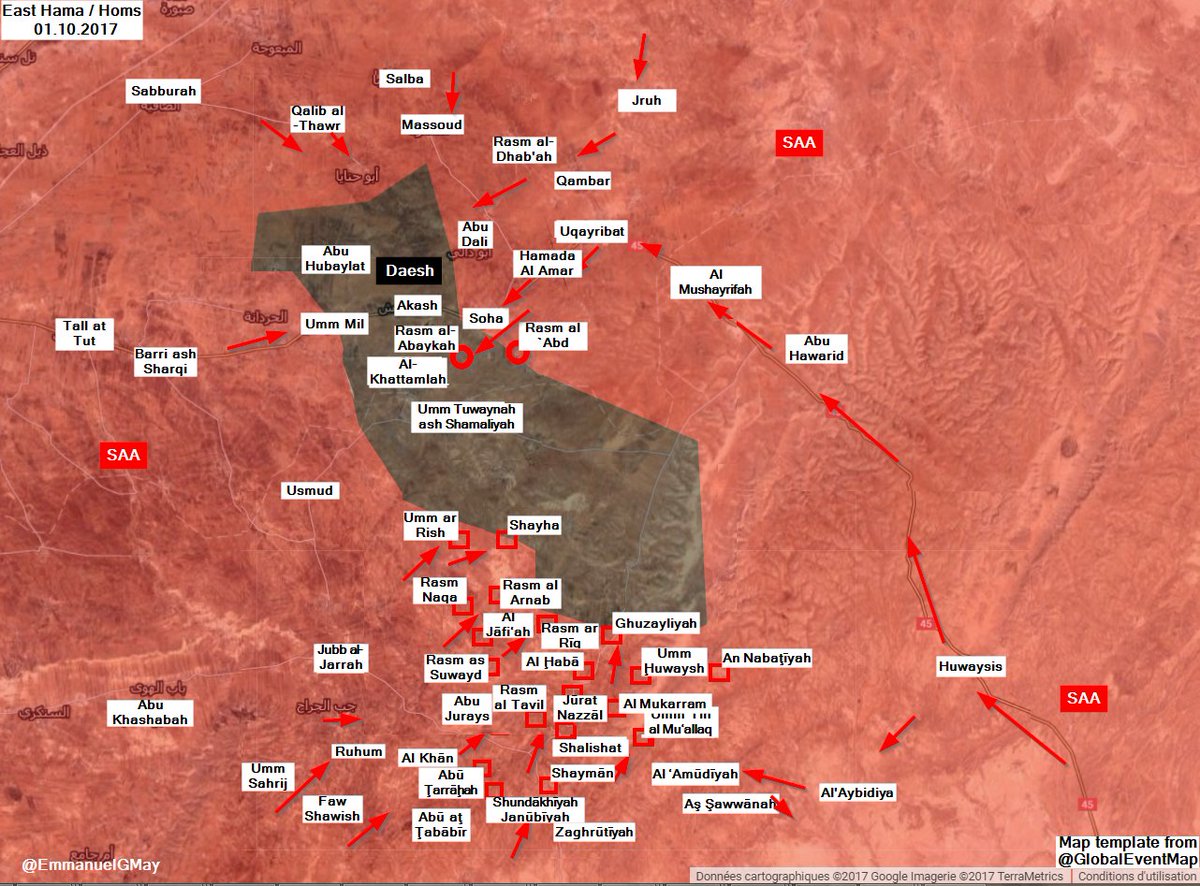 Homs:
The Islamic State has launched a massive offensive since yesterday. Their advances continue north of Sukhnah from al-Taybah towards al-Kawm, and pointing towards Raqqa's southern countryside and the border with Homs governorate.
The Syrian Observatory of Human Rights reported that Islamic State forces seized completely the town of Al-Qaryatayn from SAA forces on southern area Homs governorate. Despite the initial successful offensives of ISIS, government forces managed to secure some of the lost points. Although the IS forces managed to control Jabal Mahassah, located south of Qaryatayn, the Qalamoun Shield Forces reported. This ISIS offensive is already three days long.
Some hints about how ISIS managed to reach those position quite far behind the frontline lies on the last deal between Hezbollah and ISIS in Qualamoun front in the Lebanese-Syrian border pocket. Some of the ISIS forces that surrendered and accepted to fight for SAA were sent to defend the city of al-Qaryatayn. Few weeks after, they rebelled and turned against SAA again. Furthermore, different SAA troops fall into the trap of different checkpoints as IS soldiers where wearing SAA uniforms.
Operations to restore lost positions and hold current ones were announced by different SAA sources in Al-Qaryatayn and Sukhnah-Deir ez-Zor highway.
Damascus:
Jaish al-Islam fighters repelled a government assault on their positions in Hawsh Dawahirah. On the government side, bombings continued in Saqba, Ayn Tarma and Jobar districts with no offensive attempts.
The SAA captured Tel Najjar from FSA in Damascus Badiya.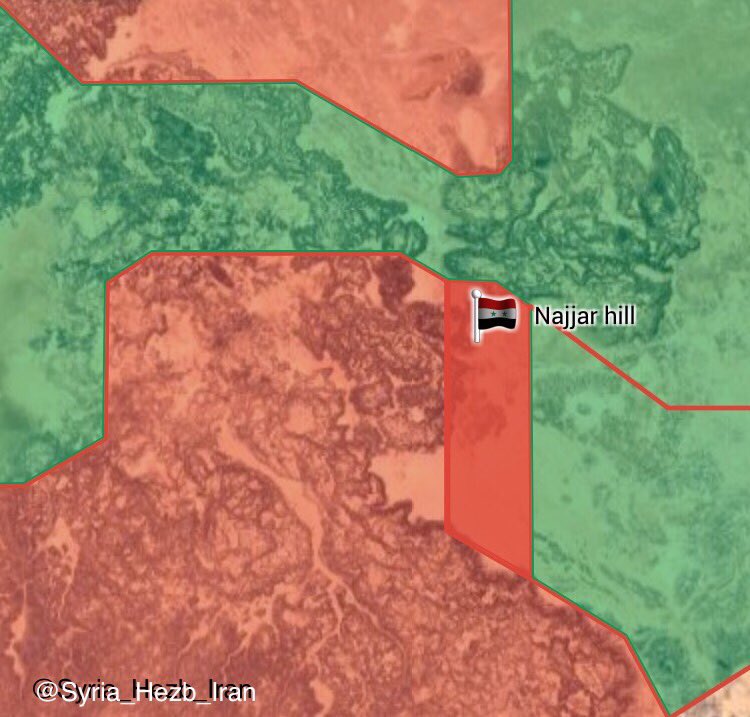 SAA and its allies captured Rajm Bakr and Hadalat camp by 1st October afternoon.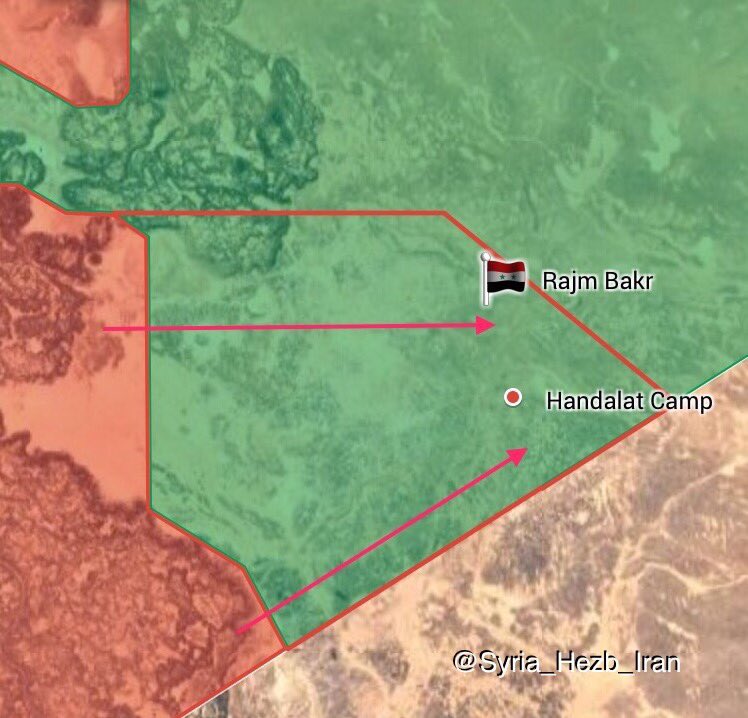 Deir ez-Zor:
The Syrian Arab Army and its allies advanced 10 km towards Al Mayadeen city in Deir ez-Zor area with thes support of heavy artillery and air strikes. Furthermore, several warplanes bombed multiple times the city of Al-Mayadine.
On the Syrian Democratic Forces side, the first images of the recently liberated Suwar appeared on social networks. Meanwhile, SDF reached the southern outskirts of Markadah in northeastern Deir ez-Zor countryside.
CJTF-OIR:
On the 27th of September 2017, CJTF-OIR has conducted 28 strikes in Syria. CJTF-OIR's main focus in Syria is Raqqa region where they did 25 strikes supporting SDF's operations against IS destroying 21 fighting positions, 17 vehicles and a heavy machine gun.
Another area where three strikes occurred is Abu Kamal destroying three vehicles. The full report on CJTF-OIR strikes conducted in both Syria & Iraq can be found here.
Other:
Intellectual credited properly used may vary from an edition to edition.
Feel free to voice your opinion in the comments section below, constructive criticism is welcomed.
For those of you interested, you can follow me on my personal, controversial twitter @alextorrell where I constantly tweet about different issues and conflicts.