Hello and welcome to the 215th instalment of the SWD.
Military events/news are listed below by the governorates:
Raqqa:
The Syrian Democratic Forces continued to advance in the districts of al-Amin, Rimaliyah, Rawda, and Tishrin inside Raqqa city. Around 40 civilians were liberated by SDF forces in Rawda neighbourhood. Although, ISIS forces sent a VBIED attack on SDF locations followed by a counter attack in Remyla district. According to SDF sources, up to 95% of Ramilah district has been captured and some parts of Tishrin district have been captured, too. Thus, main push to capture Raqqa is being made from the eastern fronts towards the northern fronts.
Aleppo:
Opposition forces attacked SDF positions in Atmeh and Janarres with heavy weapons. HTS' reinforcements started an offensive towards Dayr Ballut and Janadaris.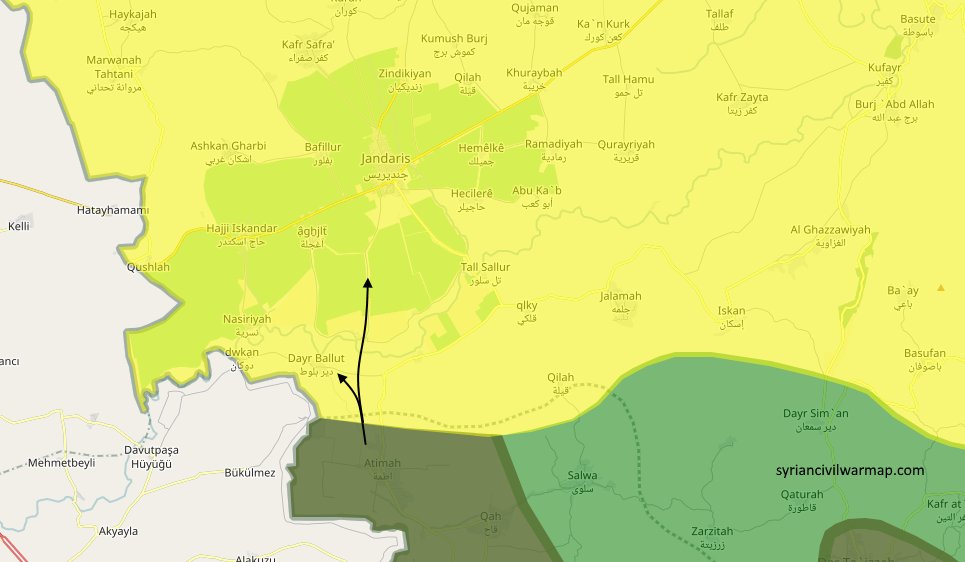 Idlib:
Unknown people assassinated the HTS Tahrir al.Sham Commander "Abu Yasir al Shami" in the town of Harem, north of Idlib. The structural effects of his assassination on the terrorist organisation have yet to come.
Government forces bombed the Khan Sheykhoun town in south Idlib with heavy artillery.
Hama:
According to pro-government sources, SAA and allies withdrew its forces from Abu Hanaya as IS launched a powerful attack. This strategic retreat put the village of Abu Hanaya under ISIS control, again.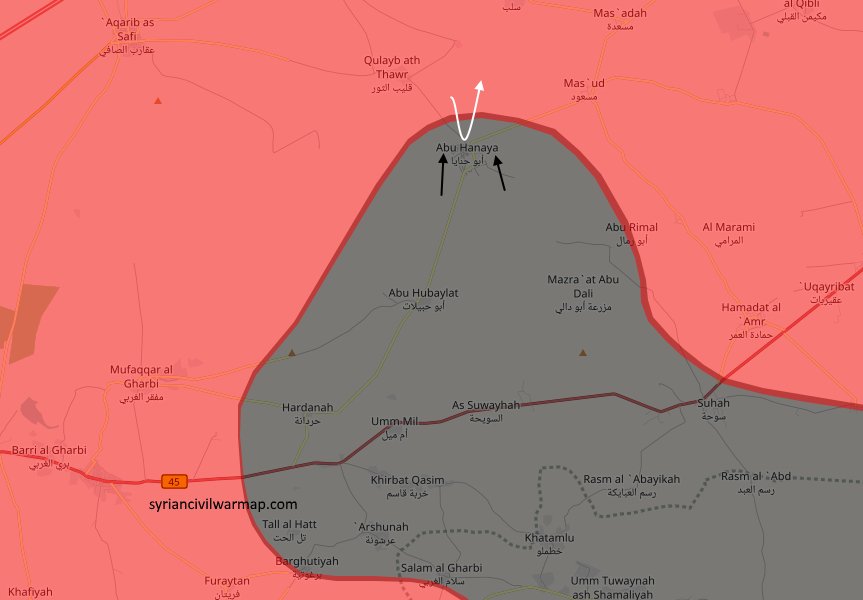 Damascus:
More than 20 IRAM rockets have been launched by government forces targeting the areas of Jobar and Ain Tarma.
Deir ez-Zor:
The Syrian Arab Army and its elite unit "Tiger Forces" have captured the villages up to Shumaytah and Al-Hamad and also the oil wells west of the newly captured villages. Late local reports suggest that heavy clashes are still ongoing, the battle includes close helicopter support and other heavy weapons support.
The Russian Airforce has been bombing multiple boats and ferries that killed dozens of its occupants. Local sources account high civilian casualties as its possible they are being used as human shields by ISIS forces, or are fleeing with ISIS which would mean they are relatives and family. Anyway, civilians are being targeted, even under the situation of human shields.
The SAA launched a powerful offensive against ISIS in the Island os Saqr. Before reaching that area, SAA forces had to cross the river Euphrates thanks to the Russian air support. Later today, the SAA crossed the Euphrates river, but this time to land on the eastern bank of the river. By crossing to Hawiijah saqr, government forces make clear that want to cut SDF advance further south, where large gas and oil reserves are located. This also shows that Syrian authorities do not agree and will not follow the informal demarcation line between the US And Syrian-backed force the river represented. Midday reports suggested that SAA already captured Marat and Madhlum village, which is located on the eastern side of the Euphrates.
Meanwhile, SDF continued liberating territories from ISIS control as they liberated up to 40 square km.
Hasaka:
A booby-trapped motorcycle exploded in Qamishly causing an unknown number of casualties, reports suggest that at least four people have been injured.
CJTF-OIR:
As yesterday the CJTF-OIR media web page did not upload the military strikes against ISIS, today we will summarize the uploaded document. Note that we will sum the different strikes on each of the targets. On the 16-17th of September 2017, CJTF-OIR has conducted 75 strikes in Syria. CJTF-OIR's main focus in Syria is Raqqa region where they did 69 strikes supporting SDF's operations against IS destroying 46 vehicles, 39 fighting positions, two ISIS communications infrastructure items, engineering equipment, an IED, a logistics node, a tactical vehicle, a VBIED factory, and a VBIED; damaged 15 supply routes and a VBIED and suppressed six fighting positions.
Other areas where 14 strikes occurred are Abu Kamal and Deir ez-Zor destroying two ISIS headquarters, a VBIED, a logistics node and an ISIS boat. The full report on CJTF-OIR strikes conducted in both Syria & Iraq can be found here.
Other:
Intellectual credited properly used may vary from an edition to edition.
Feel free to voice your opinion in the comments section below, constructive criticism is welcomed.
For those of you interested, you can follow me on my personal, controversial twitter @alextorrell where I constantly tweet about different issues and conflicts