Hello and welcome to the 211th instalment of the SWD.
Military events/news are listed below by the governorates:
Raqqa:
The Syrian Democratic Forces have already captured more than 63% of Raqqa city from ISIS control. The information was given by the US coalition spokesman. Today, the US-backed forces have launched several strong attacks against ISIS in Raqqa.
Meanwhile, ISIS forces returned to its asymmetric hit-and-run tactics in eastern Raqqa against SAA forces. Today, the terrorist organisation raided a desert outpost.
Aleppo:
The Syrian Arab Army targeted with heavy artillery and heavy missiles some opposition forces' positions in Kafr Hamra, in northwest Aleppo countryside.
Idlib:
Different groups have announced they no longer are part of HTS in Idlib. These include Jaysh al-Ahrar, Malhama Tactical group and Jaish Ososuf al-Islam. Thus, after a brief period of unity, the opposition forces in Idlib are again divided between the supporters of HTS (considered a terrorist group by the US) and the moderate opposition forces.
Additionally, the Russian military police were deployed to Idlib region in an attempt to de-escalate the conflict there between the opposition and government forces.
Hama:
The Islamic State claimed to have killed more than 20 SAA soldiers at the outskirts of Hamadah Omar village in east Hama countryside. The government forces attempt to capture the village resulted in the death of SAA soldiers and destruction of some tanks.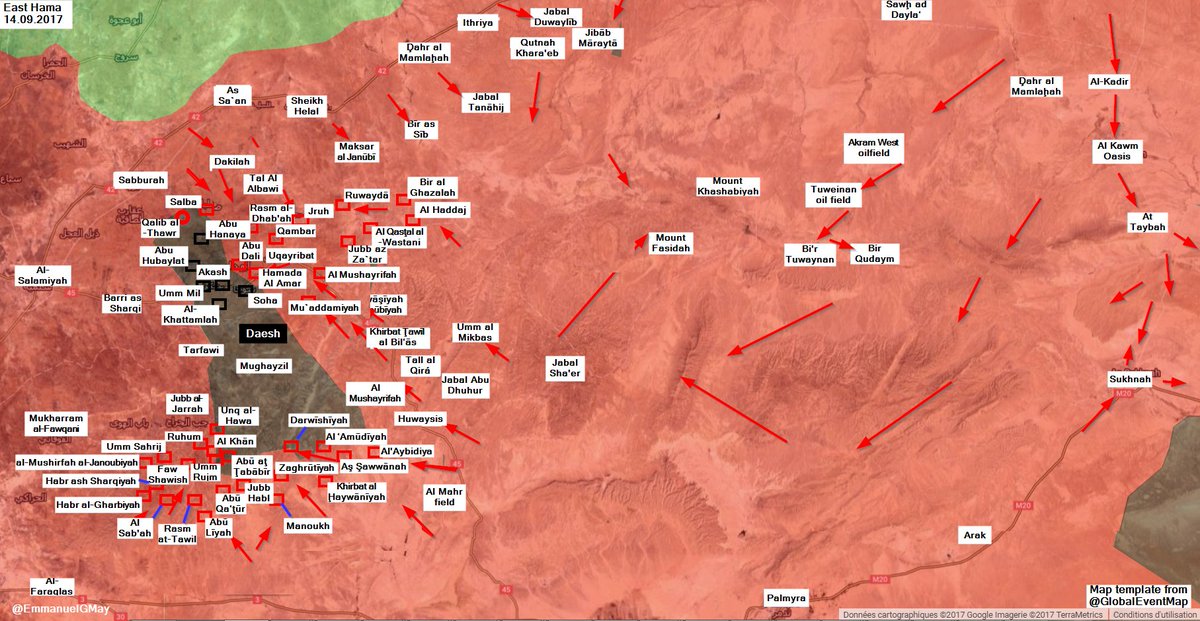 Homs:
An Ammo depot located in the T-4 air base has exploded. Reports suggest that the incident is due to material causes, and it's not related to the opposition or IS successfully infiltrating the airbase. Material and human losses are unknown.
Damascus:
Government forces targeted Jobar and Ayn Tarma with grad rockets and ground-ground missiles.
Opposition forces claimed to have captured a government truck loaded with weapons and ammunition on the edge of Raqban camp, in the southeastern Syrian Desert.
Deir ez-Zor:
The SAA elite unit "Tiger Forces" captured the Al-Jazeera University, armory depots, some radion rtransmitter, the Sa'iqah camp and Al-Rawad in Baghiliyah, located north of Deir ez-Zor city. On the southern front, SAA managed to push deep behind ISIS lines and captured some oil fields and gas refineries near Deir ez-Zor.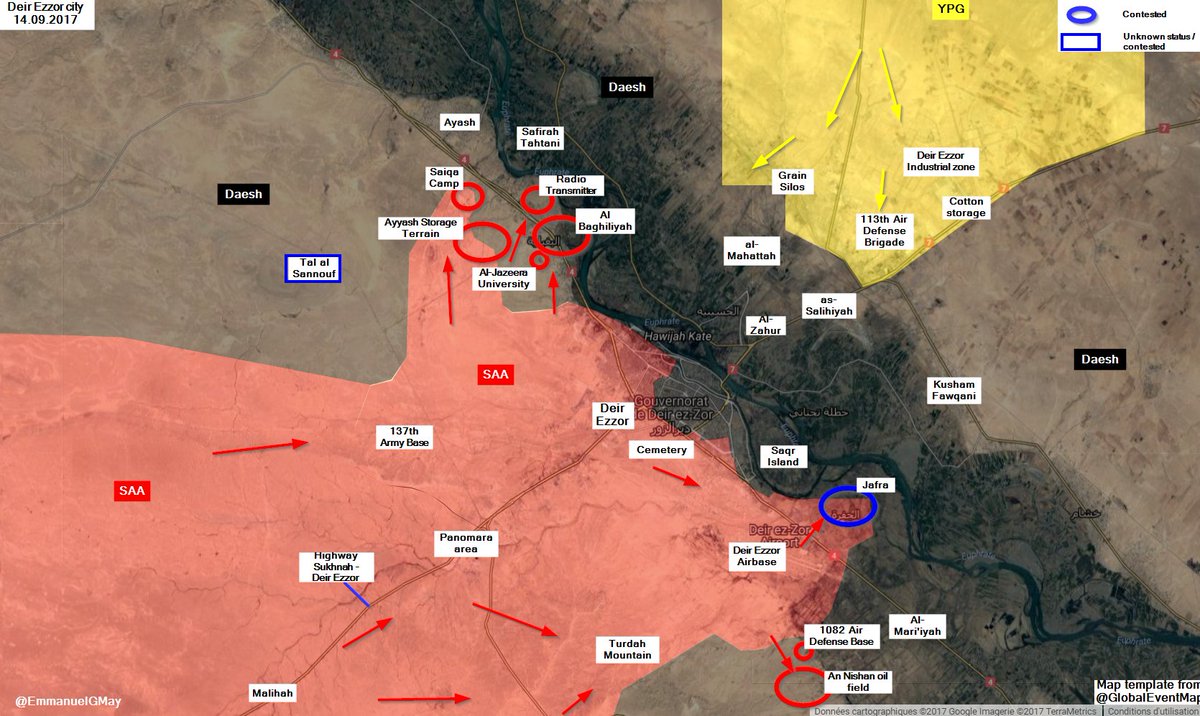 Some Russian Navy Kalibr cruise missile hit ISIS positions in Al Mayadin, Sillu and Zabari.
Meanwhile, the SDF continued pushing towards Deir ez-Zor city from the north. The US-backed forces had the support of the US-led coalition while advancing in the countryside and managed to capture al-Husayniyah.
CJTF-OIR:
On the 13th of September 2017, CJTF-OIR has conducted 39 strikes in Syria. CJTF-OIR's main focus in Syria is Raqqa region where they did 29 strikes supporting SDF's operations against IS destroying 21 fighting positions, a VBIED, and an ISIS UAS; and suppressed four ISIS tactical units.
Other areas where ten strikes occurred are Abu Kamal and Deir ez-Zor destroying two tactical vehicles, an ISIS headquarters, and ISIS fuel station and a fighting position. The full report on CJTF-OIR strikes conducted in both Syria & Iraq can be found here.
Other:
Intellectual credited properly used may vary from an edition to edition.
Feel free to voice your opinion in the comments section below, constructive criticism is welcomed.
For those of you interested, you can follow me on my personal, controversial twitter @alextorrell where I constantly tweet about different issues and conflicts