Hello and welcome to the 208th instalment of the SWD.
Military events/news are listed below by the governorates:
Raqqa:
The Syrian Democratic Forces took control of Der'iya neighbourhood after the surrender of more than 200 IS fighters in Raqqa city. Furthermore, SDF almost reached the "Children's Garden" and reached the north of April 7 Garden, which, again, locates SDF close to connecting the eastern and western fronts. This pincer movement was already used to finally capture the southern neighbourhoods of Raqqa city. Clashes took place in Rawda and Amin districts in Raqqa city centre where 15 IS terrorists were killed. Fighting took place in Al Mansour and Thakanah districts where 23 IS members died and two SDF were killed, too.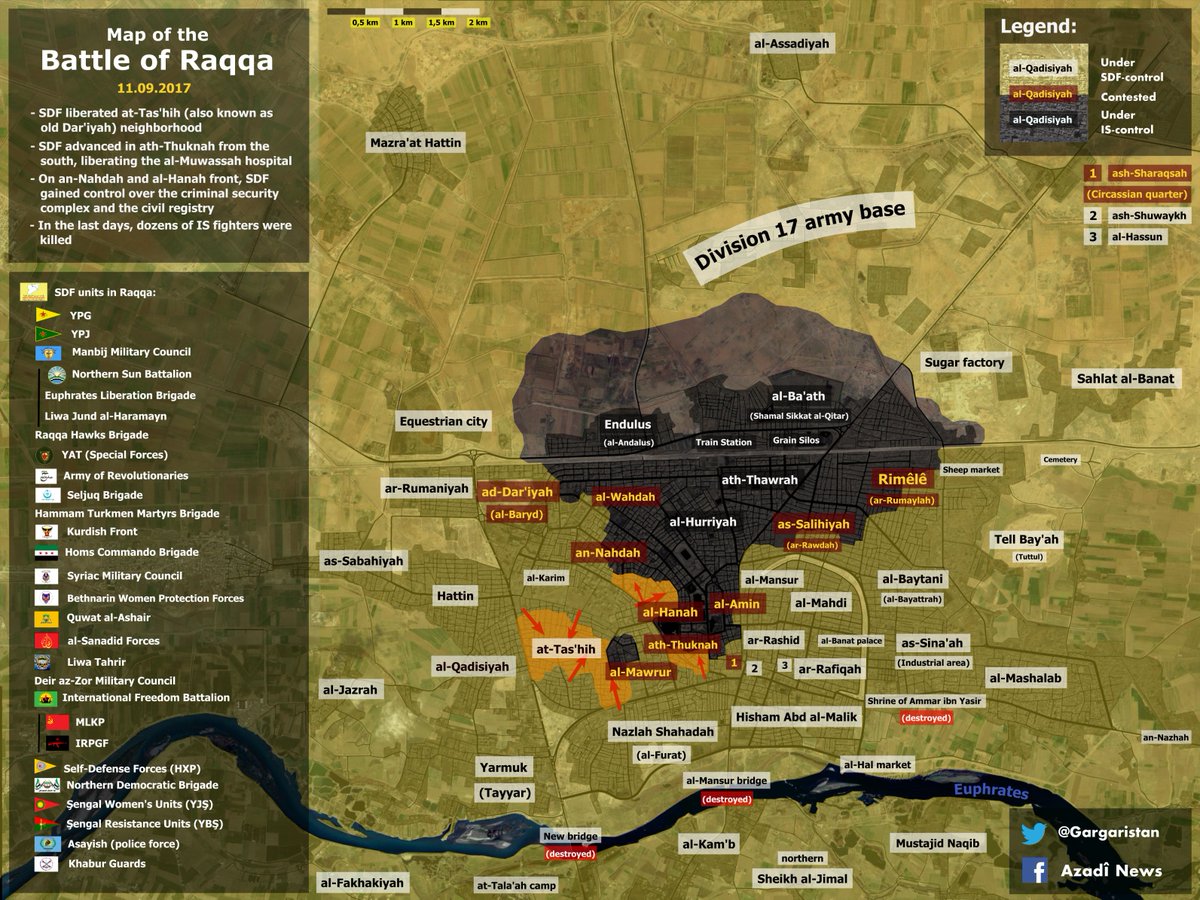 Government warplanes targeted the areas of Ma'adan, Nmesa, Khamisiya, Jaber, Zor Shemar, Daama, and MAghla Kabira in east Raqqa countryside. A former pro-government group switched to SDF after suffering to heavy casualties after the last ISIS offensive in the Euphrates areas.
Aleppo:
A landmine left behind by ISIS killed three Syrian, two children among, west of Manbij.
Idlib:
Pro-government sources suggested that all crossings to Idlib were closed following an agreement between Turkey, Russia and the Syrian government. Although, other non-pro government sources deny this and reported all crossings were working normally.
Hama:
Syrian Arab Army shelled Latamna, Kafarzita, Talas and Jahm al-Dahmar with mortars.
SAA and allies liberated Salba Thermal Station from ISIS in central Syria.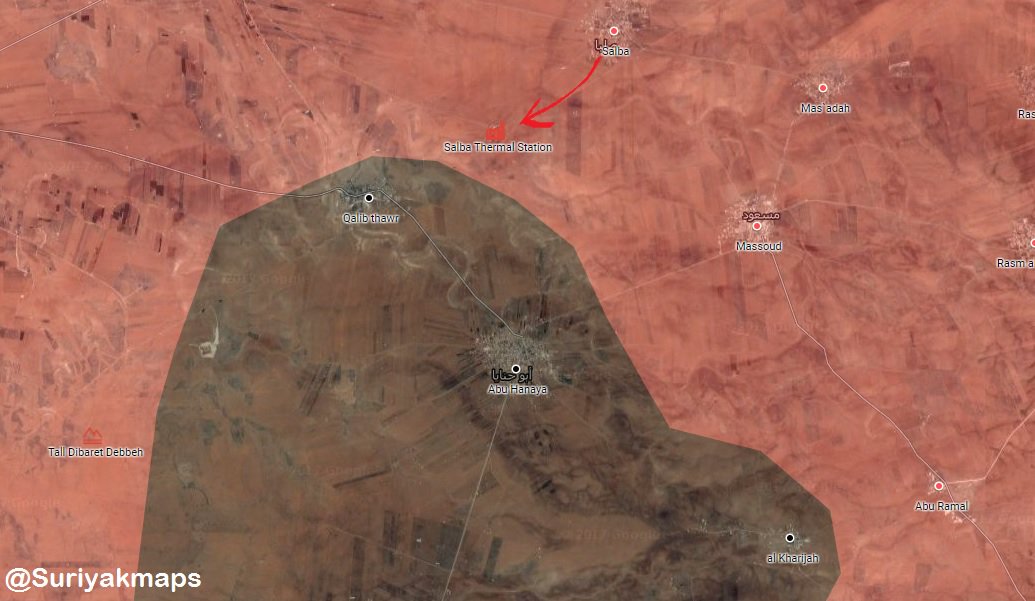 Damascus:
The Syrian Arab Army and its allies captured the Hadalat refugee camp after rebel forces retreated to Rukhbah major camp on the Jordanian border. Furthermore, government forces captured points 173, 174, 175 and 176 on the Syrian-Jordanian border.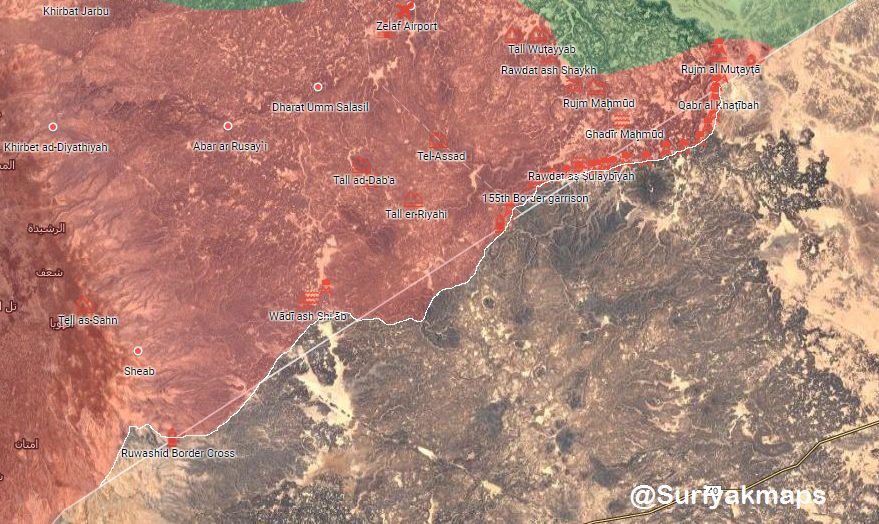 Daraa:
The Free Syrian Army helped the Syrian refugees that returned from Jordanian camps to Daraa. The opposition group helped them on the Nasib border crossing.
As-Suwayda:
Opposition forces destroyed an SAA BMP with a rocket near east Suwayda area.
Deir ez-Zor:
The Islamic State targeted a SBA-60K2 with an ATGM in west Deir ez-Zor area. An unknown aircraft strike a Syrian government military convoy south of Deir ez-Zor city.
An ISIS SVBIED hit some SDF fighters in Deir ez-Zor-Abu Khasab highway with unknown casualties. Furthermore, the SDF managed to advance to the northern edge of Deir ez-Zor city after capturing Al-Hawayj Grain Silos, Deir ez-Zor Freight Depot and the 113th Air Defense Base. The Islamic State forces announced their counter-attack started by midnight against SDF.
The SDF announced and created a civil council to run the city of Deir ez-Zor once it's liberated from the Islamic State.
CJTF-OIR:
As yesterday the CJTF-OIR media web page did not upload the military strikes against ISIS, today we will summarize the uploaded document. Note that we will sum the different strikes on each of the targets. On the 9-10th of September 2017, CJTF-OIR has conducted 64 strikes in Syria. CJTF-OIR's main focus in Syria is Raqqa region where they did 57 strikes supporting SDF's operations against IS destroying 41 fighting positions, 17 heavy vehicles, four heavy machine guns, three logistics nodes, two command and control nodes, an engineering equipment; and suppressed eight fighting positions.
Other areas where seven strikes occurred are Abu Kamal and Deir ez-Zor destroying two fighting positions, two vehicles, an ISIS headquarters, an ISIS UAS, a VBIED facility, a VBIED, and a tactical vehicle. The full report on CJTF-OIR strikes conducted in both Syria & Iraq can be found here.
Other:
Intellectual credited properly used may vary from an edition to edition.
Feel free to voice your opinion in the comments section below, constructive criticism is welcomed.
For those of you interested, you can follow me on my personal, controversial twitter @alextorrell where I constantly tweet about different issues and conflicts