Hello and welcome to the 207th instalment of the SWD.
Military events/news are listed below by the governorates:
Raqqa:
No reports are coming from Raqqa city today, it can be SDF units remain silent due to an upcoming/ongoing offensive against ISIS.
Hama:
Government forces bombed with artillery the city of Mourek in northern Hama.
Homs:
The Russian Center for National Reconciliation reached an agreement to end the four-year closure of the Hama-Rastan road. The agreement has been made in the Hameimim base with the presence of formal political and military delegations.
The Syrian Arab Army and National Defence Forces captured Faw Shawish and Abu Hawadid. Then, government forces pushed toward Ruhum village in east Homs country side, which was liberated by late night. The progress in this central Syria ISIS-held pocket is being far more slowly than the other pockets.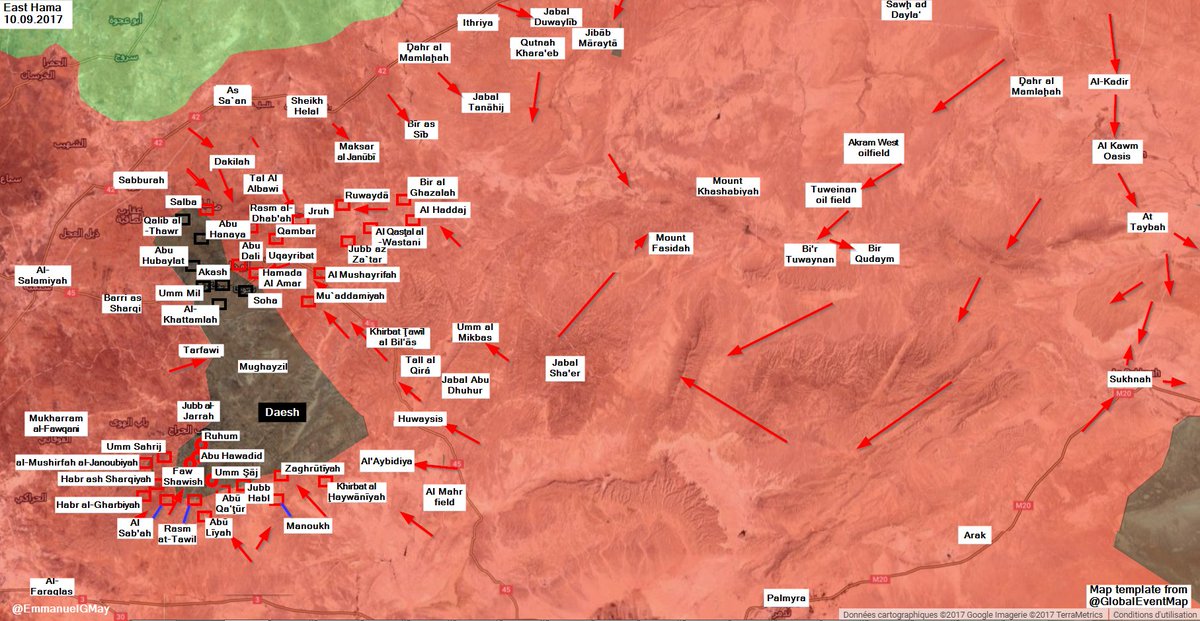 Damascus:
The SAA and allies captured Qabr al Khatibah and Rujm al Mutayta in the Syrian-Jordanian border. The Syrian air force has targeted the Headquarters of FSA Sham Liberation Army in the Syrian Badia. Allegedly, they have targeted the opposition headquarters with toxic gases.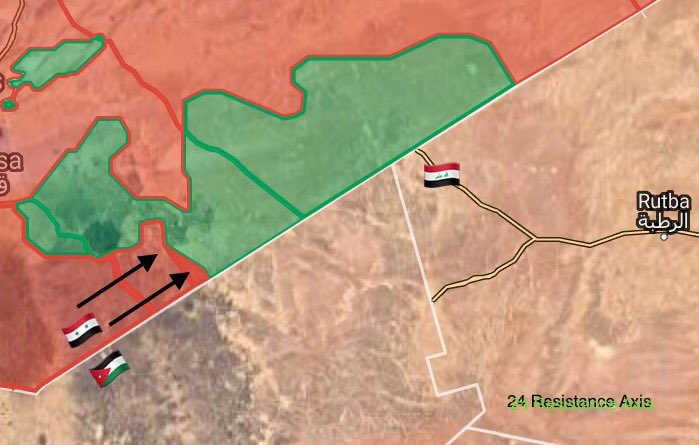 Deir ez-Zor:
The SAA forces advancing towards Deir ez-Zor meet with the besieged forces in Panorama area after reinforcements were sent yesterday. Both besieges, the one of the city and the other on the air base, have been officially lifted, and now, SAA and civilians in Deir ez-Zor can receive reinforcements, equipment and supplies after more than 1000 days of being besieged.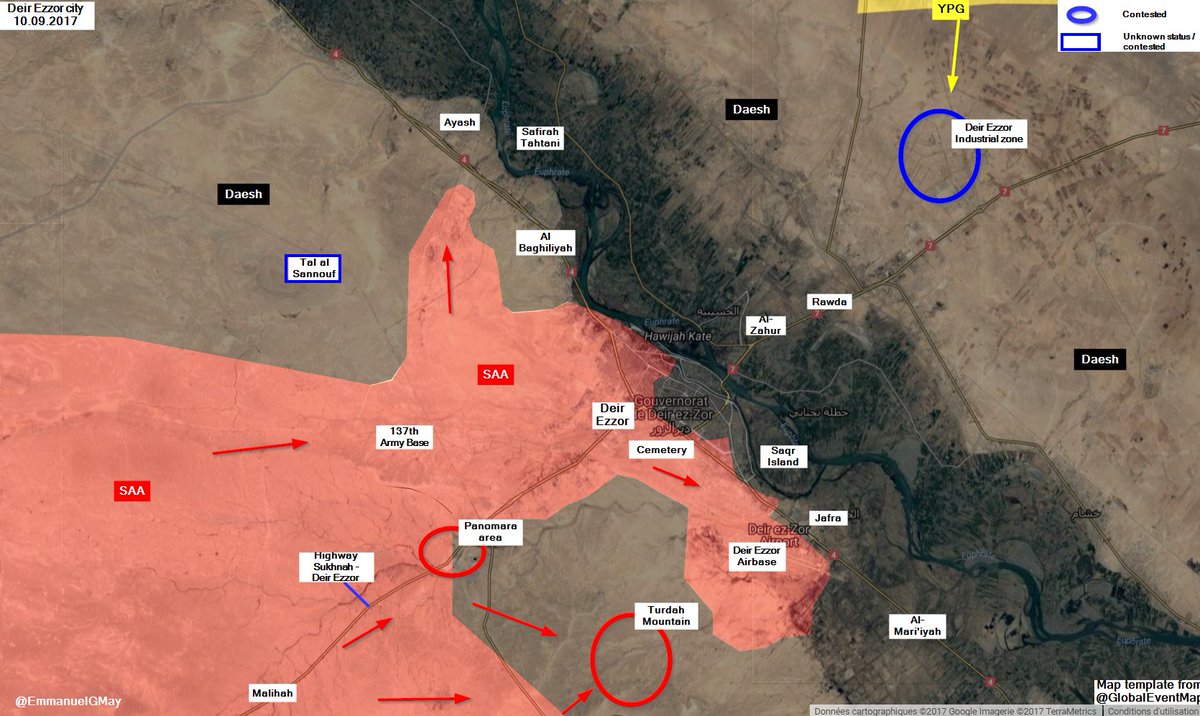 Late reports suggest that IS has retreated from its positions inside Tharda mountain, the mountain where a deadly US airstrike took place one year ago and killed more than 100 SAA soldiers. According to the reports, ISIS has retreated from Tharda points one, two and three; and also from Kroum hill. If true, government forces will have firepower over the Deir ez-Zor airport area.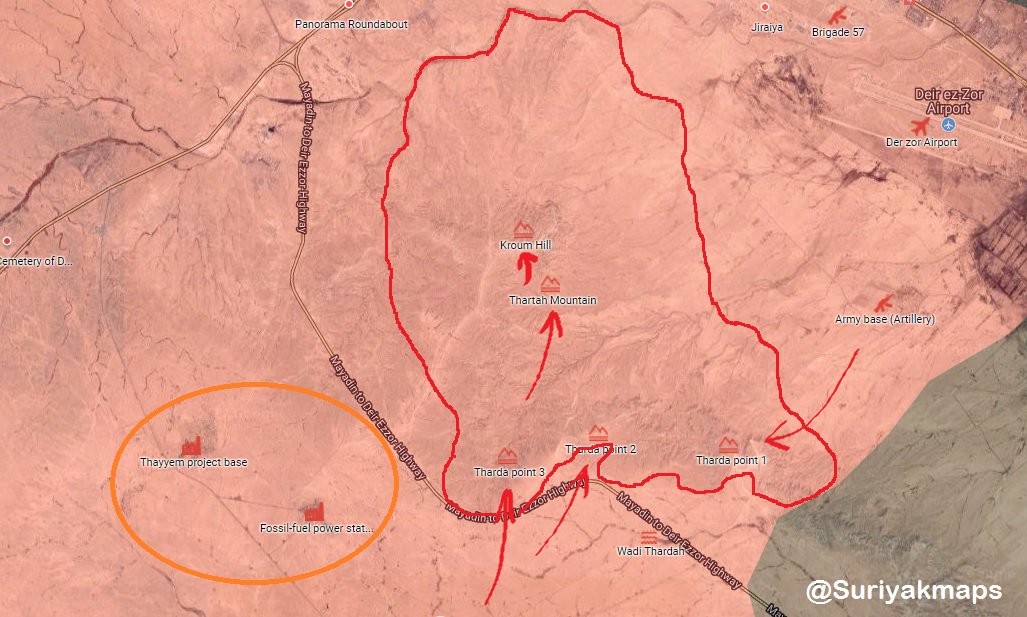 ISIS sources claim they have destroyed one tank and one armoured vehicle of the SAA with two ATGM missiles somewhere close to Taym oil fields in south Deir ez-Zor
Meanwhile, the SDF continue with its operations against ISIS in Deir ez-Zor northern countryside. The US-backed forces managed to make significant advances as they faced little resistance. The areas captured today include Al-Khurafi village and the northern outskirts of the industrial area, located to the north of Deir ez-Zor city. Moreover, Jabal az-Zirab, Bir Dumayni, and Hajayf az-Zarrab have been liberated, too.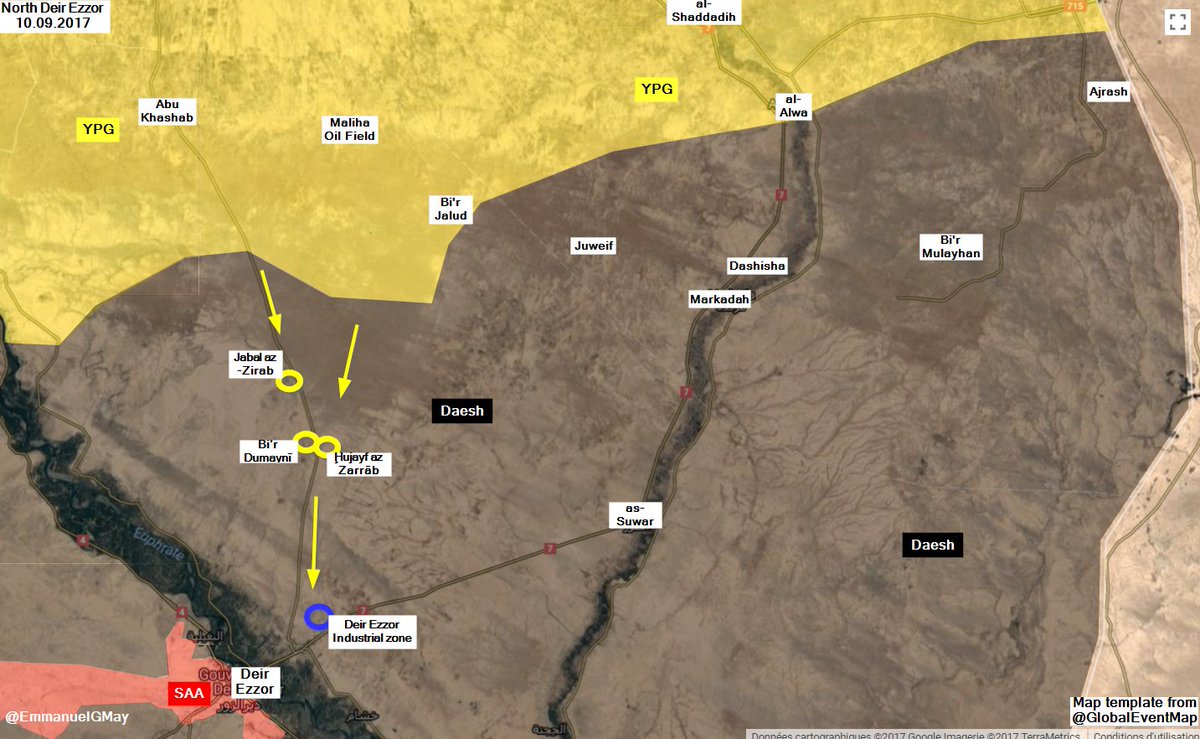 CJTF-OIR:
No statement has been published by the time this article is published.
Other:
Intellectual credited properly used may vary from an edition to edition.
Feel free to voice your opinion in the comments section below, constructive criticism is welcomed.
For those of you interested, you can follow me on my personal, controversial twitter @alextorrell where I constantly tweet about different issues and conflicts