Hello and welcome to the 201st instalment of the SWD.
Military events/news are listed below by the governorates:
Raqqa:
The Syrian Democratic Forces clashed today with ISIS in Tal Abiad street in the city centre of Raqqa. Apparently, SDF took control, or at least fire-control, on the street. At the same time, ISIS tried to counter-attack different times, but all of them failed so far. Moreover, SDF shelled ISIS position with heavy artillery. YPG reported at least 1244 ISIS terrorist have been killed since the beginning of Raqqa offensive; also reported that 101 YPG fighters have been killed in August 2017.
Additionally, according to Operation Inherent Resolve spokesperson, SDF captured the Old city of Raqqa and the Great Mosque. Thus, the US-backed group began to evacuate thousands of civilians trapped in the crossfire.
Later today, Russian and Syrian Air Forces bombed the villages of Ma'adan, Khamisiya, Taes and Swediya in south east Raqqa. At the same time, heavy clashes took place between ISIS and SAA troops near Sabkhah.
Aleppo:
Clashes were reported between SDF and rebels in Atmnah area, in the Idlib-Aleppo governorate limits. Moreover, SDF shelled with artillery the town of Daret Ezza, west to Aleppo city.
Hama:
The Syrian Arab Army continued its offensive against ISIS inside the central Syria pocket. The Islamic State forces launched another night counter-attack on Uqayribat, the attack was apparently repelled by SAA. By midday, government forces captured Massoud and Umm Rammal in eastern Salamiyah countryside. Hamada Al-Amar village and Qanbar village were captured by government forces by early afternoon. Thus, the central Syria pocket is being slowly reduced.
The situation remains unclear over if there is any ISIS presence north of Uqayribat either in form of corridor connecting two potential pockets, if there is a proper pocket north to Uqayribat or if the whole northern area of Uqayribat is under SAA control.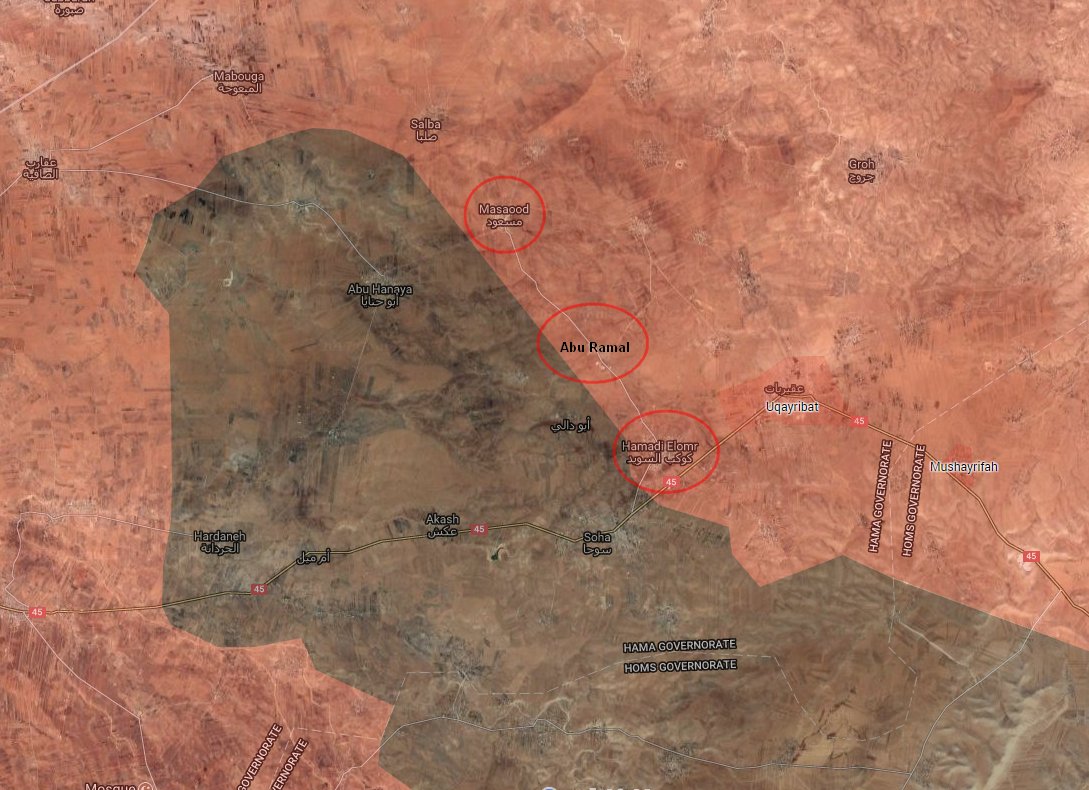 Homs:
Syrian Arab Army troops and National Defence Forces captured an intact ISIS SVBIED with more than 300 kg of explosives and oil barrels. Additionally, unconfirmed reports suggest that approximately 100 ISIS fighters that were transported by the past week's west Qalamoun convoy defected to SAA.
According to the Telegraph, the British government has withdrawn its last troops in Al Tanf and "quietly halted its training of Syrian rebels". You can read the whole article here.
Damascus:
Clashes between government forces and opposition forces continued in Jobar. The FSA group Faylaq al-Rahman disabled a government tank and detonated a tunnel bomb under a government-held building. Meanwhile, government forces continued heavy shelling in Jobar and Ayn Tarma areas, with at least one civilian killed and 10 injured.
Daraa:
Jassim Military Council, in opposition-held Daraa, raided an ISIS cell and found lots of IEDs and equipment.
Deir ez-Zor:
Government forces are about to reach the city of Deir ez-Zor. Despite the mistaken rumours and hoax spread yesterday by midnight, no government troops reached the city, yet. Although, late reports suggest that government forces are very close to the besieged troops inside Deir ez-Zor northernmost pocket. One video uploaded by pro-government sources show the Syrian Republican Guard General Issam Zahreddine, who is in charge of Deir ez-Zor defence, talking to the Tiger Forces. The location of the SRG General is the Brigade 137, the current front line between ISIS forces and SAA garrisoned in Deir ez-Zor.
Regarding today's military events, ISIS put an effort to stop government troops advances by sending over a dozen of VBIEDs against SAA troops. Most of them were destroyed by the Russian Air Force, while the others were destroyed by SAA infantry. Reports suggest that government troops reached and captured Ghazi 'Antab, but that the siege is not broken.
The Islamic State also counter attacked on the northern flank of the SAA Tiger Forces offensive by launching an attack on al-Karratah oilfields. The terrorist organisation claims to have destroyed one technical vehicle with a heavy artillery and another unknown vehicle. On the other side, SAA units captured an ISIS T-55 with its turret removed and prepared as a SVBIED, although, it could not be used by IS forces.
On the southern flank, the Syrian Republican Guard 800th Commando Battalion reported to have reached Kabbaj Village and to have started heavy bombardment on the city. A possible assault on the city can be expected in the upcoming hours. Meanwhile, ISIS sources claim they destroyed one BMP, one military truck, and three technical vehicles. Moreover, pro-ISIS sources claim that terrorist organization's forces managed to get behind SAA forces in Shoula area and to have ambushed some of its troops. Very contested reports suggest that ISIS killed 200 SAA soldiers, which is, again, very unlikely. Other reports suggest that ISIS withdraw from Kabajeb and Sholah.
Reports on the situation around Deir ez-Zor are confusing and not clear, although, ISIS seems to be attacking the 137th Brigade, and to have sent reinforces to the southern entrance of the city while mobilizing inside the city. At the same time, SAA forces seem to be pushing ISIS forces back from the Palmyra-Deir ez-Zor highway. Pro-government SDF reported from the fuerther south that SAA captured the gates of Al Tayyim Oil well.
More reports suggest that SAA soldiers in Deir ez-Zor are trying to open loopholes in the northern minefield to secure the area for the arrival of ground units. Apparently, the Syrian Army sent dozens of trucks with food and medicine, which have been delivered with airdrops since the past year.
As a summary, the situation on the ground is inaccurate, it's possible that SAA breaks the siege of Deir ez-Zor in the upcoming hours or days. The distance of the northern Tiger Forces push from the city is 5 to 2 km long, while southern push ranges from 25 to 20 km away from Panorama junction.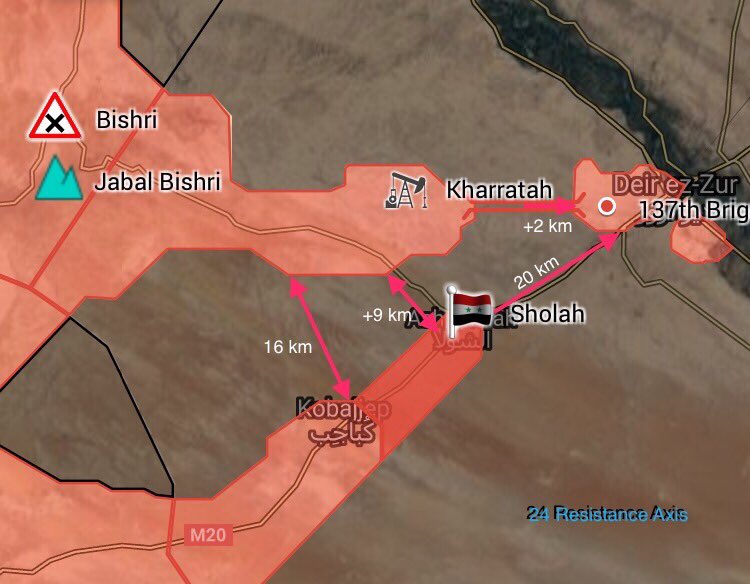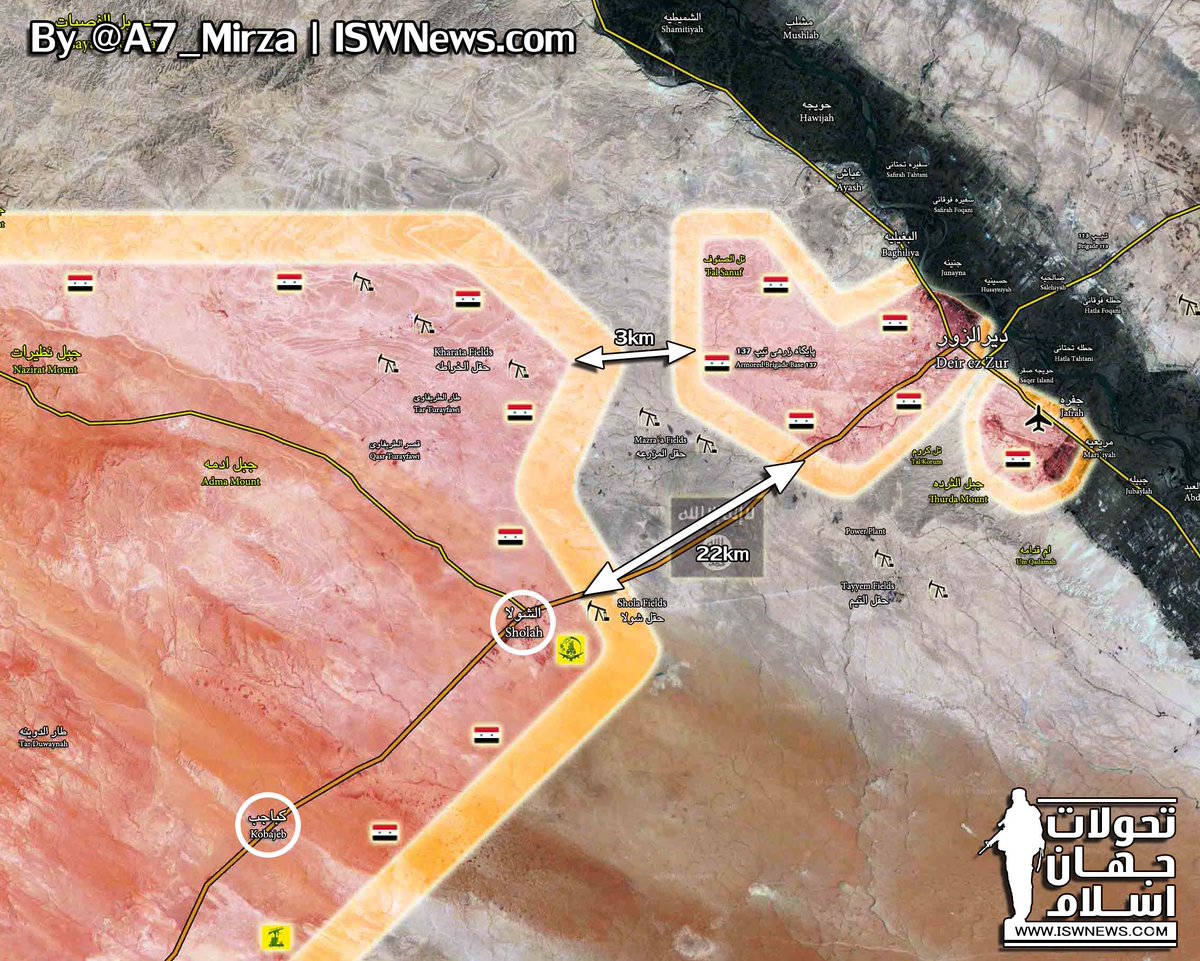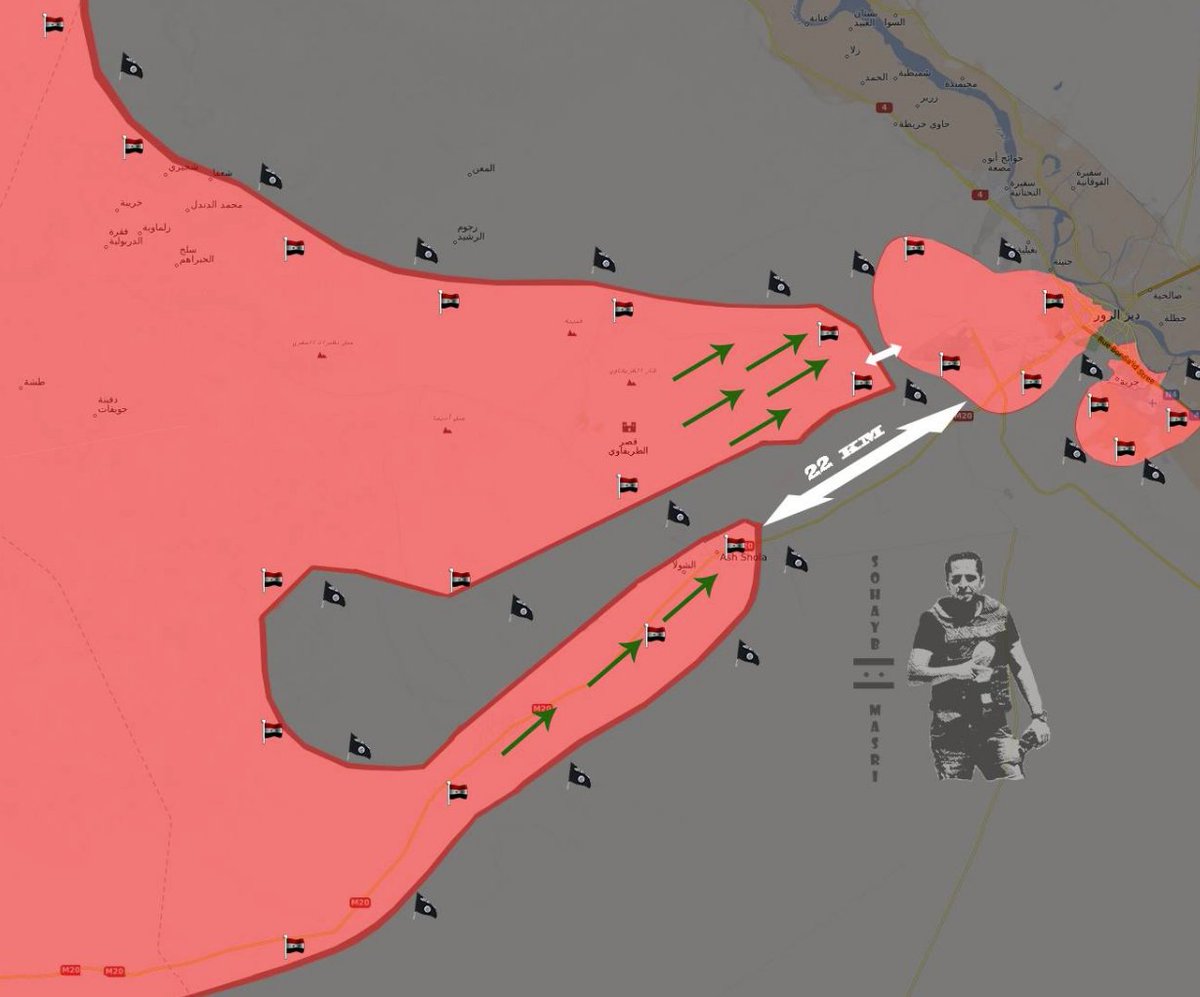 The Russian Ministry of Defense confirmed that at least two Russian soldiers were killed in Deir ez-Zor yesterday.
CJTF-OIR:
On the 3rd of September 2017, CJTF-OIR has conducted 25 strikes in Syria. CJTF-OIR's main focus in Syria is Raqqa region where they did 21 strikes supporting SDF's operations against IS destroying 13 fighting positions, two pieces of ISIS communications infrastructure, two vehicles, a VBIED, a command and control node, and a logistics node.
Other areas where four strikes occurred are Abu Kamal and Deir ez-Zor destroying 30 ISIS oil barrels, 13 ISIS oil stills, a well-head and a VBIED. The full report on CJTF-OIR strikes conducted in both Syria & Iraq can be found here.
Other:
Intellectual credited properly used may vary from an edition to edition.
Feel free to voice your opinion in the comments section below, constructive criticism is welcomed.
For those of you interested, you can follow me on my personal, controversial twitter @alextorrell where I constantly tweet about different issues and conflicts