Hello and welcome to the 200th instalment of the SWD.
Military events/news are listed below by the governorates:
Raqqa:
The Syrian Democratic Forces and the Islamic State clashed since the early morning in Al-Moroor district. Apparently, many ISIS terrorists have been killed, while at least 2 SDF militants died due to fighting. Al-Moroor neighbourhood has been captured by the SDF after the clashes.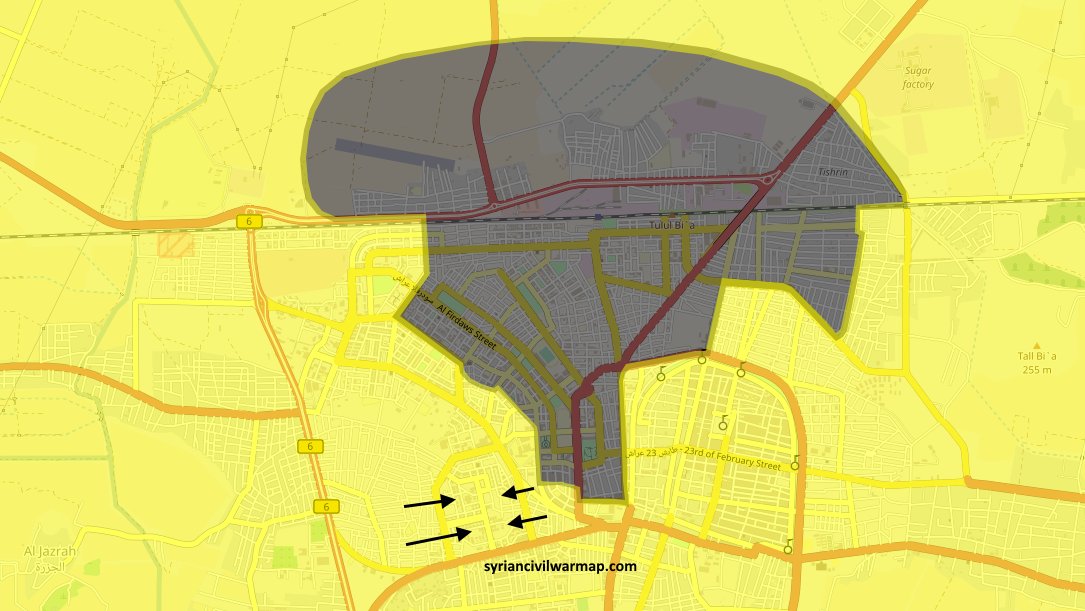 The Islamic State sent reinforcements to Ma'adan city this morning. Although, there are no official numbers about reinforcement size.
Aleppo:
Clashes between SDF and the Turkish-backed opposition forces in the Euphrates Shield territory.
Hama:
Clashes continued in Hama-Homs pocket between SAA and ISIS as the first one continues its attempts to capture Uqayribat, the last ISIS stronghold in central Syria. Additionally, SAA and allies pushed from the front lines on the northwest of Uqayribat and managed to capture Rasm al-Ahmar and Rasm al-Day'ah. According to some reporters, Uqayribat, Masada and Rasm Qanbar farm have been captured by government forces. Although, the situation in central ISIS-pocket remains unclear. Although, the Syrian MoD announced that SAA captured Uqayribat, Masada and Qambar.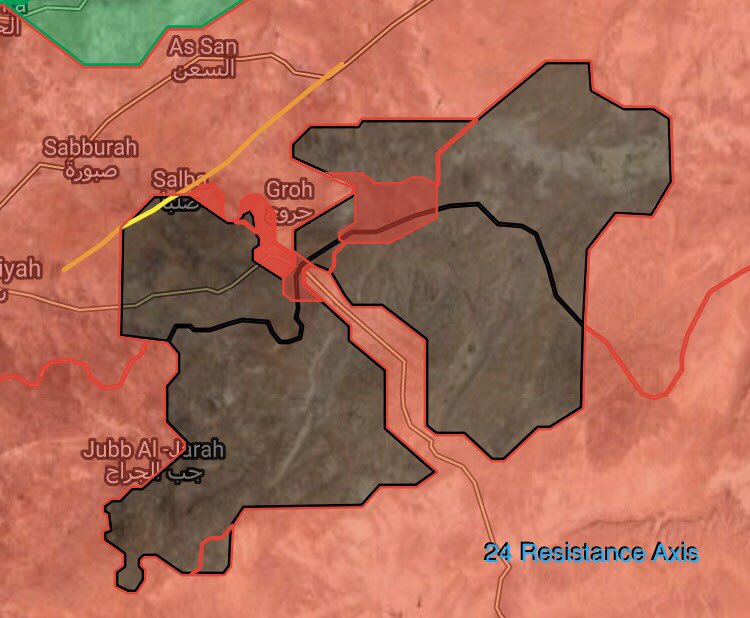 The Islamic State launched a SVBIED attack on SAA positions on the road north of Al-Naiymiyah despite the violent clashes taking place in Uqayribat and its surrounding areas.
Damascus:
Clashes between government forces and opposition groups continue in Jobar and Ayn Tarma as the SAA Republican Guards try to advance in both Damascus suburbs. Today's early reports of clashes in Ayn Tarma say Republican Guard ambushed a big group of opposition forces through a Tunnel. No further information was provided.
In Jobar, FSA claims to have killed at least 25 SAA soldiers and wounded an unknown number of soldiers that tried to advance into Jobar district.
Daraa:
FSA in Daraa area clashed with the ISIS affiliate "Jaish Khaled" in Yarmouk basin in southwest Daraa area with unknown advances.
Deir ez-Zor:
Government forces, which include elite units Tiger Forces, SAA and allies, with the support of Russian Special Operation Forces, continued its advance towards Deir ez-Zor. Today's advances include Tiger Forces capturing Ayash crossroad by midday, but also Al Biraj Al-Saddis which included taking over the 6th tower-next to Ash Sholah. Government forces dismantled an ISIS-held communication network and captured an unknown number of ISIS militants. Additionally, TF also captured Bi'r Qusaybah (Ayn Qusaybah), Tar Tarfawi and Qasr Turayfawi.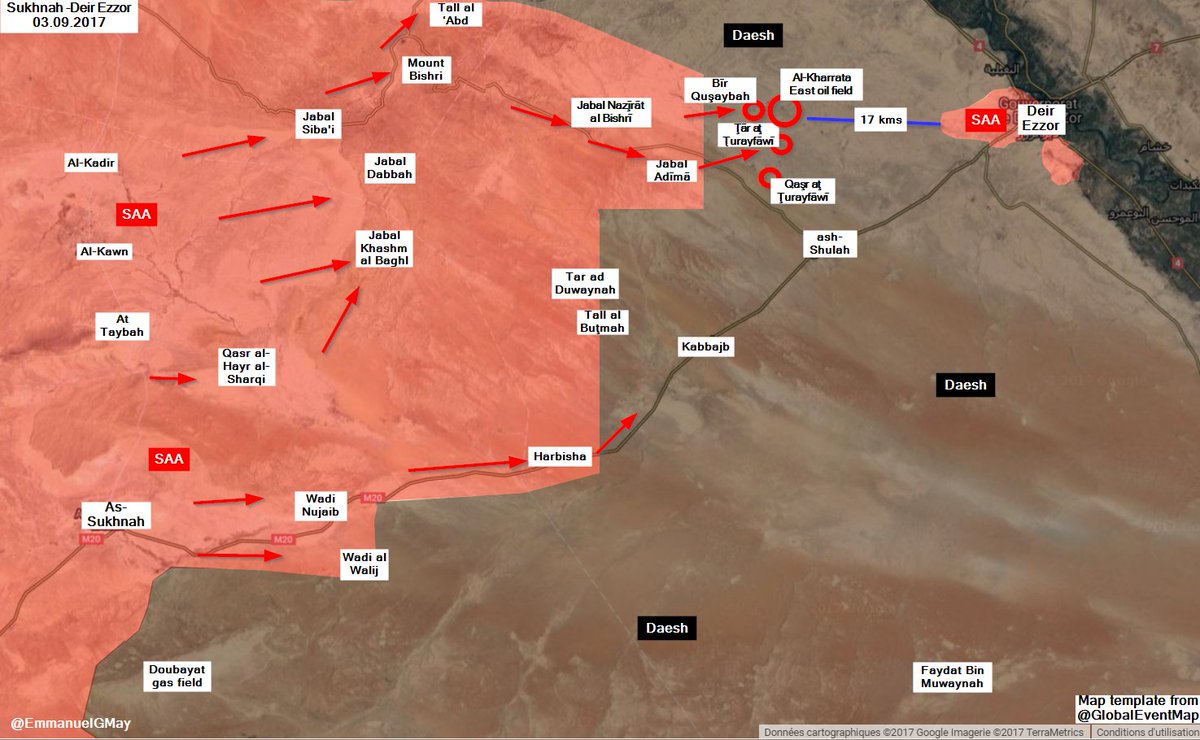 Regular SAA and allies advances -south to the Tiger Forces axis- captured Kabajib and continued to push towards As Shula. Some unconfirmed reports suggest that the city of As-Shula (Al-Shulah) has already been captured by SAA Tiger Forces. Additionally, government forces are stationed in the Al-Kharrata eastern oil field.
According to pro-government sources, the Tiger Forces are between 18 and 10 km away from the besieged city of Deir ez-Zor. The city can be liberated in the upcoming days, if not hours (luckily for the 4-years long besieged civilians).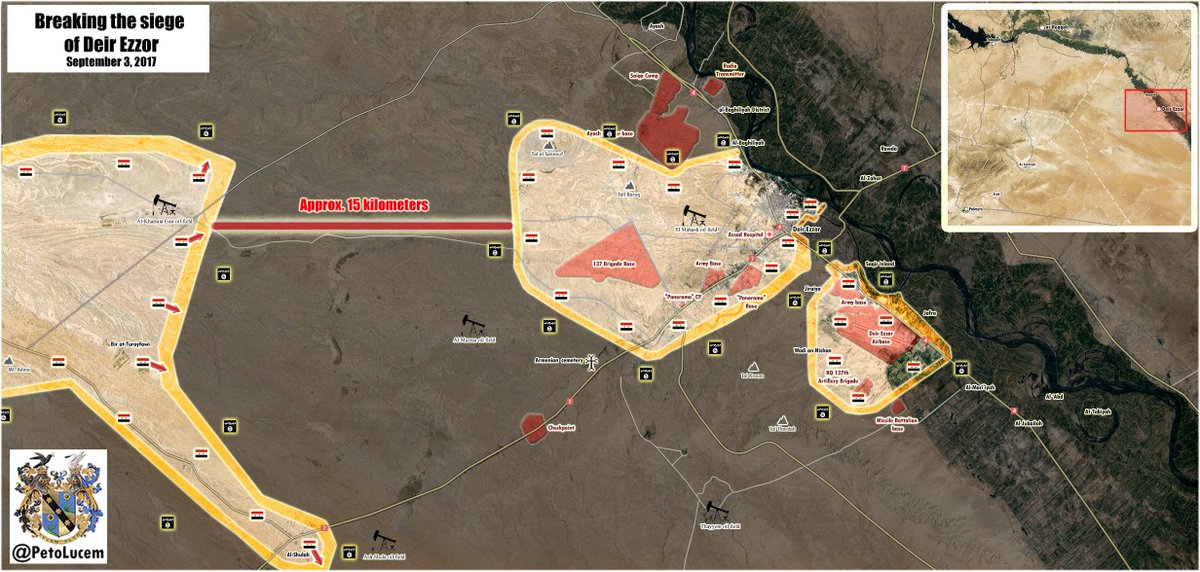 CJTF-OIR:
On the 2nd of September 2017, CJTF-OIR has conducted 22 strikes in Syria. CJTF-OIR's main focus in Syria is Raqqa region where they did 19 strikes supporting SDF's operations against IS destroying five fighting positions, four logistics nodes, three IEDs, two staging areas, a mortar system, a vehicle, and a command and control node.
Other areas where three strikes occurred are Al Hawl and Deir ez-Zor destroying destroyed four oil stills and a VBIED. The full report on CJTF-OIR strikes conducted in both Syria & Iraq can be found here.
Other:
Intellectual credited properly used may vary from an edition to edition.
Feel free to voice your opinion in the comments section below, constructive criticism is welcomed.
For those of you interested, you can follow me on my personal, controversial twitter @alextorrell where I constantly tweet about different issues and conflicts