Hello and welcome to the 186th instalment of the SWD.
Military events/news are listed below by the governorates:
Raqqa:
The Syrian Democratic Forces captured different strategic points in Darayeh district while killing 13 IS soldiers. Moreover, clashes continued in Mansur neighbourhood where, at least, 12 IS terrorists were killed. Additionally, a mine and mortar factory was captured in Mansur district. SDF captured more than 50% of the Al-Rasheed district located in the Old city of Raqqa.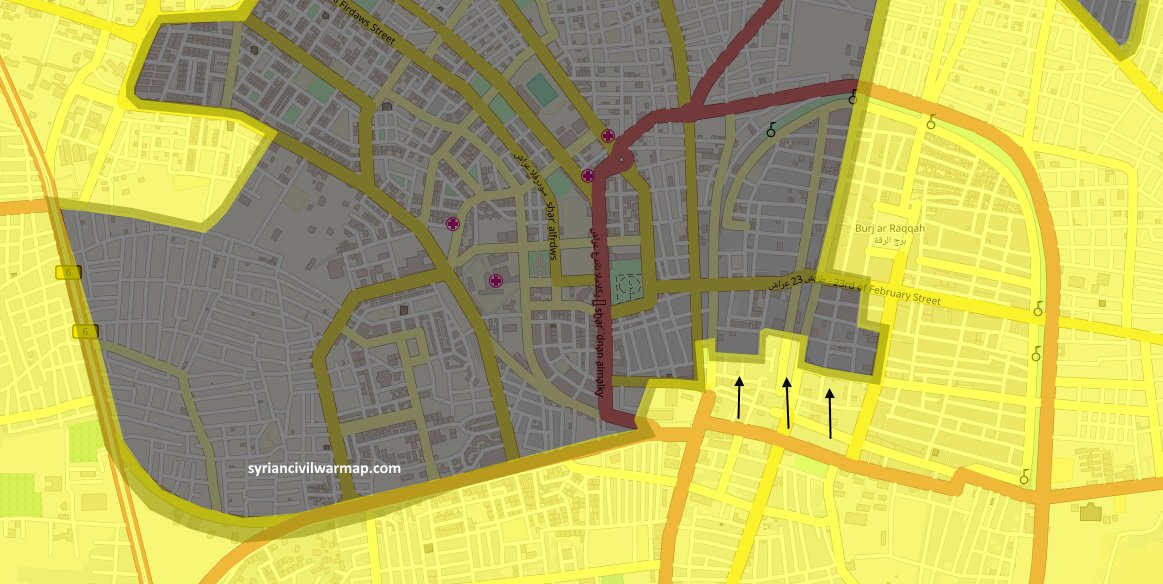 Aleppo:
Shelling between SDF and FSA forces continued today. Turkish artillery and proxies bombed Qastel Jindo, Maranaz and Ayn Daqnah; while SDF shelled Kadr Kalbin.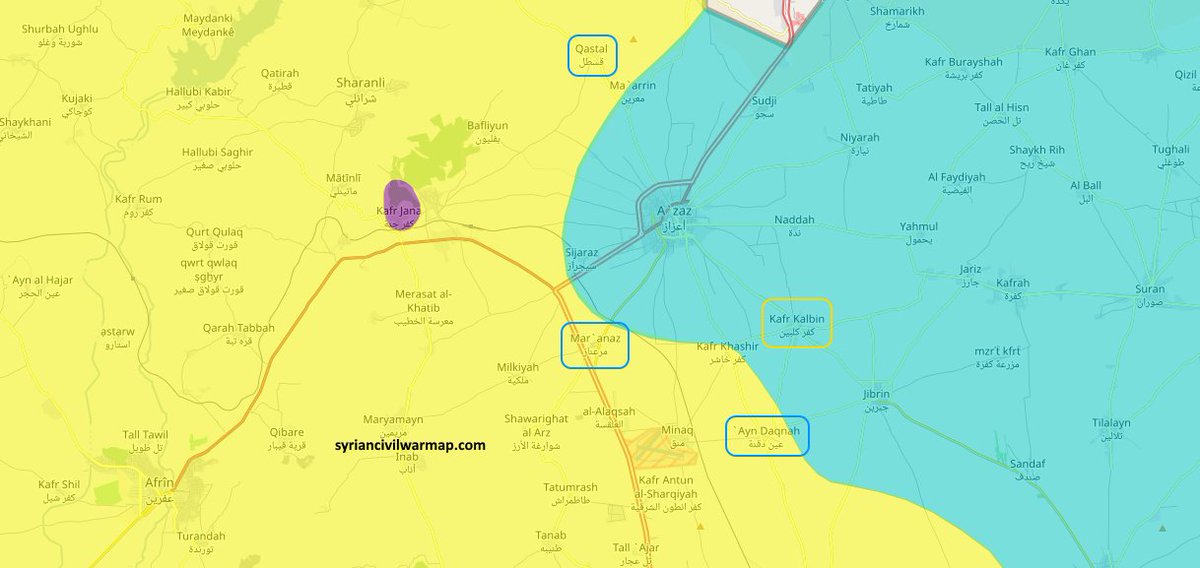 Hama:
For the second day in a row, HTS shelled with mortars a fortified government position at the Sa'an – Ithriya highway.
Government forces shelled the Al-Masasnah front in rural north Hama. The opposition forces stationed there returned fire and, according to some pro-opposition sources, a government attack was repelled. Government forces also bombed the town of Al-Lataminah. Civilian casualties are unknown.
Unconfirmed reports from pro-government sources indicate that an unknown number of ISIS leaders in eastern Hama countryside offered to surrender in exchange for amnesty.
Homs:
Syrian government air force did eight air strikes in Houla (Kafar Laha) town, in northern rural Homs, initial reports suggest that at least 10 civilians were injured and one killed.
On the south-eastern areas of Homs governorate, Government forces and its allies have entered Humaymah area and captured the southern and central parts, after yesterday's advances which give government forces fire control over the area.
The Islamic State forces launched an attack towards Kadir town, located north to Al-Kawm oasis area. The SAA elite unit Tiger Forces, who are stationed in that front, have reported that the US or coalition planes bombed their positions. Although these reports come from pro-government sources, it's worth considering two possible options: first, that coalition forces have bombed again Syrian government troops fighting ISIS as happened in Deir ez-Zor a few months ago; or two, that government forces are reporting a hoax like Iraqi militias did when being attacked by ISIS forces at the Syrian border located in Al-Anbar governorate. Reports suggest that the Tiger Forces hold the ground and repelled ISIS attack.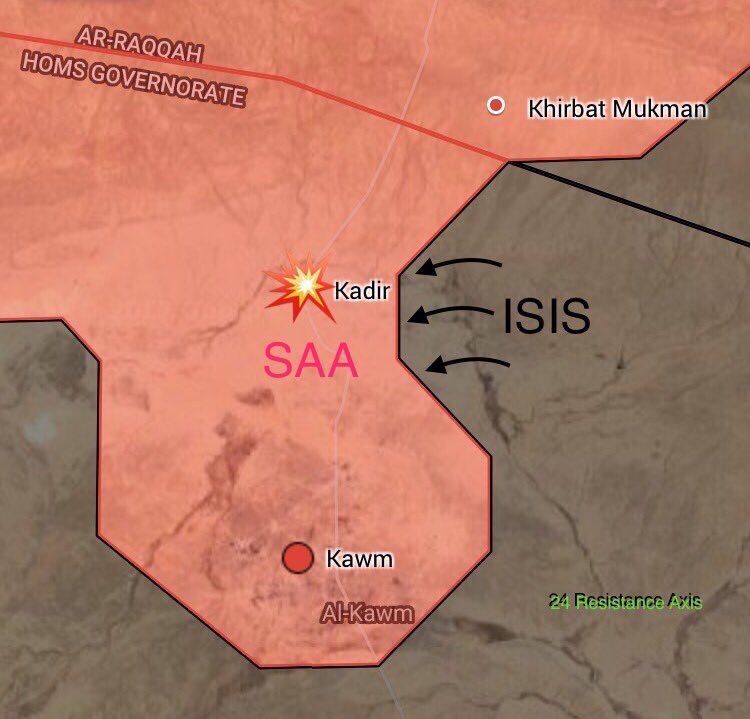 Syrian Arab Army captured Bir Tuwaynan and Bir Wadim areas located on the road to Sukhnah through Rusafa-Ithriya axis. These areas are a salient located to the west of Al-Kawm SAA frontline.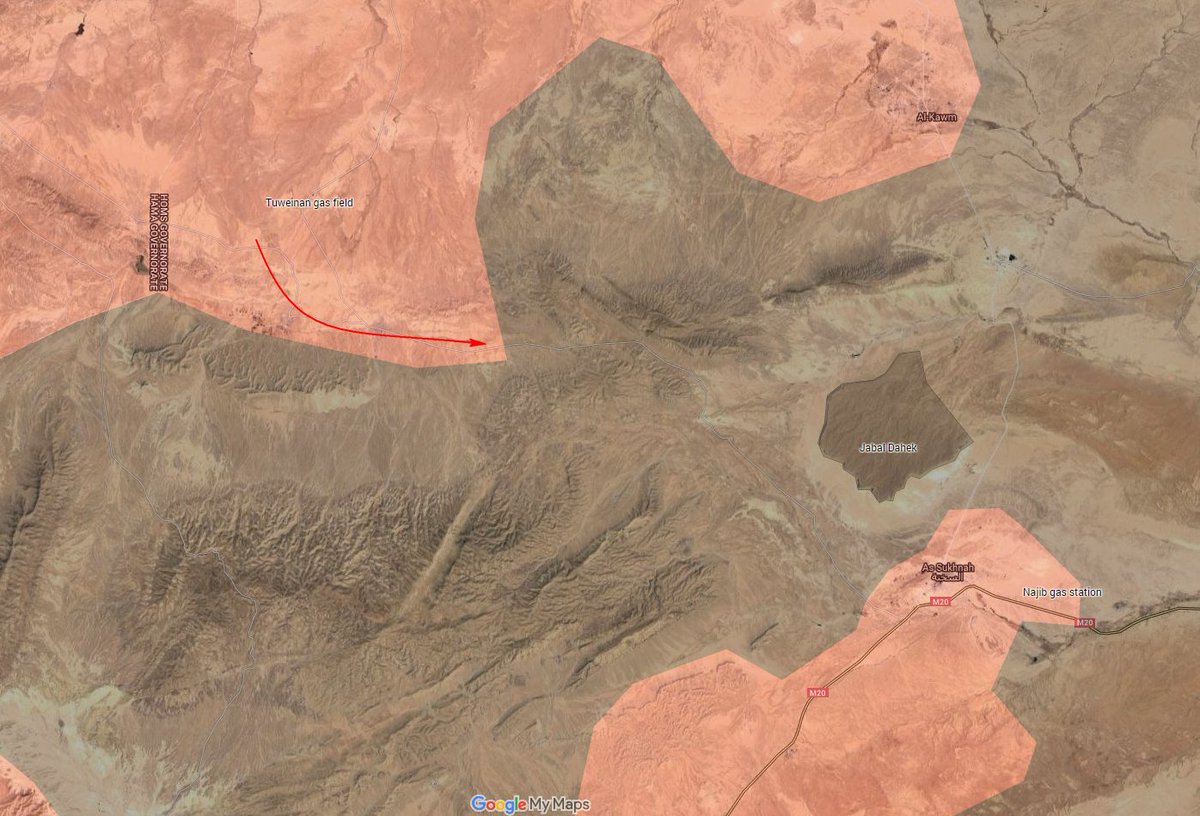 The "Brigade of the Martyrs of western Taiba" announced the group will join the "Jaish al-Tawhid" group in northern Homs pocket.
Damascus:
Hours after the ceasefire started in the Eastern Ghouta region, six casualties were reported due to government forces shelling the areas of Jobar, Zamalka and Hamouriyah. Moreover, late reports indicate that an attack of the SAA's Republican Guard 4th Division has been repelled in Ayn Tarma front line.
Over 200 ISIS fighter surrendered to Hezbollah and SAA forces during the operation to retake all the ISIS-held areas on the Syrian-Lebanese border. Surrender came after SAA and allies captured some ISIS members and the Zemmrani crossing. Additionally, government forces captured a large number of sites including Massoud Valley, Abu Khedir (a mountain that overlooks the entire Jarajeer plain), Bijurd Aljair, Harf Almousel mountain, Mosul mountain (a mountain that overlooks the Fikha and Mira border crossings), and many other sites. Thus, SAA and Hezbollah forces have liberated 1/3 of the ISIS-held West Qalamoun. The total border area liberated is of 87 km, ISIS only controls 50km of the Syrian-Lebanese border.
The terrorist forces that surrendered to SAA and allies also gave up their weapons, motorcycles and a transport vehicle. A Hezbollah cameraman asked to one of the surrendered ISIS fighters why they surrendered, the ISIS militant answered by saying they were finished. The scene can be found in this video. This shows that some ISIS militants are, after all, unwilling to keep fighting the war. The rendition coincides after the US reported the fatal physical conditions of some ISIS terrorist captured in the Battle of Raqqa, which showed a high degree of malnutrition and drug abuse.
As-Suwayda:
The FSA unit "Ahrar Ashaer Army" announced today the launch of a new operation to regain what opposition forces lost to SAA at the Syrian-Jordan border. The operation, named "Battle of Dignity" is expected to take place in south Suwayda governorate. Initial reports suggest that FSA forces managed to destroy a tank with a TOW, and to have captured, at least, 31 government militants. Although, pro-government sources report that all the attacks were repelled and the areas lost to opposition forces to be recaptured.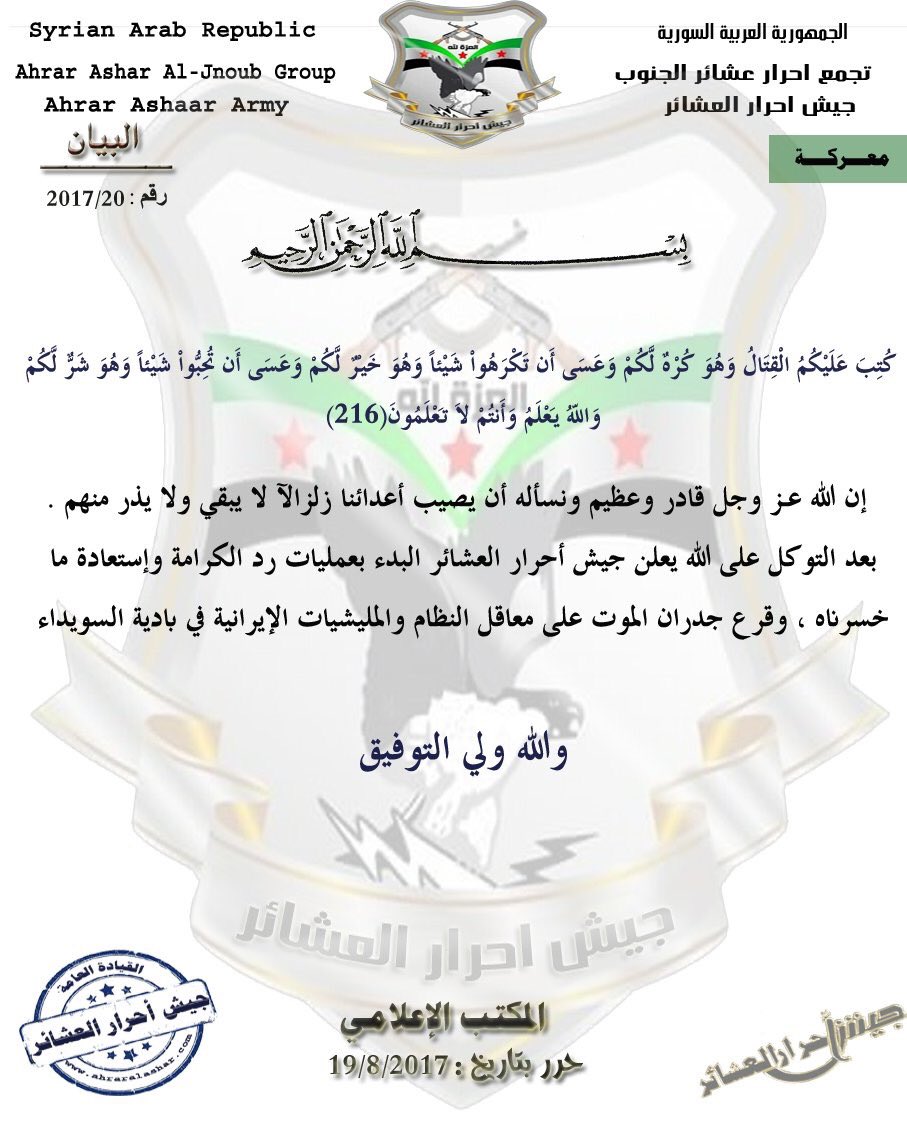 CJTF-OIR:
On the 18th of August 2017, CJTF-OIR has conducted 24 strikes in Syria. CJTF-OIR's main focus in Syria is Raqqa region where they did 19 strikes supporting SDF's operations against IS destroying 20 fighting positions, an anti-air artillery system, and a command and control node.
Other areas where five strikes occurred are Al Shadaddi and Deir ez-Zor destroying seven ISIS oil stills, seven pieces of oil equipment, five oil barrels, a fighting position and an IED factory; and damaged three bridges. The full report on CJTF-OIR strikes conducted in both Syria & Iraq can be found here.
Other:
For those of you interested in the videos published today regarding the ISIS militants that surrendered to Hezbollah and SAA, here you have a link to a translation of the videos by a Reddit user.
Intellectual credited properly used may vary from an edition to edition.
Feel free to voice your opinion in the comments section below, constructive criticism is welcomed.
For those of you interested, you can follow me on my personal, controversial twitter @alextorrell where I constantly tweet about different issues and conflicts