Hello and welcome to the 184th instalment of the SWD.
Military events/news are listed below by the governorates:
Raqqa:
Syrian Democratic Forces advanced into al-Quwatli street and claims having full control over it. Apparently, IS forces launched multiple attacks on different fronts. SDF took actions to stop the counter attacks. Huge casualties on ISIS ranks. A SVBIED factory was destroyed in Rawda district, this is a key strategy as most of the times, ISIS uses SVBIEDs to target SDF either when defending or attacking.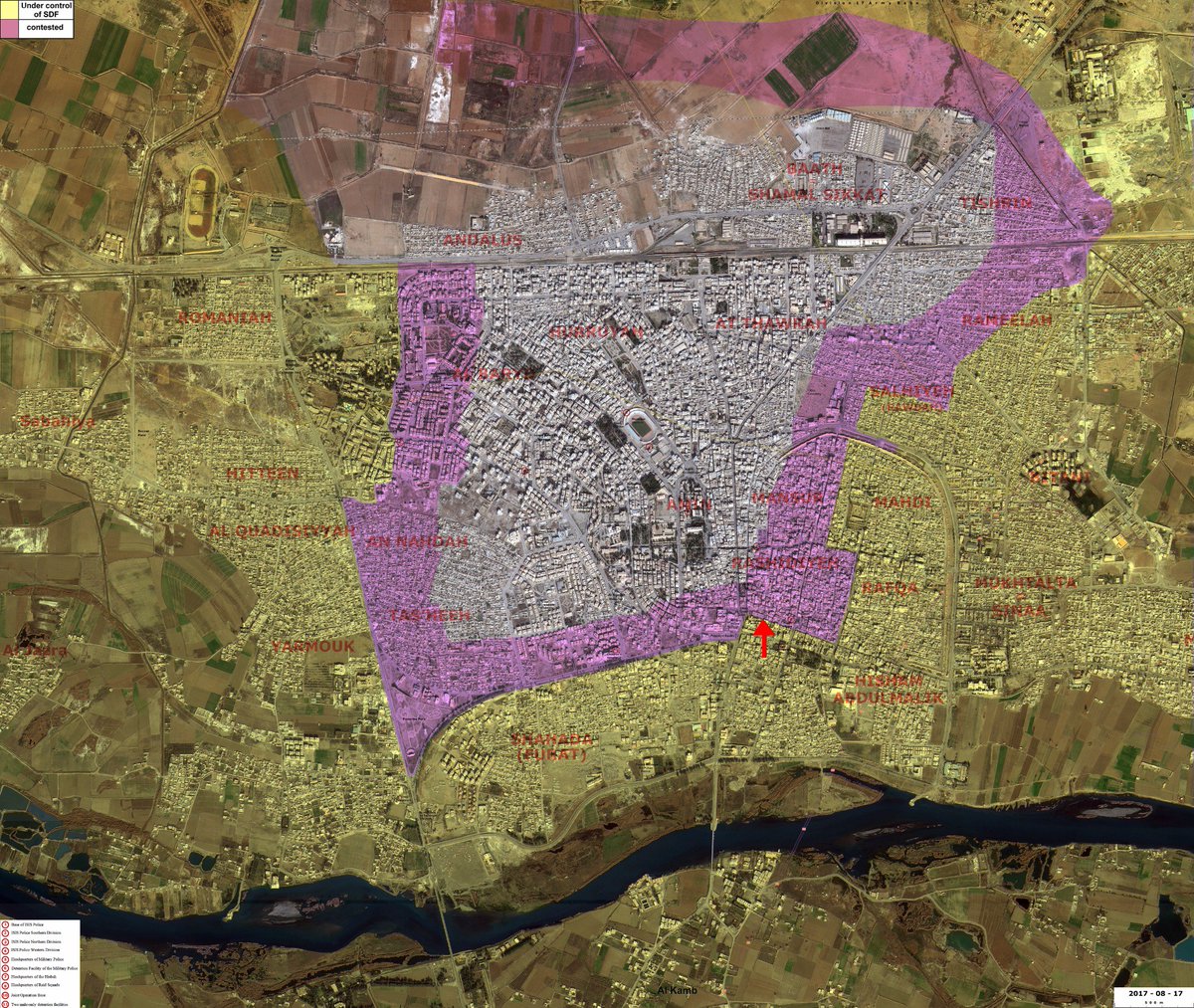 Government forces captured Al Hussein, Akram, the Tuweinan oil fields, West al Qawm, and Najib from ISIS forces.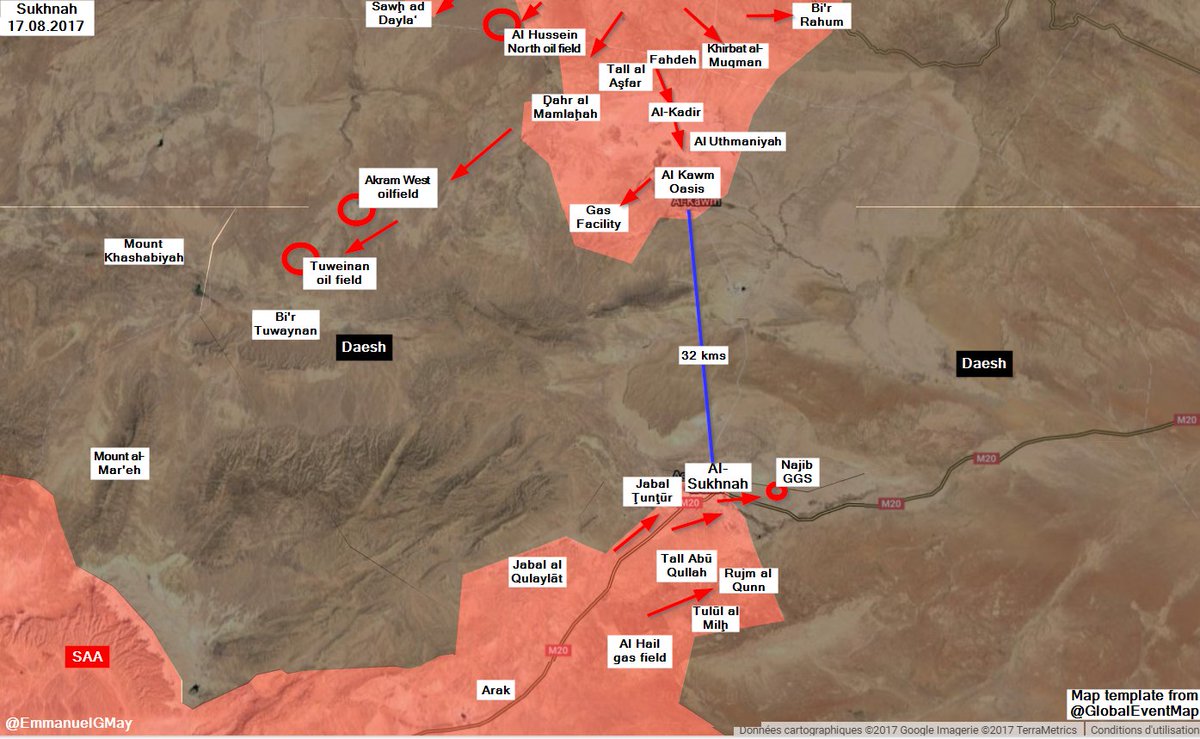 Aleppo:
Shelling between SDF and FSA continued in northern Aleppo governorate. Today, the FSA Northern Brigade stated they bombed SDF in response to them shelling Kaljbrin, Azaz and Mare. Although, at midnight, FSA carried out a night operation and destroyed an SDF-held fortification protecting Tell Rifaat. Probably shelling from SDF came after this night operation. Additionally, Turkish artillery shelled Afrin and Tall Tawil.
Hama:
The Syrian army continued its operation in the south of Athria town. Advance retaking control of Bir Al-Syd, Bir Al-Ewra, Rujm Al-Hajan and Jabal Al-Fasid. The forces from Jabal Shaer area meet with the units advancing from Jabal Sawwanah, in southern Ithria-Salamiyah road. These advances put ISIS under siege in Hama-Homs countryside. Additionally, the Syrian MoD announced the liberation of more than 7 oil and gas fields and multiple mountains.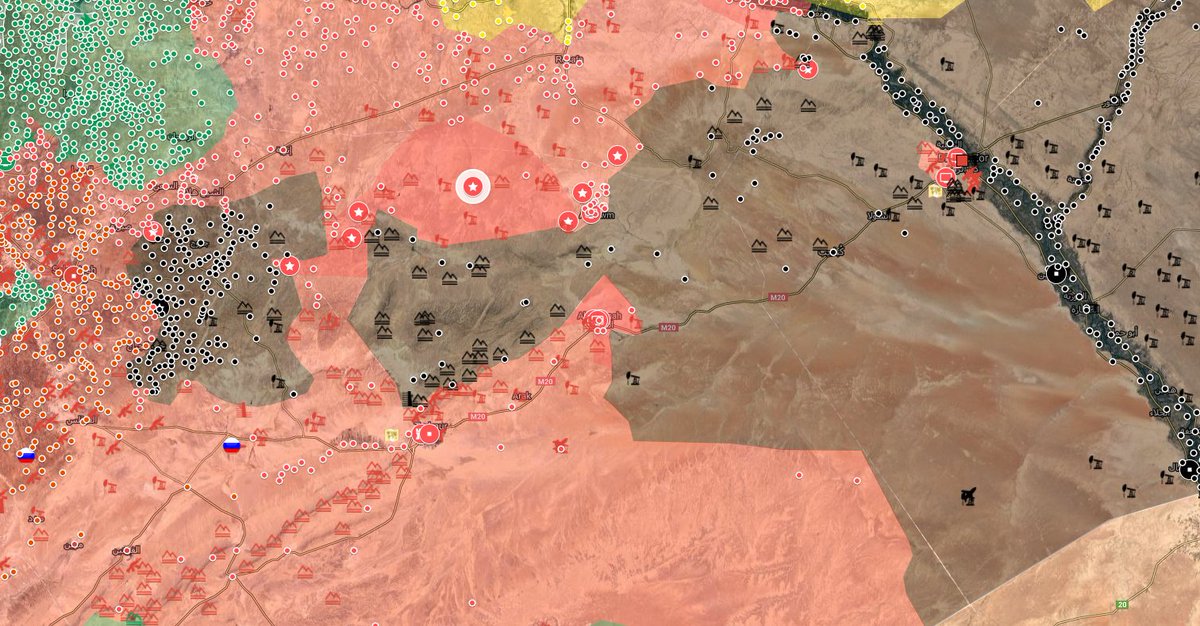 According to some sources, when SAA and allies capture east Hama countryside, over 3000 to 5000 soldiers will be freed and up to 200 armoured vehicles will be available to be sent to other fronts. If true, this could turn the tables on certain battlefields.
Homs:
In northern Homs, SAA and allies captured a large portion of northeast Homs by capturing Jabal Be'las from ISIS.
Syrian government forces bombarded Talbeesa city, in the opposition pocket located north to the city of Homs.
According to a source in Palmyra, Al-Sukhnah city is no longer in the range of ISIS missiles after the Syrian army advanced north of the city. Moreover, SAA captured Najib gas station located on the east of Sukhnah. Although, earlier today ISIS launched a counterattack in Sukhnah, the Russian Air Force and SAA troops on the ground managed to repell the attack and launch an offensive.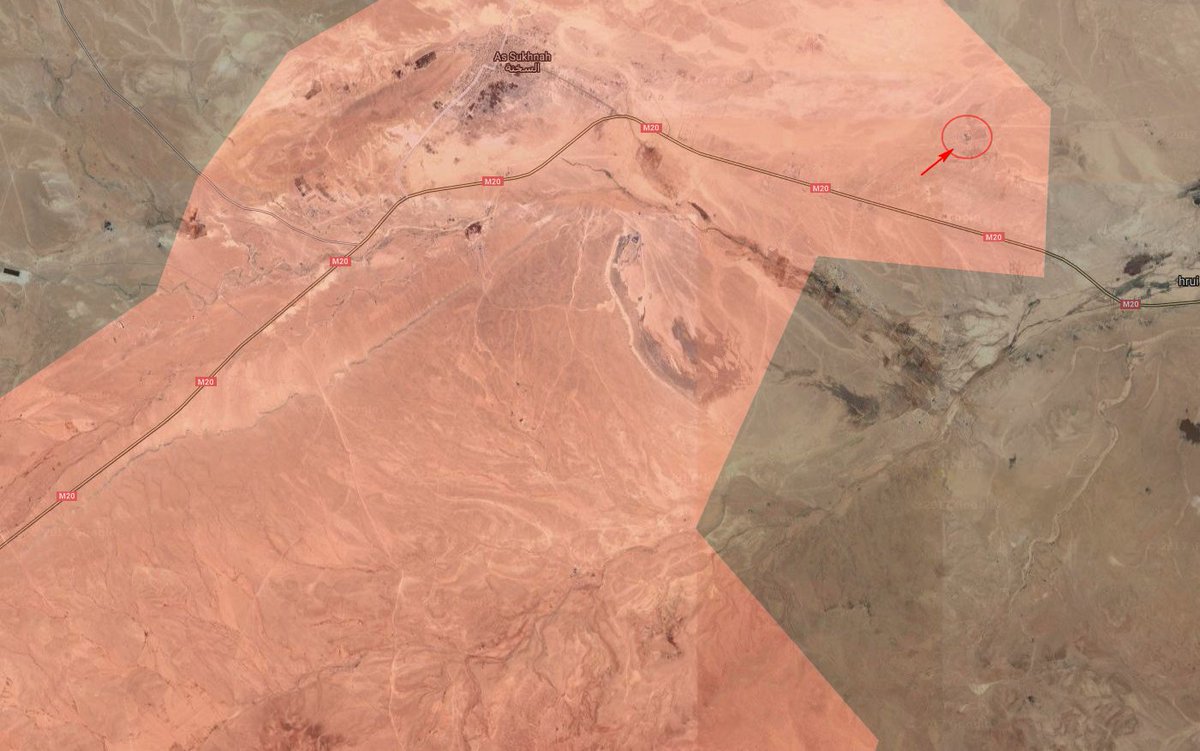 Syrian army and allies are trying to repel a midnight attack of ISIS on their positions located on the northwest of Hamaima town in eastern Homs countryside.
Damascus:
Around 60 government missiles have hit the areas of Jobar and Ayn Tarma so far. On the ground, Faylaq al-Rahman claims to have detonated another tunnel bomb which killed more than 10 government fighters. Moreover, Faylaq al-Rhama claimed to have killed at least 5 soldiers and to have destroyed a tank and a bulldozer after repelling an attack led by the 4th Division of the Republican Guard.
In Jobar, Faylaq al-Rahman claims to have killed more than 30 SAA soldiers during today's clashes.
Clashes between Jaish al-Islam and Faylaq al-Rahman took place in Saqba town, in East Ghouta.
Deir ez-Zor: 
Reports emerged about ISIS imposing conscription on all available men under its territories.
Daraa:
A Coalition airstrike on a prison of the ISIS-affiliate Jaish Khalid group has killed its Emir, named Wael Four al-Eid (Abu Tim).
Iraq
Nineveh:
PMU killed seven ISIS militant near the Iraq-Syria border.
Salah al-Din:
Diyala:
Islamic State forces bombed electricity transmission towers and main roads during a night ride. The bombed positions are between Jalawla and Qara.
Samarra:
Clashes erupted in Basra as the governor fleed and the head of local council is in prison.
Amaq
Spain:
The Islamic State claims responsibility for the terror attack that took place today in Barcelona where a van crashed into a crowd in the touristic avenue of Les Rambles, in the city centre. So far there are 13 confirmed victims, and more than 80 injured, among them 15 are severely injured. Two suspects have been detained and another one has been shot dead after escaping from a police checkpoint.
Palestine:
Islamic State affiliate group claims the responsibility for the suicide attack on Hamas checkpoint in southern Gaza.
Afghanistan:
The terrorist organisation claims to have repelled a joint US-Afghan attack in Mamnd In Achin of Nangarhar, which killed and wounded over 30 soldiers.
CJTF-OIR:
On the 16th of August 2017, CJTF-OIR has conducted 23 strikes in Syria. CJTF-OIR's main focus in Syria is Raqqa region where they did 20 strikes supporting SDF's operations against IS destroying 17 fighting positions, a logistics node, an IED, a command and control node, an ISIS UAS and a vehicle.
Other areas where three strikes occurred are Abu Kamal and Deir ez-Zor destroying 12 ISIS oil stills, three pieces of oil equipment and two oil tankers. The full report on CJTF-OIR strikes conducted in both Syria & Iraq can be found here.
Other:
Intellectual credited properly used may vary from an edition to edition.
Feel free to voice your opinion in the comments section below, constructive criticism is welcomed.
For those of you interested, you can follow me on my personal, controversial twitter @alextorrell where I constantly tweet about different issues and conflicts