Hello and welcome to the 183rd instalment of the SWD.
Military events/news are listed below by the governorates:
Raqqa:
Clashes between SDF and ISIS continue inside the old city and east of Raqqa as the US-backed forces continue to retake the city. At least seven Syrian Democratic Forces fighters have been killed in Raqqa city clashes. US military confirmed that more than half of ISIS capital (55%) has been retaken by the SDF, at least a 10 percent during the past two weeks.
Apparently, SDF advances have been slowed and, in some parts of the city, stalled. This is probably due to ISIS putting a fight on hard defences builds all around the older districts of Raqqa. Narrower streets, better build tunnel systems, fully booby-trapped buildings and other tactics, including lots of SBVIEDs and suicide attacks are being carried out by ISIS forces.
Anti-ISIS coalition has successfully destroyed a VBIED before it reached its target of SDF at al-Wadi street. Two more ISIS SVBIED were detonated in Raqqa, the first one targeted SDF positions near Salam hospital, which killed 10 Kurdish YPG fighters; the other one targeted the eastern district of Al-Rasheed in the old city against SDF. Even though, SDF managed to capture the Al-Rasheed school area from IS forces.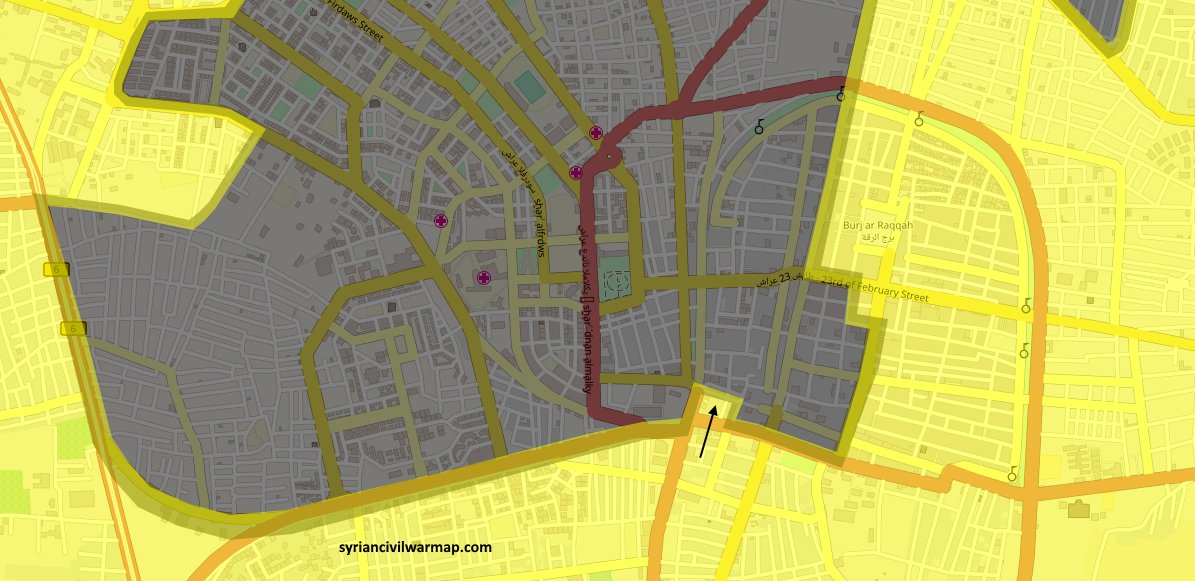 An unconfirmed event took place yesterday. Since we could not find a really convincing argument or proves, we did not report it. The event was that SAA and its allies retreated from the villages recently captured along the Euphrates river. While @24Raqqa reported that government troops retreated from Abu Hammad, Salem Hammad and Atshana villages in this tweet, a known pro-government source, @watanisy, uploaded a couple of photos showing that SAA troops still were in Abu Hammad village in this tweet. The situation is still unclear and we hope it gets clarified in the upcoming days. 
SAA elite unit Tiger Forces captured some areas west to Al-Qawm, south Raqqa countryside. Thus, instead of pushing further south, government forces have enlarged the buffer zone by capturing some gas fields on the west side of Al Qawm area.
Aleppo:
Last night Turkish-backed forces shelled Minnigh and Ayn Daqna, and Maranaz towns in north Aleppo governorate.
Idlib:
An unknown number of people died and over a dozen more were wounded after an IED exploded in Al-Dana town in Idlib.
Latakia:
Syrian government troops shelled al-Najeya town with artillery. Meanwhile, FSA forces shelled government positions on Raha Hill in rural Latakia.
Hama:
Russian warplanes hit the villages of Akerbat area in eastern Hama. At the same time, SAA renewed advances on northern axis of Sha'er mountain and captured new points from ISIS forces in east Hama and northern Homs countryside. While advancing, SAA and allies managed to destroy a number of ISIS light vehicles.
Additionally, the MoD announced that SAA armed forces and allies advanced 25 km deep in southern Rifqa and take control over different locations: Tal Al-Yalef, Dahr Al-Salmouh, Al-Amali, Rjam Al-Shih, Suh Al-Dilij, Qirba, Wadi Al-Auj and a number of hills. Among the hills, Nariya gives fire control over the village of al-Fursa.
Homs:
Two up-armored 4×4 SVBIEDS were captured by government forces near Sukhnah.
Damascus:
Government forces killed and wounded an unknown number of people after bombarding Kafr Batna town in Eastern Ghouta pocket. Government troops also bombed Ebrin, Jobar district and Ayn Tarma town with heavy surface-to-surface missiles and artillery.
On the ground, heavy clashes took place in Jobar, Ayn Tarma and Zamalka as government troops tried to infiltrate rebel-held areas. The 105th brigade of the Republican Guard, an SAA elite unit, attacked the areas surrounding the newly captured Sonbol Station and made some little advances in the area of Ayn Tarma. In Jobar district, FSA unit "Faylaq Al-Rahman" detonated a tunnel bomb blowing up a position with government forces inside, allegedly the 4th division. Additionally, 15 SAA troops have been killed by opposition forces after ambushing the units in Jobar, too. Despite opposition defences, initial reports suggest that the SAA 4th division captured several building blocks.
Meanwhile, Fayaq al-Raham claimed that government forces used chlorine gas during clashes today in Jobar. No image or video was provided.
SAA troops and allies advanced on the Syrian-Jordanian border and captured several garrisons and borders posts in Damascus countryside. Government troops regained control from the point 154 to the point 160 in the border.
Moreover, heavy clashes erupted by midnight between FSA and SAA troops at Mahroutha front.
Daraa:
FSA units launched an operation to track ISIS cells in NAseeb town in Daraa countryside.
Deir ez-Zor:
Rumors are spreading that ISIS is causing anger among the local population as a consequence of conscripting children and the elderly in Deir ez-Zor governorate.
CJTF-OIR:
On the 15th of August 2017, CJTF-OIR has conducted 12 strikes in Syria. CJTF-OIR's main focus in Syria is Raqqa region where they did 11 strikes supporting SDF's operations against IS destroying 30 fighting positions, a logistics node and an ISIS UAS.
Another area where one strike occurred is Deir ez-Zor destroying an ISIS well-head. The full report on CJTF-OIR strikes conducted in both Syria & Iraq can be found here.
Other:
Intellectual credited properly used may vary from an edition to edition.
Feel free to voice your opinion in the comments section below, constructive criticism is welcomed.
For those of you interested, you can follow me on my personal, controversial twitter @alextorrell where I constantly tweet about different issues and conflicts.