Hello and welcome to the 182nd instalment of the SWD.
Military events/news are listed below by the governorates:
Raqqa:
The Syrian Democratic Forces continue to battle ISIS in Raqqa city. According to SDF sources, at least 95 IS terrorists have been killed. The Islamic State has targeted SDF positions in three points. The first one Hisham Bin Abdulmalik neighbourhood with a double suicide attack on SDF positions. The second one, Barazy Square, at the eastern side of besieged Raqqa. The third one, in Romaniya neighbourhood, with a widely used tactic, an SVBIED with 2 people in its crew in which one of them shoots from the top of the vehicle. Results of the different suicide attacks are unclear.
On southern rural Raqqa, SAA and Tiger Forces are just 30 km away from creating an ISIS pocket. ISIS claims to have destroyed a pickup vehicle with an ATGM. Also, at least 7 SAA fighters have been killed due to mortar shelling from Daesh forces near Moqla Bridge in eastern Raqqa.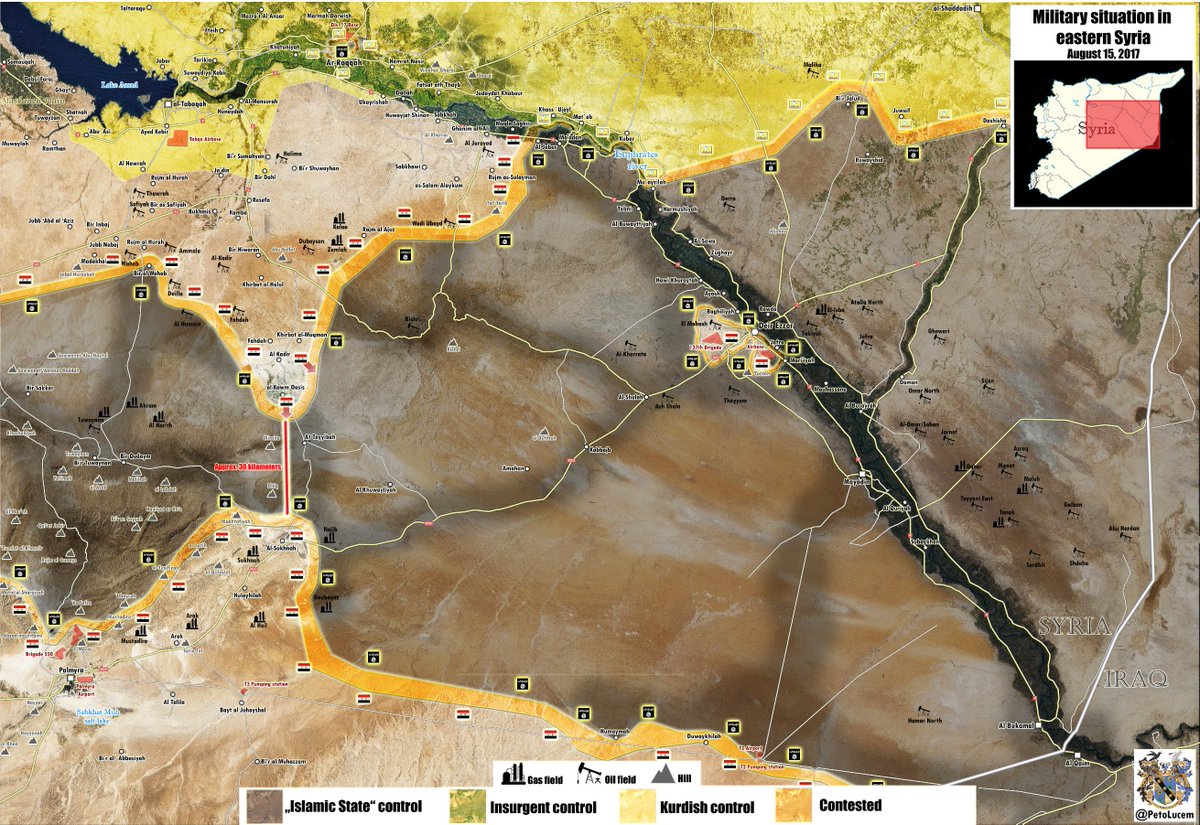 Aleppo:
The SAA shelled with heavy artillery the city of Anadan, north of Aleppo city. Today, according to pro-FSA media, multiple SAA soldiers have been captured in the northern frontlines in Aleppo governorate.
Idlib:
Gunmen opened fire on a Syrian Civil Defence car near Ad Dana city, in Idlib, there are no injuries reported. Although, it is important to note that this is the second reported attack on White Helmets in HTS-held areas this week only. HTS announced the formation of the "Army of Hama" made up of several units and soldiers defecting from Ahrar al-Sham, units from Jund al-Sham and Ajnad al-Sham.
Syrian government forces bombarded Khan Sheykhoun.
An IED exploded near Kurin village with unknown casualties, effects and claims.
Hama:
Syrian Arab Airforce helicopters dropped leaflets over opposition-held Homs and Hama areas. The leaflets encouraged rebel fighters and militias to leave the weapons.
Faylaq al-Sham launched grad rockets at government position in northern Hama countryside.
The Islamic State claims to have seized a BMP and a pickup truck after clashing with government forces in southeastern Ithriya. Meanwhile, the Syrian Arab Army captured the strategic hill named Jubb al-Mazare', which overlooks ISIS-held Salba village in east Salamiyah countryside.
Homs:
Islamic State claimed to have killed 5 government soldiers after a raid near Sha oil fields. On the other hand, SAA and allies successfully ambushed an ISIS group in Humaymah area, they have killed an unknown number of its militants, while capturing some other.
Apparently, a large number of SAA troops are being concentrated in Sukhnah in preparation for the major offenisve towards Deir ez-Zor city.
Damascus:
The approximately 3.000 displaced people arrived at Al-Ruhaybah past night in East Qalamoun pocket jointly with 300 FSA rebels.
Syrian government forces continued shelling the areas of Jobar and Ayn Tarma with GRAD rockets, IRAM rockets and elephant missiles. Meanwhile, for the second time this week, Faylaq Al-Rahman detonated a tunnel bomb in Ayn Tarma that blew up a building with government fighters inside. Unconfirmed rumours appeared late today about the 4th Division stoping the Jobar offensive as Russian authorities have requested it amidst a de-escalation plan in the area.
A government jet has been shot down near the border with Jordan. The pilot, named Ali Helwa, was able to eject himself from the falling plane, but has been captured alive by the FSA unit Jaish Usud al-Sharqiya. The US-backed forces have given first aid treatment for the pilot who, as can be appreciated in different images, seems to be severely wounded.
Deir ez-Zor:
The Islamic State launched an arrest campaign in Deir ez-Zor governorate in light of the military conscription released some weeks ago. IS also detained tens of civilians in Sbeikhan town. The terrorist organisation is also entering cafes and asking for IDs.
Iraq
Nineveh:
Iraqi forces have begun bombing Tal-Afar located west of Mosul. Two days ago an unknown person set IS biggest weapon stash in Tal Afar on fire. There is a high probability of Iraqi forces starting the operations to liberate the ISIS-held city on the short term.
CJTF-OIR:
On the 14th of August 2017, CJTF-OIR has conducted 31 strikes in Syria. CJTF-OIR's main focus in Syria is Raqqa region where they did 27 strikes supporting SDF's operations against IS destroying 59 fighting positions, two heavy machine guns, a mortar system, an IED, and a logistics node.
Other areas where four strikes occurred are Al Shadaddi and Deir ez-Zor destroying six ISIS oil stills, five fighting positions, and two command and control nodes. The full report on CJTF-OIR strikes conducted in both Syria & Iraq can be found here.
Other:
Intellectual credited properly used may vary from an edition to edition.
Feel free to voice your opinion in the comments section below, constructive criticism is welcomed.
For those of you interested, you can follow me on my personal, controversial twitter @alextorrell where I constantly tweet about different issues and conflicts.