Hello and welcome to the 181st instalment of the SWD.
Military events/news are listed below by the governorates:
Raqqa:
Early in the morning, two ISIS VBIEDs were destroyed by the Syriac Military Council, MFS and YPG in the northwest front. On the southeastern front, around the old city, the SDF has fully captured Mahdi and al-Refqa districts from ISIS.
SAA Tiger Forces continue to advance deep into ISIS territory after yesterday's unexpected airdrop of troops behind ISIS lines. After they liberated around 20 km of terrorist-held villages and territory, Tiger Forces have captured Al-Koum village and Al-Koum oasis, location here, south of Al-Qader and north of Al-Taybah town. Al Taybah town is expected to be its next target.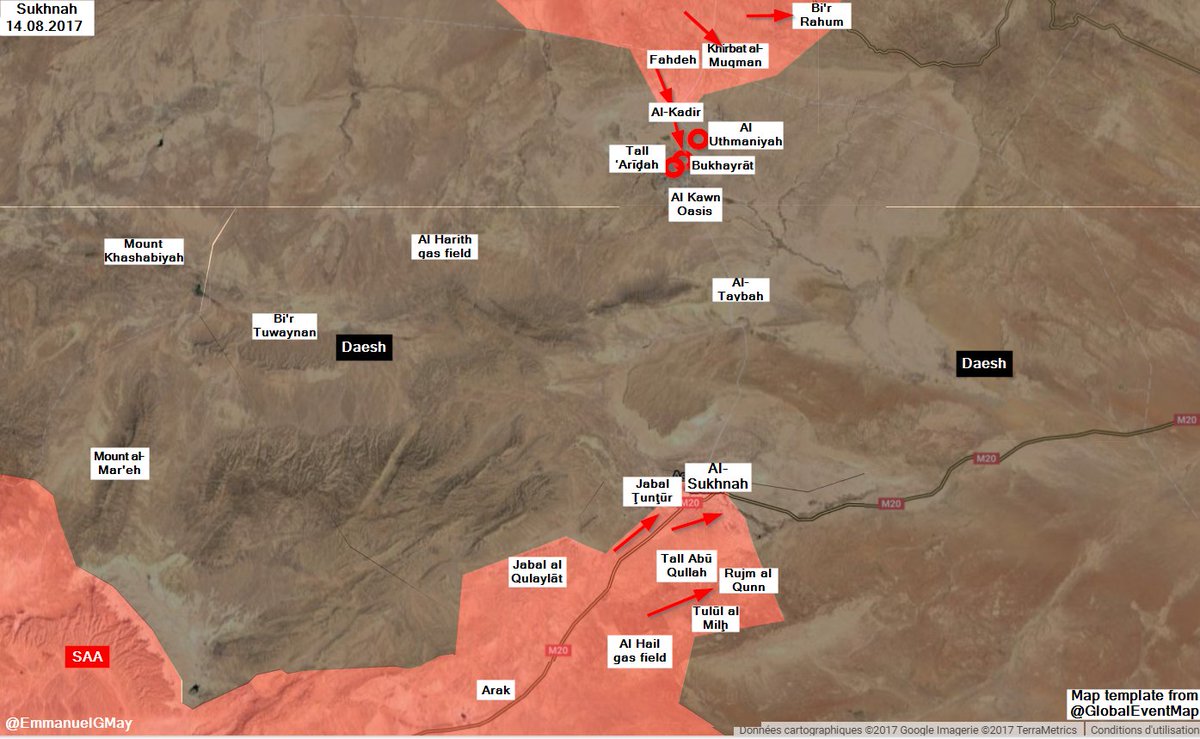 These movements put the SAA closer to creating a big ISIS pocket in the middle of a mountainous desert.
Aleppo:
Syrian government troops bombarded with artillery Barneh and Zitan town in south Aleppo; Rashdeen district in west Aleppo city; and Adnan, Hreitan and Hayan in north Aleppo. Clashes broke out recently between government forces and rebels in the front of Anadan and Tamoura cities. Meanwhile, HTS published a video showing a raid near Castello highway in north Aleppo.
Turkish artillery shelled the area around the Rubar refugee camp located in the district of Sharawa in Afrin.
Idlib:
Abu Mohammad, a member of HTS Elite Forces in South Idlib, apparently has been assassinated in Hizareem.
Hama:
SAA and allies advanced south of Qutnah ruins and liberated Al-Ruwayj area. Advances were made too from Jub al-Mazaree towards Al-Rahel farm. These advances went 15 km inside ISIS territory and now SAA is reaching the northern edged of the strategic Husayyah.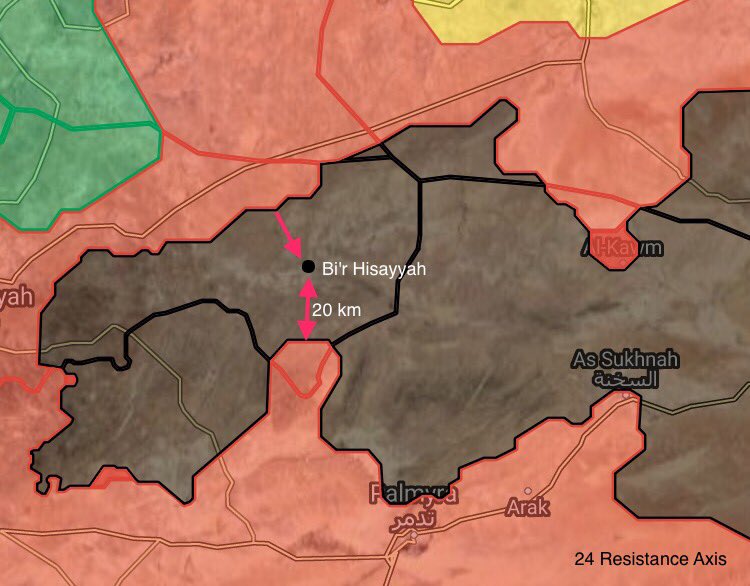 ISIS launched a counter-offensive on the 594th Heigh, which was recently captured by SAA and allies, located in Salamiyah countryside. The attack was repelled by government forces.
An ISIS-made tunnel was found by SAA somewhere near west Sala after capturing the area.
Homs:
Ahrar al-Sham struck government positions, fortifications and Headquarters in response to the past attacks on civilians in Ghassabiya village, in north Homs pocket. Meanwhile, the Negotiations Committee of North Homs meets up with the Russian delegation at Dar al-Kabeer village in northern Homs pocket, too.
Unclear reports about a Liwa al Quds Commander reporting that they have advanced 20 km north of Ithriya, but a soldier says the progress has been made at Balaas Mountains, which is south to Ithriya. The latest makes more sense as almost all countryside territory is, theoretically, under SAA control.
ISIS claims to have successfully carried out a raid in North of al-Shaer gas fields, seizing ammo, weapons, a tank, and a BMP from government forces. Reports say that up to 17 SAA fighters have been killed. IS also claims to have repelled an attack by government forces west of Humaymah village, where an SVBIED detonated and many spoils of war have been made, including ATGMs.
On the SAA side, there are claims in which SAA isolated Humaymah from west to south as terrorist forces begin to retreat to the Euphrates river. Since information from eastern Syria is scarce and has relevant difficulties to be both confirmed and transmitted, it is important to remain doubtful to information that is not fully proven by images or videos. Thus, we would like to remind that this information can be widely inaccurate.
Damascus:
The SAA and allies seized a tunnel network in the newly captured areas inside the district to the east of Sanbal Petrol station in Ayn Tarma, East Ghouta pocket. Meanwhile, Faylaq al-Rahman took out a government minesweeper vehicle in Jobar. Government forces also bombed with artillery and rockets the towns of Zemlka and Ayn Tarma.
The map below shows the areas liberated by SAA since the start of the operation.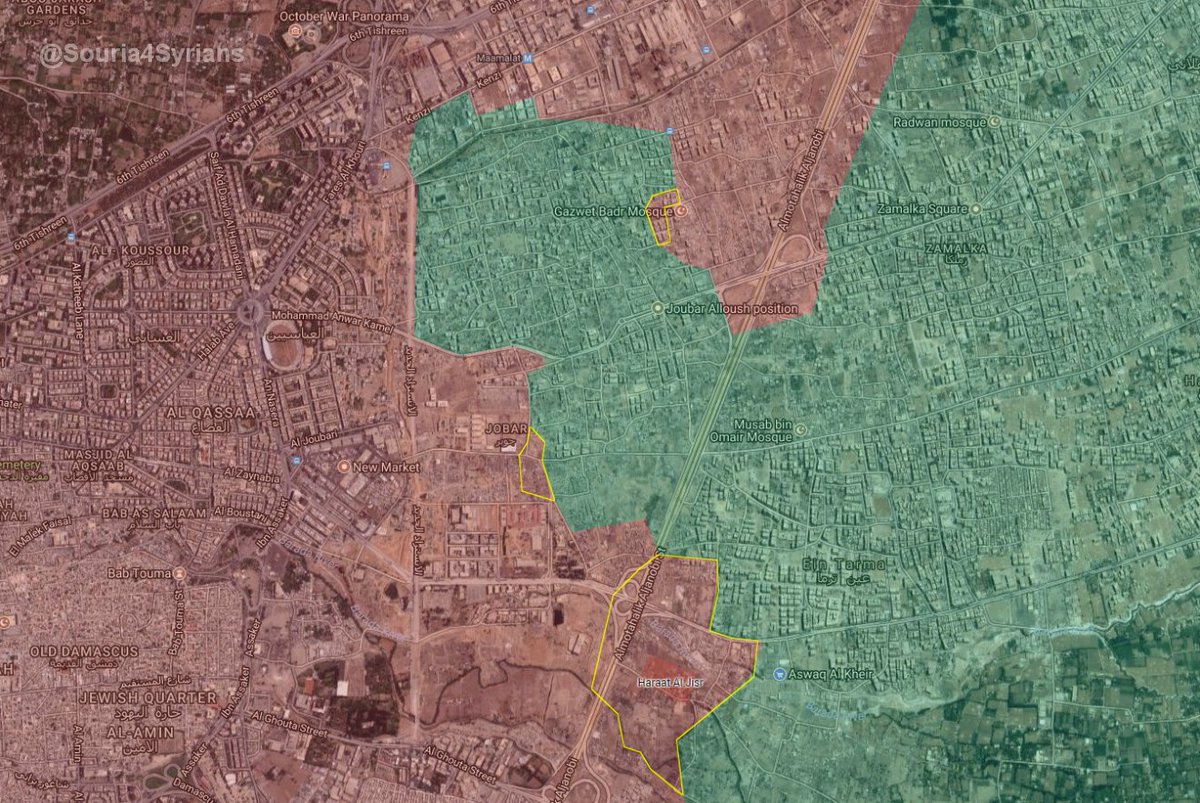 The Deputy Chief of Staff of the Jaish al-Islam, Reza Hariri, nicknamed "Abu Abdullah 200" was assassinated with an improvised explosive device (IED) in Eastern Ghouta.
Yesterday, HTS and Faylaq al-Rahman attempted to recapture al-Ash'ari area from Jaish al-Islam in East Ghouta. Today, Jaish al-Islam still control Beit Sawa farms and have attacked Beit Sawa town, location here, which is held by Faylaq al-Rahman and HTS.
CJTF-OIR:
On the 13th of August 2017, CJTF-OIR has conducted 17 strikes in Syria. CJTF-OIR's main focus in Syria is Raqqa region where they did 16 strikes supporting SDF's operations against IS destroying three fighting positions, an anti-aircraft artillery system, a logistics node a heavy machine gun, a vehicle and an IED.
Another area where one strike occurred is Deir ez-Zor destroying an ISIS well-head. The full report on CJTF-OIR strikes conducted in both Syria & Iraq can be found here.
Other:
An evacuation of rebel militants and displaced people took place today in Lebanon. The evacuated people were moved from Arsal pocket in Lebanon, towards the pocket of Ar-Ruhaybah, north to Dumayr pocket. A total number of 350 Saraya Ahl al-Sham fighters and over 3.200 people from camps near Arsal had been transported.

Image showing the route followed by the buses transporting displaced people and Saraya Ahl al-Sham militants – via @C_Military1 

According to this map made by @Souria4Syrians these are the potential manoeuvres and goals to be followed by SAA and its allies in order to retake the whole of ISIS-held Hama and Homs governorates.

Possible military strategies according to @Souria4Syrians in this tweet. 
Intellectual credited properly used may vary from an edition to edition.
Feel free to voice your opinion in the comments section below, constructive criticism is welcomed.
For those of you interested, you can follow me on my personal, controversial twitter @alextorrell where I constantly tweet about different issues and conflicts.