Hello and welcome to the 180th instalment of the SWD.
Military events/news are listed below by the governorates:
Raqqa:
YPG-led SDF troops advanced in Raqqa Old city after clashes broke out around 11 am.
The Islamic State executed three persons after accusing them of "collaboration with the Syrian Arab Army" in Maadan city, eastern Raqqa countryside.
Aleppo:
Hay'at Tahrir al-Sham announced the killing of nine SAA soldiers and wounding seven more in an attack on "Castello factories" in northwestern districts of Aleppo city.
Idlib:
Unknown men have murdered 7 Syrian Civil Defense volunteers, also known as White Helmets, in their Headquarters in Sarmeen, and stole their life-saving equipment and money. Opposition pages blame Hay'at Tahrir al-Sham for the incident as, when HTS took over the city, they removed the police, the court and the checkpoints.
Hama:
The SAA has captured several points east of Mab'ougah village towards Salba village in east rural Hama. Thre government soldiers were killed in Ethreya town during clashes with ISIS.
Homs:
HTS has shelled government positions from Homs Rastan pocket.
The Syrian MoD confirmed that the Syrian Arab Army and allies took full control of the city of As-Sukhnah. As has been reported for days, engineer teams are clearing the IEDs and mines left by ISIS.
Multiple reports appeared earlier today in which, apparently, Syrian paratroopers landed behind ISIS lines in Raqqa-Homs border, and recaptured more than 20km of territory from ISIS control. the towns liberated are Al-Kadir, Khirbat al-Muqman, and Bi'r Rahum; other reports suggest that SAA forces are on the outskirts of Al Kawm town (33 km away from Sukhnah). Only 42 km separate Sukhnah from SAA forces located in Raqqa countryside.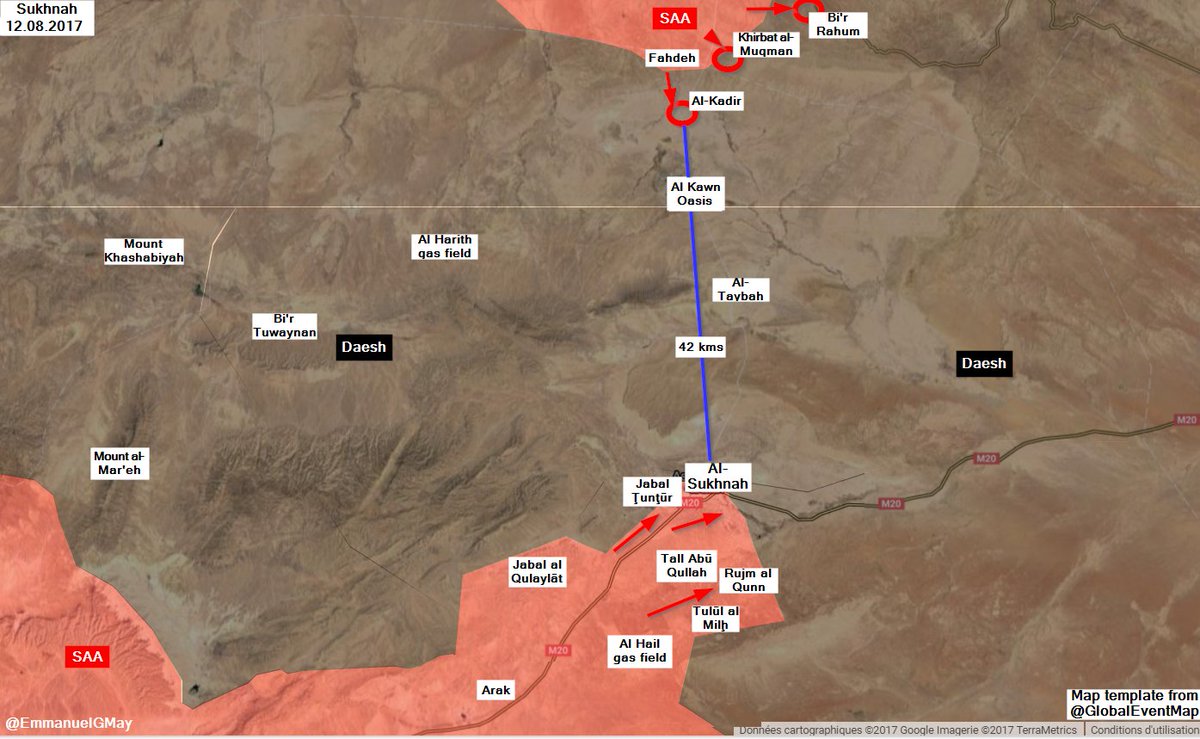 Damascus:
The SAA has shelled with artillery and IRAM rockets multiple villages in the rebel-held pocket north to the city of Damascus. One of them targeted Duma market with unknown casualties and material damage. Another target was, again, the outskirts of Ain Tarma and Jobar.
Meanwhile, troops on the ground stormed Jobar and Ain Tarma areas. Some advances were made in Jobar front after Manasher roundabout, sawmills, and the entire southern district was captured by government forces. Some advances were reported toward HArmalah tunnel in Jobar, too. Faylaq al-Rahman announced they destroyed two 4th division tanks in Ain Tarma.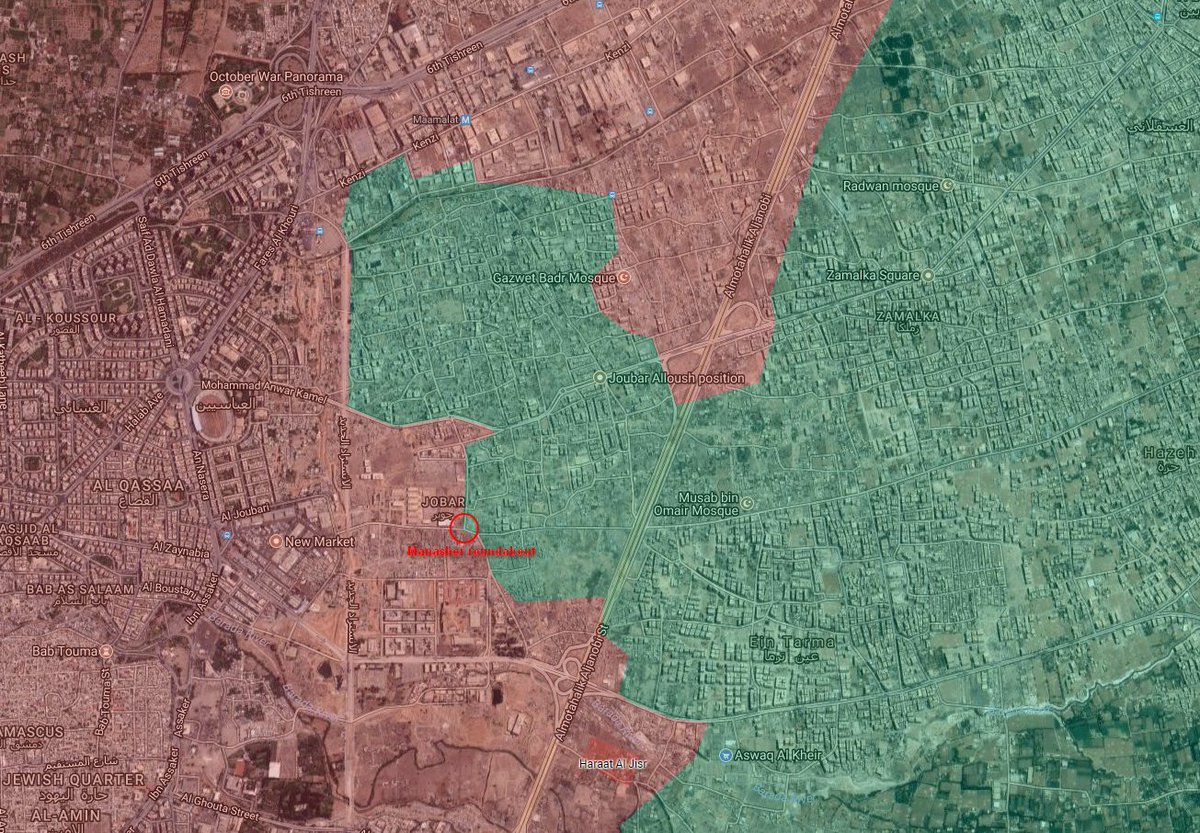 In addition, four Syrian Army personnel were arrested in Jobar as they dismantled rocked launchers multiple times so they did not explode once launched toward rebel positions.
Moreover, HTS declared to have taken control over Tel al-Shaam village in Western Ghouta, while protests took place in Erbin city  (Eastern Ghouta) in which protesters were calling HTS to leave the city.
Daraa:
Jaish al-Islam released a statement confirming that dozens of its fighters were killed in a suicide attack targeting their camp last night in Daraa.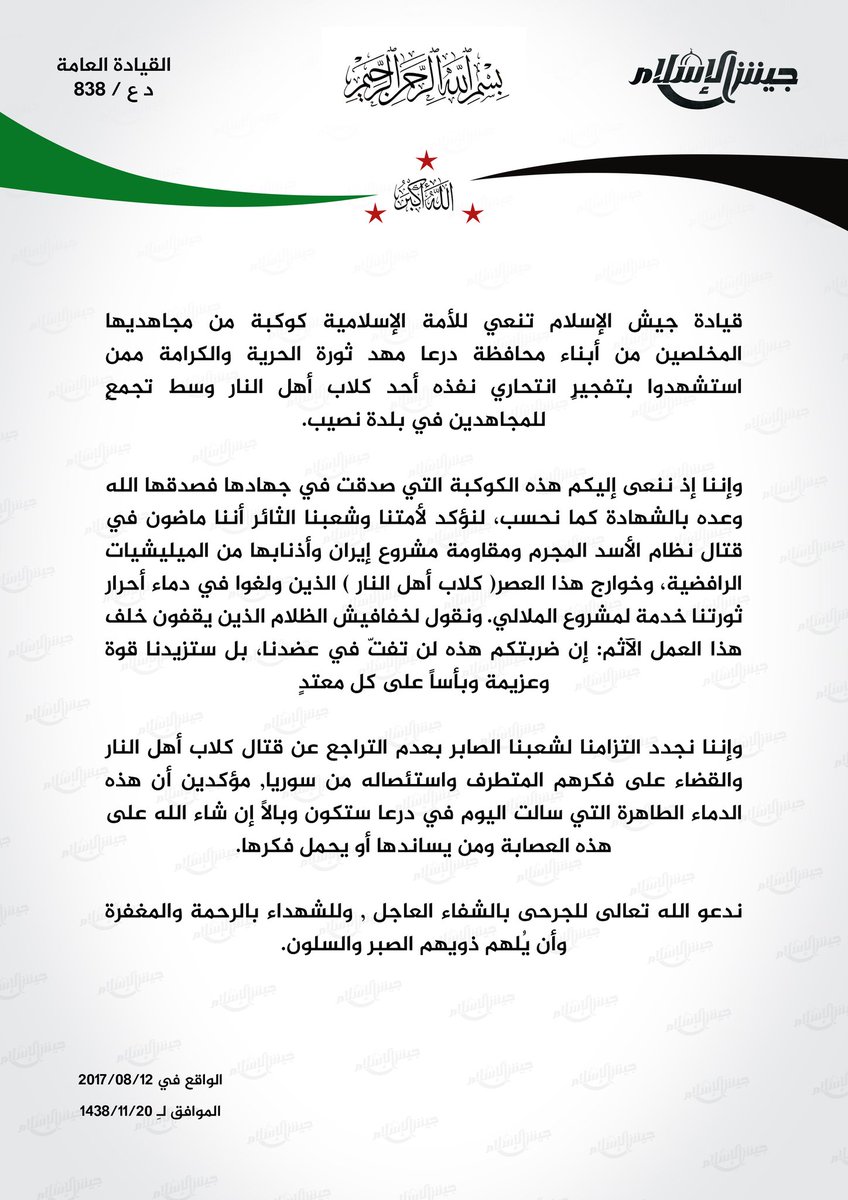 Deir ez-Zor:
Images appeared from besieged city of Deir ez-Zor where clashes between the SAA and ISIS forces; also images were published showing the humanitarian aid being airdropped on the government controlled parts of the city. Video of clashes can be found here.
Iraq:
Kirkuk:
Intense clashes took place today between Peshmerga forces and ISIS terrorists as they attacked the village of Albu Mohammed, in Daquq area. Peshmerga forces were targeted by car bombs.
Samarra:
PMU killed an ISIS suicide bomber in Tikrit city. The suicide bomber tried to detonate himself in a crowded urban market.
Amaq:
Philippines:
The Islamic State killed 19 Moro Islamic Liberation Front fighters during clashes in Maguindanao. ISIS also claims to have killed nine soldiers in sniper attacks in Marawi city.
Afghanistan:
IS killed two Taliban fighters during clashes in Jowzjan, and claims the assassination of an army officer and his guard in Jalalabad.
CJTF-OIR:
On the 11th of August 2017, CJTF-OIR has conducted 27 strikes in Syria. CJTF-OIR's main focus in Syria is Raqqa region where they did 26 strikes supporting SDF's operations against IS destroying 35 fighting positions, two vehicles, and ISIS headquarters and an ISIS communication line.
Another area where one strike occurred is Deir ez-Zor destroying a vehicle. The full report on CJTF-OIR strikes conducted in both Syria & Iraq can be found here.
Other:
Intellectual credited properly used may vary from an edition to edition.
Feel free to voice your opinion in the comments section below, constructive criticism is welcomed.
For those of you interested, you can follow me on my personal, controversial twitter @alextorrell where I constantly tweet about different issues and conflicts.