Hello and welcome to the 179th instalment of the SWD.
Military events/news are listed below by the governorates:
Raqqa:
The Syrian Democratic Forces claim to have destroyed two IS SVBIEDs before they reached their positions in Raqqa old city. SDF and ISIS clashed in the al-Rasheed and Mansour districts. They US-backed forces entered Rimele neighbourhood after the complete liberation of al-Baytani, Shalat al-Banat and Tell Bay'ah district. Reports suggest that the Division 17 Army Base has been fully cleared from ISIS.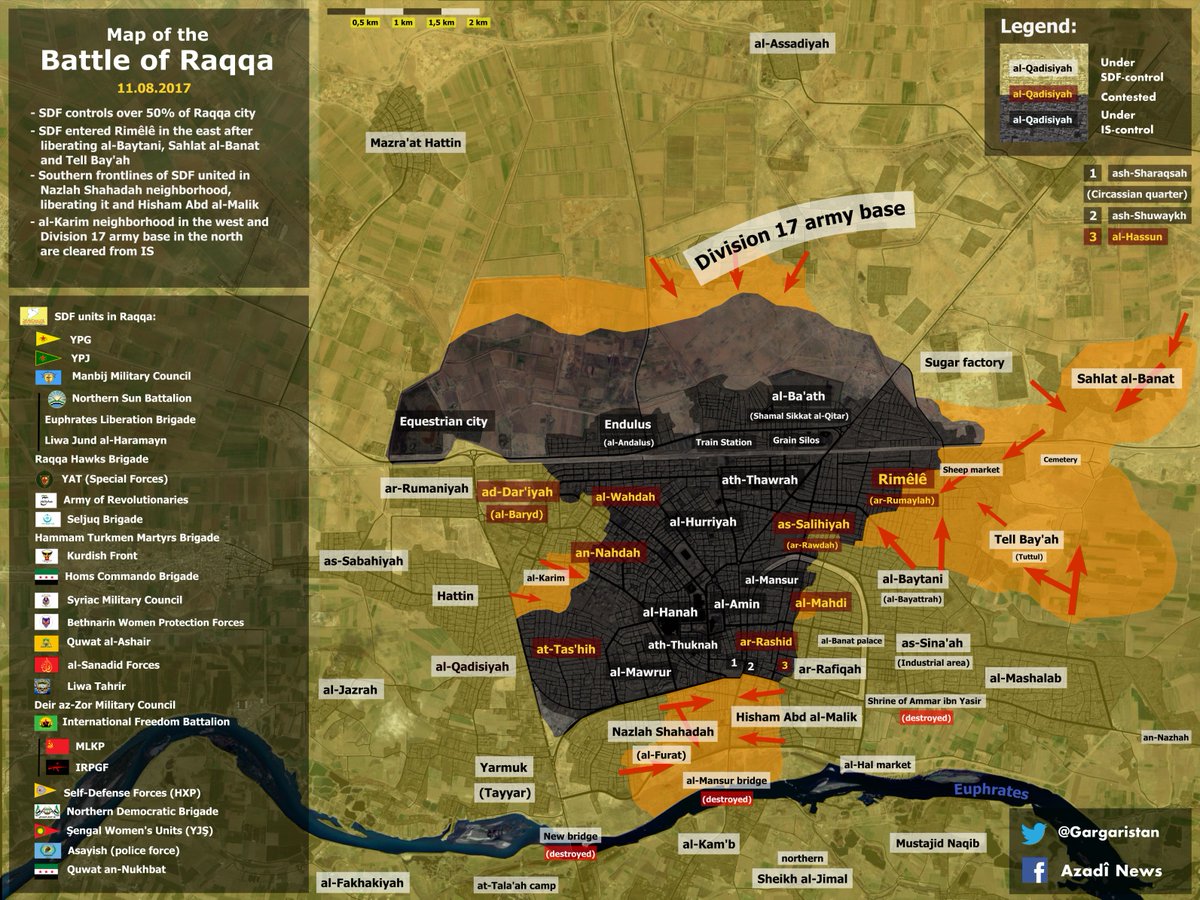 The Islamic State claims to have killed nine SDF soldiers and to have wounded others after an SVBIED attack took place near the Great Mosque in Raqqah city. Moreover, the terrorist organisation has claimed two successful attacks on SAA positions along the Raqqa front lines. One of them in southwestern Raqqa where ISIS claims to have killed at least 11 SAA soldiers; the other attack took place north of Al-Kadir where government forces were overrun, and ISIS took out two tanks.
Hama:
SAA's Qalamoun Shield Forces captured the hills overlooking Salba, which thanks to its strategic location, gives fire-control over the ISIS-held village located in eastern Salamiyah countryside.
Homs:
The Syrian Arab Army took control over the security detachment point east of al-Sukhnah, located on the Sukhnah-Deir ez-Zor road. Meanwhile, Engineering units continue removing mines and IEDs in the centre of Sukhnah city. Engineering units are having difficulties to clear the city for three main reasons: firstly, ISIS still can target those areas with artillery and pose a threat to the engineering units; secondly, ISIS dug tunnels from the city outskirts to the centre, thus some units and lone wolfs can enter the city through those tunnels; and thirdly, there is not an exact certainty that the center of Sukhnah is completely free from ISIS fighters, even more, when there are tunnels that connect the city outskirts with the IED and mined areas. Although, some pro-government sources suggest that SAA took control of the last hill overlooking the city, which would mean that ISIS has no more higher ground to target the city and would put things easier for engineers to clear the city. Meanwhile, ISIS launched a counter-attack to try to retake the lost positions in the town of Sukhnah, SAA units repelled the attack.
The Islamic State forces have retreated from Al-Salihiyah village after yesterday the SAA and allies took Tarfawi town. Although, the situation is unclear as SAA claims to have captured the town, while ISIS announced to have recaptured the village.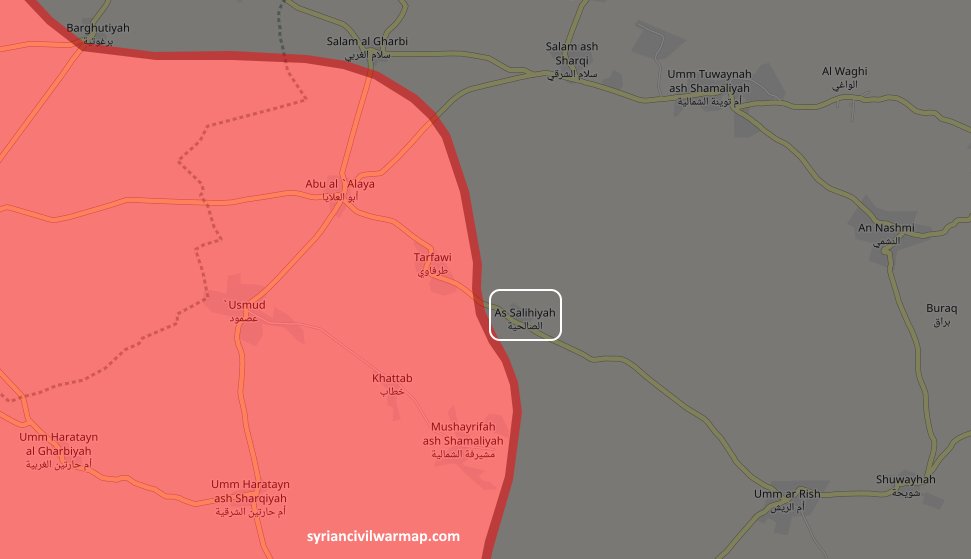 Damascus:
Syrian government artillery targeted the towns of Hamouriya and Ayn Tarma in the Eastern Ghouta pocket. On the ground, SAA units and allies captured the Meat Company Building; heavy clashes took place on the Ayn Tarma and Jobar front as government forces tried to advance on their respective fronts with unknown results. SAA captured a Faylaq Al-Rahman fighter on Harmalah district. On the rebel side, opposition forces wiped out a whole group of government soldiers in Ayn Tarma and destroyed an IRAM rocket launcher.
Daraa:
The Islamic State targeted a Jaish al-Islam military meeting and killed more than 30 people, including commanders and soldiers.
Quneitra:
The Newly formed FSA group named "National Liberation Front of Syria" has announced the entry of 6 new factions into its ranks.
CJTF-OIR:
On the 9th of August 2017, CJTF-OIR has conducted 34 strikes in Syria. CJTF-OIR's main focus in Syria is Raqqa region where they did 33 strikes supporting SDF's operations against IS destroying 21 fighting positions, four command and control nodes, three ISIS communication nodes, two IEDs, a logistics node and an ISIS communication facility.
Another area where one strike occurred is Deir ez-Zor destroying a vehicle. The full report on CJTF-OIR strikes conducted in both Syria & Iraq can be found here.
Other:
Intellectual credited properly used may vary from an edition to edition.
Feel free to voice your opinion in the comments section below, constructive criticism is welcomed.
For those of you interested, you can follow me on my personal, controversial twitter @alextorrell where I constantly tweet about different issues and conflicts.