Hello and welcome to the 176th instalment of the SWD.
Military events/news are listed below by the governorates:
Raqqa:
The Syrian Democratic Forces have captured at least 60% of Raqqa. Today SDF killed 17 ISIS members in Raqqa and destroyed a car bomb before it reached its target in Hisham Abdul Malik area, south Raqqa city. Clashes took place in Nazlat Shehad district, southern Raqqa, too.
The Syrian Arab Army Tiger Forces continued its advances in southeast rural Raqqa and liberated the villages of Al-Numaysah, Jaber, Khamisiyah. These advances locate the governmental forces two km away from Maadan, last ISIS stronghold in Raqqa. Furthermore, Russian warplanes carried out strikes on Maadan and Sweida villages in eastern Raqqa.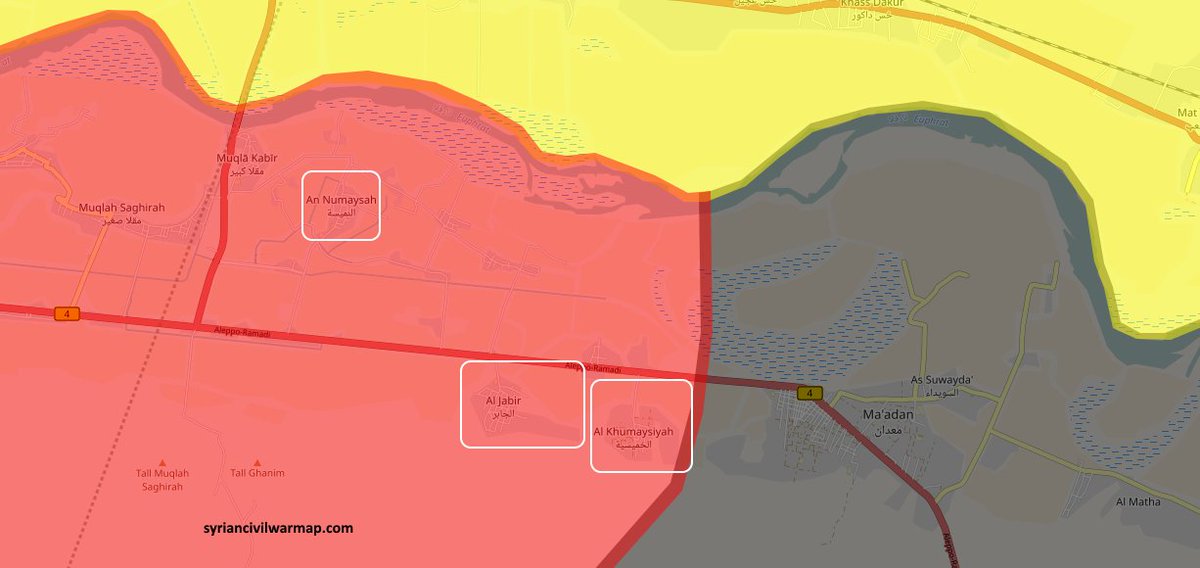 Aleppo:
The Turkish army has carried out several airstrikes against YPG located in northern Aleppo with its armed UAV. Meanwhile, SDF and Turkish-backed FSA exchanged artillery fire on the front line next to Kaljabrin town.
The Muntasir Billah Brigade, who is a member of the Free Syrian Army, has published an image of two captured Syrian Arab Army soldiers beaten up.
Hama:
Russian warplanes carried out air strikes on the village of Akerbat (Oqairebat), while government forces shelled Mourek city, northern Hama, with artillery.
Homs:
A new Russian military police checkpoint has been established at Dar al-Kabirah on the northern Homs pocket. Meanwhile, government forces shelled al-Ghanto town north to that new checkpoint.
Although different pro-government sources reported that Sukhnah city was fully under government forces control, an ANNA News Russian reported confirmed that Sukhnah is not yet under SAA control, there is heavy ISIS resistance on the southern and western districts of the city. Irani Islamic Revolutionary Guard Corps has reported that around 70% of Sukhnah city was cleared, including the most though parts of it. The demining operations of Sukhnah city have claimed at least 12 government fighters dead, and 17 ISIS members dead.
Images showing government forces using heavy artillery and man-portable radar against ISIS in the outskirts of Sukhnah city. Syrian troops have reported to had secured a perimeter around Sukhnah city of 2 km eastwards and 1 km northwards in direction of Taibah. We can assume that remaining ISIS forces inside the city are trapped under siege in a pocket.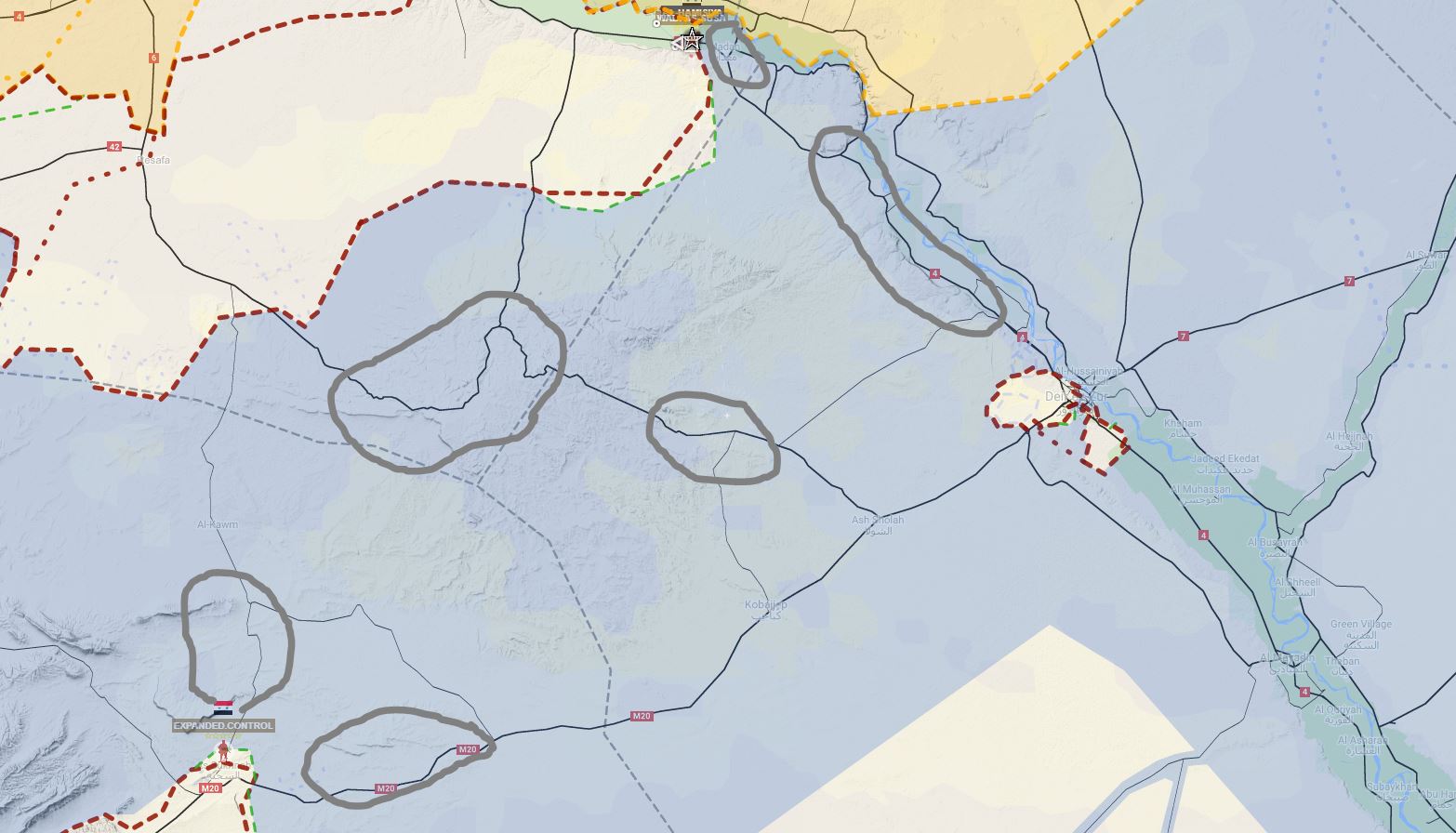 Damascus:
Syrian Government forces continued the shelling of different villages in Eastern Ghouta. Hit villages/cities/districts include Hawsh al-Dawahera, Douma, Zamalka, Ain Tarma, and Jobar. The SAA Syrian Republican Guard captured the central sector and high buildings in Ayn Tarma, also cleared the remaining buildings along the Zamalka-Jobar road; and captured new blocks on Manasher roundabout.On the rebel side, the Al-Rahaman Corps hit a government Gvozdika vehicle with a TOW ATGM.
As past daily reported, Jaish al-Islam has fully captured the Ah'ari region in eastern Ghouta from Hayat Tahrir al-Sham.
Government forces and allies have reported to fully recapture the big rebel pocket around the volcanic area in southern Syria.
Free Syrian Army unit "Shuhada Qaryatayn Brigade, has reported three of its fighters killed by airstrikes on Mahroutha front.
Daraa:
A rebel-held mines depot has exploded in the area of the rebel-held air defence base with at least 7 killed.
As-Suwayda:
SAA and allies captured Tal Assadi, Tal Jairin, Tal Al Reyhan and Bir Sabbuni, located east of Zelaf in Badiya. New video shows SAA and allies near the Jordanian border in southeastern Suwayda.
Deir ez-Zor:
Today the Islamic State launched a huge attack toward the western front in Deir ez-Zor city.
Deir ez-Zor city factions released a statement in which announced the union of different groups under one faction: Liwa' Tahrir – Deir ez-Zor Liberation Bridge
Iraq
An Iraqi court has sentenced to death 27 men connected with the Camp Speicher massacre in which up to 1.700 soldiers were murdered by the Islamic State. At the time of the attack, there were between 4.000 and 11.000 unarmored cadets in the camp. The terrorist group separated Shia and non-Muslim cadets from Sunni ones and murdered all of them. The 27 men sentenced to death will be hanged. Another 25 suspects were released because of lack of evidence. Past year 36 men were already hanged for taking part in the massacre.
CJTF-OIR:
On the 7th of August 2017,  CJTF-OIR has conducted 29 strikes in Syria.  CJTF-OIR's main focus in Syria is Raqqa region where they did 25 strikes supporting SDF's operations against IS destroying 37 fighting positions, two command and control nodes, two weapons caches, two vehicles, and a weapons depot.
Other areas where four strikes occurred are Abu Kamal, and Deir ez-Zor destroying seven ISIS well-heads, a weapons cache and an IED factory. The full report on  CJTF-OIR strikes conducted in both Syria & Iraq can be found here.
Other:
Intellectual credited properly used may vary from an edition to edition.
Feel free to voice your opinion in the comments section below, constructive criticism is welcomed.
For those of you interested, you can follow me on my personal, controversial twitter @alextorrell where I constantly tweet about different issues and conflicts.