Hello and welcome to the 175th instalment of the SWD.
Military events/news are listed below by the governorates:
Raqqa:
The SDF managed to fully liberate the southern districts and reduced the area under ISIS control. The US-backed forces fully captured Hisham Ibn Abdulmalik neighbourhood. Moreover, SDF captured large parts of Ramelah district, including two schools, a mosque and a sheep market.
Although, Islamic State forces managed to repel an SDF attack on the northwestern Raqqa city districts. ISIS also managed to attack the Syrian Democratic Forces with a VBIED near the "political security" building, the coalition forces successfully destroyed another one.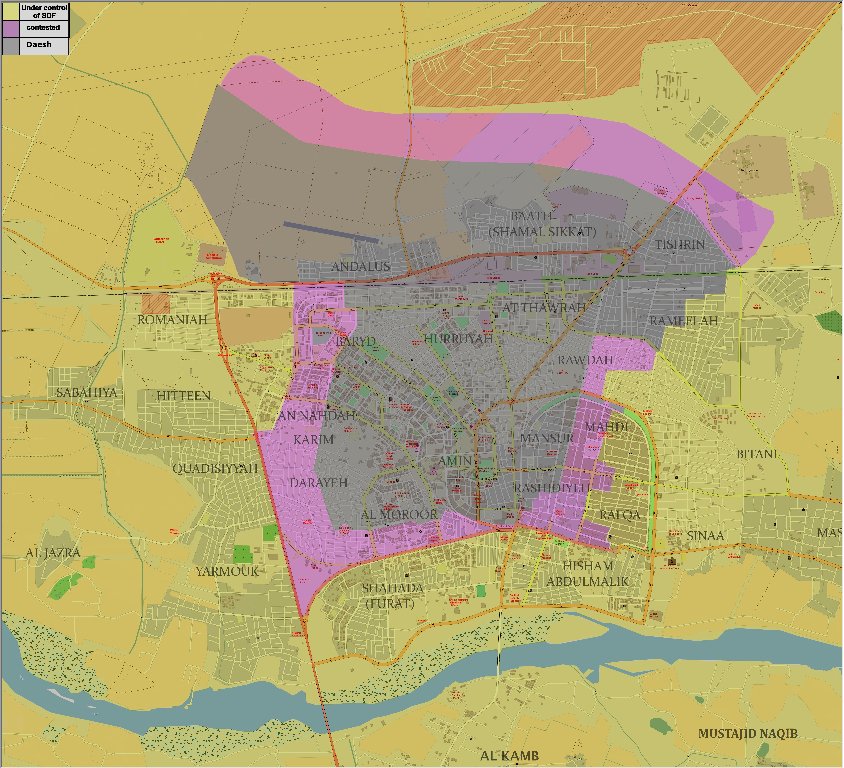 The Syrian Arab Air Force conducted numerous airstrikes on ISIS positions in Ma'adan, Khamisiyah, Jaber, Numaysah, in eastern Raqqa countryside.
Aleppo:
Two explosions targeted government-held Aleppo city, the first one was inside Tariq bin Ziad base where an ammo depot exploded and some adjacent buildings collapsed causing an unknown number of deaths and injuries. A second explosion took place in the Masaken Al-Sabil district. Abu Amara Special Tasks brigade claims the clandestine operation to detonate the Tariq bin Ziad barracks.
Idlib:
According to Ahrar al-Sham's new leader, Hasan Soufan, the official number of casualties of Ahrar al-Sham since 2012 can reach the 8.000 fighters. The link to the full video can be found here.
Hayat Tahrir al-Sham denied having any conflict with the Turkistan Islamic Party. Last night, HTS found an ISIS sleeper cell in the village of Ma'arrat Hurmah in Ma'arrat al-Numan district, in southern Idlib. HTS forces raided the terrorist safe house and killed the terrorists that tried to flee. Moreover, HTS forces found suicide vests that were going to be used by the ISIS cell.
Hama:
Jaysh al-Izza announces 2 of its members were killed during clashes in western Hama.
Amaq showed pictures of ISIS spoils of war after clashes with SAA forces at Marina village fronts, next to the Ithriya town in eastern Hama countryside. According to Amaq, 10 soldiers were killed.
Homs:
Some civilians were injured as a result of government forces shelling Houla village.
As reported in the previous Syrian War Daily, SAA forces have captured Manouhk village in Homs countryside.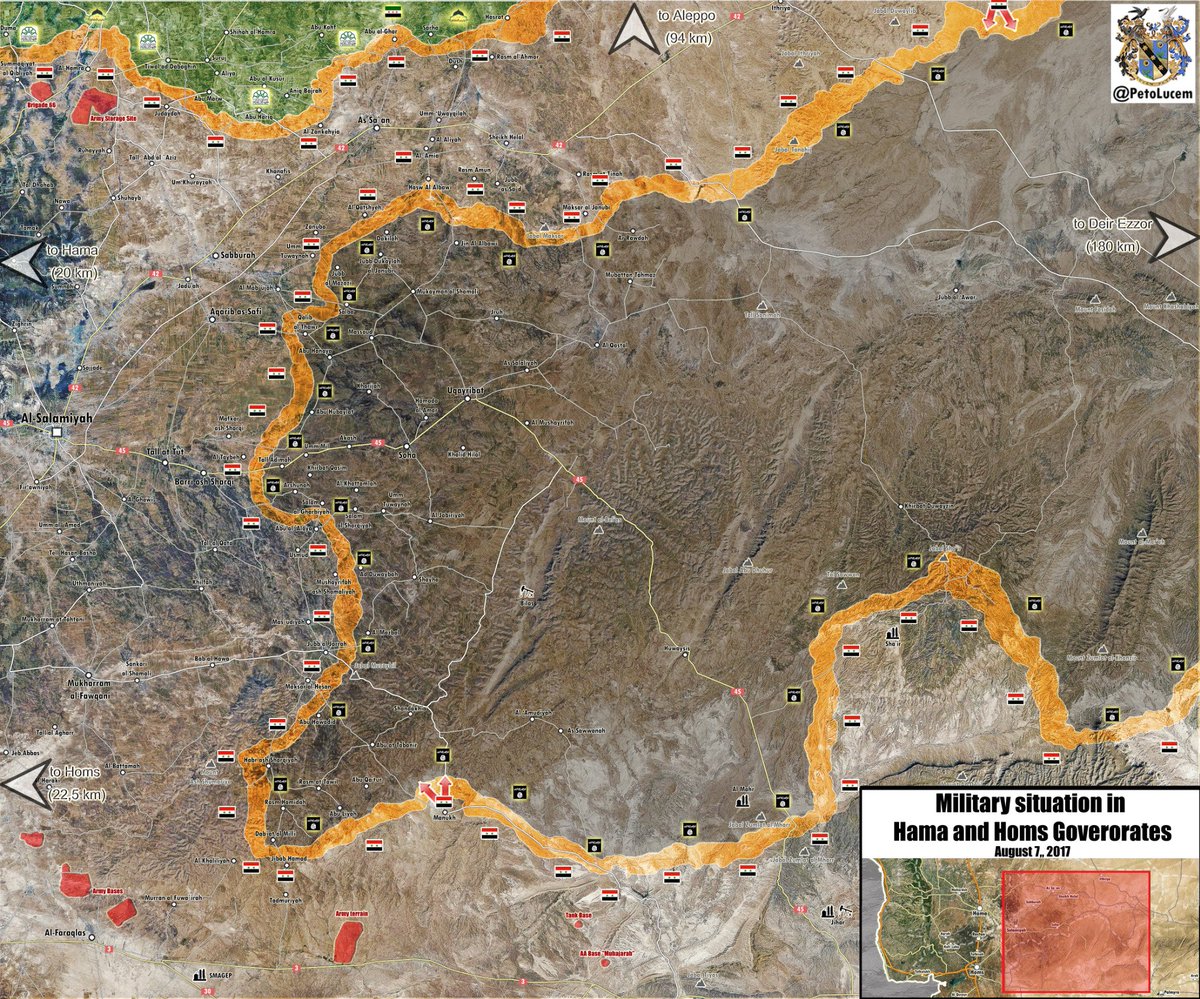 On Sukhnah front, SAA advanced towards al-Kawm and al-Taybah villages and captured several hills overlooking the Deir ez Zor road located east of the city. Advances came after government forces repelling an ISIS attack on the outskirts of Sukhnah.
The IS published a video in which a drone bombed government forces near Sukhnah.
Damascus:
Intense bombardment on Jaish al-Islam stronghold in Douma city and the whole Eastern Ghouta pocket. Syrian government forces bombed with artillery Hamoureya Town, Jowbar and Ayn Tarma, too. Meanwhile, FSA claimed to have destroyed two tanks and killed an unknown number of Syrian Army 4th division soldiers after foiling another failed attempt to advance in Ayn Terma by government forces. Preliminary reports suggest that at least six soldiers have been killed, and at least one captured.
At the same time, Jaish al-Islam launched large assault earlier today to seize Al-Ashri village from HTS, the main objective is to control the farms located there.
Deir ez-Zor:
The Syrian Arab Army and its allies captured Duwaykhilah in Deir ez-Zor governorate and cut the T2-Humaymah road.
Iraq
Anbar:
Contradictory reports about 40 Iraqi soldiers were killed and 50 wounded in the Syrian-Iraqi border. Some unconfirmed reports suggest that the US Air Force targeted the Iraqi forces near the Syrian border. Although, the Islamic State published, a little bit earlier, a huge operation against Iraqi forces, with lots of losses on the Iraqi government forces.
CJTF-OIR:
On the 6th of August 2017,  CJTF-OIR has conducted 28 strikes in Syria.  CJTF-OIR's main focus in Syria is Raqqa region where they did 24 strikes supporting SDF's operations against IS destroying 30 fighting positions, two vehicles, two command and control nodes, two mortar systems, a tunnel, a heavy machine gun, an IED facility, and a VBIED facility; and damaged six fighting positions.
Other areas where four strikes occurred are Abu Kamal, Al Shadaddi, Deir ez-Zor destroying six ISIS oil stills, a mortar system and a vehicle; and damaged a fighting position. The full report on  CJTF-OIR strikes conducted in both Syria & Iraq can be found here.
Other:
Intellectual credited properly used may vary from an edition to edition.
Feel free to voice your opinion in the comments section below, constructive criticism is welcomed.
For those of you interested, you can follow me on my personal, controversial twitter @alextorrell where I constantly tweet about different issues and conflicts.