Hello and welcome to the 174th instalment of the SWD.
Military events/news are listed below by the governorates:
Raqqa:
Syrian Democratic Forces foiled an ISIS attack in Rawah district and killed five IS fighters. Moreover, SDF snipers killed three terrorists; eight ISIS members have been killed as a result of the heavy clashes that erupted between the US-backed forces and the terrorist organisation members in al Barid and Nahda neighbourhoods. Despite the heavy clashes, the SDF managed to make continuous advances.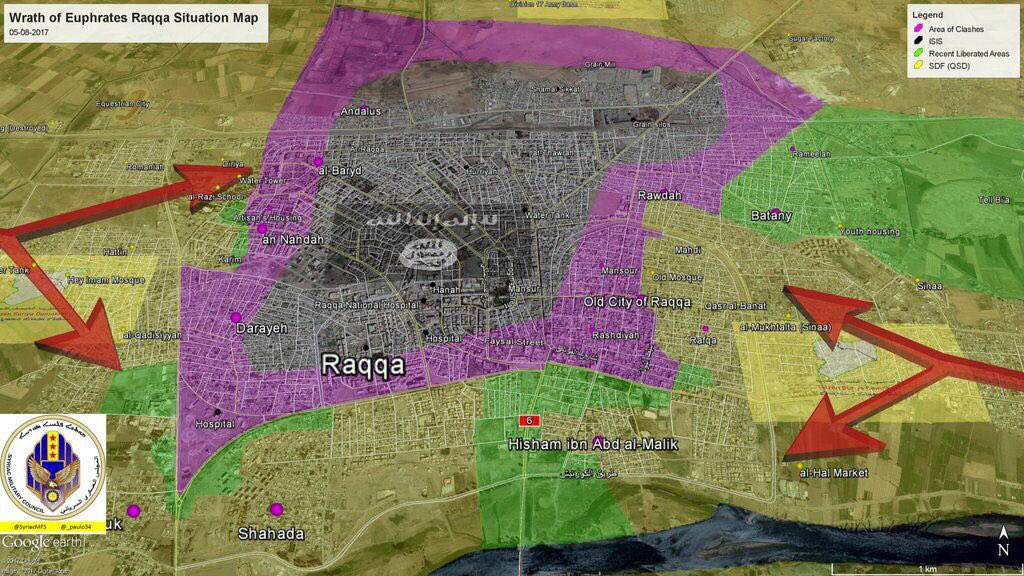 In addition, according to AlHurra news channel, some United States troops raided a village near Raqqa in search of ISIS' leader Abu Bakr al-Baghdadi. Additional info can be found on this link.
The Islamic State news Amaq, allegedly reported that more than 500 artillery shells fell on Raqqa city today. ISIS also attacked SAA forces in the al-Rasafah – Ithrya road, at Ambaj village, killing 12 soldiers and destroying a tank.
On the SAA side, photos showing the bridge that connects the government-held Muqla Kabirah village, and the SDF-held Hass Hibal, in Raqqa governorate. On the southeastern countryside front, the SAA Tiger Forces advanced close to Maadan city after taking control of the villages located on the north and west of the city, and the silos located on the southern side of the city. Although, we would like to remind that this information is not confirmed yet by any official sources.
Aleppo:
The YPG targeted the city of Marea (Mari') in northern Aleppo with rockets and mortar shells, probably responding to FSA artillery hitting SDF front line positions and villages.
Clashes between rebel forces and government forces at the outskirts of Al-Eis town in southern Aleppo countryside. Clashes erupted after SAA made an attempt to advance towards the city. The attack was stopped by the FSA forces and managed to capture a government soldier.
Hama:
The Syrian security forces foiled a terrorist plot in Salhab in Hama countryside with two terrorists killed and one arrested.The SAA shelled the city o
Moreover, the SAA shelled the town of al-Lataminah.
Government forces and the allied tribal forces captured the strategic area of Marina hills, east of Ithriya from ISIS forces.
Homs:
The Syrian Army took control of 5 points east of Manukh village, nine ISIS members were killed during the clashes. The SAA forces have fully liberated the eastern city of As Sukhnah and engineers have already begun to dismantle the multiple IEDs left behind by ISIS forces.
ISIS forces claimed a suicide bombing on SAA forces and its allies near As Sukhnah town.
Damascus:
Hundreds of Ahrar al-Sham fighters reportedly defect to Faylaq al-Rahman in eastern Ghouta pocket.
Government forces shelled and bombed the town of Ayn Tarma and the neighbourhood of Jobar. Furthermore, the FSA forces repelled a large government attack led by the 4th Division of the Syrian Republican Guard. Although, the SRG managed to advance 500 m in Ayn Tarma and killed 19 rebels and wounded around 40 fighters.
Quneitra:
National Defence Forces shelled HTS positions in Ufaniya village with artillery and machine guns after the last one violated the ceasefire.
CJTF-OIR:
On the 5th of August 2017,  CJTF-OIR has conducted 28 strikes in Syria.  CJTF-OIR's main focus in Syria is Raqqa region where they did 23 strikes supporting SDF's operations against IS destroying 19 fighting positions, five ISIS-held buildings, three IED factories, an ISIS communications tower and a UAS launch site.
Other areas where five strikes occurred are Abu Kamal, Al Shadaddi, Deir ez-Zor destroying 11 ISIS well-heads, three IED factories, two ISIS oil storage tanks, a pump jack, an excavator, a crane, and a vehicle. The full report on  CJTF-OIR strikes conducted in both Syria & Iraq can be found here.
Other:
Intellectual credited properly used may vary from an edition to edition.
Feel free to voice your opinion in the comments section below, constructive criticism is welcomed.
For those of you interested, you can follow me on my personal, controversial twitter @alextorrell where I constantly tweet about different issues and conflicts.