Hello and welcome to the 172nd instalment of the SWD.
Military events/news are listed below by the governorates:
Raqqa:
Today's news from SDF front in Raqqa city are very limited, but very few positions remain under control on the southern districts of Raqqa. Only the engineering college and surroundings remain under ISIS control. Furthermore, SDF are very close to ISIS headquarters.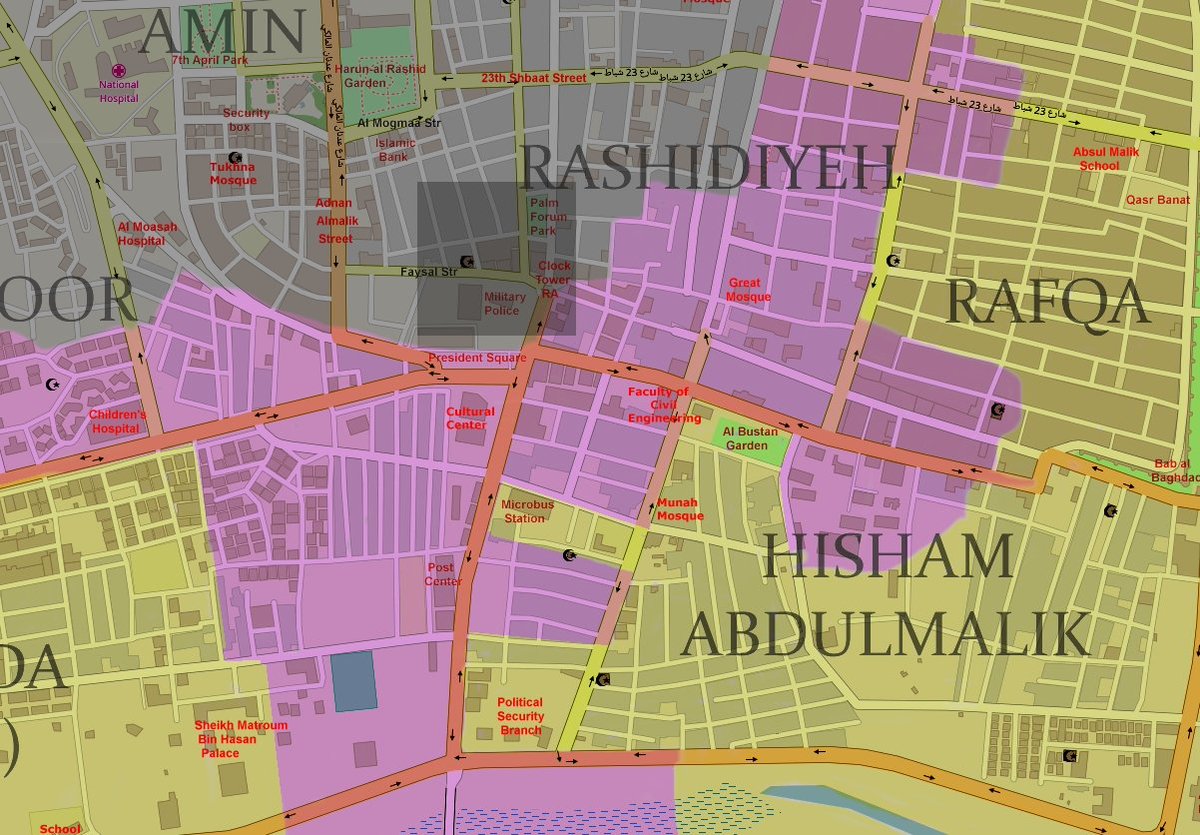 On ISIS side, the terrorist organisation managed to kill at least 11 SDF soldiers in a blitz attack on their location east the Old Mosque in Raqqa city. Another attack failed to reach its target and the terrorist only managed to kill himself after his car bomb was destroyed. The Islamic State claims that the two bombings and today's clashes killed at least 31 SDF fighters.
Multiple photos appeared from the SAA Republican Guard and Tiger Forces showing the town of Sabkha under their control after expelling ISIS.
Aleppo:
The FSA northern Brigade announced it repelled a government attempt to infiltrate Sukkariyah Saghir in northern Aleppo.
Meanwhile, Turkish and YPG/SDF forces exchange shelling in the Afrin area. Today, Kurdish forces responded by launching grad rockets with a BM-21, apart from mortar and artillery shells, at Turkish backed forces on the frontline in Shahba area.
Hama:
The Islamic State claims to have killed at least 32 SAA soldiers and the recapture of 6 CPs in Al-Mafkar village in eastern Salamiya countryside.
Homs:
Reports of a truce deal in rural Homs (Rastan pocket) between Syrian Rebels and Syrian government thanks to the cooperation of Russian and Egyptian influence.
Today SAA advances in As Sukhnah city and captured the surrounding farms of the city. The Islamic State killed the Hezbollah field commander Fadi Shahouri on Sukhnah front.
Damascus:
Shelling continues against the village of Ayn Tarma in Eastern Ghouta.
Deir ez-Zor:
SAA Tiger Forces located on the frontlines of Raqqa-Deir ez-Zor governorate are now 60 kilometres away from Deir ez-Zor city.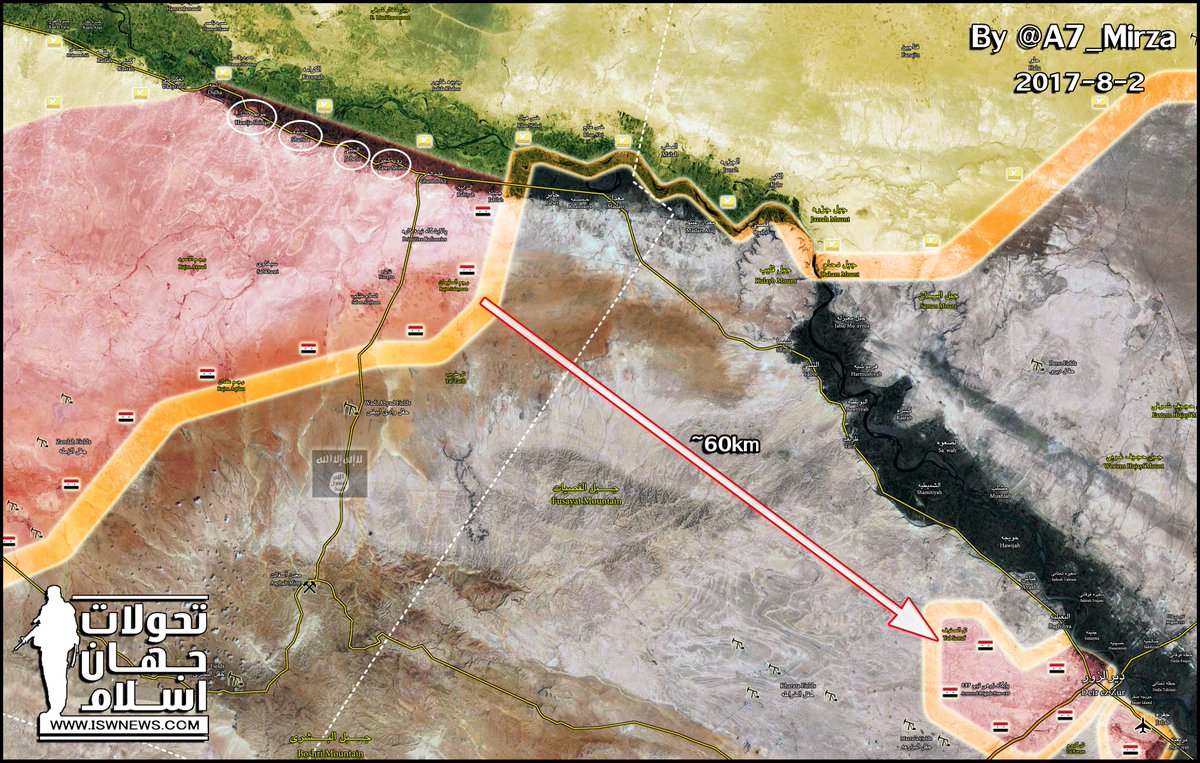 Reports suggest that the SAA has taken control over an area of 1 square kilometres on the southeast of Deir ez-Zor cementery and cut off the ISIS supply line coming from mount Turdah to Junaid.
Satellite images show lots of craters and burning oil sites all over Deir ez-Zor governorate.
Locals in Deir ez-Zor reported that ISIS fighters and commanders from Mosul, Raqqa, al-Bab retreated to Deir ez-Zor city after declaring forceful conscription for all military-age males in Deir ez-Zor. This includes people on its 20s to 30s or older. More sources and multiple ISIS-published images show that ISIS is increasingly relying on child soldiers as adults reject to join ISIS. This can only mean that the terrorist organisation is suffering from severe manpower shortage. The announcement specifies fighting against the regime and punishment for those rejecting to join ISIS forces. This can be a recipe for failure as lots of pro-government people can organise behind ISIS ranks and have access to weapons and ammunition, or end up in mass desertions, which in the long run can backfire against ISIS.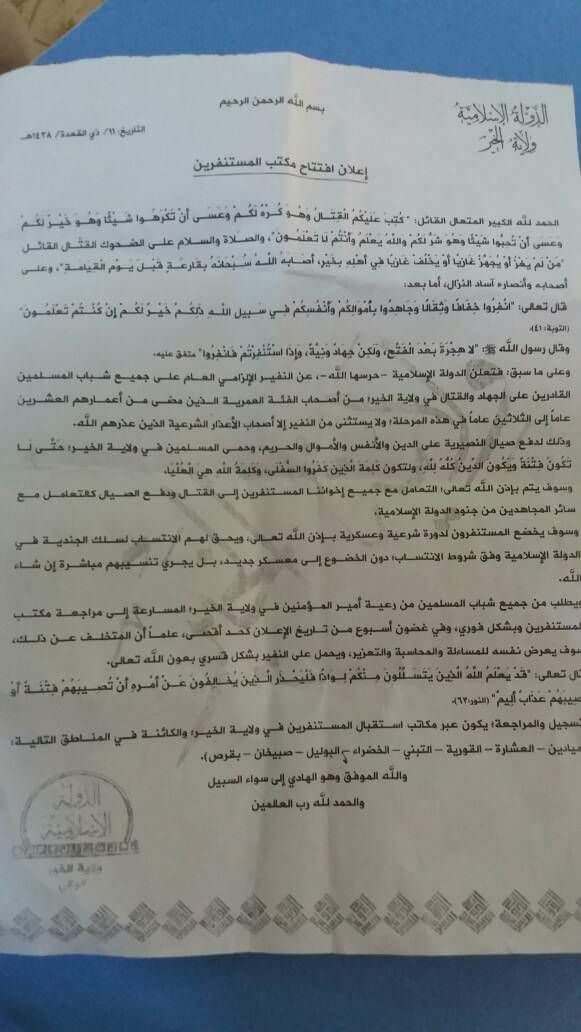 Iraq 
Kirkuk:
An explosion kills the Islamic State's toxic gases expert (Al-Muhajir), and three others in Hawija, southwest of Kirkuk, according to Iraqi News.
Amaq
Philippines:
The Islamic State claims killing 8 soldiers in clashes in Marawi city.
CJTF-OIR:
On the 2nd of August 2017,  CJTF-OIR has conducted 21 strikes in Syria.  CJTF-OIR's main focus in Syria is Raqqa region where they did 14 strikes supporting SDF's operations against IS destroying nine fighting positions, two vehicles, a supply cache, a VBIED, a mortar position, an ISIS UAS site, and a generator.
Other areas where seven strikes occurred are Abu Kamal and Al Shadaddi, destroying three ISIS oil storage tanks, three well-heads, two ISIS-held buildings, a staging area, a vehicle, an oil pump, and a front-end loader; and damaged an ISIS headquarters. The full report on  CJTF-OIR strikes conducted in both Syria & Iraq can be found here.
Other:
The Jordan soldier that killed three US soldiers has been sentenced to life in prison.
The deal between Hezbollah and al-Nusra came after 300 of its best soldiers and 200 Hezbollah soldiers died in 6 days in the Arsal/Aalamoun area. Hezbollah and Lebanese army took control of the areas left by Nusra, Malahi and Abo Hamid area have no FSA nor Nusra presence as its mainly a refugee camps area. The following map shows the military situation: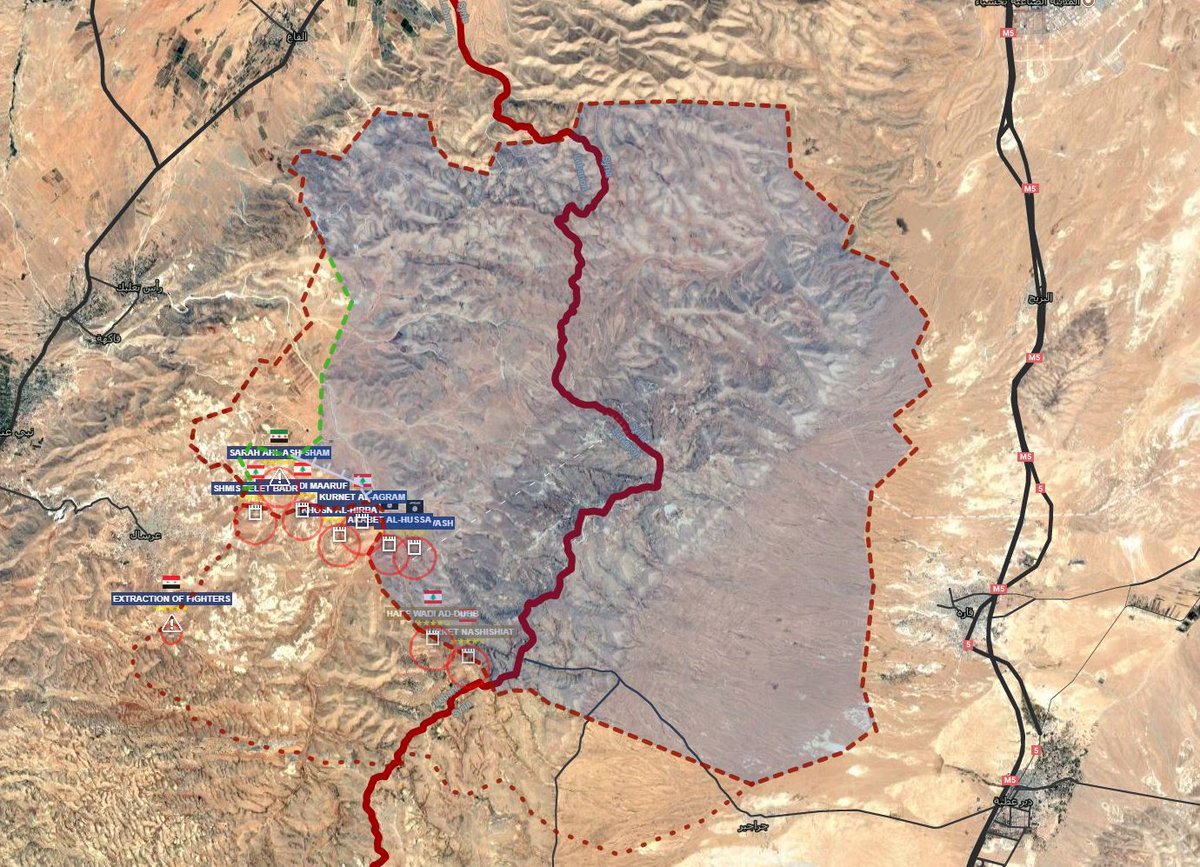 Intellectual credited properly used may vary from an edition to edition.
Feel free to voice your opinion in the comments section below, constructive criticism is welcomed.
For those of you interested, you can follow me on my personal, controversial twitter @alextorrell where I constantly tweet about different issues and conflicts.