Hello and welcome to the 171st instalment of the SWD.
Military events/news are listed below by the governorates:
Raqqa:
Today SDF focused its efforts on two main points, the first one by advancing towards the governmental centre in al Barid neighbourhood where 5 ISIS members have been killed, including one suicide bomber. The SDF captured the al-Idxar lodging, located in the north-western part of Raqqa city. The second push towards ISIS held districts was from the southeast and Nazla Shahadah district. Is in this district where the Islamic State claimed a suicide bombing on the Syrian Democratic Forces. Although, the US-backed forces have managed to capture Munah Mosque and al-Bustan Garden from ISIS control in Hisham Ibn Abdulmalik district. After today advances, the SDF control 90% of the southern districts of Raqqa.
Meanwhile, International Coalition aircraft have killed an unknown number of civilians when hitting the al-Busariya district in ISIS-held Raqqa.
The Syrian Arab Army captured Huwayjat Shinan, ar-Rahbi, Sabkhah, Shuraydah, al-Jabali and Zawr Shammar after the Ministry of Defense confirmed the advances earlier today. These advances imply that governmental forces now control many oil wells and a region of 30kms along the Euphrates river. Moreover, the Syrian MoD added that Tiger Forces have destroyed at least 330 ISIS vehicles, killed a large number of ISIS fighters and wounded hundreds of them.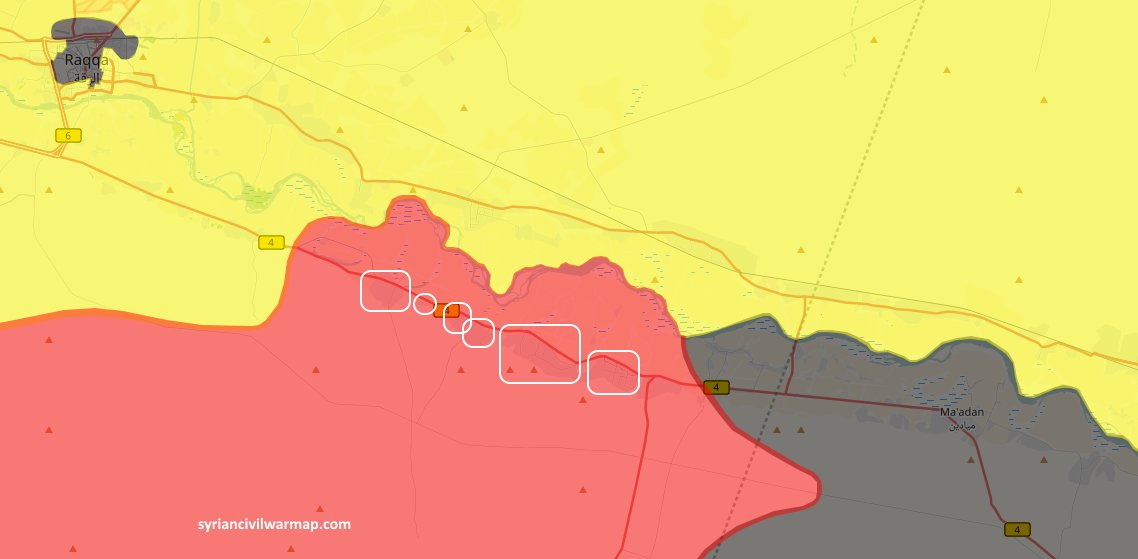 Aleppo:
The National Defence Forces and Hezbollah media reportedly say they foiled an infiltration attempt at its points in Mallah area and killed and injured an unknown number of Hay'at Tahrir al-Sham (HTS) fighters. Meanwhile, HTS claimed a special operation carried out by the group Malhama Tactical last night where its forces successfully infiltrated in Mallah area and killed more than 20 government forces and injured 10 other. Moreover, the infiltration successfully disabled a BMP. HTS reported that the operation is a response to Syrian Government shellings.
Today Turkis army and Turkish-backed forces bombed for the fourth consecutive day different villages of Meng and Gilbara. Like the other days, SDF and YPG responded to the Turkish shelling by targeting Kaljibrin with artillery.
Any car carrying Syrian State Plame was blocked to enter the YPG-held Afrin in the highway between the Syrian Government-held zones and Kurdish forces-held Afrin. Reportedly, any car willing to cross must pay trade fees to the YPG, if refusing the fees are as high as 200.000 Syrian pounds and will have to leave all the goods being carried by the vehicle.
Idlib:
For the second day in a row, a US drone has been spotted, this time the spotted drone is an Armed US MQ-9 Reaper.
Hama:
The pro-government group paramilitary forces Liwa al Suqour al-Sahra, also known as Desert Hawks Brigade, has been disbanded after more than three years of service in Syria. The group's founder and leader, Mohammad Jaber, has disbanded the group and reported to go back to Russia. This decision was taken after a series of extreme events linked to the group. The members willing to stay in Syria will join the SAA 5th Assault Corps, the Qalamoun Shield Forces or other government forces.
The Islamic State has been reported to have begun a fresh counter-offensive on two fronts against the SAA at the Salamiya-Ithraya road and south-east of Raqqa
Homs:
The Syrian Arab army has captured the Al Tantur Mountain west of Sukhnah. Regarding Sukhnah city, the SAA and allies have stormed ISIS sites around Sukhnah and have been reported to have captured the southern outskirts of the city backed by Russian helicopters and air support.
Government forces have, additionally, been reported to have entered the urban phase of the battle by reaching the first buildings in Sukhnah. In fact, early unconfirmed reports have reported that ISIS has already started to retreat from the city. Early reports suggest that SAA forces control 20% of Sukhnah city,.
Damascus:
HTS in eastern Ghouta has released a statement saying the group will dissolve and merge in a uniting initiative due to fear of harm to Ghouta pocket.
Government strikes on Ayn Tarma continue, two civilian and many injured after 6 air strikes and more than 20 IRAM rockets hit the village in east Ghouta.
The Russian Embassy in Damascus was targeted by mortar fire.
Rumors about tensions between Moscow and Damascus due to the early refusing to provide air support for an Idlib offensive by government forces.
The Free Syrian Army announced to completely secured the Mahrouta area from Syrian government forces and captured a T62 tank and light weapons. Reports of at least 10 government soldiers killed. The FSA forces are reported to have assaulted Umm Rumm with unknown results.
CJTF-OIR:
On the 1st of August 2017,  CJTF-OIR has conducted nine strikes in Syria.  CJTF-OIR's main focus in Syria is Raqqa region where they did seven strikes supporting SDF's operations against IS destroying four fighting positions, two ISIS headquarters, an IED, and Ammunition cache and a fuel supply point.
Other areas where two strikes occurred are Abu Kamal and Deir al-Zour, destroying three ISIS well-heads and an ISIS oil refinery. The full report on  CJTF-OIR strikes conducted in both Syria & Iraq can be found here.
Other:
The Ahmad al-Abdu forces of the FSA declared in a statement that it is not affiliated with the International Coalition and that it is not supported by it.
The first exchange between Hezbollah and Al-Qaeda forces in Arsal countryside (Lebanon) includes nearly 8.000 Al Nusra militants and refugees, which include 116 militants, 6.101 displaced are from inside Arsal; 1000 militants and 560 displaced Syrians are from outside Arsal. The exchange will liberate the pocket inside Lebanon and will move the militants and displaced people to Idlib province. The exchange also includes Al Nusra group handing some Hezbollah fighters held as war prisoners.
In a US statement, Washington warned Nusra that, if taking the whole Idlib, it may not be able to convince all the international parties involved in Syria not to take a military action against them.
Intellectual credited properly used may vary from an edition to edition.
Feel free to voice your opinion in the comments section below, constructive criticism is welcomed.
For those of you interested, you can follow me on my personal, controversial twitter @alextorrell where I constantly tweet about different issues and conflicts.