Hello and welcome to the 156th instalment of the SWD.
Military events/news are listed below by the governorates:
Raqqa:
Clashes between SDF and ISIS continue in the areas captured yesterday by SDF forces. The US-backed group has discovered an ISIS tunnel used to avoid air attacks and a booby-trapped vehicle in the eastern neighbourhoods of Raqqa which they were able to dismantle. SDF forces pushed and liberated some areas in east Shahada.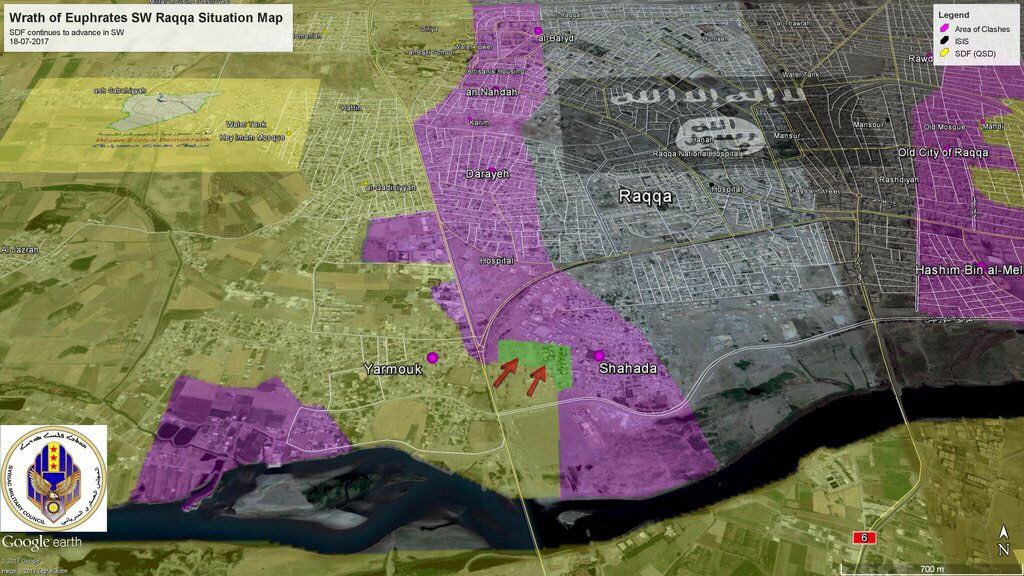 ISIS Amaq agency published photos of US-led coalition bombing the western neighbourhoods of Raqqa city with white phosphorus. Although, a twitter user that analysed the situation suggesting that the white phosphorus is, in reality, a dense smoke ammunition to cover SDF operations, the full chain can be found here.
The Tiger forces of the Syrian Army had made progress towards Sukhnah in the IS-held vast, uninhabited desertous area.
Aleppo:
Contrary to yesterday, north Aleppo, Manbij and Efrin fronts remained calmed. Although, the Manbij Military Council declared that it has captured 7 Turkish-backed rebels north of Manbij. In addition, the SDF has declared, according to @vvanwilgenburg, that "Russia is doing to us [SDF] what Turkey is doing to HTS and telling us, 'If you don't cede control to the government Turkey will attack you'" in this twitter chain.
Idlib:
Large scale clashes had taken place between Ahrar al Sham and HTS all around Idlib after Ahrar arrested an HTS member. Moreover, Ahrar al Sham accused HTS of trying to take over Saraqeb town. This fight comes shortly after the two groups reconciled in order to fight together against the SAA.
Reports suggest that Turkey told HTS to leave Jisr al-Shougur for the Turkistan Islamic Party to take control over the area.
Two incidents took place today in Tartus area. Reports raised about two men dressed as SAA soldiers detonated a car bomb near a military checkpoint in Tartus area. The other incident states that security forces foiled a car bomb attack by destroying the VBIED near Safsafah junction and killed a driver.
Hama:
Meanwhile, the SAA reportedly shelled the city of Kafrzeta in northern Hama with artillery.
Damascus:
Although advances are small, pro-government forces had to alt advances in a video of pro-rebel groups. Despite showing images of wounded soldiers being evacuated, and also dead soldiers, the images show how Government troops had made little advances into Ayn Tarma.
Furthermore, Government forces bombed Duma city and Harasta city in eastern Damascus, with both causing civilian injuries and deaths.
Homs:
The SAA anti-ISIS unit "ISIS Hunters" has been recently searching for militants of the IS between the Homs-Raqqa road and Palmyra area. Additionally, Syrian Army troops stationed on the front lines with ISIS in Palmyra countryside had repelled an ISIS attack and destroyed a technical vehicle and the members inside it.
Heavy artillery and rockets have started to target the city of Sukhnah in preparation for future attacks.
Exchange of artillery and grad rockets took place between the SAA and the US-backed FSA stationed in the Al Tanf area.
Iraq
Ramadi:
An SVBIED hit Iraqi State Forces in Al Dulab killing over 20 soldiers.
CJTF-OIR:
On the 18th of July 2017, CJTF-OIR has conducted 25 strikes in Syria. CJTF-OIR's main focus in Syria is Raqqa region where they did 16 strikes supporting SDF's operations against IS destroying 13 fighting positions, two ISIS-held buildings, a tactical vehicle, and an UAS.
Other areas where nine airstrikes occurred are Abu Kamal (Al-Bukamal), Al-Shadaddi and Deir al-Zour, destroying 16 oil refinement stills, four well-heads, five oil storage tanks, three oil barrels, an ISIS-held warehouse, and a fighting position. The full report on CJTF-OIR strikes conducted in both Syria & Iraq can be found here.
Other:
CJTF-OIR has confirmed that an agreement between SDF and the Syrian government have reached an agreement to deconflict operations between Tabqa and Deir ez-Zor areas.
Intellectual credited property used may vary from an edition to edition.
Feel free to voice your opinion in the comments section below, constructive criticism is welcomed.
For those of you interested, you can follow me on my personal, controversial twitter @alextorrell where I constantly tweet about different issues and conflicts.