Hello and welcome to the 155th instalment of the SWD.
Military events/news are listed below by the governorates:
Raqqa: 
SDF troops have made considerable advances today in Raqqa city. SDF captured today a new bridge and entrance of Nazlah Shehada district south west of Raqqa city. Moreover, the group also captured the Al-Jisr and Al-Qadid road from ISIS and entered the Nezle Shihade neighbourhood. Furthermore, the US-backed group successfully freed 25 civilians in Raqqa Old city. Unfortunately, six civilians were killed by IEDs left by ISIS in Darayeh district.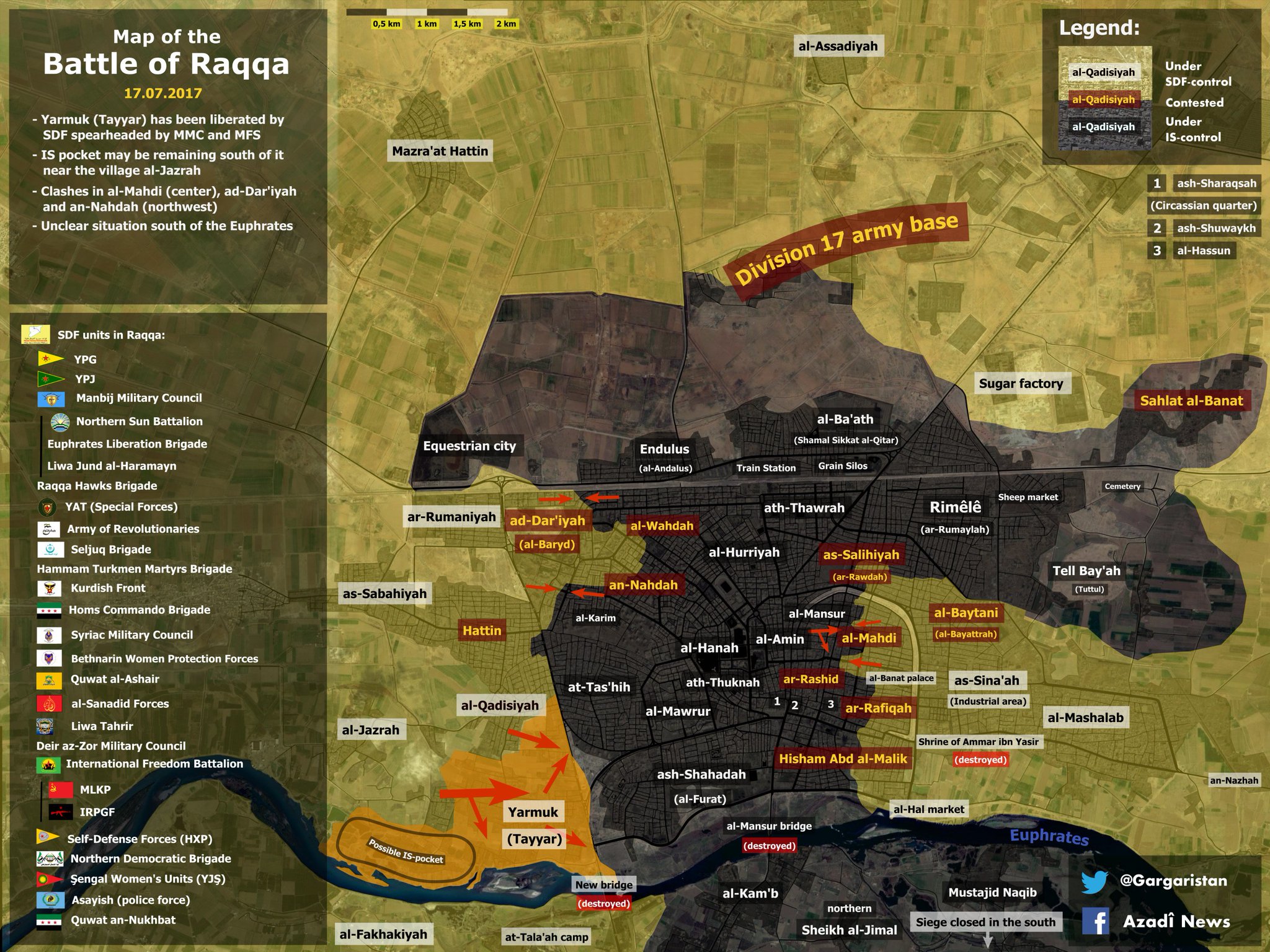 SAA Tiger Forces continued their advance in Raqqa countryside with a heavy support of armoured vehicles. Syrian government military units advanced and liberated the al-Daila'a oil field situated in south-west Raqqa countryside. Tiger forces also liberated Rumaylan oil field and Rajm Al-Jaws from ISIS control.
Idlib: 
Yesterday's clashes between Syrian government forces and Turkmen units have set the woods on fire. This can be a consequence of artillery attacks, or a possible strategy to burn the anti-air protection provided by forests.
Damascus:
Clashes continue between pro-government and pro-rebel forces in Eastern Damascus with the later claiming to have destroyed a Syrian government Gvozdika near Ayn Tarma. From the government side, several airstrikes bombed FSA held areas.
Daraa: 
Rumours of large pro-government forces military reinforcements being dispatched near Al-Sanameen city in Daraa country side. Furthermore, the Russian forces sent to supervise the de-escalation zones will be headquartered in Izra'a
Hama:
Images appeared showing the pro-government ISIS Hunters units moving from Shaer fields towards Homs-Raqqa road in eastern Hama countryside. The possible plan is to create an ISIS pocket in Hama, the most likely plan is to force the terrorist organisation to retreat from the pocket.
Homs: 
Advance towards As Sukhnah made by SAA units, but the advance is stalled for the most part. Pro-government forces reached the hills overlooking the city and, apparently, stopped their advance.
ISIS repelled an SAA forces attack in Humaymah area with the later losing a tank, ammo and several soldiers dead. Although, government units hit and destroyed different tactical vehicles in the same area.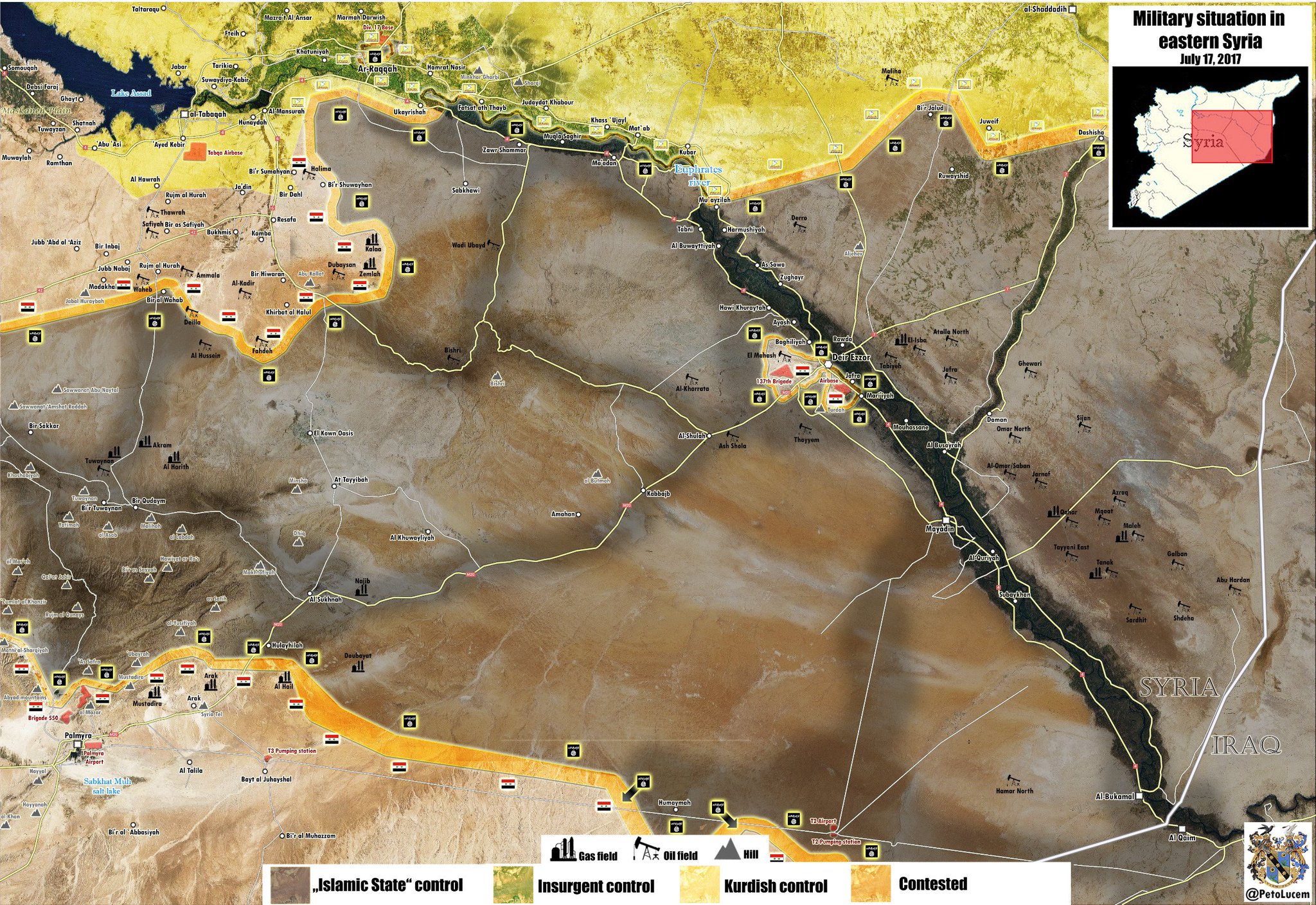 FSA units fired different artillery and grad rocket shells towards pro-government forces in Southeast Homs countryside with unknown damage.
Aleppo:
Heavy clashes occurred in different locations on northern Aleppo governorate between YPG and Turkish-backed opposition, including direct artillery support from Turkish army. These places include Kafr Kibrin, Ayn Dakna, Al-Shahbaa areas in eastern Afrin. FSA attack was repelled with at least one fighter captured and five killed, other losses are unknown or unreported. Although repealing the FSA attack, YPG has lost at least 15 fighters and one captured.
The image below shows the YPG account statement on today's clashes.
HTS elite forces have released a video of their raid on the Zahraa orphanage centre near the Air Force Intelligence complex on the 15th July in Aleppo city. The video can be found here.
Iraq:
Baghdad:
Mosul:
Clashes between ISIS and Iraqi security forces still can be found in Mosul despite the full liberation of the city. The Iraqi air force killed a group of ISIS militants who tried to flee Mosul through the Tigris river in a video that can be found here. Moreover, pictures appeared of the German ISIS girl Linda W. of 16 years-old captured by Iraqi security forces in Mosul city.
Different terror attacks have taken place across Iraq today:
Close to Falluja ISIS claims to have assassinated an Iraqi officer and wounded three soldiers in Karma.
An IED detonation has taken place near Tanf, west of Anbar with unknown damages.
ISIS claimed to successfully commit two suicide attacks with explosive belts followed by an attack in al-Shuwirtan village in the northwest of Baiji.
CJTF-OIR:
On the 16th of July 2017, CJTF-OIR has conducted 22 strikes in Syria. CJTF-OIR's main focus in Syria is Raqqa region where they did 15 strikes supporting SDF's operations against IS destroying 18 fighting positions, two VBIED factories, and a mortar system.
Other areas where seven airstrikes occurred are Abu Kamal (Al-Bukamal), Al-Shadaddi and Deir al-Zour, destroying four tactical units, three weapons caches, two staging areas, an ISIS checkpoint, a trailer, a tactical vehicle, a vehicle, and a well-head. The full report on CJTF-OIR strikes conducted in both Syria & Iraq can be found here.
Other:
Intellectual credited property used may vary from an edition to edition.
Feel free to voice your opinion in the comments section below, constructive criticism is welcomed.
For those of you interested, you can follow me on my personal, controversial twitter @alextorrell where I constantly tweet about different issues and conflicts.