Hello and welcome to the 154th instalment of the SWD.
Military events/news are listed below by the governorates:
Raqqa:
Today the SDF have fully liberated Yarmuk neighbourhood from ISIS while reaching the perimeter of the Old Mosque and advancing on Hisham bin Abdul Malik area and clashing around the Rawdah zones.
The Islamic State forces targeted SDF south to Al Ekarshi town, Easter Raqqa countryside with a VBIED, the effects of the attack are so far unknown.
The Syrian Arab Army resumed advances south of Resafa and captured most of the Fahed fields on the road to Sokhneh. The Tiger forces also captured Al-Fahdeh village, south to al Fahed fields; the eastern Zamla town as well as the Zamla and Khalaa oil fields. According to national television Ikhbariyah, pro-government forces took control of Wahab, Dbaysan, al-Qseer, Abu al-Qatat and Abu Qatash oil fields and several other villages in the desert area bordering south-west of IS' self-declared "capital", Raqqa city.
Aleppo:
The Syrian General Command made a public call on people of Maskaneh-Deir Hafer are to return to their homes and farms after government forces fully secured and expelled IS forces from the Area.
Damascus:
Some shells targeted the Russian embassy in Damascus. Clashes were reported between the SAA and FSA units in Ayn Tarma area with the latest destroying a T-90 Tank and striking a T-72 with a Fagot ATGM. Moreover, the group Jaysh al-Islam agreed to dissolve itself to form the national Syrian rebel army. More clashes were reported near Hawsh al-Dawahira in eastern Ghouta.
Daraa:
Russian forces arrived in Daraa to observe and supervise the de-escalation zones in accordance with the agreement made between the US and Russia.
Latakia:
HTS detonated an SVBIED in Minat Bayda port north of Latakia. HTS claimed they successfully infiltrated and targeted pro-government militants. Furthermore, the Turkmen 2nd Coastal Division shot the government headquarters in the village of Kulcuk Latakia.
Homs:
FSA units attacked pro-government forces north of Al-Tanf. Initial reports suggest that the Free Syrian Army took several positions from Syrian government forces. some sources suggest that Ahrar al-Sham, Ahrar al-Sharqiya, and Osoud al-Sharqiya united politically to prepare for an upcoming offensive towards Deir al-Zour.
Meanwhile, government forces and allies are about 11 km far from Al-Sukhnah.
The Syrian Red Crescent with UN support delivered humanitarian aid convoy of 31 trucks to Houla, Homs and Harbinafse, Hama governorate, for at least 89.000 people.
Hama:
Russian warplanes bombed the town of Al-Rahjan.
Iraq
Nineveh:
Iraqi forces remain focused on cleaning operations in Mosul as well with the counter-terrorism units searching for lone-wolfs and other possible terrorists hidden in tunnels. Some reports of clashes and battles in Mosul Old city prove that ISIS still has the capacity to distract Iraqi resources on anti-terrorist and counter-terrorist operations.
Furthermore, Iraq Falcon units arrested the head of ISIS females in Mosul, she played a major role in the 2014 invasion.
The summary of Iraq joint operations of Mosul Operations informed that the Iraq joint operations eliminated more than 25 thousand ISIS members during the last 9-month clashes. Among them, there were 450 suicidal members, 1.247 bombed cars, 1.500 vehicles and 130 drones.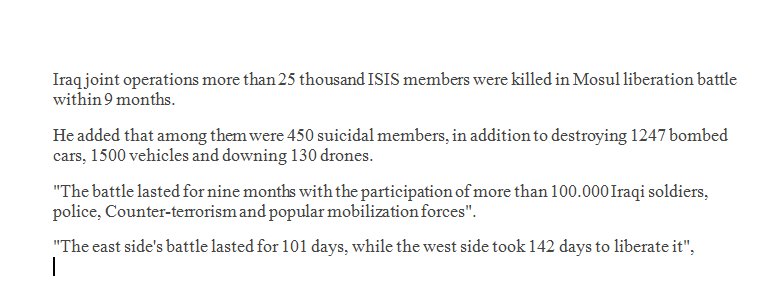 CJTF-OIR:
On the 15th of July 2017, CJTF-OIR has conducted 22 strikes in Syria. CJTF-OIR's main focus in Syria is Raqqa region where they did nine strikes supporting SDF's operations against IS destroying 14 fighting positions, two anti-air artillery and a VBIED.
Other areas where 13 airstrikes occurred are Abu Kamal (Al-Bukamal), Al-Shadaddi and Deir al-Zour, destroying 44 oil storage tanks, 25 oil stills, five cranes, two vehicles, an ISIS staging area, an artillery system, and a well-head. The full report on CJTF-OIR strikes conducted in both Syria & Iraq can be found here.
Other:
Intellectual credited property used may vary from an edition to edition.
Feel free to voice your opinion in the comments section below, constructive criticism is welcomed.
For those of you interested, you can follow me on my personal, controversial twitter @alextorrell where I constantly tweet about different issues and conflicts.