Hello and welcome to the 153rd installment of the SWD.
Military events/news are listed below by the governorates:
Raqqa:
Syrian Democratic Forces are in control of around 70% of Hisham Abdul Malik district, while clashes are still ongoing with the Islamic State, as well as in several other  districts of Raqqa. Reports also suggest that SDF secured Batani district and half of Rawdah.
Syrian Arab Army resumed advances south of Resafa, capturing Waheb, Fahdeh and Dubaysan oil fields. Additionally, Syrian Ministry of Defense reported capture of Mushrifat Anbah, Falat Rajab, Khirbet Muhannad, Suh al-Bukhamis, Mansourat Shuyhan, Halima, and Samihan.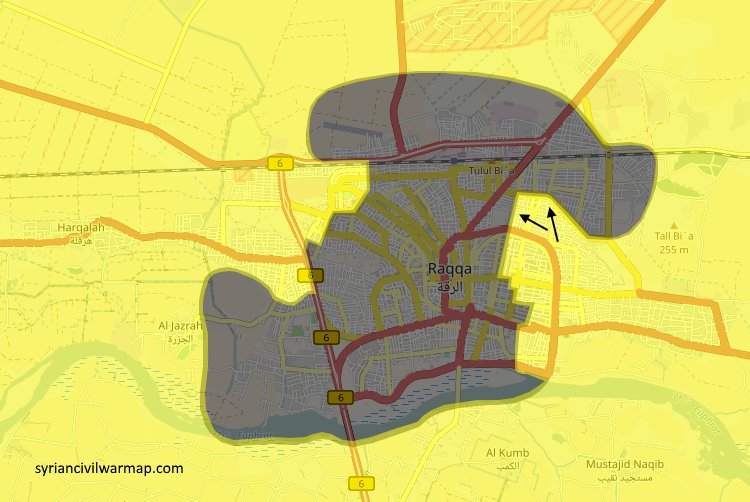 Situation in Raqqa. Source: Syrian Civil War Map
Situation south of Tabqa/Resafa. Source: Global Event Map
Al-Hasakah:
Yesterday, Islamic State's improvised explosive device reportedly killed two and wounded four SDF's fighters, in Ghwayran neighborhood, Al-Hasakah city.
Idlib:
Ahrar al-Sham and Hayat Tahrir al-Sham have reportedly reached truce in Tal al-Touqan, after yesterday's clashes between the two groups in the locality. However, unconfirmed rumors suggest that Hayat Tahrir al-Sham announced full control over Tal al-Touqan,
Ahrar al-Sham arrested two Hayat Tahrir al-Sham's foreign fighters in Saraqib. The arrested individuals are known as Abu Omar al-Afghani and Abu Musa al-Shishani.
Yesterday, in Khirbet al-Jawz area, Turkish Gendarmerie killed a person and wounded five others, as they tried to illegally cross the border between Turkey and Syria.
Damascus:
Syrian Arab Army and Faylaq al-Rahman clashed in Ain Terma and Jobar areas, with reports about former taking control of several latter's tunnels between the two localities, used to transport supplies and fighters between the fronts. As usual, today's push by SAA was supported by several airstrikes from the Syrian Arab Air Force.
According to the unconfirmed reports, five Jaysh al-Islam fighters surrendered to the Syrian Arab Army in Jobar.
Daraa:
Second time this week, Syrian Arab Army's artillery heavily shelled rebel-held 52nd Brigade in Al-Harak.
Royal Jordanian Air Force carried out several airstrikes over Jallin village, under the control of IS' affiliate, Jaysh Khalid ibn al-Walid.
Iraq
Nineveh:
Iraqi forces continue with cleaning operations in the Old Mosul district, and have arrested Islamic State's commander, Saleh Mohammed Said, in one of the tunnels in the Old Mosul. Islamic State's Amaq Agency claimed that the Iraqi and US' bombing/shelling of areas under IS' control, resulted in death of 300 and injury of 400 people, in the past few days.
Confrontation between Islamic State and Al-Hashd al-Shaabi (Popular Mobilization Units) continues in and around Imam Gharbi village, south of Al-Qayarah. Amaq Agency reported death of three Iraqi fighters due to IS' snipers, at the outskirts of the locality.
Salah al-Deen:
Iraqi Army's 22nd Infantry Brigade neutralized two Islamic State's suicide bombers/inghimasi (suicide fighters) in Al-Tarmiyah area. Islamic State's fighters were besieged in a building before being neutralized.
Anbar:
Islamic State's improvised explosive devices allegedly destroyed a Humvee and killed six Al-Hashd al-Shaabi's fighters, near Al-Tanf border area with Syria, western Anbar.
Baghdad:
Iraqi Army's 44th Infantry Brigade, backed by National Security Service, Internal Security Service, and Iraqi National Intelligence Service, discovered a cache of mortars and explosives, possibly belonging to IS' sleeper cell. Cache was found in Rashidiyah district's area, in one of the abandoned orchards in Abbas al-Naif village, northern Baghdad.
Iraqi Army's 17th Infantry Division carried out anti-insurgency operation in Shibisah and Shakhah areas, south of Baghdad. During the operation, Iraqi forces found three Katyusha rockets and an improvised explosive device, which led to detainment of several individuals.
VBIED exploded in Al-Jadida area, southeastern Baghdad, killing and wounding seven people, according to the first casualty numbers.
CJTF-OIR

:
On the 14th of July 2017 CJTF-OIR has conducted 22 strikes in Syria. CJTF-OIR's main focus in Syria at the moment is Raqqa region where they did eight strikes supporting SDF's operations against IS destroying four fighting positions, a VBIED factory, a tunnel, a mortar system, and a heavy machine gun.
Other areas where 14 airstrikes occurred are Abu Kamal (Al-Bukamal), Al-Shadaddi and Deir al-Zour, destroying 12 oil refinement stills, eight oil storage tanks, four oil separation tanks, four well-heads, two command and control nodes, an IS-held building, an IS oil refinery and a VBIED factory. Full report on CJTF-OIR strikes conducted in both Syria & Iraq can be found here.
Amaq Agency:
Afghanistan:
Islamic State's fighters clashed with Talibans and reportedly killed two latter's fighters in Jakana, Darzab district, Jowzjan province.
Philippines:
Islamic State allegedly killed seven Filipino soldiers, as the two clashed in Leyoud and Marinot neighborhoods of Marawi city. In Marinot district, IS' improvised explosive device destroyed an armored vehicle belonging to the Philippine Army.
Other:
Intellectual credited property used may vary from an edition to edition.
Feel free to voice your opinion in the comments section below, constructive criticism is welcomed.
For those of you interested, you can follow us on an official Twitter account @SyrianWarDaily, or me personally on my biased twitter @joskobaric where I occasionally tweet some things.