Hello and welcome to the 152nd installment of the SWD.
Military events/news are listed below by the governorates:
Aleppo:
Katibat al-Shahid Alaa Barir (Martyr Alaa Barir Battalion) joined Liwa al-Shamal in northern Aleppo, as confirmed by the latter's statement. The battalion is under the command of Hasinki 'Abu Alaa'.
Hayat Tahrir al-Sham captured a fighter belonging to the Syrian Arab Army or allied militia, near Zahraa district, west Aleppo.
Raqqa:
Syrian Democratic Forces and Islamic State clashed in several districts of Raqqa, with reports about the former advancing in Al-Dariyah and Al-Barid.
IS' Amaq Agency reported that CJTF-OIR's airstrikes over Al-Mari district yesterday, killed nine civilians and wounded four. Another statement from Amaq claimed CJTF-OIR's airstrikes and the US' artillery shelling of Raqqa has killed eight civilians and injured 23, during the past two days.
Yesterday, Islamic State's fighters launched an attack on SDF-held Kassra Mohammed Ali village, south of Raqqa. According to Amaq, seven SDF's fighters were killed in the attack. IS' SVBIED also targeted the village, destroying six SDF's vehicles, and giving IS' fighters to loot the affected vehicles.
Syrian Arab Army advanced against the Islamic State, south of Resafa, reportedly capturing Khirbet al-Haloul, Al-Kadir (Kabir?) oil field, and Kalat hills.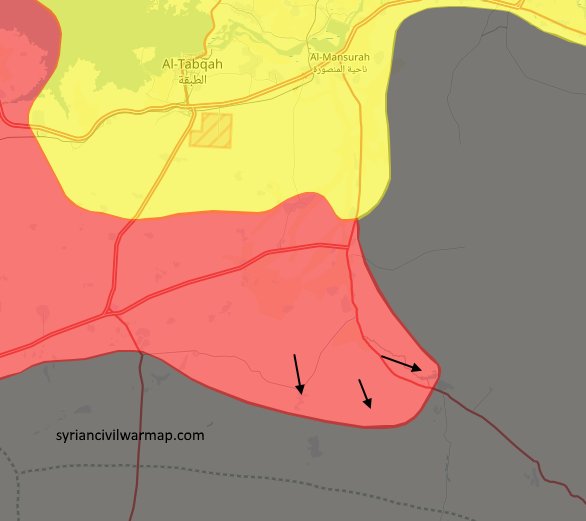 Situation south of Tabqa. Source: Syrian Civil War Map
Approximate situation in Raqqa. Source: Syrian Civil War Map
Idlib:
Al-Aqab group, part of Hayat Tahrir al-Sham, reportedly launched a storming attempt on Ahrar al-Sham-held Hazarin village. Ahrar al-Sham responded to the intrusion attempt which led to clashes between the two. The same two parties also clashed in Tal al-Touqan area, Ahrar al-Sham's stronghold. Clashes in Tal al-Touqan resulted in several injuries among the local, civilian population.
Damascus:
Syrian Arab Red Cross-sponsored evacuation deal took place yesterday in East Ghouta. Two sick children were evacuated from Jaysh al-Islam-held Douma towards Damascus.
After more than a day of clashes, Syrian Arab Army reportedly managed to capture "meat company building" and surrounding areas from Faylaq al-Rahman, in Ain Terma.
Syrian Arab Air Force carried out over a dozen of air raids over several rebel-held localities in East Ghouta. City of Zemalka was targeted by at least two air raids, which resulted in death of one person and injury of several others. Five people were reportedly killed by SyAAF's raids over Ain Terma, the raids also caused fire and destruction of a residential building. One SyAAF's raid targeted the outskirts of Kafr Batna.
Jaysh al-Islam and Hayat Tahrir al-Sham have started clashing once again, in the farms area near Al-Ash'ari.
Daraa:
One of the elements of the Islamic State-affiliated Jaysh Khalid ibn al-Walid, Mahmud Munir Malkawi, reportedly executed his father in the group-held Yarmouk Basin. Motives of the reported execution are still unknown.
Rebel "Daraa Martyrs Documentation Office" reported death of two Free Syrian Army's fighters due to being targeted by Syrian Arab Army's improvised explosive device at the outskirts of Daraa city.
Iraq
Nineveh:
Iraqi forces are still clashing with remaining, small pockets of Islamic State's fighters in the Old Mosul district. Amaq Agency reported death of five Iraqi soldiers due to today's clashes in Mosul. Islamic State's element, known as Muhannad Mahmud Saleh, was killed while attempting to cross the Tigris river in Yarmmeh district.
Islamic State continues putting pressure on Imam Gharbi area, reportedly destroying a BMP during today's confrontations against Al-Hashd al-Shaabi (Popular Mobilization Units), at the outskirts of the locality. Furthermore, Islamic State's snipers reportedly killed eight Iraqi fighters, also at the outskirts of Imam Gharbi.
Diyala:
Two Islamic State's improvised explosive devices allegedly destroyed Iraqi Army's Humvee, killed one soldier and wounded four, in Sherwin area, Al-Muqdadiya.
CJTF-OIR

:
On the 13th of July 2017 CJTF-OIR has conducted 15 strikes in Syria. CJTF-OIR's main focus in Syria at the moment is Raqqa region where they did nine strikes supporting SDF's operations against IS destroying three IS communication towers, three fighting positions, a command and control node, a front-end loader, and an artillery system; and damaging three supply routes.
Other areas where six airstrikes occurred are Abu Kamal (Al-Bukamal), Al-Shadaddi and Deir al-Zour, destroying 50 oil barrels, 12 oil refinement stills, one vehicle, three IS-held buildings, a weapons cache, a storage area, a VBIED, five oil tanks, a front-end loader, and a well-head. Full report on CJTF-OIR strikes conducted in both Syria & Iraq can be found here.
Other:
Intellectual credited property used may vary from an edition to edition.
Feel free to voice your opinion in the comments section below, constructive criticism is welcomed.
For those of you interested, you can follow us on an official Twitter account @SyrianWarDaily, or me personally on my biased twitter @joskobaric where I occasionally tweet some things.