Hello and welcome to the 149th installment of the SWD.
Military events/news are listed below by the governorates:
Raqqa:
Syrian Democratic Forces and Islamic State continue to clash in several areas of Raqqa city, with the later intensifying the efforts on the south and east parts of the city. SDF allegedly killed 18 ISIS members. On ISIS side, the organisation claims 3 SVBIEDS against SDF in Jazrah al -Buhamid (E. Raqqa) with at least 12 SDF members killed in the second attack. Despite the intense clashes, no significant territorial change has been made. At the same time, SDF created a female Arab battalion aimed to fight ISIS and protect women's rights.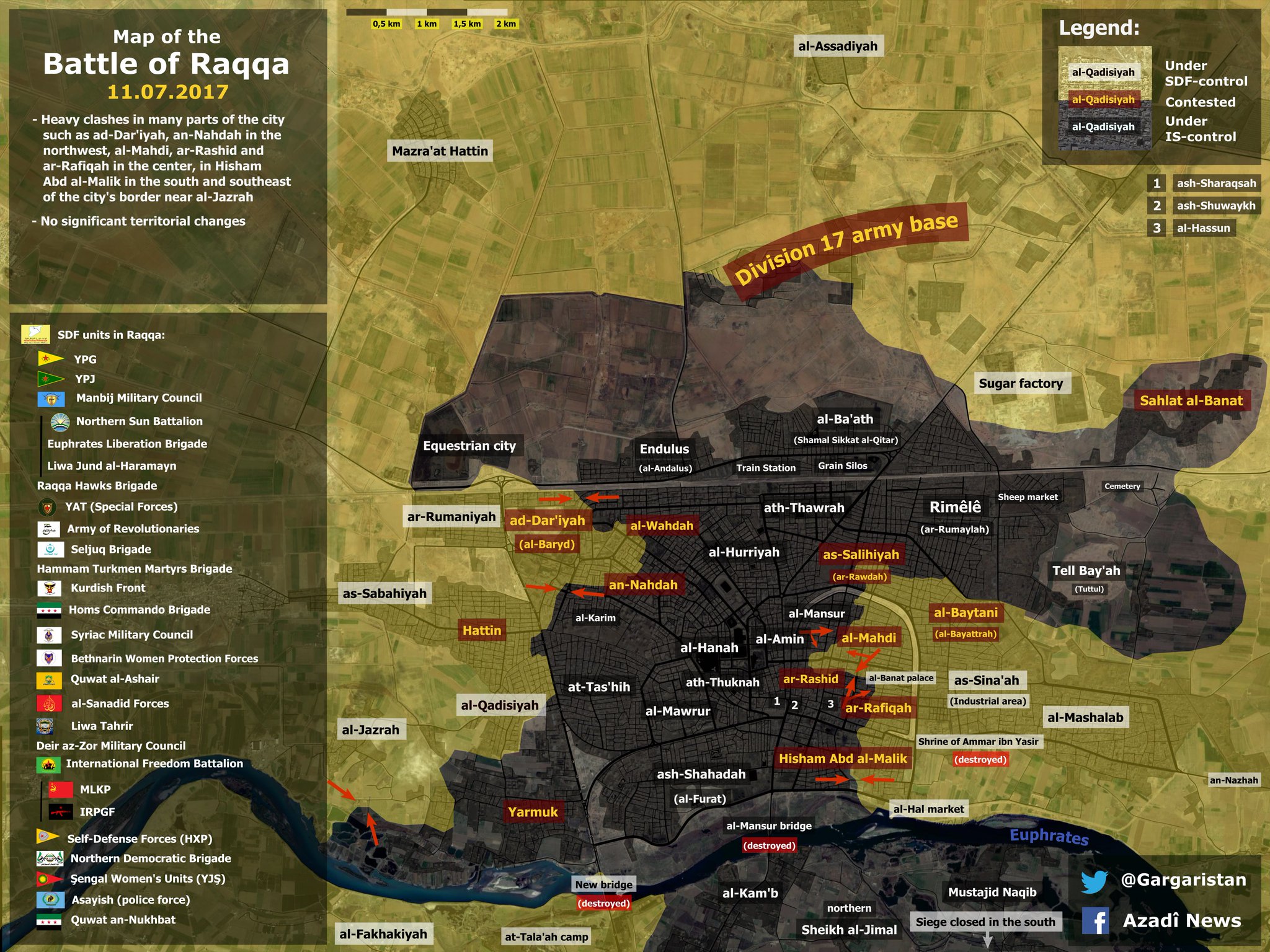 YPG branch announced the death of three foreign volunteers that died during this week fighting against ISIS. The volunteers are the English Lucke Rutter and the American Nicholas Alan Warden and Robert Grodt.
On the government side, the Islamic State forces attacked the SAA near the Safyan oilfield (southwestern Raqqa governorate).
Idlib:
Hayat Tharir al-Sham group continued carrying on with its anti-ISIS operation. Today the group has arrested many ISIS sleeper cells this morning in Wadi Khaled district West of Idlib city.
Hama:
Some fields started to burn in Northern Hama as a consequence of shelling by government forces.
Homs:
Reports over civilians from camp in Jarabulus will return to Al-Waer district in Homs.
The SAA captured the area of al-Hayl gas field and the hills overlooking it.
Damascus:
Government forces are close to isolating Ayn Terma and Jobar from each other, intense clashes are still ongoing. On the other side, fighters of Jaish al-Islam group damaged another mobile bridge, the second one, in Eastern Gouta with tank shells.
Yesterday's fresh pro-governmental offensive against the US-backed New Syrian Army is still ongoing. Today's reports announce that the Syrian Arab Army is, at the moment, at the Khalkhalah airbase and have imposed control over all the villages east to the airbase. This advances put Syrian troops close to the ones advancing from south to Al-Seen airbase.
FSA reports from the group Ahrar al-Sharqyie said they shot down a government warplane near Um al-Remem. Some FSA groups demanded the UN to stop Russian support of government militias and the also denounced the government's violation of the ceasefire.
Daraa:
The High Negotiations Commission of the Syrian Opposition published an image showing the location and times the government has breached the ceasefire in South-West Syria area, more than 15 times in the last 24 hours.
Pro-ISIS group Jaysh Khalid bin Al-Waleed posted images of attacks against the FSA in Western Daraa.
Iraq
Nineveh:
Images appeared showing ISIS militants, including foreigners, emerging out of their holes and surrendering to Counter Terrorism units in Mosul Old City.
Also, clashes erupted between ISIS and Iraqi forces close to Tal Afar after the news of Baghdadi's death.
Salah al-Deen:
ISIS has executed at least 3 prisoners of war, all of them captured from the recent clashes.
CJTF-OIR:
On the 10thof July 2017 CJTF-OIR has conducted 21 strikes in Syria. CJTF-OIR's main focus in Syria at the moment is Raqqa region where they did 12 strikes supporting SDF's operations against IS destroying 11 ISIS tactical units, eight fighting positions, two mortar systems, an IED, and an ISIS communications tower.
Other areas where airstrikes took place are five airstrikes in Deir ez-Zor destroying 39 ISIS oil barrels, 28 oil storage tanks, 16 oil stills, and five oil trucks. Near Abu Kamal, four strikes destroyed six ISIS well-heads and four oil storage tanks.
The full report on CJTF-OIR strikes conducted in both Syria & Iraq can be found here.
Other:
Some reports and news claimed that the leader of the Islamic State Abu Bakr al-Baghdadi is dead. No official statement has been made by Amaq and no source of information has shown sources of information, so this news should be considered as rumours, at least until it gets full confirmation from official sources.
Intellectual credited property used may vary from an edition to edition.
Feel free to voice your opinion in the comments section below, constructive criticism is welcomed.
For those of you interested, you can follow me on my personal, controversial twitter @alextorrell where I constantly tweet about different issues and conflicts.