Hello and welcome to the 148th installment of the SWD.
Military events/news are listed below by the governorates:
Raqqa:
Syrian Democratic Forces and Islamic State continue to clash in several areas of Raqqa city, the former allegedly killed 27 latter's fighters during its advance in Rawda district. Amaq Agency reported death of four SDF's fighters and injury of two more, due to clashes with the Islamic State, across the city of Raqqa.
Islamic State's SVBIED targeted SDF's position in the village of Al-Akirishi, which the latter captured today, southeast of Raqqa. IS' Amaq Agency claimed that the SVBIED killed 11 SDF's fighters.
Situation in Raqqa. Source: Lucio Cienfuegos
Idlib:
Official results have been released for the first day of Hayat Tharir al-Sham's anti-IS operation, which took place yesterday across the Idlib governorate. Operation took place in 10 localities: Idlib, Sarmin, Al-Nayrab, Al-Dana, Salqin, Harim, Isqat, Besnaya, Qurqaniya, and Hattan. Besides the officials mentioned as arrested yesterday, HTS also arrested Abu al-Suwda al-Masri (from Egypt), and Abu al-Qaqaa al-Janubi. Total number of Islamic State's figures arrested was reported at 123, including the officials.
Hayat Tahrir al-Sham raided Syria Civil Defence's (The White Helmets) headquarters in Jisr al-Shughour, the locality has been besieged by the raiding party.
Hama:
Islamic State repelled SAA's attack on Qalyb al-Thawr village, east of Al-Salamiyah, supposedly killing seven SAA's soldiers
Homs:
Syrian Arab Army clashed with the Islamic State, east of Arak, the latter killed three former's soldiers and wounded another four, according to the Amaq Agency.
Damascus:
Jaysh al-Islam's inghimasi (suicide fighters) raided SAA's position on Hawsh al-Nasri front, during the night. The raid reportedly resulted in death of seven SAA's soldiers.
Clashes renewed between Jaysh al-Islam and Faylaq al-Rahman in Al-Ash'ari.
Syrian Arab Army's artillery shelling of Kafr Batna reportedly killed and wounded several people.
Daraa:
Syrian Arab Army's artillery heavily shelled rebel-held 52nd Brigade in Al-Harak, and the road between Al-Karak and Al-Rakhm.
Al-Suwayda:
Syrian Arab Army backed by several allied militias, including Syrian Social Nationalist Party, launched a new attack against the Free Syrian Army factions. SAA captured Tulul al-Faddayn, Al-Asheihib al-Shamali, Tall al-Asfar and Al-Qasr. These advances allegedly forced FSA factions to withdraw from the areas in the northeastern Al-Suwayda governorate, in order to avoid the encirclement. Syrian Social Nationalist Party reported death of two of its fighters, due to today's advances against the rebels.
Situation in the southeastern Syria, HD version of this map can be found here. Source: Peto Lucem
Iraq
Nineveh:
Iraqi Prime Minister, Haider al-Abadi, officially announced the complete liberation of the city of Mosul from the Islamic State. However, even after this announcement by Al-Abadi, Amaq Agency claimed IS' inghimasi (suicide fighters) launched a counterattack against the Iraqi forces in Al-Midan/Maydan neighborhood, Old Mosul district. Another statement from Amaq claimed death of 10 Iraqi soldiers due to IS' snipers, also in Al-Midan/Maydan.
One of the main supporters of the Mosul operation, CJTF-OIR, released a news release regarding the liberation of Mosul:
The Coalition welcomes Prime Minister al-Abadi's announcement of Iraq's victory in Mosul and we congratulate the Iraqi Security Forces on their remarkable progress against ISIS while making extraordinary efforts to safeguard civilian lives.

While there are still areas of the Old City of Mosul that must be back-cleared of explosive devices and possible ISIS fighters in hiding, the ISF have Mosul now firmly under their control.

"The global Coalition fighting ISIS congratulates Prime Minister al-Abadi and the Iraqi Security Forces on their historic victory against a brutal and evil enemy. Make no mistake; this victory alone does not eliminate ISIS and there is still a tough fight ahead. But the loss of one of its twin capitals and a jewel of their so-called caliphate is a decisive blow," said Lt. Gen. Stephen J. Townsend, commanding general of Combined Joint Task Force – Operation Inherent Resolve.

Iraqi Militia Forces, Kurdish Peshmerga fighters and the global Coalition also deserve a share of the credit for their sacrifices to achieve this hard-won victory.

"Mosul would have been a challenging fight for any army, and the Coalition is proud to stand side-by-side with our Iraqi partners as they celebrate their hard-fought victory. A victory that has cost the lives of many brave Iraqis; soldiers, police and civilians. People of all ethnicities and sects have suffered and sacrificed together, not only for their own country, but to help provide security to the region and the world," said Townsend.

"However, this victory does not mark the end of this evil ideology and the global threat of ISIS. Now it is time for all Iraqis to unite to ensure ISIS is defeated across the rest of Iraq and that the conditions that led to the rise of ISIS in Iraq are not allowed to return again," said Townsend.

During its occupation of Mosul, ISIS destroyed many of the city's religious and cultural treasures, including the al-Nuri Mosque and the Tomb of the Prophet Jonah. It terrorized and brutally murdered thousands of civilians, including scores of women and children. ISIS used mosques, schools and hospitals as bomb-building facilities and fighting positions; but in the end, ISIS was still defeated.

Although ISIS has lost Mosul, the threat remains in other areas of Iraq. The Coalition will stand side-by-side with the Iraqi government and its people until ISIS is defeated and all Iraqis are liberated and security is restored.
Islamic State and Al-Hashd al-Shaabi (Popular Mobilization Units) are clashing for the sixth day, in and around the village of Imam Gharbi, south of Al-Qayarah. Islamic State's snipers reportedly killed three Iraqi fighters, at the outskirts of the village.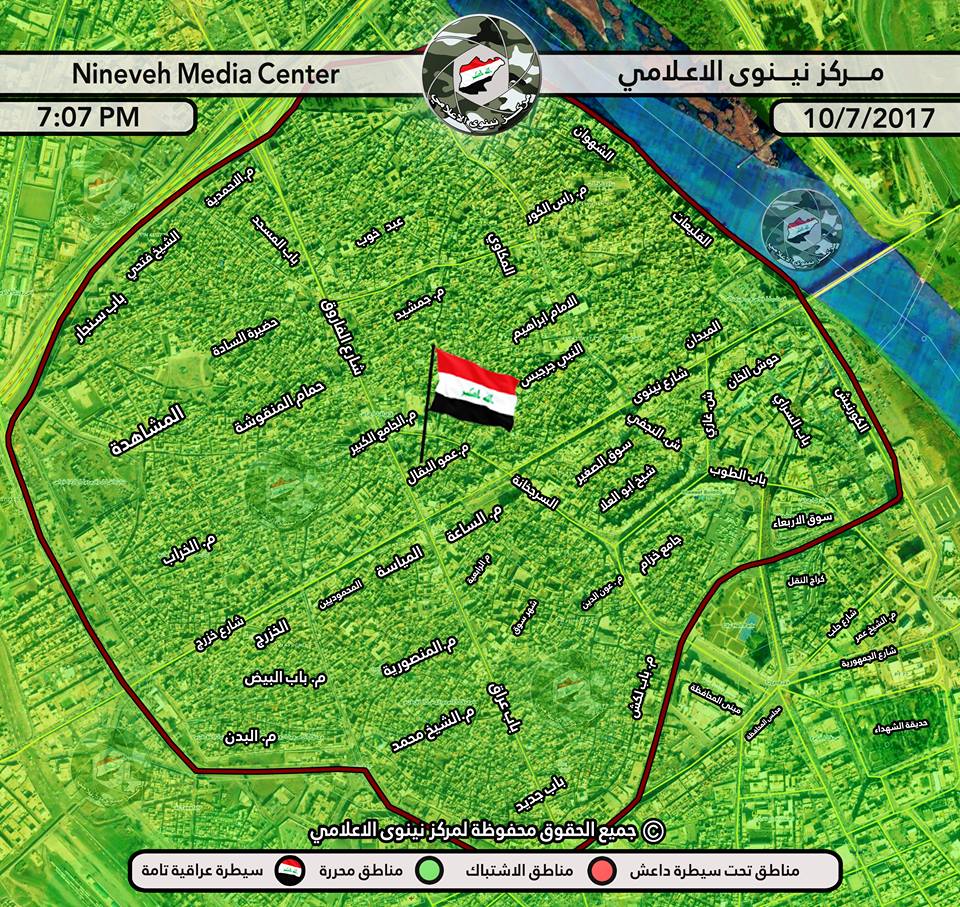 Latest map of the Old Mosul district. Source: Nineveh Media Center
Salah al-Deen:
Islamic State ambushed Al-Hashd al-Shaabi unit in Al-Salman area, Al-Tarmiyah, reportedly destroying a Humvee.
Anbar:
Iraqi Air Force carried out several airstrikes over IS-held Rawa in west Anbar. Three IS' explosive devices factories and three weapon caches were destroyed in the airstrikes.
CJTF-OIR

:
On the 9th of July 2017 CJTF-OIR has conducted 16 strikes in Syria. CJTF-OIR's main focus in Syria at the moment is Raqqa region where they did 11 strikes supporting SDF's operations against IS destroying seven fighting positions, a weapons cache, a supply cache, an anti-air artillery system, a tunnel, and an IS communications tower.
Other areas where five airstrikes occurred are Abu Kamal (Al-Bukamal) and Deir al-Zour, destroying an IS oil storage tank, 30 IS oil stills, four oil caches and a well-head. Full report on CJTF-OIR strikes conducted in both Syria & Iraq can be found here.
Amaq Agency:
Afghanistan:
Islamic State assassinated an alleged spy working for the Afghan government, in the city of Jalalabad.
Other:
Intellectual credited property used may vary from an edition to edition.
Feel free to voice your opinion in the comments section below, constructive criticism is welcomed.
For those of you interested, you can follow us on an official Twitter account @SyrianWarDaily, or me personally on my biased twitter @joskobaric where I occasionally tweet some things.