Hello and welcome to the 146th installment of the SWD.
Military events/news are listed below by the governorates:
Raqqa:
Syrian Democratic Forces captured the farms area north of Al-Barid district. SDF also made advances in Al-Mahdi and Al-Rafiqah districts in the Old City of Raqqa, scope of the advances into IS-held areas is estimated at around 700 meters (~765 yards) and resulted in the capture of Harun al-Rashid fort.
According to Amaq Agency, IS' SVBIED targeted SDF's position near the old/historic wall. Amaq also claimed that nine SDF's fighters were killed and four other wounded, during the clashes with IS in several areas of Raqqa city.
Situation in Raqqa. Source: Syrian Civil War Map
Idlib:
Ahrar al-Sham allegedly arrested a dozen of Hayat Tahrir al-Sham's fighters, after the latter set up several checkpoints/barriers on the road between Al-Dana and Al-Atarib.
Explosion occurred in Nayrab village, killing one displaced civilian from Hama governorate and wounding a local child.
Ahrar al-Sham's headquarters in Binnish were targeted by a huge explosion, which caused several casualties among the group's ranks.
Homs:
Syrian Arab Army captured Jibab Hamad village from the Islamic State. On the Arak front, SAA captured Al-Hail gas field and surrounding areas from IS.
Situation east of Homs. Source: loomis
Damascus:
Jaysh al-Islam, and Hayat Tahrir al-Sham, backed by Faylaq al-Rahman, continue to clash in Al-Ash'ari area. Clashes between the two have also spread to Beit Sawa.
Syrian Arab Air Force conducted four air raids over Faylaq al-Rahman-held Ain Terma, and four raids over Jaysh al-Islam-held Douma.
Quneitra:
Syrian Arab Army launched an attack against the rebels, south of Madinat al-Baath. SAA captured Mikhtar villa in the direction towards Samdaniyah al-Gharbi, SAA also reportedly captured Alfelh al-Hamra.
Daraa:
Five Hezbollah fighters were reportedly confirmed as killed in the clashes with rebels in Daraa city. One of the killed individuals was allegedly a child soldier.
Syrian Arab Air Force carried out eight raids over Ayb village in Al-Lajat area. One civilian was reported as killed and several as injured, due to the raids.
Iraq
Nineveh:
Iraq Joint Operations officially announced Bab al-Toub neighborhood, Al-Najafi street and other areas in the Old Mosul, as completely captured by the Iraqi Federal Police from the Islamic State. Federal Police has now finished all of its assignments/tasks in the Old Mosul. Iraqi Special Operations Forces are expected to finish cleaning the remaining IS' pockets of resistance in the Old Mosul, most notably, the area along the Tigris river.
Iraqi security forces arrested 18 Islamic State's fighters as they were trying to enter the camp for the displaced individuals. Several commanders of IS were among the arrested individuals.
Three Islamic State's figures were killed by the Iraqi forces in the west Mosul, Abu Hafsa, IS' commander from Saudi Arabia, tried to flee from the Old Mosul towards the east Mosul. Abu Bakr al-Baghdadi's deputy, Ayad al-Jumaily, and IS' official/wali for Nineveh governorate, Abu Ahmed al-Iraqi, were killed by Iraqi forces in the Old Mosul.
Iraqi Air Force carried out several raids over Tal Afar, reportedly killing 12 IS' fighters, including an official in the group.
For the fourth day, Islamic State and Al-Hashd al-Shaabi (Popular Mobilization Units) continue to clash in and around Imam Gharbi village, south of Al-Qayarah. Islamic State stormed Iraqi positions located at the outskirts of the village, and also allegedly killed at least five Al-Hashd al-Shaabi's fighters in clashes. Clashes in Imam Gharbi reportedly resulted in destruction of one mine-resistant ambush protected Cougar vehicle, by the Islamic State.
Islamic State's snipers killed eight Al-Hashd al-Shaabi's fighters in the village of Al-Murir, south of Al-Qayarah, according to Amaq Agency's statement.
Islamic State raided a supply route between Al-Qayarah and Al-Shirqat, destroying Al-Hashd al-Shaabi's vehicle.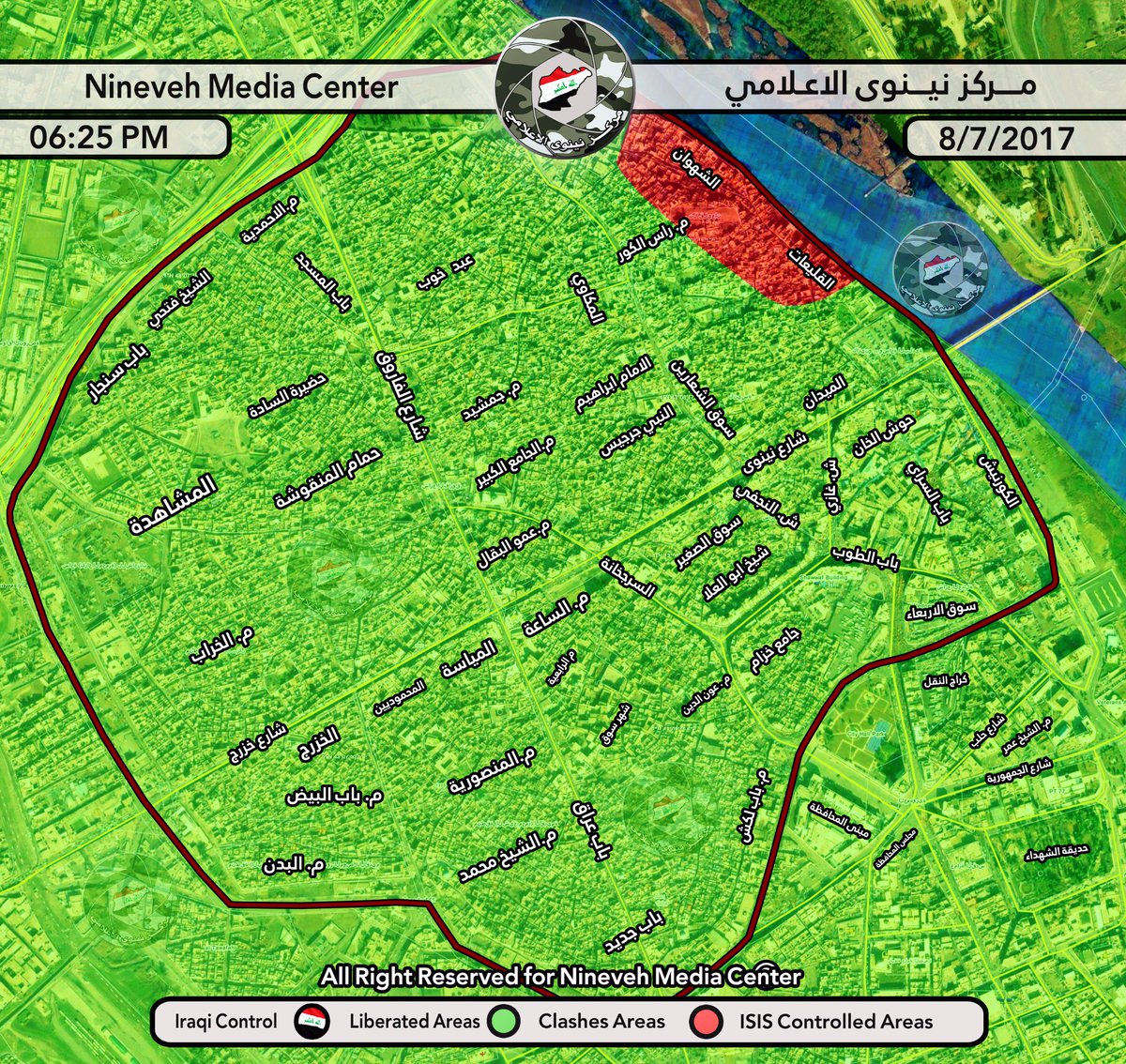 Latest map of the Old Mosul district. Source: Nineveh Media Center
CJTF-OIR

:
On the 7th of July 2017 CJTF-OIR has conducted 24 strikes in Syria. CJTF-OIR's main focus in Syria at the moment is Raqqa region where they did 18 strikes supporting SDF's operations against IS destroying 17 fighting positions, two vehicles, and a tunnel.
Other areas where six airstrikes occurred are Abu Kamal (Al-Bukamal), Al-Shadaddi and Deir al-Zour, destroying seven IS oil refinement stills, 11 oil barrels, a storage tank, two vehicles, two oil tankers, and a front-end loader. Full report on CJTF-OIR strikes conducted in both Syria & Iraq can be found here.
Amaq Agency:
Philippines:
Islamic State's fighters reportedly killed five Filipino soldiers, during the clashes in Liloud Madia district, Marawi.
Other:
Intellectual credited property used may vary from an edition to edition.
Feel free to voice your opinion in the comments section below, constructive criticism is welcomed.
For those of you interested, you can follow us on an official Twitter account @SyrianWarDaily, or me personally on my biased twitter @joskobaric where I occasionally tweet some things.