Hello and welcome to the 145th installment of the SWD.
Military events/news are listed below by the governorates:
Raqqa:
Syrian Democratic Forces reportedly made sizeable advances against the Islamic State in the Old City of Raqqa, clashes between the two are still ongoing in the area. IS' SVBIED targeted SDF's gathering in Al-Jizra district, and IS' snipers killed three SDF's fighters across the city of Raqqa, according to Amaq.
Southeast of Raqqa, after killing 17 Islamic State's fighters, SDF captured Kasrat Muhammad Afga village. On the same axis, SDF also captured Al-Ajil village, killing at least three IS' fighters and allegedly destroying a SVBIED. Amaq's statement claimed that the allegedly destroyed SVBIED, killed 16 SDF's fighters.
Situation in Raqqa. Source: Gargari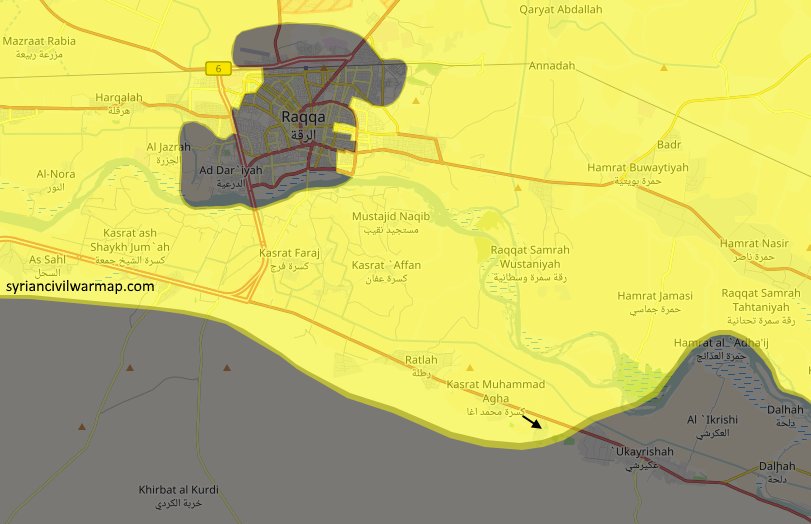 Situation in greater Raqqa area after today's advances. Source: Syrian Civil War Map
Idlib:
Four civilians were wounded by the remnants of a cluster bomb, from the previous air raids on Maarat al-Numaan. One civilian was killed and a member of Ahrar al-Sham wounded, when a landmine exploded near the village of Al-Halba.
Hama:
Amaq Agency claimed IS damaged SAA's tank on Talat Faryatan, east of Al-Salamiyah.
Homs:
Syrian Arab Army captured additional three points north of Jibab Hamad from the Islamic State.
Heavy clashes took place between SAA and IS, east of Arak, as the former tried to advance against the latter in the area. IS' Amaq released several statements regarding today's events east of Arak. Two IS' improvised explosive devices killed two SAA's soldiers. Four more SAA's soldiers were reportedly killed by IS' snipers. SAA & allied units were also targeted by an Islamic State's SVBIED, east of Arak.
Islamic State also attacked area west of Humaymah, reportedly killing 9 and injuring 15 Syrian Arab Army's soldiers.
Damascus:
Hayat Tahrir al-Sham launched a night attack on Jaysh al-Islam held Al-Ash'ari, making advances in the farms area.
Faylaq al-Rahman repelled another SAA's attempt to advance on Jobar and Ain Terma fronts, the rebel group damaged SAA's BMP and a T-72 tank. SAA's attempt was backed by the Syrian Arab Air Force, which conducted five raids over Ain Terma.
Daraa:
Cessation of hostilities between SAA and rebels has been extended, but the Syrian Arab Air Force continues conducting its usual targeting of rebel-held localities in Daraa governorate. The Air Force carried out 18 air raids targeting Al-Jisri, Ayb and Umm al-Karaz in Al-Lajat region. At least one civilian was reported as killed and several others as injured, following the raids.
Several rebel commanders/figures were targeted by improvised explosive devices, and unknown gunmen. Commander in Al-Bunyan al-Marsous operation room and Jaysh al-Thawra, Abu Hassan al-Musalama, was wounded by unknown gunmen. Commander in Firqat Aswad al-Sant, Dhahar al-Bashir, was killed by an improvised explosive device in Kafr Shams. Official in Free Syrian Army's Al-Firqat 46 (46th Division), Qaseem al-Rasheed, was also killed by an improvised explosive device.
Islamic State's affiliate, Jaysh Khalid ibn al-Walid, reportedly killed 16 rebels and damaged a tank during yesterday's clashes near Adwan and Jallin, as the newly-launched rebel offensive stalls.
Iraq
Nineveh:
The city of Mosul is still not completely captured by the Iraqi forces, Islamic State still maintains presence in several areas of the Old Mosul district. Iraq Joint Operations announced that the Iraqi Army's 9th Division killed IS' commander, Abu Zaid, along with seven other IS' fighters, near Sheikh al-Shat mosque in the Old Mosul.
For the 3rd day, Islamic State and Al-Hashd al-Shaabi (Popular Mobilization Units) continue to clash in and around Imam Gharbi village. IS' Amaq Agency reported death of nine Al-Hashd al-Shaabi fighters and destruction of a Humvee, due to IS' SVBIED attack. Another statement from Amaq reported destruction of a BMP and a mine-resistant ambush protected Cougar vehicle, with two anti-tank guided missiles. Two Iraqi war correspondents, Soudid Faris and Harb Hizae, were killed today while covering the clashes with the Islamic State.
Approximate situation in the Old Mosul district. Source: Fran J. Saavedra
Diyala:
Islamic State reportedly executed four of its commanders, due to a number of failed attacks, which were supposed to be the "invasion" during the Ramadan in Diyala governorate.
CJTF-OIR

:
On the 6th of July 2017 CJTF-OIR has conducted 22 strikes in Syria. CJTF-OIR's main focus in Syria at the moment is Raqqa region where they did nine strikes supporting SDF's operations against IS destroying seven fighting positons, an IS headquarters, and a VBIED.
Other areas where 13 airstrikes occurred are Abu Kamal (Al-Bukamal) and Deir al-Zour, destroying 14 IS construction items, six oil storage tanks, 35 IS oil refinement stills, 14 construction items, 10 oil trucks, and three well-heads. Full report on CJTF-OIR strikes conducted in both Syria & Iraq can be found here.
Amaq Agency:
Egypt:
Islamic State raided two Egyptian Army's checkpoints south of Rafah, in Al-Bers area. The raid reportedly consisted of three SVBIEDs, out of which, at least one was reported as destroyed before reaching its destination. Casualties from the raid are estimated at 23 dead and 26 wounded for the Egyptian Army, and around 40 dead for the Islamic State. Among the killed Egyptian soldiers is Colonel Ahmed Sabir Al-Mansi, commander of the 103th Brigade.
Yesterday, Islamic State assassinated an element of the Egyptian National Police in Ezbet Melim area, Al-Arish.
Philippines:
Islamic State's fighters allegedly killed 11 Filipino soldiers during the clashes in Llod Madaya, Moncadou, and Marinot neighborhoods, Marawi.
Other:
Intellectual credited property used may vary from an edition to edition.
Feel free to voice your opinion in the comments section below, constructive criticism is welcomed.
For those of you interested, you can follow us on an official Twitter account @SyrianWarDaily, or me personally on my biased twitter @joskobaric where I occasionally tweet some things.