Hello and welcome to the 144th instalment of the SWD.
Military events/news are listed below by the governorates:
To begin with, the different de-escalation zones have so far achieved its objectives with no major fighting taking place in most of the different frontlines.
Raqqa:
Early this morning FSA units within the SDF fled from Raqqa Old city after heavy clashes and some unknown casualties. During the day YPG forces pushed into the Old districts and made advances towards the Old Mosque. An ISIS SVBIED hit SDF after reaching the Old Mosque, Hisham Abdulmalik district.
Aleppo:
Some protests against corruption, the checkpoints and calling for reforms. Apparently, the protests took place without incidents.
Homs:
ISIS Amaq News published a video showing an ISIS SVBIED against SAA forces near Araq, in East Palmyra.
Hama:
The SAA launched new attacks toward ISIS forces in East Hama. Initial reports suggested that the Governmental forces are advancing against ISIS. The possible objectives of this offensive are the strongholds of Uqayribat and Tall Sanimah. The SAA and Palestinian Liwa Al Quds captured Tal Tabarah Al Deeb in the countryside from ISIS forces. At the same time, Desert Hawks captured multiple positions, including the Al-Maksar area and Tal Huway'at east to Salamiyah.
An explosion hit a bus station in the centre of Masyaf town in Western Hama, the SVBIED killed 3 people.
Damascus:
Faylaq Al-Rahman damaged a government's BMP with a direct hit on Ain Terma front. At the same time, the SAA advanced towards Ain Terma and captured an unknown number of buildings between Zamalka bridge and Ahl al-Safa mosque. Government forces also captured the Shamini Land complex.
Daraa:
The Syrian Government extended the cessation of hostilities in the whole southern region, which includes Daraa, Kenitra and Swaida, until the end of 07/08/2017. Meanwhile, the newly started rebel offensive against ISIS southern pocket has been reported to have failed.
Iraq
Nineveh:
Iraqi forces made considerable advances against the Islamic State forces in several areas of the Old Mosul district. Preliminary reports inform that ISIS lines had collapsed and the remaining ISIS troops inside the Old city are trapped in small pockets of 500 meters or less.
As this article is being written, some reports are announcing the full liberation of Mosul city, although, it is better for all to wait until the Iraqi government confirms the rumours. If true, the Iraqi government would have taken back one of its most relevant cities.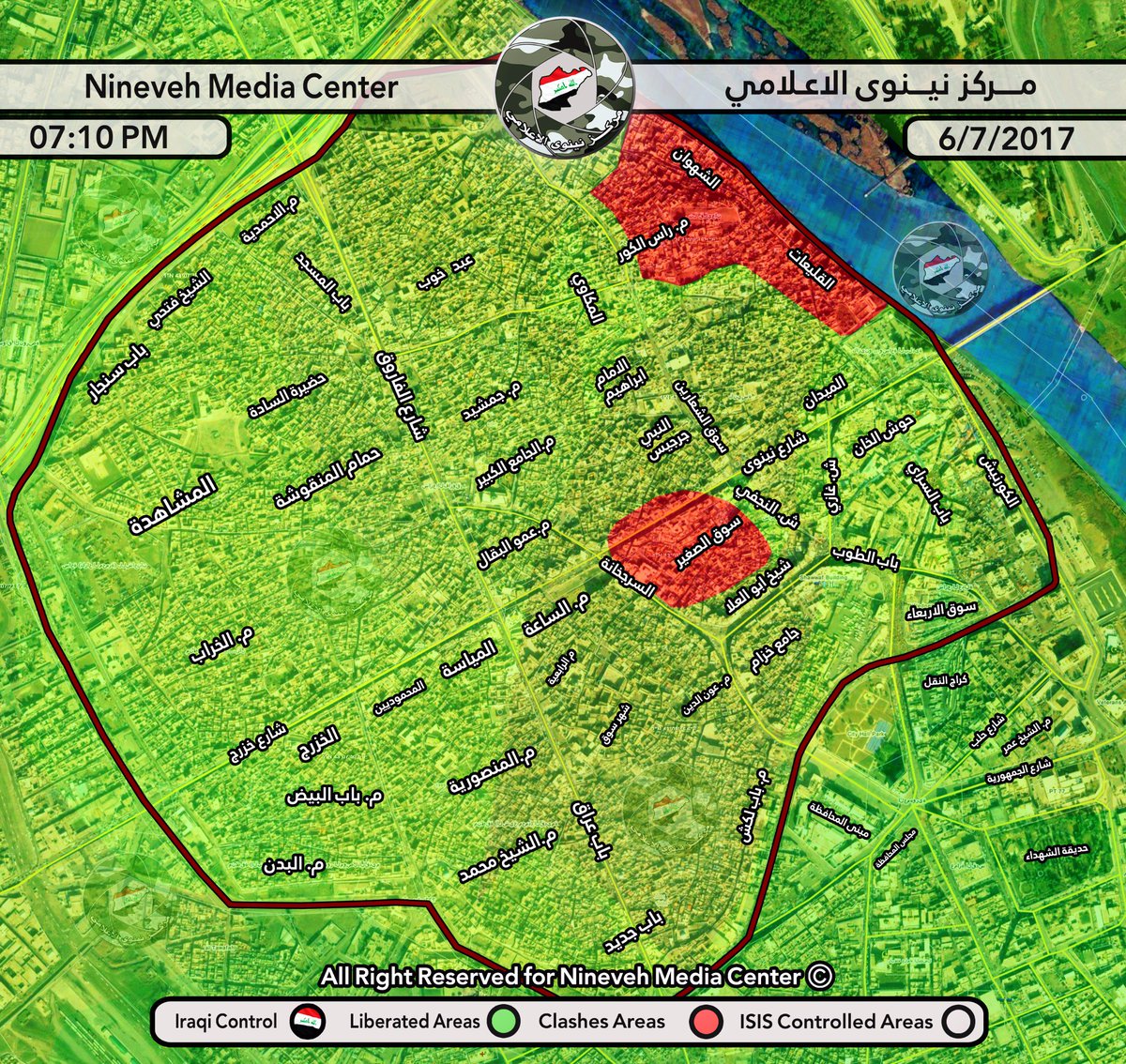 Latest map of the Old Mosul. Source: Nineveh Media Center
Salah al-Din:
Islamic State forces began an offensive against Iraqi forces from Hawija Pocket. The group's offensive targeted positions south of Qaraya and north of Sharqat. Amaq News reported huge advances on the Qarayaa – Sharqat road.
CJTF-OIR:
On the 5th of July 2017 CJTF-OIR has conducted 29 strikes in Syria. CJTF-OIR's main focus in Syria at the moment is Raqqa region where they did 21 strikes supporting SDF's operations against IS destroying 15 ISIS tactical units, 13 fighting positions, two vehicles, two heavy machine guns, a front-end loader, a UAV site, and a sniper position.
Other areas where airstrikes took place are: six airstrikes in Deir al-Zur destroying 34 ISIS oil barrels, eight oil stills, five construction items, five oil trucks, four front-end loaders, three oil storage tanks, an oil distillation tank and a well-head. Near Al Shadaddi, two strikes destroyed five ISIS-held buildings, a command and control node and a SVBIED facility.
The full report on CJTF-OIR strikes conducted in both Syria & Iraq can be found here.
Other:
Intellectual credited property used may vary from an edition to edition.
Feel free to voice your opinion in the comments section below, constructive criticism is welcomed.
For those of you interested, you can follow me on my personal, controversial twitter @alextorrell where I constantly tweet about different issues and conflicts.