Hello and welcome to the 142nd installment of the SWD.
Military events/news are listed below by the governorates:
Aleppo:
Another rebel weapons/ammunition depot exploded due to a heat wave currently targeting Syria. This time, a depot exploded in Marea, causing no casualties.
Raqqa:
Syrian Democratic Forces captured half of Hmisham Abdul Malik district in the southern part of Raqqa city from the Islamic State. SDF also managed to enter the Old City of Raqqa with the assistance of CJTF-OIR. Islamic State allegedly lost at least 34 fighters due to today's clashes, while SDF lost at least three fighters due to IS' snipers.
CJTF-OIR's news release regarding today's operation to breach a small part of the historic wall:
ISIS fighters were using the historic wall as a fighting position and planted mines and improvised explosive devices at several of the breaks in the wall. SDF fighters would have been channeled through these locations and were extremely vulnerable as they were targeted with vehicle-borne IEDs and indirect fire as well as direct fire from heavy machine guns, rocket- propelled grenades and snipers as they tried to breach the Old City.

Conducting targeted strikes on two small portions of the wall allowed Coalition and partner forces to breach the Old City at a locations of their choosing, denied ISIS the ability to use pre- positioned mines, IED and VBIEDs, protected SDF and civilian lives, and preserved the integrity of the greatest portion of the wall. The portions targeted were 25-meter sections and will help preserve the remainder of the overall 2,500-meter wall.
Situation in Raqqa. Source: Gargari
Idlib:
Negative trend of explosions continues in Idlib governorate, an improvised explosive device exploded in Isqat, injuring two civilians. Another explosive device targeted the vicinity of headquarters belonging to the Uzbek elements of Hayat Tahrir al-Sham, killing seven people, out of which, three belonging to Hayat Tahrir al-Sham. Explosion also wounded at least 17 individuals.
Hayat Tahrir al-Sham's elements stormed the village of Kafrsajna, in an attempt to arrest rebel fighters previously active in Turkey-led Euphrates Shield operation.
Unconfirmed reports claimed that an Islamic State's convoy from Deir al-Zour entered Al-Rahjan, in cooperation with Hayat Tahrir al-Sham. Convoy was allegedly 70 vehicles strong and also contained an important IS' fighure, Hossam al-Shlouf.
Unknown gunmen opened fire and wounded a woman, in the village of Maar Hattat, south of Maarat al-Numaan.
New batch of Free Idlib Army's "special forces" graduated from Tlab al-Aez military camp. Around 80 recruits were trained for 60 days before graduating.
Two Ahrar al-Sham's officials were kidnapped by a security force affiliated with Hayat Tahrir al-Sham and under the control of Abu Saeed Ras al-Hosn. Abu Yousef Shubak was kidnapped in front of his house in Idlib, and Ibrahim Yassin was kidnapped in Kafr Dariyan.
Damascus:
Syrian Arab Air Force conducted a dozen of airstrikes over several rebel localities in the East Ghouta. Four airstrikes targeted Ain Terma and Al-Shifouniya, while four airstrikes alone targeted Douma , reportedly killing two and injuring four civilians. Rebel operations room was allegedly hit and completely destroying by SyAAF's airstrike on the center of Hawsh al-Dawahirah.
Daraa:
Even though the General Command of the Syrian Arab Army announced a truce/ceasefire in Daraa yesterday, Syrian Arab Army and the Air Force continued with their usual targeting of rebel-held localities in the governorate.
Syrian Arab Air Force carried out at least 15 raids over the rebel-held areas in Daraa. Syrian Arab Army's artillery targeted Daraa, Al-Naima and Ayib.
Rebel "Daraa Martyrs Documentation Office" reported death of four Free Syrian Army's fighters due to Syrian Arab Air Forces' targeting of their position.
Iraq
Nineveh:
Iraqi forces started a new wave of attacks in the Old Mosul district, in an attempt to secure the Tigris river's area from the Islamic State's fighters. According to the reports, Iraqi forces were able to infiltrate more than 100 meters (~109 yards) into IS-held area.
Iraqi Special Operations Forces found an Islamic State's weapons cache in the Old Mosul district. The cache contained over a hundred of GPS devices, thermal vision equipment and anti-tank guided missiles.
Islamic State's Amaq claimed death of at least 10 members of the Iraqi Federal Police due to clashes with IS at the outskirts of Bab al-Toub and Al-Kournish areas.
Al-Hashd al-Shaabi's (Popular Mobilization Units) positions/gatherings south of Al-Jagifi village, west of Baaj, were targeted by two Islamic State's SVBIEDs. Amaq's statement reported death of 12 Al-Hashd al-Shaabi's fighters.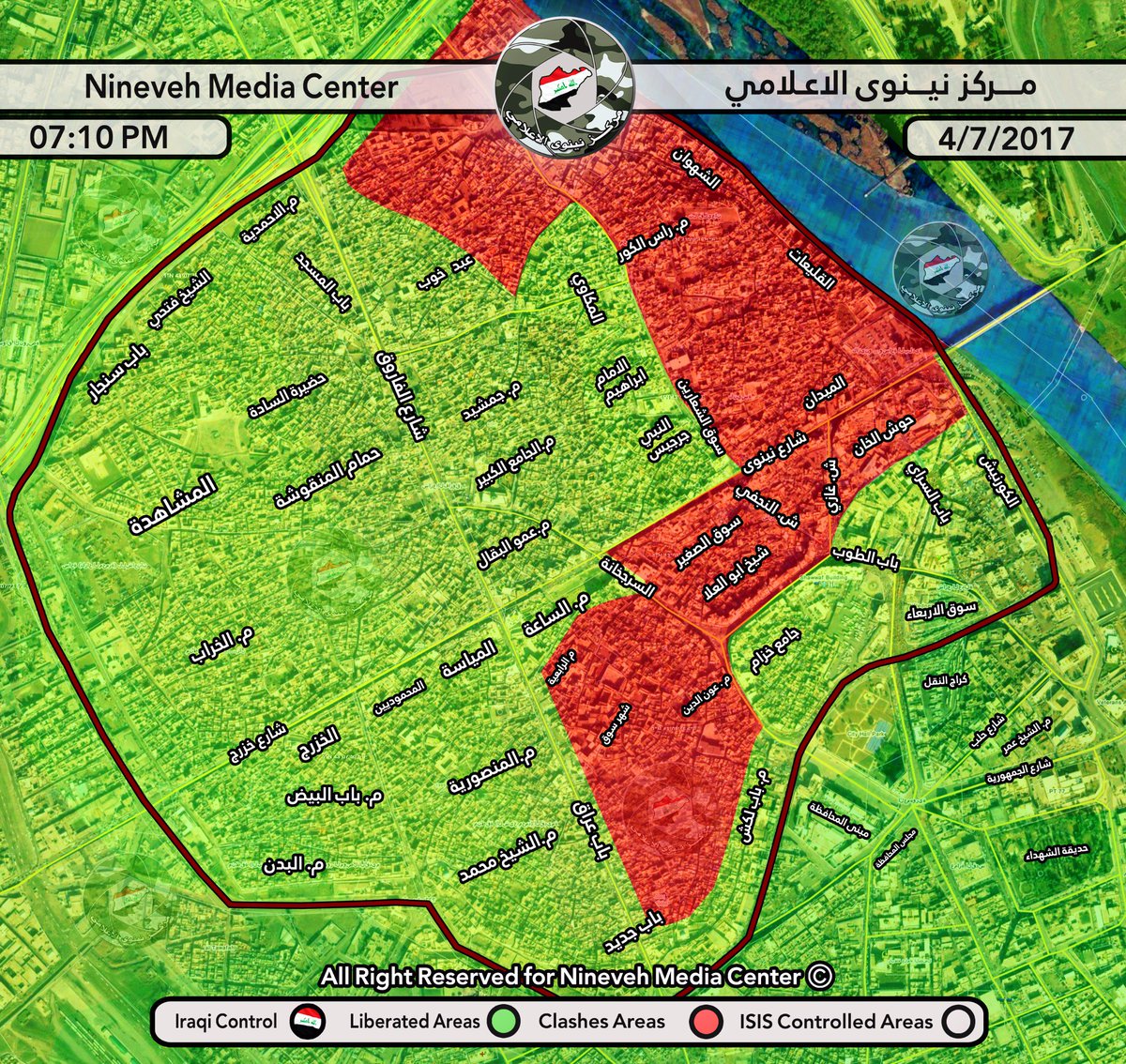 Latest map of the Old Mosul district. Source: Nineveh Media Center
Salah al-Deen:
Islamic State reportedly destroyed Al-Hashd al-Shaabi's bulldozer with an RPG in Al-Qusour area, north of Baiji.
Baghdad:
Yesterday, Islamic State raided Iraqi Army's position in Al-Hamdaniya district in Abu Ghraib, west of Baghdad. Amaq claimed death of three Iraqi soldiers and injury of several others.
CJTF-OIR

:
On the 3rd of July 2017 CJTF-OIR has conducted 17 strikes in Syria. CJTF-OIR's main focus in Syria at the moment is Raqqa region where they did 15 strikes supporting SDF's operations against IS destroying seven fighting positions, three mortar systems, two sections of wall, two vehicles, an anti-air artillery system, a heavy machine gun, and an explosives cache; damaging five IS supply routes; and suppressing an IS tactical unit.
Other areas where two airstrikes occurred are Abu Kamal (Al-Bukamal) and Deir al-Zour, destroying two IS well-heads. Full report on CJTF-OIR strikes conducted in both Syria & Iraq can be found here.
Amaq Agency:
Pakistan:
Islamic State's fighters killed a Pakistan policeman in Balochistan province, west Pakistan.
Philippines:
Nine Filipino soldiers were reportedly killed during the clashes with Islamic State's fighters in Baling area of Marawi city.
Other:
Intellectual credited property used may vary from an edition to edition.
Feel free to voice your opinion in the comments section below, constructive criticism is welcomed.
For those of you interested, you can follow us on an official Twitter account @SyrianWarDaily, or me personally on my biased twitter @joskobaric where I occasionally tweet some things.