Hello and welcome to the 141st installment of the SWD.
Military events/news are listed below by the governorates:
Raqqa:
Syrian Democratic Forces entered Hisham Abdul Malik and Yarmouk districts in the southern part of Raqqa city, SDF allegedly making advances in the latter district against the Islamic State. Islamic State's Amaq Agency claimed death of three SDF's fighters in Al-Kusarat area, after they were targeted with an SPG-9.
Southeast of Raqqa, SDF captured Ratlah village from the Islamic State. Clashes in and around the locality lasted for several days, IS allegedly lost at least 19 fighters.
Situation in the greater Raqqa area. Source: Emmanuel
Idlib:
Large explosion shook the city of Idlib this afternoon. Security forces detonated an explosive device near Al-Dhabit neighborhood, causing no casualties nor any damage.
High temperatures in Idlib governorate caused one of Faylaq al-Sham's ammunition depots to explode. The incident occurred in the village of Maasran, without any casualties.
Ahrar al-Sham's fighters killed Abdul al-Razzaq Salem Abboud, deputy official of Bab al-Hawa border crossing between Turkey and Syria. Abu Firas al-Homsi, another official at the crossing, managed to escape the assassinations attempt. Ahrar al-Sham's spokesman, Mohammed Abu Zeid, stated that the group takes responsibility for the death of Abdul al-Razzaq Salem Abboud. Bab al-Hawa is under the control of Hayat Tahrir al-Sham, meaning that this will only increase the tensions between the two groups.
Homs:
Syrian Arab Army captured several hills on both T3 airport and Arak fronts from the Islamic State. Northeast of T3 area, IS damaged SAA's tank with an anti-tank guided missile.
Damascus:
Syrian Arab Army allegedly made advances in the eastern part of Jobar, capturing several blocks of buildings from rebels. On Ain Terma front, Faylaq al-Rahman targeted SAA's BMP with an anti-tank guided missile.
On Zamalka front, Faylaq al-Rahman reportedly destroyed SAA's machine gun position and damaged a tank. Syrian Arab Air Force conducted three airstrikes over Zamalka.
Ain Terma was also targeted by SyAAF, one person was reported as killed and several as wounded. Furthermore, SAA's shelling of Arbin resulted in death of two people and injury of several others.
Prisoner exchange took place between Jaysh al-Islam and Faylaq al-Rahman in East Ghouta.
Daraa:
The General Command of the Syrian Arab Army announced a truce/ceasefire in the governorates of Daraa, Quneitra and Al-Suwayda until the 6th of June. However, before the truce/ceasefire was announced, Syrian Arab Army and Air Force were active in Daraa governorate.
Syrian Arab Air Force conducted at least 15 raids over rebel-held neighborhoods of Daraa city. Reports suggest that four people were killed and a dozen of injured due to raids.
Syrian Arab Army's artillery pounded several rebel localities, such as Al-Ghariya al-Gharbiya, Al-Harik and Ibta. Similarly, rebels shelled Izra, reportedly injuring at least 11 people.
Iraq
Nineveh:
Iraqi forces reportedly captured Al-Khatouniyah, Al-Towalib, and Bab al-Saray neighborhoods from the Islamic State in the Old Mosul district. Islamic State is still heavily resisting in the few areas/neighborhoods still under their control, its media outlet, Amaq Agency, released a number of statements regarding the events in the Old Mosul.
Islamic State's fighter reportedly blew himself in a building in Al-Makawi neighborhood, as a group of Iraqi Special Operations Forces was entering it.
Islamic State allegedly launched a counterattack at the outskirts of Bab al-Toub neighborhhod, targeting several Iraqi forces' positions in the neighborhood. According to Amaq, 15 members of Iraqi Federal Police, including two officers, were killed and a Humvee damaged during the clashes at the outskirts of Bab al-Toub.
Amaq Agency claimed Islamic State's snipers killed four members of Iraqi Federal Police, at the outskirts of Bab al-Toub and Al-Kurnish areas.
Islamic State's inghimasi (suicide fighters) launched an attack against the Iraqi Army in Al-Hadba neighborhood, east Mosul. IS' attack allegedly resulted in death of 16 Iraqi troops.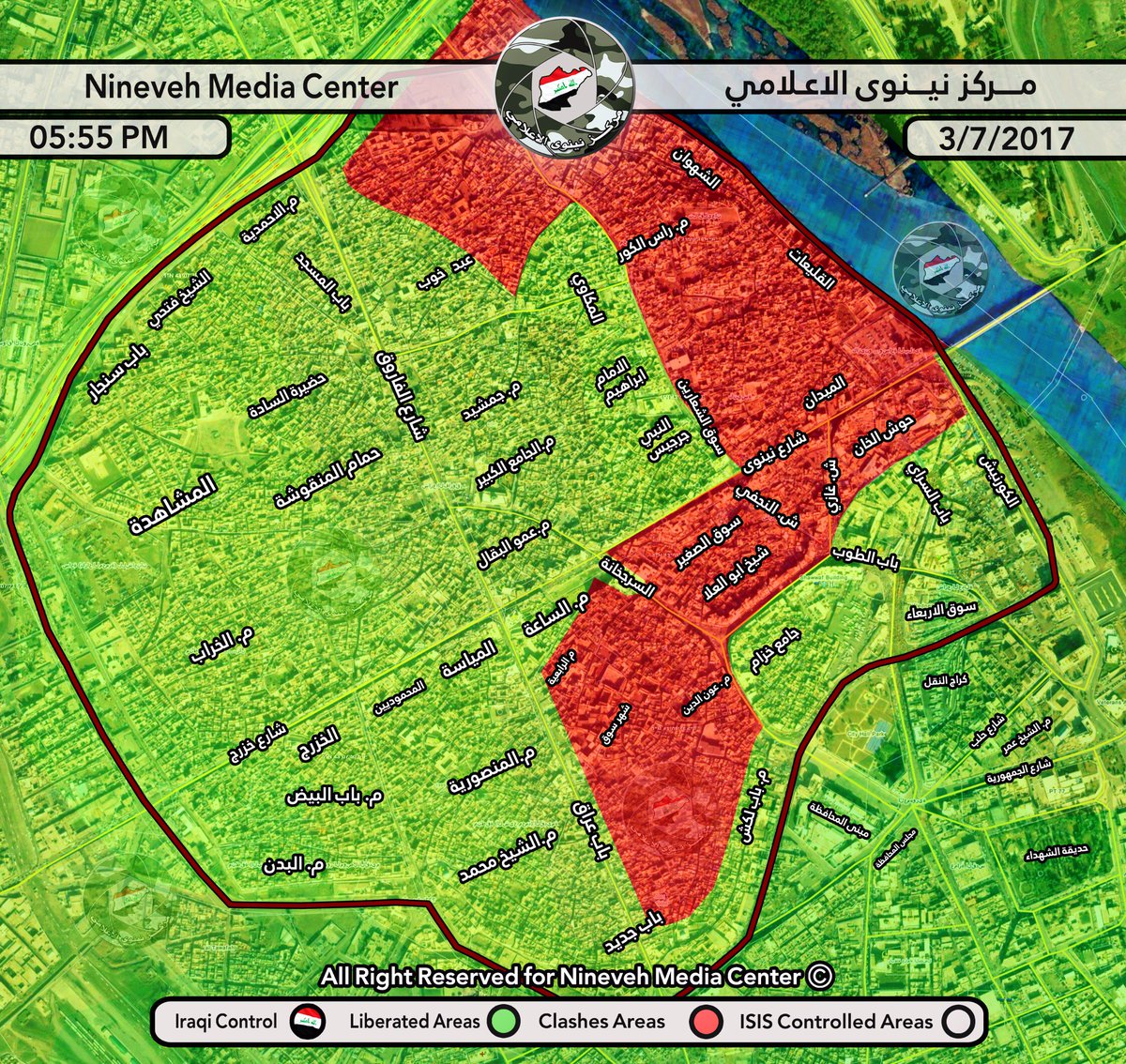 Latest map of the Old Mosul district. Source: Nineveh Media Center
Anbar:
Islamic State's inghimasi attacked headquarters of Al-Hashd al-Shaabi (Popular Mobilization Units) in Al-Khalidiya area, northeast of Al-Ramadi.
Diyala:
Islamic State raided Iraqi Army's barracks on the road between Naft Khana and Khanaqin, killing five soldiers and destroying a Humvee, according to Amaq.
CJTF-OIR

:
On the 2nd of July 2017 CJTF-OIR has conducted 18 strikes in Syria. CJTF-OIR's main focus in Syria at the moment is Raqqa region where they did 14 strikes supporting SDF's operations against IS destroying 10 fighting positions and a mortar system.
Other areas where four airstrikes occurred are Abu Kamal (Al-Bukamal) and Deir al-Zour, destroying three IS front-end loaders, two oil separator tanks, and two well-heads. Full report on CJTF-OIR strikes conducted in both Syria & Iraq can be found here.
Other:
Intellectual credited property used may vary from an edition to edition.
Feel free to voice your opinion in the comments section below, constructive criticism is welcomed.
For those of you interested, you can follow us on an official Twitter account @SyrianWarDaily, or me personally on my biased twitter @joskobaric where I occasionally tweet some things.