Hello and welcome to the 140th installment of the SWD.
Military events/news are listed below by the governorates:
Raqqa:
Syrian Democratic Forces captured Al-Hal market and its surrounding area from Islamic State in the eastern part of Raqqa city.
South of Raqqa, SDF captured Hussainiya, Kasrat Mohamed Ali and Ittihad University from Islamic State.
Islamic State's Amaq Agency reported that the CJTF-OIR's airstrikes on a number of neighborhoods of Raqqa, killed 52 and injured 158 people, in the last seven days.
Syrian Arab Army is almost finished with Islamic State's pocket east of Khanaser, a small area remains under IS' control. One of these areas is near Durayhim oilfields, where clashes erupted between Islamic State and Syrian Arab Army.
Situation around Raqqa. Source: Emmanuel
Idlib:
Hayat Tahrir al-Sham's recent wave of arrestments in Idlib governorate, resulted in detention of at least 60 rebel fighters previously engaged in Turkey-led Euphrates Shield operation.
Ahrar al-Sham started cutting the electricity line feeding the southern part of Idlib's countryside, relation at which Ahrar al-Sham started cutting the line is the villages of Al-Qasabiya and Al-Maghazi. Figure in Ahrar al-Sham, Abu al-Nasr al-Halabi, reportedly stated that they received orders to cut off the electricity to Khan Shaykhun.
Deir al-Zour:
Islamic State destroyed Syrian Arab Air Force's Mil Mi-8 helicopter near Al-Assad hospital with an anti-tank guided missile. The helicopter was unloading cargo when it was affected by an explosion, resulting in the destruction of a helicopter and several casualties among the Syrian Arab Army's ranks.
Damascus:
Three SVBIEDs targeted the city of Damascus this morning, two of the SVBIEDs were reportedly destroyed by security forces before reaching their destinations, third SVBIED detonated at Tahrir square. Casualties from the incidents are estimated at eight killed and 12 wounded.
Syrian Arab Air Force conducted several airstrikes over Zamalka and Arbin, in East Ghouta.
Quneitra:
Israeli forces responded to yesterday's incident which involved a mortar/projectile falling in Israeli-held Golan Heights. According to Israel Defense Forces' spokesperson, Israeli Army targeted SAA's artillery position from which the projectile landed in territory under Israel's control.
Syrian Arab Army advanced against rebels towards Hamidiyah, reportedly capturing Al-Qabdah roundabout.
Rebel "Daraa Martyrs Documentation Office" reported death of two Free Syrian Army's fighters and one Hayat Tahrir al-Sham's fighter due to clashes with SAA in and around Madinat al-Baath, confirmed rebel death toll from the clashes is at least 10 fighters.
Daraa:
Rebels killed Mehdi Qais Khadr, supposed commander in Hezbollah from Kafr Mili, south Lebanon. Khadr was killed in the fighting that recently erupted across Daraa's fronts. According to some reports, Khadr was reported as a commander of IRGC-backed Pakistani militia Liwa Zainebiyoun.
Syrian Arab Air Force carried out several airstrikes on Umm al-Kharz village in Al-Lajat region. Al-Lajat region was captured by rebels from Islamic State in March of 2017.
Syrian Arab Army's artillery heavily shelled rebel-held Tafas.
Iraq
Nineveh:
Iraqi forces reportedly captured Al-Makawi neighborhood in the Old Mosul district from Islamic State. Even though, the Old Mosul is close to being fully cleared of Islamic State's presence, heavy clashes are still ongoing in the district, Amaq claimed death of 22 Iraqi troops due to today's clashes.
Amaq Agency's statement claimed death of three members of Iraqi Federal Police in Bab Laksh neighborhood
Group of Islamic State's fighters was arrested by Iraqi forces as the latter stormed "small market" in the Old Mosul.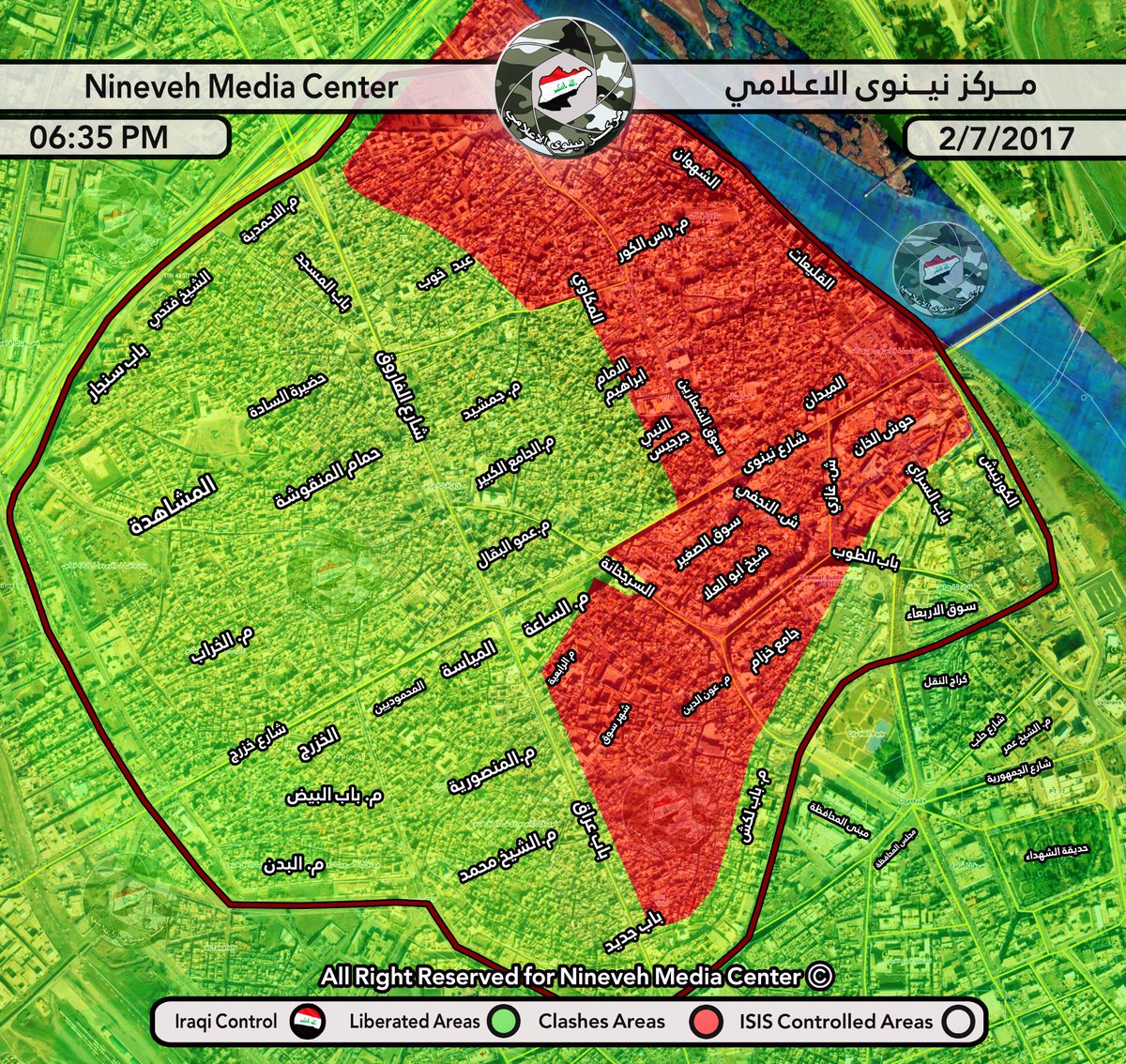 Latest map of the Old Mosul. Source: Nineveh Media Center
Salah al-Deen:
Just like yesterday, Islamic State's improvised explosive device targeted Al-Sheikh Hamad area, this time reportedly damaging Iraqi Army's mine-resistant ambush protected Cougar vehicle. Al-Hashd al-Shaabi's (Popular Mobilization Units) vehicle was also allegedly destroyed by an IS' explosive device, at the outskirts of Jabal Makhoul, north of Baiji.
Anbar:
Islamic State's suicide bomber detonated himself at a checkpoint near a camp for internally displaced persons in Kilo 60 area, west of Al-Ramadi. Iraqi sources reported that 14 people were killed, including four children, and 19 more people wounded, at least four elements of Iraqi security forces were also killed. Amaq Agency's casualty numbers are 12 dead and 15 wounded Iraqi soldiers as one of their fighters targeted Army's gathering in the area.
Diyala:
Islamic State's improvised explosive device destroyed a Humvee in Al-Nada area, east of Baqubah. The second explosive device exploded in Qura Taba area, allegedly killing a member of Al-Hashd al-Shaabi.
CJTF-OIR

:
On the 1st of July 2017 CJTF-OIR has conducted 17 strikes in Syria. CJTF-OIR's main focus in Syria at the moment is Raqqa region where they did nine strikes supporting SDF's operations against IS destroying seven fighting positions, a tactical vehicle, a front-end loader, a mortar system and a heavy machine gun.
Other areas where eight airstrikes occurred are Abu Kamal (Al-Bukamal), Al-Shadaddi and Deir al-Zour, destroying three front-end loaders, two well heads, two oil separator tanks, two vehicles, two cranes, a grader, two IS-held buildings, 20 IS oil storage barrels and six oil tankers. Full report on CJTF-OIR strikes conducted in both Syria & Iraq can be found here.
Amaq Agency:
Philippines:
Islamic State reportedly killed eight Filipino soldiers during the clashes in "Moncado Colony" area, Marawi.
Other:
Intellectual credited property used may vary from an edition to edition.
Feel free to voice your opinion in the comments section below, constructive criticism is welcomed.
For those of you interested, you can follow us on an official Twitter account @SyrianWarDaily, or me personally on my biased twitter @joskobaric where I occasionally tweet some things.