Hello and welcome to the 139th installment of the SWD.
Military events/news are listed below by the governorates:
Raqqa:
Syrian Democratic Forces clashed with Islamic State in Al-Dariyah, Yarmouk and Hittin districts, city of Raqqa. SDF recaptured areas in Al-Seen district that IS captured yesterday. IS' attack on Al-Qadisiyah district was repelled by SDF. Amaq Agency's statement reported death of 11 SDF's fighters due to IS' snipers targeting them in Romaniah and Al-Qadisiyah districts.
South of Raqqa, Syrian Democratic Forces captured the village of Husseiniya from Islamic State.
Syrian Arab Army started entering some of the localities inside of IS' pocket east of Khanaser. Since there is almost no IS' presence in the area, SAA is expected to be in full control of the pocket, in several days.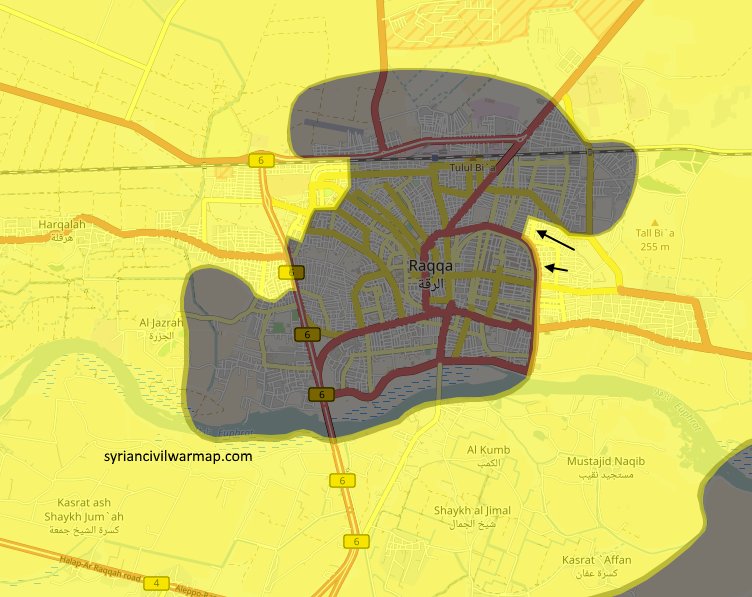 Situation in Raqqa. Source: Syrian Civil War Map
Situation east of Khanaser. Source: Emmanuel
Idlib:
City of Idlib was targeted by another explosion today, which targeted the area near the municipal stadium. Casualties from the attack are reported at four wounded children. West of Idlib, in Al-Sheikh Yusuf village, another explosive device exploded, targeting a bus. Three civilians were reported as killed and seven as wounded from the explosion.
Hama:
Syrian Arab Army backed by Liwa Suqur al-Sahara (Desert Hawks Brigade) and allies captured points nine, 10 and Rasm al-Tinah from Islamic State, east of Sheikh Helal.
Situation east of Sheikh Helal. Source: loomis
Damascus:
Rebels repelled several SAA's attacks in different areas of East Ghouta. In the eastern part of Ghouta, SAA's attacks were repelled on Hawsh Nasri and Hawsh al-Dawahirah.
SAA allegedly made limited advances towards Ain Terma by capturing a territory around 300 meters (328 yards) big. Rebels reported destruction of SAA's T-72 and a BMP as the latter tried to advance in Ain Terma valley.
Hayat Tahrir al-Sham's commander, Abu al-Yaman al-Arduni from Jordan, was killed along with several fighters by Syrian Arab Air Force's airstrike on Ain Terma.
East of Tell Dakwa, Syrian Arab Army captured Tall Hweimel from Free Syrian Army factions.
Situation in Ain Terma's area. Source: Al-Aelam al-Harbi Markazi
Quneitra:
Syrian Arab Army reportedly recaptured the remaining positions rebels took control of, around Madinat al-Baath, a couple of days ago. However, as SAA & allies advanced, once again a projectile fell in Israeli-held Golan Heights. Israeli Air Force hasn't responded to this incident, yet.
Daraa:
Syrian Arab Air Force conducted a dozen of raids over rebel-held areas in Daraa governorate. Four airstrikes fell on Muzayrib causing over 20 casualties among the civilians, at least two were killed. Two more airstrikes occurred over Nawa.
Both the SyAAF and SAA's artillery targeted Jaber – Naseeb border crossing between Jordan and Syria, rebel positions were intended targets, but reports suggest that at least one projectile hit Jordanian Customs in Jaber, setting it on fire.
Rebel "Daraa Martyrs Documentation Office" reported death of 110 rebel fighters due to clashes with SAA across Daraa governorate during the month of June.
Iraq
Nineveh:
Iraqi forces took control of the northern part of Al-Shafaa district, Ibn Sina hospital was captured in the district. In the Old Mosul district, Iraqi forces captured Al-Arbaa market's area. Heavy clashes continue in several areas of the Old Mosul district, Amaq Agency claimed death of 39 Iraqi troops and injury of 18 due to clashes in Al-Kurnish street and Bab al-Toub neighborhood. In those same areas, Islamic State reportedly destroyed a BMP and damaged two bulldozers and a Humvee, belonging to the Iraqi Federal Police.
Islamic State's snipers were busy in west Mosul, reportedly killing six members of Iraqi Federal Police in Al-Kurnish, Bab Laksh and Bab al-Toub areas.
Latest situation in Old Mosul, according to the Iraq Joint Operations.
Salah al-Deen:
Islamic State allegedly assassinated an Iraqi Army's spy in Al-Sheikh Hamad area, near Al-Tarmiyah. The supposedly killed individual was targeted by an improvised explosive device.
CJTF-OIR

:
On the 30th of June 2017 CJTF-OIR has conducted 22 strikes in Syria. CJTF-OIR's main focus in Syria at the moment is Raqqa region where they did 11 strikes supporting SDF's operations against IS engaging 10 IS tactical units, three fighting positions, three vehicles, a tactical vehicle and a mortar system.
Other areas where 11 airstrikes occurred are Abu Kamal (Al-Bukamal) and Deir al-Zour, destroying 15 IS oil tanker trucks, 13 oil storage tanks, eight well heads, a vertical distillation tank and an oil pipe. Full report on CJTF-OIR strikes conducted in both Syria & Iraq can be found here.
Other:
Intellectual credited property used may vary from an edition to edition.
Feel free to voice your opinion in the comments section below, constructive criticism is welcomed.
For those of you interested, you can follow us on an official Twitter account @SyrianWarDaily, or me personally on my biased twitter @joskobaric where I occasionally tweet some things.