Hello and welcome to the 129th installment of the SWD.
Military events/news are listed below by the governorates:
Aleppo:
Huge Turkish Army's convoy entered Syria yesterday, this development spiked rumors about the upcoming offensive against Syrian Democratic Forces in Afrin. Turkish reinforcements that arrived yesterday are reportedly stationed along the front line with SDF. Another rumor which appeared today suggests that Russian troops left Afrin as the Turkey-led offensive looms.
Three Syrian Arab Army's soldiers were reportedly killed by the mines left behind by Islamic State in the city of Maskanah.
Two rebel groups consisting of evacuees from Al-Waer district in Homs, now in rebel-held northern Aleppo, Kataib Abna al-Waer and Kataib Thuwar al-Waer, formed Liwa Maghawir al-Sham ("The Sham Commandos Brigade"). The newly-formed group is lead by Hisham Abu Abdo, and immediately after the formation of the group, it joined the ranks of Faylaq al-Sham.
Raqqa:
Islamic State launched a big counterattack against Syrian Democratic Forces in Raqqa city, the former reportedly captured the southern part of 17th Division military base and most of Al-Sinaa and Al-Bitani districts.
Amaq's statements from Raqqa claimed death of six SDF's fighters due to IS' snipers in Al-Qadisiyah district. Two IS' SVBIEDs targeted SDF in Romaniah district.
South of Raqqa, SDF captured Shaykh al-Jimal village from Islamic State. Yesterday, southwest of Raqqa, IS reportedly killed five SDF's fighters with an anti-tank guided missile in Kasra Juma.
Approximate situation in Raqqa. Source: Emmanuel
Idlib:
The city of Idlib was hit by a VBIED which reportedly targeted Jaysh al-Fatah's checkpoint near a market in Al-Jalaa street, Al-Sulaybah district. Most of the casualties are security forces, but there is also a part of civilian casualties, preliminary reports suggest between five and 10 killed and a dozen of more wounded due to explosion.
One civilian was wounded in a dispute between the locals and Hayat Tahrir al-Sham's fighters, the latter allegedly tried to arrest a woman for wearing makeup in Idlib city.
Faylaq al-Sham's element, Abdullah Ghassan, "survived" an assassination attempt as an explosive device placed on his vehicle was dismantled.
Hama:
Amaq Agency claimed that more than 30 Russian "phosphorus" air raids took place on IS-held villages in eastern Hama governorate.
Damascus:
Syrian Arab Army made advances against Faylaq al-Rahman, south of Ain Terma (Ein Tarma). SAA reportedly captured a driving school and Haarat al-Jisr from Faylaq al-Rahman which claimed destruction of a T-72 tank as the SAA tried to advance. On Jobar front, SAA seized several buildings north of Gazwet Badr mosque.
Renewed, large-scale SAA's offensive on East Ghouta forced Jaysh al-Islam to announce a decision to offer their assistance to Faylaq al-Rahman on Jobar and Ain Terma fronts. However, since Jaysh al-Islam and Faylaq al-Rahman were involved in infighting a month ago, the latter refused the former's offer.
Jaysh Usud al-Sharqiya, Free Syrian Army faction in southeastern Syria, destroyed SAA's BMP near Bir Qassab which was captured yesterday by SAA & allies.
Daraa:
Rebel "Daraa Martyrs Documentation Office" reported death of six Free Syrian Army's fighters and one Hayat Tahrir al-Sham's due to clashes with SAA across Daraa, confirmed rebel death toll since the 3rd of June is at least 51 fighters.
Iraq
Nineveh:
Iraqi forces penetrated deep into IS-held Old Mosul district and made advances in very dangerous salients. These salients could spell disaster for Iraqi forces, if Islamic State reorganizes and launches a serious counterattack in the district.
Islamic State's VBIED exploded at Iraqi forces' gathering in Al-Shafaa district. During the clashes in Al-Mashahedah neighborhood, Islamic State reportedly killed five Iraqi soldiers.
Islamic State blew up the Great Mosque of Al-Nuri in Old Mosul where Abu Bakr al-Baghdadi proclaimed his caliphate. According to Amaq Agency's statement, CJTF-OIR's airstrike destroyed the mosque and its famous leaning minaret, Al-Hadba.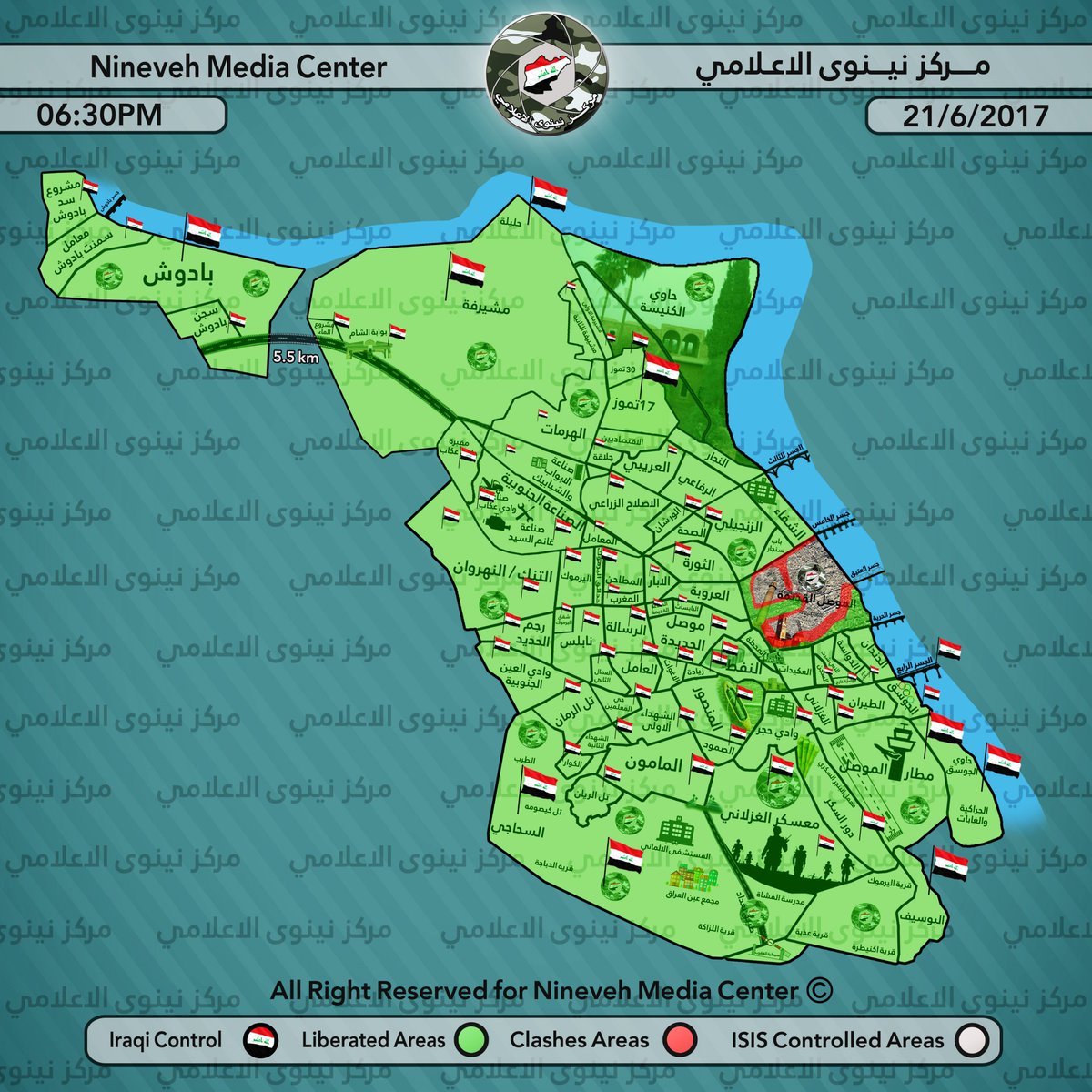 Latest map of west Mosul. Source: Nineveh Media Center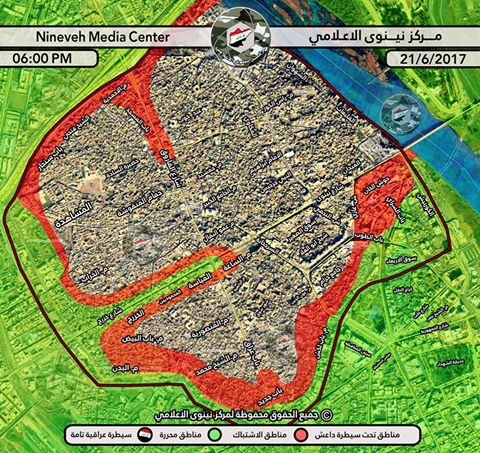 Situation in Old Mosul district. Source: Nineveh Media Center
Kirkuk:
Unknown gunmen killed a cameraman of Islamic State's Amaq Agency on the road near Ridaydh district, west of Krikuk. After the killing took place, Islamic State's fighters in Hawija announced a state of emergency.
CJTF-OIR

:
On the 20th of June 2017 CJTF-OIR has conducted 12 strikes in Syria. CJTF-OIR's main focus in Syria at the moment is Tabqa-Raqqa-Deir al-Zour region where they did 12 strikes supporting SDF's operations against IS destroying six fighting positions, three vehicles, three tactical vehicles, two mortar teams, a command and control node and a mortar cache.
Full report on CJTF-OIR strikes conducted in both Syria & Iraq can be found here.
Amaq Agency:
Afghanistan:
Islamic State's improvised explosive device destroyed a vehicle carrying Afghan National Army's soldiers in Eydkah neighborhood, the city of Jalalabad.
Philippines:
Thirteen Filipino soldiers were reportedly killed and a dozen injured by Islamic State during the clashes in Marawi.
Other:
Intellectual credited property used may vary from an edition to edition.
Feel free to voice your opinion in the comments section below, constructive criticism is welcomed.
For those of you interested, you can follow us on an official Twitter account @SyrianWarDaily, or me personally on my biased twitter @joskobaric where I occasionally tweet some things.