Hello and welcome to the 126th installment of the SWD.
Military events/news are listed below by the governorates:
Aleppo:
Turkish-backed Free Syrian Army rebels attacked the SDF-held Tell Madiq, SDF's Jaysh al-Thuwar responded to the attack which resulted in heavy clashes in the area and alleged death of five rebels. SDF's forces were reportedly struck by mines planted by TFSA in Al-Mukhtar farms, at least eight SDF's fighters reportedly died.
Hayat Tahrir al-Sham's commander, Jammaa al-Abd (Abu Osama), was killed by an explosive device which targeted his vehicle, close to Banes village.
Aleppo's branch of Jabhat al-Aisalat wa al-Tanmia (Authenticity and Development Front) joined the newly-formed Kutlat al-Nasr (Victory Block).
Raqqa:
Syrian Democratic Forces captured Al-Batani district from Islamic State in the eastern part of Raqqa city. SDF also entered Al-Dariyeh district in order to free around 40 civilians from Islamic State. IS' fighters launched two attacks against SDF in Raqqa, in Al-Baytara and Al-Barid districts.
Syrian Arab Army reached the outskirts of Rusafa after today's advances against Islamic State. SAA captured Al-Kurradi, Al-Issawi and Jadin.
US-led CJTF-OIR downed Syrian Arab Air Force's warplane south of Tabqah, warplane was reported as an SU-22. Syrian warplane flew over SDF's position and was most likely deemed as a danger to US' partner forces on the ground. News about US' downing Syrian warplane were confirmed by the General Command of the Syrian Armed Forces, and Syrian Ministry of Defense, however, official US' channels dedicated to Syria are still silent on the subject.
After the Syrian warplane was downed, reports surfaced about Syrian Democratic Forces and Syrian Arab Army clashing south of Tabqa.
Situation around Raqqa. Source: Emmanuel
Hama:
Syrian Arab Army advanced against Islamic State southeast of Al-Saan, SAA reportedly captured Jubb Saad, Rasm Amoun, and Hasw al-Albawi.
On a separate front, southeast of Al-Salamiyah, Amaq Agency claimed death of four Syrian Arab Army's soldiers, injury of two more and destruction of SAA's tank with an anti-tank guided missile.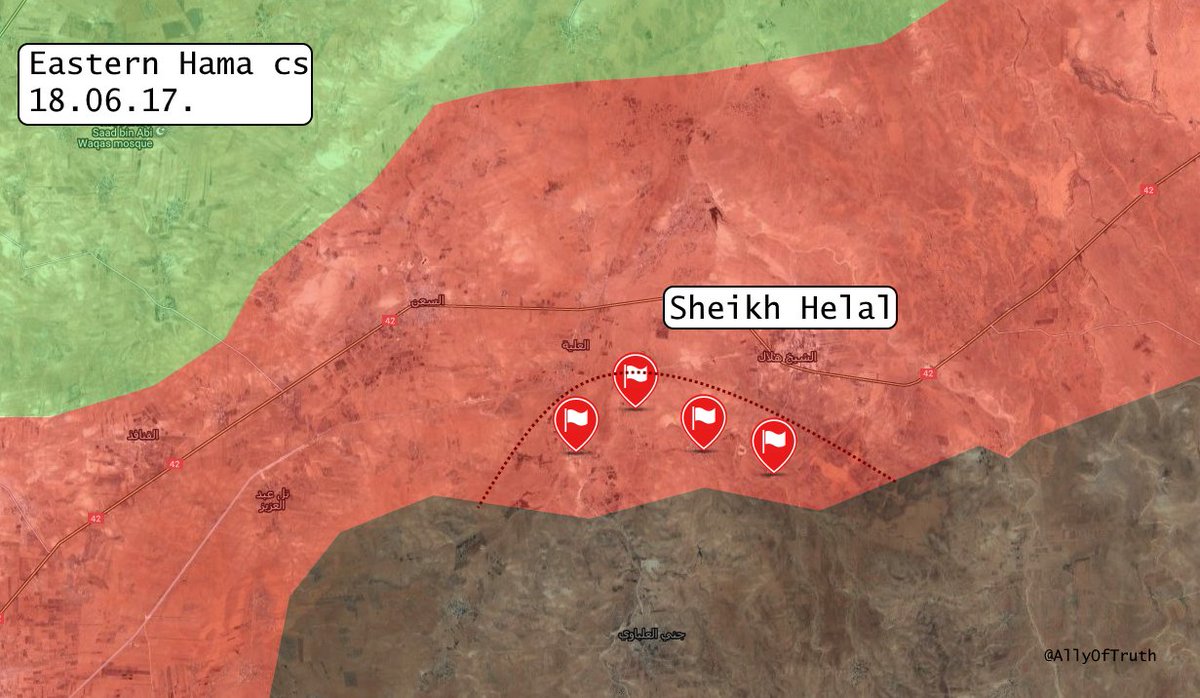 Situation around Sheikh Helal. Source: O. Reusser
Homs:
Syrian Ministry of Defense confirmed that Syrian Arab Army fully captured Al-Talila reservoir, east of Palmyra.
Islamic State destroyed SAA's bulldozer with an anti-tank guided missile near T3 airport.
Rebels based in North Homs pocket raided the village of Hosh Qubaybat, the raid consisted of Hayat Tahrir al-Sham, and Jaysh al-Tawhid, part of Jabhat al-Aisalat wa al-Tanmia (Authenticity and Development Front). Rebels reportedly seized weapons and a tank before withdrawing from the village which was then hit by airstrikes. During the raid, rebels lost at least one fighters.
Quneitra:
Explosive device which exploded in Khan Arnabah yesterday, killed three members of National Defense Forces. Among the killed fighters is Majd Haymon, commander in the 1st Golan Regiment.
Daraa:
Islamic State's affiliate in Daraa, Jaysh Khalid ibn al-Walid, executed five people in Al-Shajara village for allegedly belonging to the Free Syrian Army.
Iraq
Nineveh:
Iraqi forces launched an assault against the remaining IS-held parts of west Mosul, which are, Al-Shafaa and Old Mosul districts, along with neighborhoods in Old Mosul. Before the assault started, a group of Islamic State's fighters reportedly surrendered themselves at the outskirts of Old Mosul.
Heavy clashes in west Mosul left dead from the both sides, in the northern part of Al-Shafaa district, Iraqi Federal Police killed 19 fighters and destroyed 10 vehicles. IS' snipers killed eight Iraqi soldiers in Al-Shafaa, Bab Jadid and Bab al-Toub. Bab al-Toub neighborhood also witnessed an explosion at its outskirts, as IS' SVBIED targeted Iraqi Army's position in a heavily fortified building. In Bab al-Baid, three members of Iraqi Federal Police were reportedly killed after Islamic State detonated a building containing improvised explosive devices.
Islamic State attacked Tell Safouk area, close to the Iraqi-Syrian border. Three Al-Hashd al-Shaabi fighters were reportedly killed, and additional two wounded due to IS' attack.
Latest map of west Mosul. Source: Nineveh Media Center
Kirkuk:
Two Islamic State's inghimasi (suicide fighters) attacked Peshmerga-held Tuz Khurmatu Air Base. Amaq claimed that there is American personnel stationed at the air base.
Anbar:
Iraqi Al-Hashd al-Shaabi met up with Syrian Arab Army in Syria north of Al-Tanf border crossing. The two are reportedly planning a joint offensive against Islamic State in Abu Kamal – Al-Qaim region. SAA reportedly cut the road between Al-Qaim and Al-Sukhnah.
Baghdad:
Yesterday, two Islamic State's explosive devices exploded around Baghdad. In Haswa area, Abu Ghraib, west of Baghdad, four Iraqi soldiers were reportedly killed. The other explosive device allegedly killed five Iraqi soldiers in Al-Bumfrij area, Al-Yusufiya, south of Baghdad.
Diyala:
Islamic State's improvised explosive device reportedly killed two Al-Hashd al-Shaabi fighters in Sukuk area, Balad Ruz.
CJTF-OIR

:
On the 17th of June 2017 CJTF-OIR has conducted 15 strikes in Syria. CJTF-OIR's main focus in Syria at the moment is Tabqa-Raqqa-Deir al-Zour region where they did 13 strikes supporting SDF's operations against IS destroying an IS well head, 12 fighting positions, two tunnels and a VBIED.
Other area where two airstrikes occurred is Palmyra destroying six oil tanks and two tanks. Full report on CJTF-OIR strikes conducted in both Syria & Iraq can be found here.
Amaq Agency:
Philippines:
Islamic State's groups clashed with Filipino forces in Lloud Madaya neighborhood of Marawi, the former reportedly killed and wounded five Filipino soldiers. Furthermore, IS destroyed Philippine Army's armored vehicle with an RPG, also in Lloud Madaya.
Other:
Intellectual credited property used may vary from an edition to edition.
Feel free to voice your opinion in the comments section below, constructive criticism is welcomed.
For those of you interested, you can follow us on an official Twitter account @SyrianWarDaily, or me personally on my biased twitter @joskobaric where I occasionally tweet some things.