Hello and welcome to the 125th installment of the SWD.
Military events/news are listed below by the governorates:
Aleppo:
Rebel groups based in Al-Bab signed an agreement regarding their evacuation from the city, leaving Turkish-backed Free Syrian Army in control of it. Turkey-sponsored agreement which was attended by the Military and Local Councils of Al-Bab, also forbids rebel fighters to wear any kind of masks during the raids.
Free Syrian Police won't be allowed to arrest rebel fighters without the authorization from Military Council of Al-Bab, and the Hawar Kilis operations room. The agreement forbids rebel fighters from carrying weapons inside Al-Bab, in case of a shooting, an individual will be held accountable and his weapon confiscated. In the end, agreement forbids inclusion of individuals that worked with Islamic State in any kind of structure/organization.
Deal reached in Al-Bab was talked about for some time, but it appears that the recent rebel infighting inside the city prompted Turkey to speed things up and replace rebel groups with Free Syrian Police.
Three brigades based in northern Aleppo joined Liwa al-Shamal (Northern Brigade), previously associated with Faylaq al-Sham. First statement by Liwa al-Shamal confirmed that Katibat al-Zubayr ibn al-Awwam, led by Abu Jawad al-Diri joined the group. Second statement by Liwa al-Shamal confirmed that Katibat al-Rafidayn al-Aeamila, led by Saed al-Hawija joined the group. Third statement by Liwa al-Shamal confirmed that Katibat Shuhada al-Qiba, led by Hussein al-Aidu joined the group.
Raqqa:
Syrian Democratic Forces advanced against Islamic State in the western part of Raqqa city. Advance reportedly occurred in Hittin district, resulting in death of around 40 IS' fighters and SDF entering Al-Qadisiyah district. SDF and IS are still clashing in Al-Bayatra, Al-Barid, Hittin and Al-Qadisiyah districts, Raqqa city.
According to Amaq Agency, three SDF's fighters were killed and a fourth one wounded due to IS' snipers in industrial and Romaniah districts of Raqqa.
Syrian Arab Army made even more advances against IS south of Tabqa. SAA seems determined in their intention of blocking further SDF's advances, and possibly even reaching Deir al-Zour by this route. Some of the localities reported as captured by SAA are: Rajm al-Hurat, Abu Hamat, Bir al-Amalah, Bir al-Adad, Bir al-Sadran, Akhu Hadlah and Haj al-Mufazi. SAA is now very close to SDF-held Tabqa Air Base and Rusafa crossroads.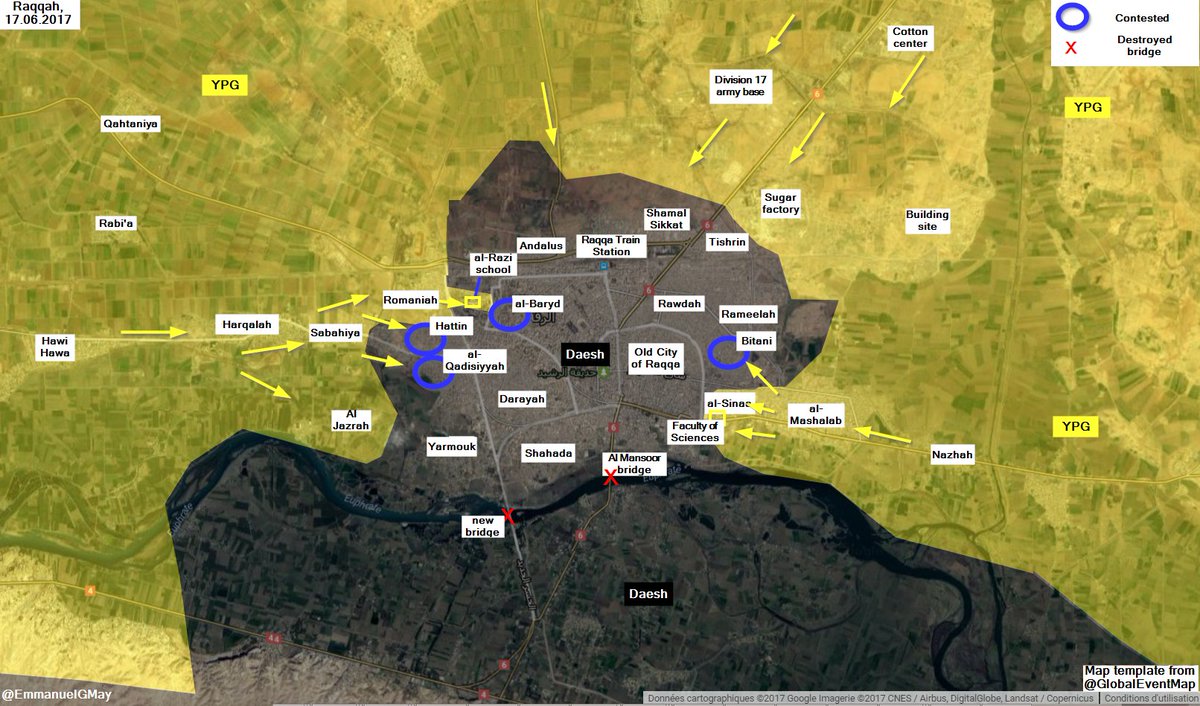 Situation around Raqqa. Source: Emmanuel
Situation in Ithriyah – Rusafa road region. Source: Globale Event Map
Idlib:
Unknown gunmen assassinated commander of an artillery battalion and anti-tank guided missile launcher in the Free Syrian Army's 1st Coastal Division, Muhammed Ali. Ali was killed at his home near the village of Bidama, perpetrators also stole his car after killing him.
Hama:
Yesterday's reports about SAA capturing Tall Tabaret al-Deibah, east of Al-Salamiyah, turned out to be false, the hill and area around it are still under Islamic State's control.
Homs:
Syrian Arab Army advanced around Arak and captured Jabal Tadmuriyah, Arak Dam and Bir al-Hafnah from Islamic State. The same two parties continue to clash in the vicinity of T3 airport, Islamic State destroyed SAA's technical mounted with a machine gun. West of T3, in Al-Talila reservoir area, IS' destroyed SAA's tank with an anti-tank guided missile.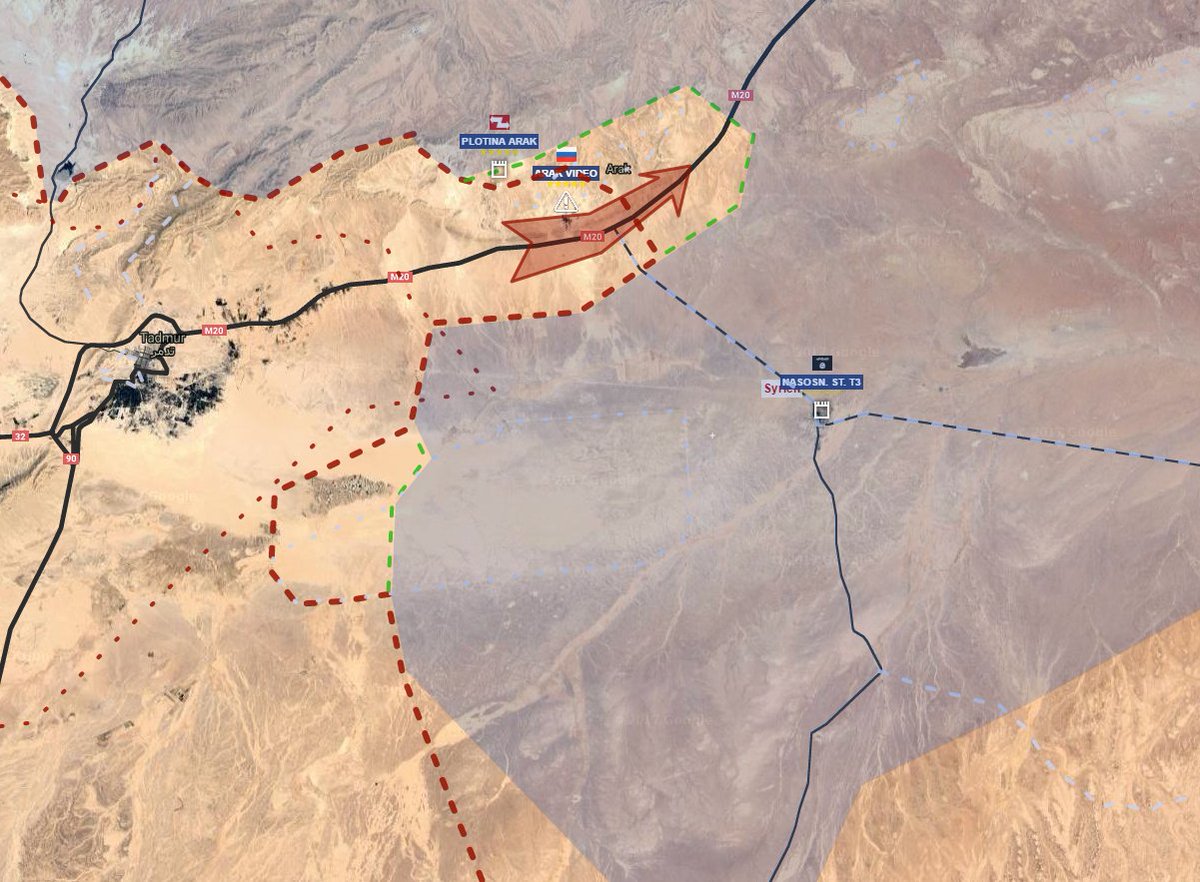 Situation in Arak – T3 region. Source: Geroman
Damascus:
Jaysh al-Islam repelled Syrian Arab Army's infiltration attempts around Al-Rayhan and Hazrama, the latter was then heavily targeted by the former's artillery.
Daraa:
The General Command of the Syrian Arab Army announced a 48 hours truce/ceasefire in the city of Daraa. However, even though the ceasefire was announced, both sides heavily shelled each other's positions in the city, Russian and Syrian warplanes also supporting SAA. Three civilians were reportedly injured by the rebel shelling of Al-Kashef neighborhood, Daraa.
Rebel "Daraa Martyrs Documentation Office" reported death of three Free Syrian Army's fighters due to explosion of an improvised explosive device, and clashes with SAA, confirmed rebel death toll since the 3rd of June is at least 37 fighters.
Rebel individual killed by an explosive device is Abdullah al-Sharif, commander of a battalion in Jaysh al-Yarmouk, part of Jaysh al-Thawra. Al-Sharif was killed while he tried to dismantle an improvised explosive device.
Iraq
Nineveh:
No major events occurred in west Mosul, Islamic State's snipers reportedly killed nine Iraqi soldiers in Al-Shafaa district and Al-Kurnish street.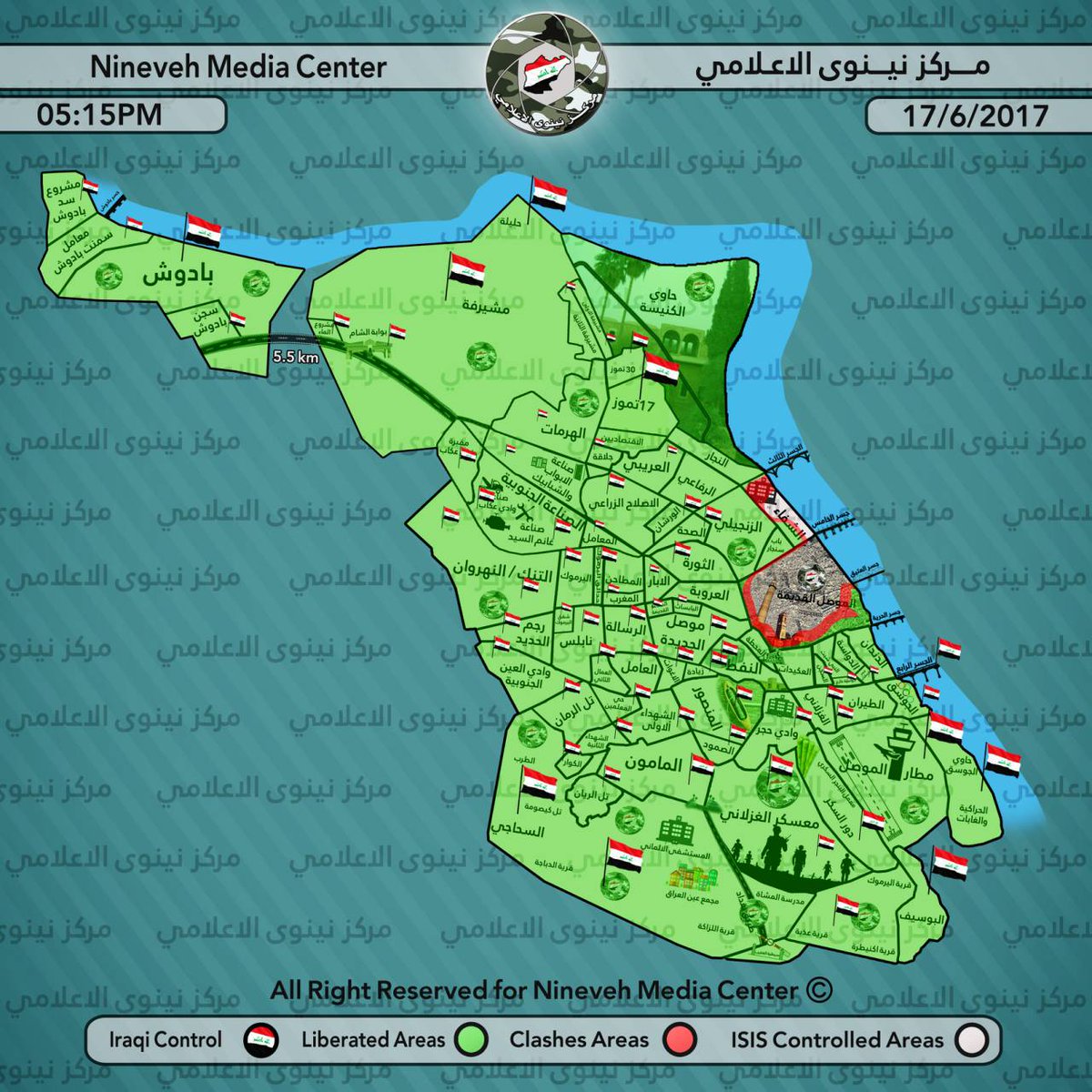 Latest map of west Mosul. Source: Nineveh Media Center
Salah al-Deen:
Islamic State's improvised explosive device reportedly destroyed Al-Hashd al-Shaabi's vehicle in Tal Tasa area, west of Samarra.
Anbar:
Iraqi forces launched an operation called Al-Fajr al-Jadid (The New Dawn) against Islamic State in the border area with Syria and Jordan. Groups that participated in the operation are Iraqi Border Guards, tribal fighters associated with Al-Hashd al-Shaabi (Popular Mobilization Units), Iraqi Air Force and CJTF-OIR. The New Dawn operation was successfully concluded by Iraqi forces capturing all of the border area between Jordan and Iraq, and capturing Al-Waleed (Al-Walid) border crossing with Syria.
Situation around the Iraqi border with Syria and Jordan. Source: Harakat Tahrir Tal Afar
CJTF-OIR

:
On the 16th of June 2017 CJTF-OIR has conducted 33 strikes in Syria. CJTF-OIR's main focus in Syria at the moment is Tabqa-Raqqa-Deir al-Zour region where they did 30 strikes supporting SDF's operations against IS destroying seven IS oil trucks, four IS oil tanks, a front-end loader, an IS oil pump, an IS well head, 34 fighting positions, three tunnels, three mortar systems, two vehicles and a VBIED facility.
Other area where three airstrikes occurred is Abu Kamal (Al-Bukamal) destroying three IS oil tanks and two IS oil trucks. Full report on CJTF-OIR strikes conducted in both Syria & Iraq can be found here.
Amaq Agency:
Philippines:
For the 26th consecutive day, clashes are ongoing between Islamic State's groups and Armed Forces of the Philippines in Marawi City. According to Amaq, even American warplanes heavily targeted the city today in support of the Filipino forces.
Israel:
Amaq Agency claimed responsibility for today's attack in Jerusalem which left a policewomen dead. Three IS' members that conducted the attack were all killed.
Other:
Intellectual credited property used may vary from an edition to edition.
Feel free to voice your opinion in the comments section below, constructive criticism is welcomed.
For those of you interested, you can follow us on an official Twitter account @SyrianWarDaily, or me personally on my biased twitter @joskobaric where I occasionally tweet some things.