Hello and welcome to the 121st installment of the SWD.
Military events/news are listed below by the governorates:
Aleppo:
Rebel factions in Al-Bab reached a truce, ending their infighting for now. Truce agreement was mediated by the newly-formed Kutlat al-Nasr (Victory Bloc). Rebel groups that were involved in the infighting are Firqat al-Hamza (Hamza Division), Liwa al-Muntasir (The Victorious Brigade), Jabhat al-Shamiyah (Levant Front), Faylaq al-Sham (Sham Legion), Liwa al-Nasr (The Victory Brigade), Free Syrian Army's Al-Fawj al-Awal (1st Regiment) and Firqat al-Sultan Murad (Sultan Murad Divison). Several of the groups intervened as a part of the "Military Council of Al-Bab city".
Syrian Democratic Forces launched a second incursion attempt into rebel-held Darat Izza, rebels repelled the previous attempt which was on the 9th of June. Both sides took a harder stance regarding today's clashes as the casualty numbers are being reported around 30 for either side. One of the founders of Jabhat al-Nusra's Azaz branch, Abu Ali al-Atri, was killed in today's clashes with Syrian Democratic Forces.
Islamic State reportedly destroyed SAA's tank with an anti-tank guided missile in the village of Al-Nawafiyah, south of Maskanah.
Raqqa:
Syrian Democratic Forces and Islamic State continue to clash across the city of Raqqa with neither side being able to make significant progress against its counterpart. Al-Sinaa district, in the eastern Raqqa city, is disputed between IS and SDF, the latter reportedly controls most of the district. In the western Raqqa city, clashes are still ongoing in Industrial and Hittin districts. According to Amaq, nine SDF's fighters were killed by IS' snipers in Romaniah district and Al-Jizra area.
Southwest of Raqqa, SDF captured Al-Sahel village from Islamic State.
Syrian Arab Army's Tiger Forces advanced against IS, southeast of Maskanah in western Raqqa countryside. SAA captured a lot of open ground, including the localities: Rajm Askar, Bir Inbaj, Jub Abd Aziz, Al-Rusafa, Jub Abu Susa and Jub Ghanam. Around Bir Inbaj, SAA reached the road between Raqqa and Ithriya, next wave of advances could occur to the west, which will result in a big IS' pocket east of Khanaser.
Situation around Raqqa. Source: _paulo34
Situation in eastern Aleppo and western Raqqa governorates. Source: Yusha Yuseef
Al-Hasakah:
Amaq Agency claimed destruction of a vehicle carrying SDF's fighters with an explosive device in Al-Mufti neighborhood, Al-Hasakah.
Idlib:
Ahrar al-Sham released commander and spokesman of Tajammu Fastaqim Kama Umirt's (Fastaqim Kama Umirt Union), Omar Saqaar. He was imprisoned for several weeks along with his brother Abu al-Husnin (al-Hassinin), also commander in the group, and several other fighters after Ahrar al-Sham raided their HQ in Babasqa. Other Fastaqim prisoners were released earlier, but Saqaar was released just today, six days after he started a hunger strike. Important thing to note, Tajammu Fastaqim Kama Umirt actually joined Ahrar al-Sham in January of 2017.
Homs:
According to several pro-government sources, Syrian Arab Army backed by allies, captured the village of Arak and surrounding gas/oil fields from Islamic State.
Syrian Arab Army also advanced ~30 kilometers (~18.6 miles) southeast of Palmyra and captured Bir al-Badiah.
In Islamic State's attack north of Palmyra silos, four SAA's soldiers were reportedly killed.
Damascus:
It appears that reports about SAA fully capturing Hawsh al-Dawahirah were false, the locality is disputed between SAA and Jaysh al-Islam and clashes are ongoing. Jaysh al-Islam reported death of three of their own soldiers due to clashes in Hawsh al-Dawahirah.
Daraa:
Syrian Arab Army reportedly controls half of "Palestinian Camp" district in Daraa, the usual, mutual shelling between SAA and rebels occurred, as well as Syrian and Russian airstrikes.
Two civilians were killed by an improvised explosive device on the road between Dael and Sheikh Saad.
Rebel "Daraa Martyrs Documentation Office" reported death of two civilians due to airstrikes and SAA's shelling of several localities across Daraa's governorate.
Iraq
Nineveh:
Iraq Joint Operations officially announced the northern part of Al-Zanjili district in west Mosul as completely captured by Iraqi Rapid Response Division and Iraqi Federal Police from Islamic State. Iraqi forces are now officially in full control of Al-Zanjili district. Joint Operations also reported storming of Al-Shafaa district in west Mosul.
Several pro-Iraq sources claimed Iraqi forces took full control of Bab Sinjar district, north of Old Mosul. This capture isn't yet confirmed by Iraq Joint Operations, so it should be taken with a grain of salt, at least for now.
According to Amaq Agency, IS downed Iraqi Army's reconnaissance drone in Bab al-Toub neighborhood, Old Mosul district. IS' snipers allegedly killed seven Iraqi soldiers in Al-Kurnish and Halab streets and Al-Zanjili district.
Iraqi troops advancing east of Tal Afar were targeted by IS' SVBIED, explosion occurred at the outskirts of Al-Mawali village and reportedly destroyed a Humvee. The village of Al-Mawali was captured by Iraqi forces yesterday.
Iraqi Air Force's F-16 warplanes conducted several airstrikes over the city of Tal Afar. Three IS' VBIED factories were destroyed and several IS' elements killed.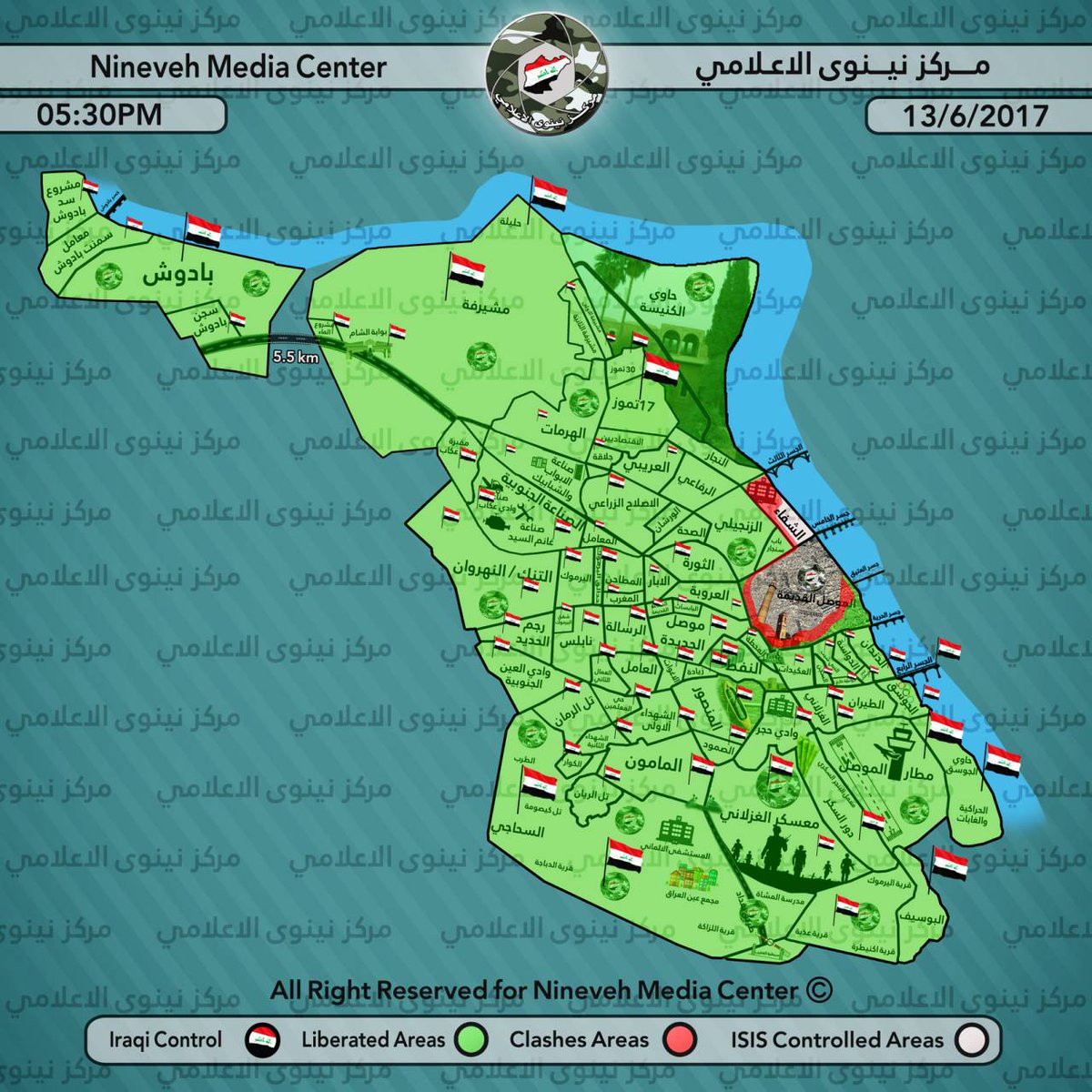 Latest map of west Mosul. Source: Nineveh Media Center
Salah al-Deen:
Iraqi security forces conducted several raid, search and clearing operations east of Tikrit against Islamic State. Operations covered the area from Tal Kusaybah to Al-Fursan and the results will be released soon.
CJTF-OIR

:
On the 12th of June 2017 CJTF-OIR has conducted 29 strikes in Syria. CJTF-OIR's main focus in Syria at the moment is Tabqa-Raqqa-Deir al-Zour region where they did 29 strikes supporting SDF's operations against IS destroying five IS oil tanks, three IS well heads, a tactical vehicle, an IS tank, 21 fighting positions and four vehicles.
Full report on CJTF-OIR strikes conducted in both Syria & Iraq can be found here.
Amaq Agency:
Afghanistan:
Amaq claimed that eight US' soldiers were killed by a suicide attack near the US embassy in Wazir Akbar Khan neighborhood, Kabul.
Egypt:
Yesterday, Islamic State's improvised explosive device reportedly destroyed Egyptian Army's military truck in Al-Bahr street, northern Al-Arish, North Sinai governorate.
Other:
Intellectual credited property used may vary from an edition to edition.
Feel free to voice your opinion in the comments section below, constructive criticism is welcomed.
For those of you interested, you can follow us on an official Twitter account @SyrianWarDaily, or me personally on my biased twitter @joskobaric where I occasionally tweet some things.