Hello and welcome to the 120th installment of the SWD. From this edition forward, Amaq Agency's claims/reports regarding the IS' international events/attacks will be listed, after CJTF-OIR's section.
Military events/news are listed below by the governorates:
Aleppo:
Ahrar al-Sham decided to distance themselves from the inter-rebel conflict in Al-Bab, AAS tried to mediate things between Firqat al-Hamza (Hamza Division) and Free Syrian Army's Al-Fawj al-Awal (1st Regiment), but got targeted instead. Today, Firqat al-Sultan Murad (Sultan Murad Divison) raided several buildings belonging to Ahrar al-Sham. Commander in Firqat al-Sultan Murad threatened to dissolve and completely remove Ahrar al-Sham from northern Aleppo countryside, video of the message can be found here.
Firqat al-Hamza (Hamza Division) claimed to have repelled Syrian Arab Army's attack towards Bzaah, east of Al-Bab. Firqat al-Hamza also claimed they destroyed SAA's machine gun position.
Raqqa:
It appears that today, the real battle for the city of Raqqa started, Syrian Democratic Forces and Islamic State intensively clashed in several of the city's districts and IS' Amaq released a number of statements regarding the events unfolding in Raqqa. North of Raqqa, SDF reportedly captured sugar factory and the 17th Division military base.
In the western Raqqa city, SDF entered Industrial and Hittin districts, heavy clashes with IS ensued with reports about the latter losing more than 20 fighters. In SDF-held Romaniah district, IS' improvised explosive device allegedly killed six SDF's fighters.
In the eastern Raqqa city, SDF captured University of Sciences and Engineering, and a bus garage.
The main forms of IS' resistance SDF faces in Raqqa are improvised explosive devices and snipers.
Northwest of Raqqa, Islamic State's attack on Mazraat Hattin allegedly killed 20 Syrian Democratic Forces' fighters.
Situation around Raqqa. Source: Syrian Civil War Map
Hama:
Syrian Arab Army started another attempt at capturing Al-Barghoutiya village from Islamic State, the latest SAA's attempt was on the 2nd of June and it was repelled by Islamic State. By the looks of it, the same sequence of events happened today, Islamic State repelled the attack and claimed to have killed seven SAA's soldiers, wounded another 11, and destroyed a bulldozer.
Homs:
Syrian Arab Army captured several points north of Abu Qila dam, in Dahr al-Ghanim area. With these advances, SAA captured remaining parts of Mahr fields and is now in full control over the localities.
Islamic State reportedly destroyed SAA's tank and a vehicle in Al-Abbasiyah area, south of Palmyra. IS' SVBIED targeted SAA's convoy in the same area.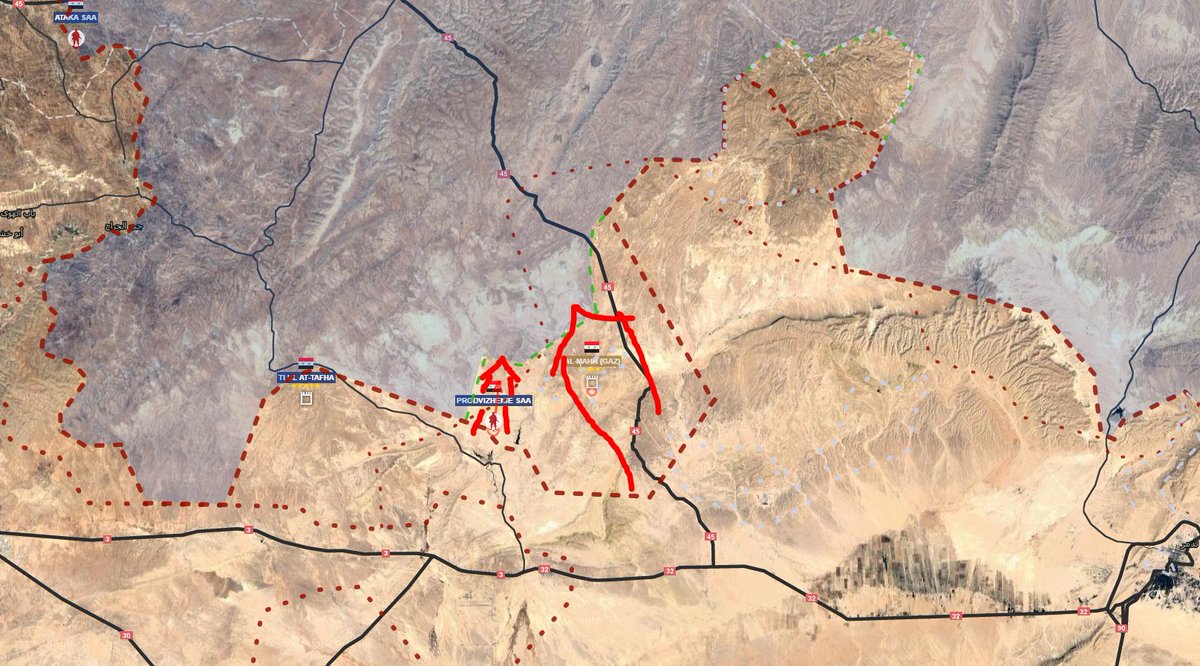 Situation north of Tiyas Air Base (T4) after today's advances by SAA. Source: Geroman
General, approximate situation east of Palmyra. Source: loomis
Deir al-Zour:
Islamic State launched a large attack against Syrian Arab Army around Liwa al-Tameem (Insurance Brigade) and Deir al-Zour airport.
Daraa:
Syrian Arab Army made advances in Daraa Palestinian camp against rebels, Sayyidna al-Hussein bin Ali mosque and Ain Karem school are among the captured localities. Rebels claimed destruction of SAA's T-72 Adra tank with a TOW in the Palestinian camp, SAA's ZSU-23-4 (Shilka) was also targeted with an RPG, but the projectile exploded in front of it.
Rebel "Daraa Martyrs Documentation Office" reported death of five Free Syrian Army's fighters due to clashes with SAA in Palestinian camp, confirmed rebel death toll since the 3rd of June is at least 25 fighters.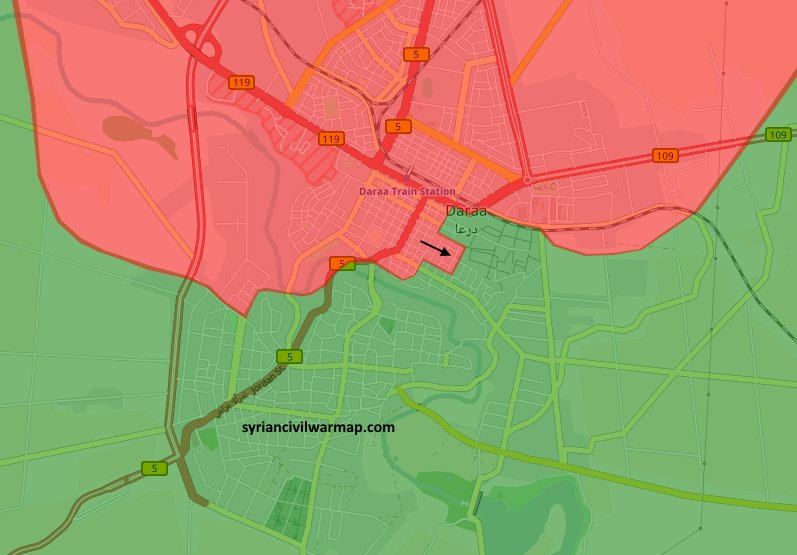 Situation in Daraa. Source: Syrian Civil War Map
Iraq
Nineveh:
Iraqi forces in west Mosul are preparing to launch an assault on Islamic State's positions in Al-Shafaa and Old Mosul districts. To prolong these preparations, Islamic State downed three Iraqi Army's reconnaissance drones in Bab al-Toub and Bab Jadid neighborhoods, Old Mosul district.
Islamic State reportedly killed 15 Iraqi troops across the west Mosul, in Bab Laksh, Bab al-Toub, Bab Eakidat, and Ras al-Jadida neighborhoods in Old Mosul, Al-Zanjili district, and Al-Kurnish street.
Iraqi Army's 15th Division captured several localities east of Tal Afar from Islamic State. Captured localities are west of Jabal Atshan and include: Tisha, Al-Mawali, Al-Atshana, Al-Shuhada, Al-Aziziya, and Shaykh Qura.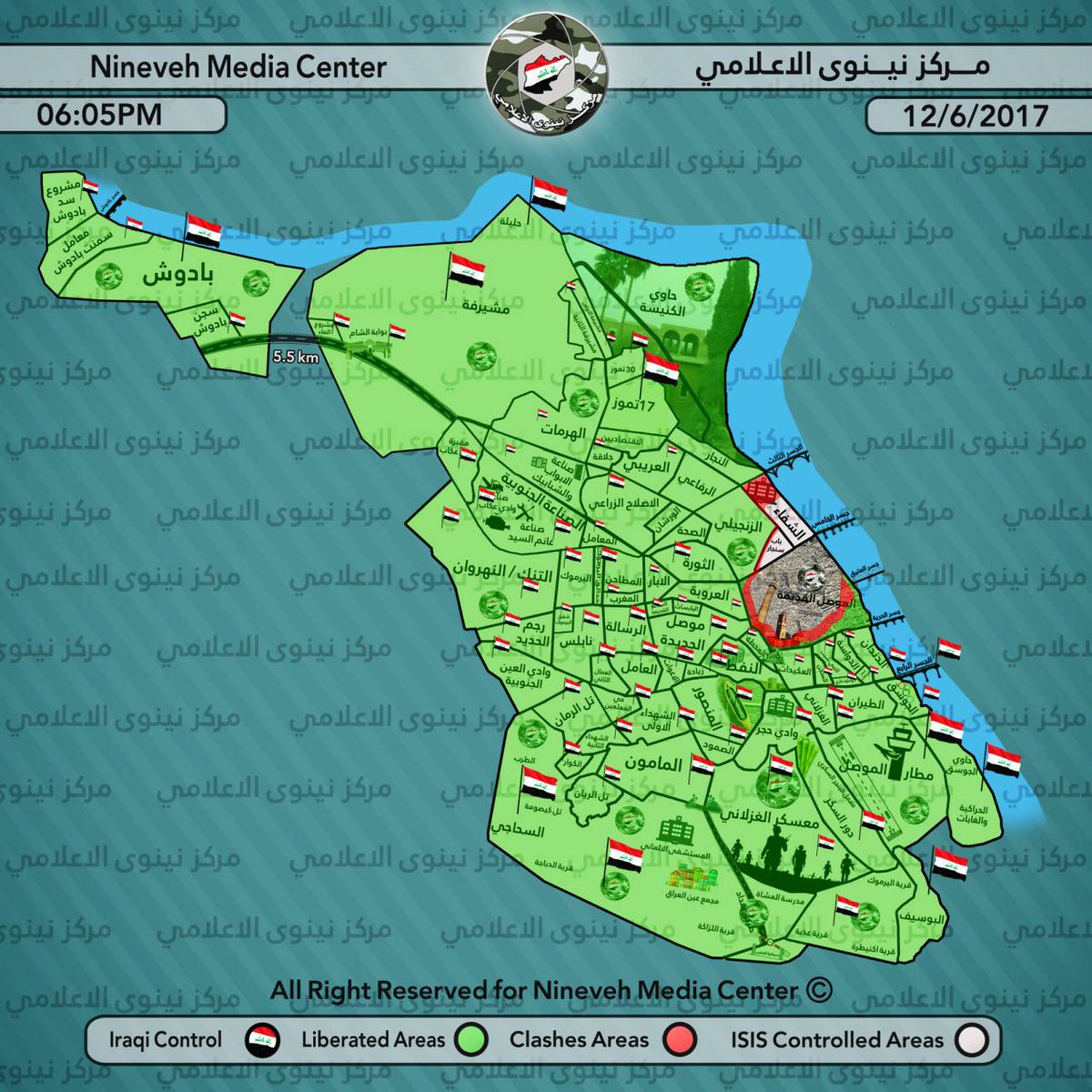 Latest map of west Mosul. Source: Nineveh Media Center
Situation around Tal Afar. Source: Harakat Tahrir Tal Afar
Salah al-Deen:
Islamic State detonated several improvised explosive devices in the vicinity of Samarra city. Two explosive devices were detonated in Al-Bordam area, destroying two Iraqi Army's vehicles. One more explosive device was detonated in Jelam Samarra and it reportedly destroyed a vehicle carrying members of Iraqi Federal Police.
Islamic State's sniper allegedly killed two Iraqi soldiers in Al-Zour area, Al-Tarmiyah.
CJTF-OIR

:
On the 11th of June 2017 CJTF-OIR has conducted 29 strikes in Syria. CJTF-OIR's main focus in Syria at the moment is Tabqa-Raqqa-Deir al-Zour region where they did 29 strikes supporting SDF's operations against IS destroying four IS tanks, six IS oil tanks, two IS well heads, an IS oil separation tank, an IS oil refinery, an IS oil truck, an IS oil still, 16 fighting positions, two vehicles, and two IS boats; damaging five IS supply routes; and suppressing an IS tactical unit.
Full report on CJTF-OIR strikes conducted in both Syria & Iraq can be found here.
Amaq Agency:
Philippines:
Amaq Agency reported death of five Filipino soldiers due to IS' sniper attack in Mabandi district, Marawi. Another statement from Amaq claimed death of 12 Filipino soldiers during the clashes with IS' groups in "Iyakum station" district, also in Marawi. Clashes between Islamic State's units and Armed Forces of the Philippines have been ongoing for 21 days.
Pakistan:
Islamic State's fighters reportedly assassinated a police officer and wounded two more in Quetta, Balochistan province.
Afghanistan:
Amaq Agency's claims from Afghanistan mostly come from Nangarhar Province, where Islamic State has the most influence.
In Jalalabad, the capital of Nangarhar province, Islamic State's fighters assassinated a member of Afganistan's intelligence agency, National Directorate of Security (Riyasat-e Amniyat-e Milli).
East of Jalalabad, in the area of Jalalabad Airport, Islamic State destroyed a fuel tanker destined for the largest United States' military base in Afghanistan, Jalalabad Airport. Airport is exclusively used for military purposes by the US' forces, and sometimes by Afghan Air Force.
Yesterday, in Wazir Tanki area, west of Nangarhar province, Islamic State killed two fighters belonging to the Taliban.
Other:
Intellectual credited property used may vary from an edition to edition.
Feel free to voice your opinion in the comments section below, constructive criticism is welcomed.
For those of you interested, you can follow us on an official Twitter account @SyrianWarDaily, or me personally on my biased twitter @joskobaric where I occasionally tweet some things.