Hello and welcome to the 119th installment of the SWD.
Military events/news are listed below by the governorates:
Aleppo:
New rebel infighting started in northern Aleppo, this time in Al-Bab, Firqat al-Hamza (Hamza Division) clashed against Faylaq al-Sham (Sham Legion), Ahrar al-Sham (Free Men of the Levant) and Free Syrian Army's Al-Fawj al-Awal (1st Regiment). According to the reports, Firqat al-Hamza launched an assault in the town by attacking HQ of Al-Fawj al-Awal and reportedly executing its fighters.
Death toll for today's rebel infighting has been estimated at around 30 rebel fighters, furthermore, several civilians were also killed as well as one member of the Free Syrian Police.
Islamic State launched an attack on SAA-held village of Mohammed Deeb, south of Maskanah. According to Amaq Agency's statement, three SAA's soldiers were killed in the attack.
Raqqa:
Syrian Democratic Forces captured Romaniah district in west Raqqa from Islamic State. On the eastern front, SDF advanced from the captured Al-Mashalab district towards Al-Sinaa district, and "historical walls" where around 38 IS' fighters were allegedly killed. According to Amaq Agency, IS' snipers killed two SDF's fighters at the outskirts of Romaniah district, and four more in Al-Mashalab district.
North of Raqqa, Islamic State is reportedly in full control of the 17th Division military base and a sugar factory. East of Raqqa, Islamic State launched an attack on villages of Al-Shaher and Khas Daqour, ten SDF's fighters were reportedly killed in the attack.
Approximate situation around Raqqa. Source: Global Event Map
Idlib:
Reports suggest that Hayat Tahrir al-Sham willingly withdrew from Maarat al-Numaan after reaching a deal with Jaysh Idlib al-Hurr (Free Idlib Army) regarding the future of the Free Syrian Army's Al-Firqat 13 (13th Division). However, even though Hayat Tahrir al-Sham left the town, demonstrations encouraged by Lieutenant Colonel Ahmad Al-Saud of the 13th Division, still took place in the town.
Homs:
Islamic State and Syrian Arab Army clashed northeast of Palmyra silos as the latter tried to advance against the former in the area. Amaq Agency's statements reported that SAA lost six soldiers as well as a tank and a BMP due to IS' anti-tank guided missiles.
Damascus:
After capturing Hawsh al-Dawahira, Syrian Arab Army started an operation to fully capture Al-Rayhan from Jaysh al-Islam, east of Douma. SAA reportedly advanced around 500 meters (546 yards) in Al-Rayhan's area.
According to Jaysh Usud al-Sharqiya, SAA's Brigadier General Asef Saleem Sabouh was killed during the battles for Tell Musaytima, which was captured by Free Syrian Army factions on the 9th of June.
Foreign Hayat Tahrir al-Sham's commander from Saudi Arabia, Abu al-Mamun, was assassinated by unknown gunmen in Mughr al-Meyer, Beit Jinn pocket.
Daraa:
Two Free Syrian Army's groups, Liwa Daraa al-Janoub, backed by Jaysh al-Yarmouk, part of Jaysh al-Thawra, and Shabab al-Sunna, clashed in Maaraba as the latter was denied access to the town at one of the former's checkpoints. Shabab al-Sunna's "delegation" was on its way to resolve a conflict with Al-Wiyat al-Omri. Yesterday, Al-Wiyat al-Omri's fighters attacked Shabab al-Sunna's checkpoint in Kharaba.
Situation between the rebel groups escalated so much that the town of Bosra was closed and several checkpoints/barriers installed, this development forced yet another Free Syrian Army to get involved. Captain Iyad al-Dous, commander of the local Liwa Bosra al-Sham, tried to mediate the situation and get the checkpoints/barriers removed, but to no avail, Jaysh al-Yarmouk andLiwa Daraa al-Janoub didn't budge.
Shabab al-Sunna reported that one of their HQs in Nassib was raided and looted yesterday. Shabab al-Sunna also listed their demands; removal of a checkpoint/barrier on Bosra – Daraa road, retrieval of looted weapons and ammunition from their HQ, and the end of rebel infighting in order to focus on the common enemy.
Rebels' operations room Al-Bunyan al-Marsous claimed death of another six SAA's soldiers, including an officer, during the clashes in and around Daraa camp.
Rebel "Daraa Martyrs Documentation Office" reported death of six Free Syrian Army's fighters due to clashes with SAA in Daraa camp, confirmed rebel death toll since the 3rd of June is at least 20 fighters.
Iraq
Nineveh:
Iraq Joint Operations officially announced the southern part of Al-Zanjili district as liberated from Islamic State by Iraqi Army's 9th Division. The same Iraqi forces stormed IS-held Bab Sinjar neighborhood, north of Old Mosul. Clashes are still ongoing in the northern part of Al-Zanjili, IS' Amaq agency claimed death of at least 10 Iraqi soldiers.
At the outskirts of the village of Al-Baghla, west of Badush, which is northwest of Mosul, IS reportedly destroyed Al-Hashd al-Shaabi's (Popular Mobilization Units) BMP with an anti-tank guided missile.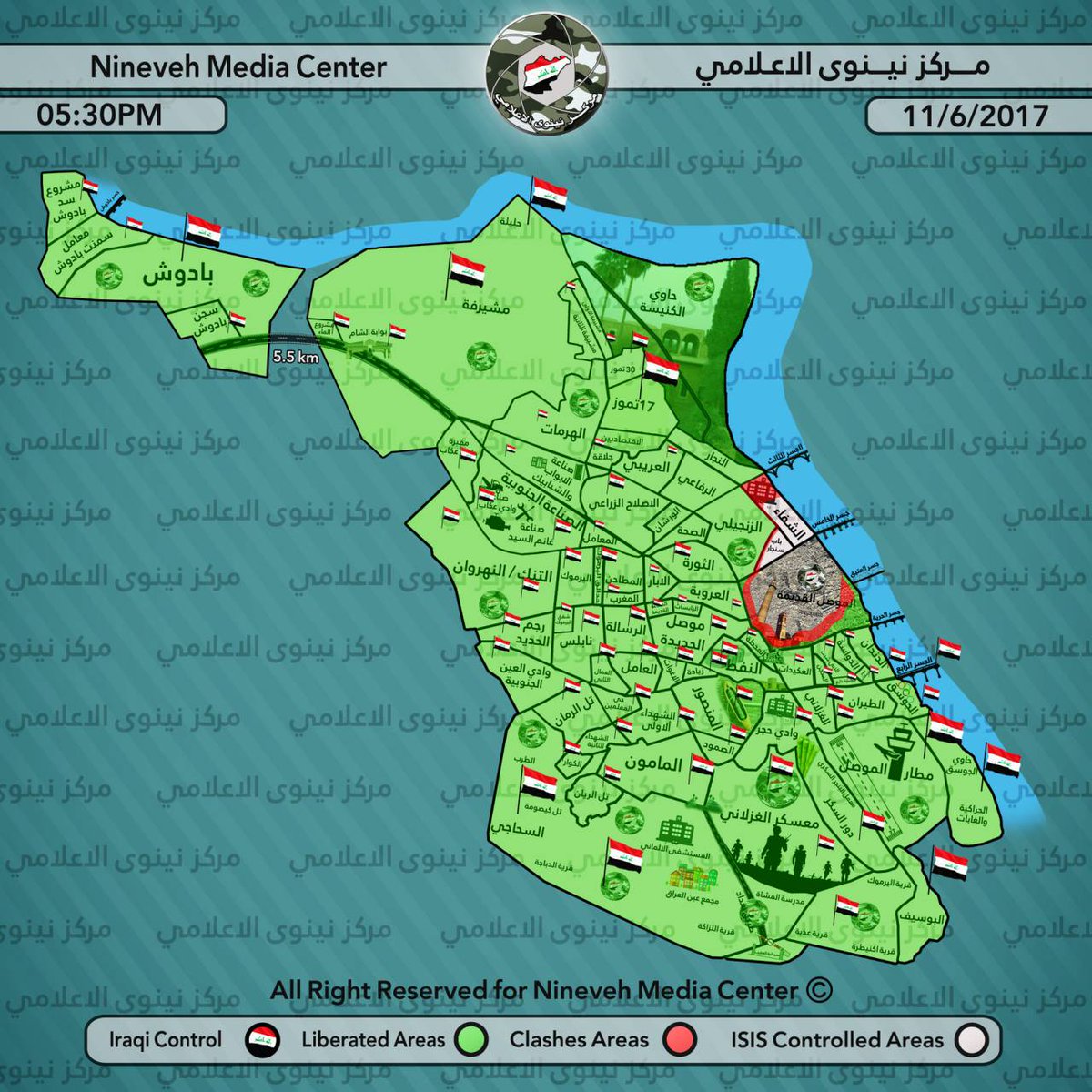 Latest map of west Mosul. Source: Nineveh Media Center
Diyala:
Islamic State's SVBIED targeted Iraqi Army's Al-Safra checkpoint, north of Diyala. Casualties from the attack are unknown for now.
CJTF-OIR:
On the 10th of June 2017 CJTF-OIR has conducted 27 strikes in Syria. CJTF-OIR's main focus in Syria at the moment is Tabqa-Raqqa-Deir al-Zour region where they did 20 strikes supporting SDF's operations against IS destroying 23 IS oil tanks, three IS separation tanks, two IS well heads, an IS-held building, an IS refinery, six fighting positions, four vehicles, two IS front-end loaders, two IS headquarters, an IS UAS and an IS barge.
Other area where two strikes occurred is Abu Kamal (Al-Bukamal) destroying three IS oil storage tanks. Full report on CJTF-OIR strikes conducted in both Syria & Iraq can be found here.
Intellectual credited property used may vary from an edition to edition.
Feel free to voice your opinion in the comments section below, constructive criticism is welcomed.
For those of you interested, you can follow us on an official Twitter account @SyrianWarDaily, or me personally on my biased twitter @joskobaric where I occasionally tweet some things.