Hello and welcome to the 118th installment of the SWD.
Military events/news are listed below by the governorates:
Aleppo:
Amaq Agency reported that Islamic State damaged SAA's tank with an anti-tank guided missile in Al-Boughzal village, south of Maskanah.
Raqqa:
Syrian Democratic Forces launched an attack on Romaniah district, western Raqqa city. Clashes are still continuing in the district between SDF and IS, with reports that the latter lost more than 20 fighters. Even though the 17th Division military base, north of Raqqa was reported as captured by SDF on the 8th of June, clashes with Islamic State are still ongoing in the area and it should be treated as a disputed territory for now.
Approximate situation around Raqqa. Source: Nathan Ruser
Idlib:
Agreement has been reached between Hayat Tahrir al-Sham and Jaysh Idlib al-Hurr (Free Idlib Army) in Maarat al-Numman, regarding the disbandment of Free Syrian Army's Al-Firqat 13 (13th Division). Agreement includes formation of a joint committee which will supervise completion of other terms of the agreement. According to the agreement, Al-Firqat 13 will have to hand over their weapons and HQs in Maarat al-Numaan to Jaysh Idlib al-Hurr.
Al-Firqat 13 reportedly rejected the agreement made between the two aforementioned parties, disbandment can only occur if the decision is authorized by the commander of the group, Lieutenant Colonel Ahmad Al-Saud. Al-Saud asked Maarat al-Numman's residents to join protest against Hayat Tahrir al-Sham.
Hayat Tahrir al-Sham arrested former Free Syrian Army's commander, Nidal Haj Ali from Kansafra. After leaving the Free Syrian Army, Nidal Haj Ali allegedly got into a business of selling aid, ammunition and weapons.
Homs:
Syrian Arab Army's Al-Firqat al-Hadyat Eshar Dbabat al-Souri (11th Syrian Tank Division), backed by other SAA's units and allied groups, reached the outskirts of Arak. Arak is ready to be stormed, since SAA & allies captured several mountains and hills around it from Islamic State. SAA's advances are reported to be around 18 kilometers (11 miles). Complete post regarding the advances by SAA's 11th Syrian Tank Division can be found here
Islamic State claimed to have destroyed SAA's ZSU-23-4 (Shilka) with an anti-tank guided missile, and killed four soldiers on a separate occasion , north of Palmyra silos.
Situation in east Homs governorate. Source: Vasto
Daraa:
Heavy clashes took place between SAA and rebels in Daraa camp area, both sides claimed to have killed a dozen of opposing soldiers. Rebels also destroyed SAA's tank with an anti-tank guided missile in the district. Both rebels and SAA lost a commander in today's clashes, commander in SAA's 4th Armoured Division, Colonel Ahmed Tajo was killed by rebels. SAA reportedly killed Farhan al-Hammadi, commander of Free Syrian Army's Firqat 18 Adhar (The March 18 Division), he was killed along with a group of his soldiers.
Iraq
Nineveh:
It was a quiet day in west Mosul without reports about any major military event occurring. Even more sources reported full capture of Al-Zanjili district by Iraqi forces, but Iraq Joint Operations are still silent on the subject, probably because forces are still demining IS' explosive device and/or because small IS' pockets of resistance still exist in the district.
Deputy Chairman of Popular Mobilization Committee, Abu Mahdi al-Muhandis announced the end of Al-Hashd al-Shaabi's (Popular Mobilization Units) operations in the desertous area west of Mosul. Iraqi forces liberated around 360 localities and 14000 square kilometers (5400 square miles) of territory from Islamic State.
Iraqi Army started a new offensive east of Tal Afar against the Islamic State and captured several localities from the latter. Some localities captured by Iraqi Army are Zarnouk, Sheikh Qora al-Ulaya, Dam Sinjar, Tal Khima, Mahafef, and Baligha.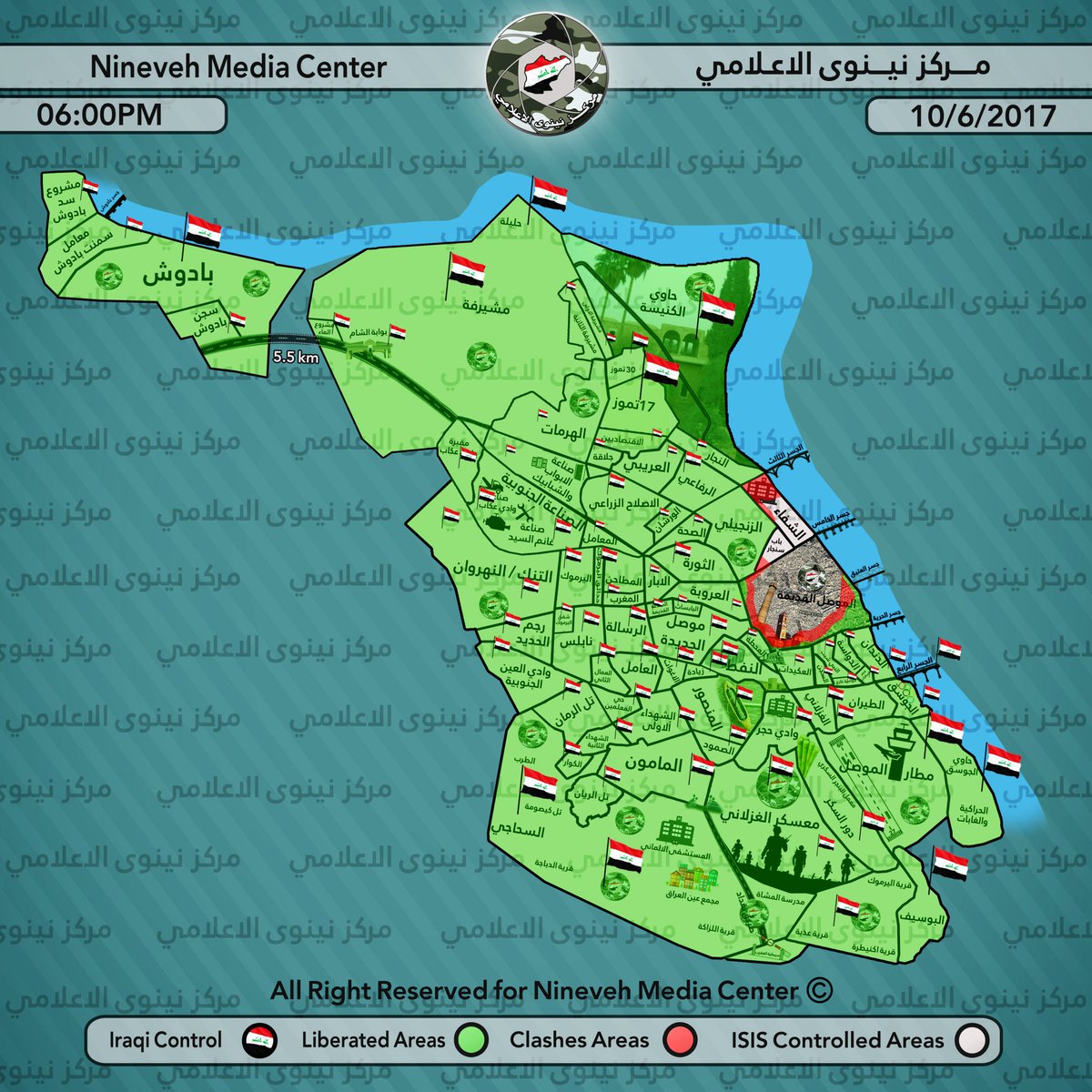 Latest map of west Mosul. Source: Nineveh Media Center
Situation around Tal Afar. Source: Harakat Tahrir Tal Afar
Salah al-Deen:
Islamic State launched several attacks across the Salah al-Deen governorate, Mosul's supply route came under attack as well as Tilul al-Baj and Makhul areas and Sabkha district in Al-Shirqat. IS' Amaq Agency reported death of 15 Al-Hashd al-Shaabi's fighters and five vehicles during the clashes in Al-Sida and Al-Ziraea, Al-Shirqat.
Iraq Joint Operations stated that all of the IS' attacks were foiled causing heavy casualties to the group. Iraqi Air Force alone allegedly killed 65 IS' fighters and destroyed 12 vehicles.
Iraqi security forces killed three Islamic State's fighters equipped with explosive belts and weapons around Al-Adhaim dam. Killed individuals tried to infiltrate the dam's area with boats.
CJTF-OIR:
On the 9th of June 2017 CJTF-OIR has conducted 21 strikes in Syria. CJTF-OIR's main focus in Syria at the moment is Tabqa-Raqqa-Deir al-Zour region where they did 20 strikes supporting SDF's operations against IS destroying seven fighting positions, four vehicles, three IS headquarters, a VBIED, and an IS-held building; and suppressing an IS tactical unit.
Other area where one strike occurred is Abu Kamal (Al-Bukamal) destroying an IS oil refinery. Full report on CJTF-OIR strikes conducted in both Syria & Iraq can be found here.
Intellectual credited property used may vary from an edition to edition.
Feel free to voice your opinion in the comments section below, constructive criticism is welcomed.
For those of you interested, you can follow us on an official Twitter account @SyrianWarDaily, or me personally on my biased twitter @joskobaric where I occasionally tweet some things.