Hello and welcome to the 116th installment of the SWD.
Military events/news are listed below by the governorates:
Aleppo:
During the night, Syrian Democratic Forces clashed again with several TFSA factions near Azaz. SDF reportedly launched an attack on the village of Judaydat, two kilometers (~1.24 miles) northwest of Azaz, the attack was repelled by rebel groups Liwa Asifat al-Shamal (Northern Storm Brigade), and Liwa Jund al-Sham (Soldiers of Levant Brigade), part of Jabhat al-Shamiyah (Levant Front). In clashes around Judaydat, rebels lost four fighters and SDF lost two.
Clashes between SDF and rebels also occurred west of Azaz, near the National Hospital, rebels reportedly killed two SDF's fighters and destroyed a vehicle. Sporadic clashes between the two factions in northern Aleppo happened around Tal Maled, Maarin, and Marea.
Group of rebel fighters formerly affiliated with Firqat al-Sultan Murad (Sultan Murad Divison), defected to Syrian Arab Army in Tadef, southeast of Al-Bab. Number of defected rebels varies between 15 and 65, depending on the source. Commander of the group, Abu al-Kheir al-Munbaji was seen in the company of Major General Suheil al-Hassan, commander of SAA's Tiger Forces.
Syrian Arab Army made sizeable gains against Islamic State in eastern Aleppo – western Raqqa areas, with today's wave of advances, SAA captured all of Maskanah plans and has reached SDF's lines west of Tabqa. Some localities captured by SAA today are: Ghazal, Al-Emiriat, Debsi al-Faraj, Al-Saeb and Debsi Afnan.
Situation in eastern Aleppo – western Raqqa. Source: loomis
Raqqa:
Syrian Democratic Forces continue to advance against Islamic State in Raqqa on several fronts. On the eastern front, SDF advanced 850 meters (~0.52 miles) in Al-Mashalab district and reportedly killed 16 IS' fighters, 70% of the district is now under SDF. North of Raqqa, SDF captured 17th Division military base and a sugar factory.
Northwest of Raqqa, SDF captured Al-Sakura and Mazraat Yarub from Islamic State.
Unknown aircraft targeted SDF positions around Abu Asi, west of Tabqa, Syrian Arab Air Force is the entity accused of committing this act. Besides airstrikes, the area was also shelled by artillery, part of the sources said it was IS, in an attempt to get SAA and SDF clashing, while the other part blamed SAA for shelling.
Situation around Raqqa. Source: Emmanuel
Idlib:
Popular radical preacher from Saudi Arabia and a high-ranking figure in Hayat Tahrir al-Sham, Abdullah al-Muhaysini, was wounded and his driver killed when his car was targeted at Faylaq al-Sham's checkpoint in Kafrumah, west of Maarat al-Numaan. Even though wounded, Al-Muhaysini reported that he was successful in resolving a dispute between Hayat Tahrir al-Sham and Faylaq al-Sham. However, heavy clashes erupted between Hayat Tahrir al-Sham and Faylaq al-Sham in Maarat al-Numaan.
Hayat Tahrir al-Sham attacked HQs in Maarat al-Numaan belonging to Faylaq al-Sham and Free Syrian Army's Al-Firqat 13 (13th Division). HTS reportedly captured several HQs in the city from the rival factions, at least five rebels were killed in clashes so far. Deputy commander of the Free Police in Idlib, Colonel Taysir al-Samahi was arrested and executed by HTS in Maarat al-Numaan. Residents of the city protested HTS' attacks on other rebel HQs, but HTS started to shoot at the protesters forcing them to disperse.
Unknown gunmen raided the house of HTS's commander Akram Turk in Maarat al-Numaan and stabbed his father.
Hayat Tahrir al-Sham reportedly destroyed an electricity tower in Atshan village, also cutting electricity to several other villages, reason for this act is because residents displayed anti-HTS sentiment.
Fursan al-Haq (Knights of Truth), part of Jaysh Idlib al-Hurr (Free Idlib Army) expressed their support for HTS' attacks against Faylaq al-Sham's HQs yesterday. This is rather interesting because there were reports about HTS and Jaysh Idlib al-Hurr clashing today in Maarat al-Numaan, meaning that Fursan al-Haqi might defect soon to HTS.
Homs:
Syrian Arab Army made advances northeast of Tell al-Fari, which was captured yesterday east of Al-Sawwanah area. SAA's advances in this area were mainly in desertous area, around 10 kilometers (~6.21 miles) was the scope of the advances. On another front, SAA captured Bir al-Abbasiyah and ancient Zannobia area.
Situation in east Hama and Homs governorates, HD version of this map can be found here. Source: Yusha Yuseef
Damascus:
After a dozen of failed attacks and consecutive clashes for eight days, SAA reportedly captured Hawsh al-Dawahirah from Jaysh al-Islam. Jaysh al-Islam claimed death of 16 SAA's soldiers and destruction of several military vehicles in Hawsh al-Dawahirah area.
East of Damascus, Syrian Arab Army captured Tal al-Mustada, Madajin, and Al-Dakhwa regions from Free Syrian Army factions. Some of the hills captured in the area are: Tal Umm Safia, Tal al-Nayas, Tal al-Halaq, Tal al-Untut, Tal Dukhan, Tal Mahfour, and Tal Masqaba.
CJTF-OIR once again targeted SAA & allies positions in Al-Tanf area, two SAA's technicals were destroyed. After the attack, Syrian drone reportedly targeted Coalition personnel and partnered forces, but was quickly shot down by US' warplane. Full CJTF-OIR's statement regarding today's events can be found here.
Free Syrian Army's Quwwat al-Shahid Ahmad al-Abdo and Jaysh Usud al-Sharqiya regained Al-Zuluf checkpoint from Syrian Arab Army & allies in border area between Damascus and Al-Suwayda governorates.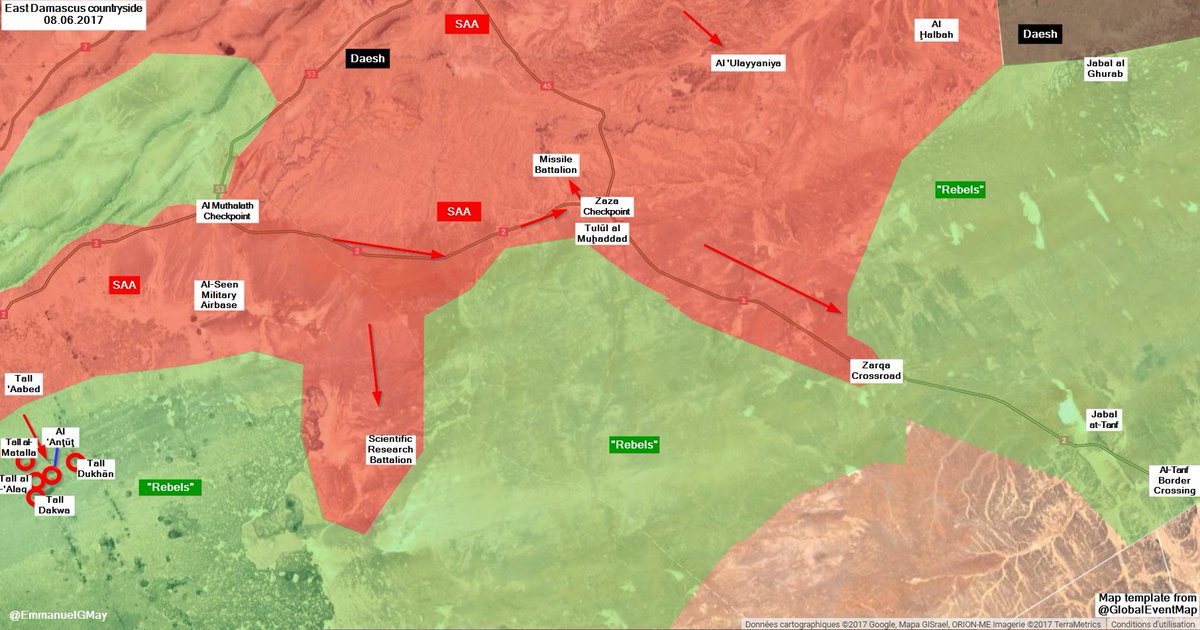 Situation in eastern Damascus. Source: Emmanuel
Iraq
Nineveh:
It was a quiet day in west Mosul with little events happening, Islamic State's sniper reportedly killed five Iraqi soldiers at the outskirts of Al-Zanjili.
Al-Hashd al-Shaabi (Popular Mobilization Units) captured Tell Safouk and the border crossing between Iraq and Syria. According to Amaq, IS destroyed a tank and damaged two bulldozers in Tell Safouk area.
Salah al-Deen:
Islamic State's senior female commander, nicknamed "Black Widow" was killed by an improvised explosive device on the road at the outskirts of Hawijah. Black Widow's husband was also an IS commander, he was killed about a year ago by an airstrike.
CJTF-OIR:
On the 7th of June 2017 CJTF-OIR has conducted 30 strikes in Syria. CJTF-OIR's main focus in Syria at the moment is Tabqa-Raqqa-Deir al-Zour region where they did 26 strikes supporting SDF's operations against IS destroying 14 fighting positions, eight vehicles, two IS staging areas, an IS excavator, an IS weapons cache, an IS training camp and a supply cache.
Other areas where four strikes occurred are Abu Kamal (Al-Bukamal) and Mayadin destroying two IS front-end loaders, two IS backhoes, two IS fuel storage trailers, an IS excavator and two vehicles. Full report on CJTF-OIR strikes conducted in both Syria & Iraq can be found here.
Intellectual credited property used may vary from an edition to edition.
Feel free to voice your opinion in the comments section below, constructive criticism is welcomed.
For those of you interested, you can follow us on an official Twitter account @SyrianWarDaily, or me personally on my biased twitter @joskobaric where I occasionally tweet some things.