Hello and welcome to the 115th installment of the SWD.
Military events/news are listed below by the governorates:
Aleppo:
Syrian Democratic Forces clashed with Ahrar al-Sham around Azaz, the latter claimed to have killed five former's fighters during the encounter. Clashes erupted when Syrian Democratic Forces reportedly tried to advance on rebel-held Jabal Birasaya, near Azaz.
Raqqa:
Syrian Democratic Forces are attacking the city of Raqqa from three directions, on the western side, SDF entered Al-Jazra district and is clashing with IS. From the north, SDF attacked the 17th Division military base and advanced towards Al-Andalus district. From the east, SDF made big advances in Al-Mashalab district and now controls half of it, IS allegedly lost 75 fighters during the battles in the district. Islamic State's Amaq Agency claimed death of seven SDF fighters in Al-Mashalab district.
West of Tabqa, SDF reportedly captured Abu Asi from Islamic State.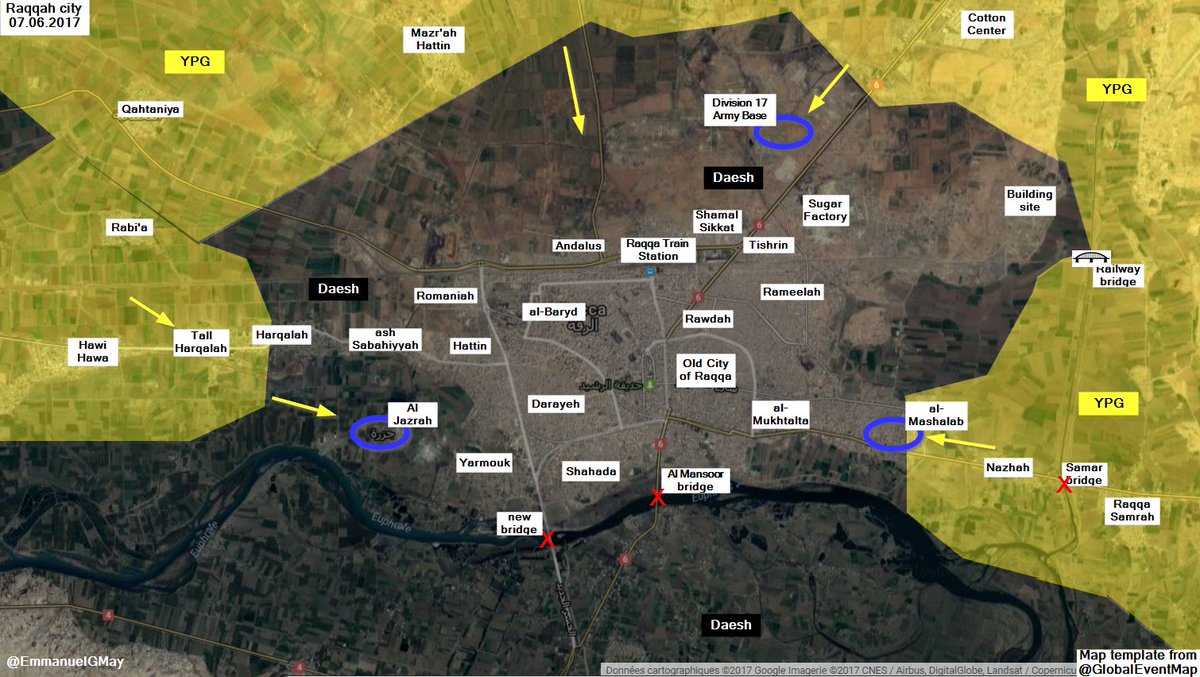 Situation around Raqqa. Source: Emmanuel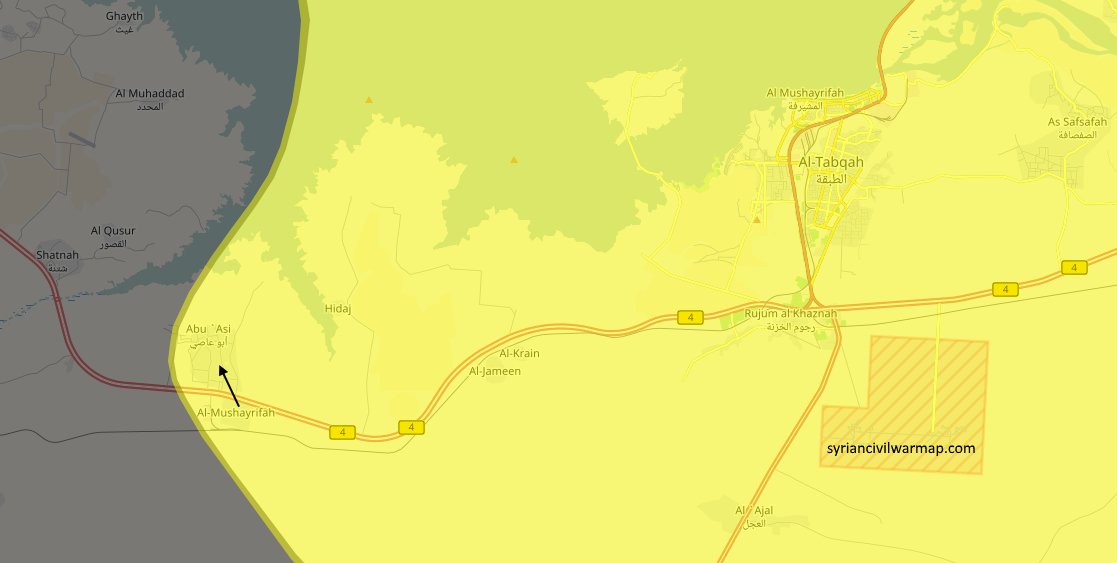 Situation west of Tabqa. Source: Syrian Civil War Map
Idlib:
Remaining civilians and fighters in Fuah and Kafraya are getting prepared for the next batch of evacuations, according to the reports, pro-government forces burned and destroyed some of their weapons.
Hayat Tahrir al-Sham raided and took over five Faylaq al-Sham's HQs in the villages of Madaya and Rakaya. Hayat Tahrir al-Sham also started erecting barriers in the southern Idlib and the northern Hama governorates, as well as arresting several Faylaq al-Sham's fighters in the region. It is possible that Faylaq al-Sham is the next Hayat Tahrir al-Sham's target.
Hama:
Syrian Arab Army repelled Islamic State's attack on the territory south of Aqarib, which was captured recently by SAA. IS' allegedly lost at least 25 fighters.
Homs:
Syrian Arab Army advanced on several front against Islamic State in eastern Homs governorate. On the Arak front, SAA captured Jabal Mustadira and several hills surrounding it. East of Al-Sawwanah area, Tell al-Farri was captured, while south of Palmyra, SAA secured Zannobia Resort and Al-Sukkari quarries.
Damascus:
Syrian Arab Army launched yet another attack towards Jaysh al-Islam-held Hawsh al-Dawahirah, the latter repelled the attack and reported destruction of two SAA's tank during the failed attack.
Hayat Tahrir al-Sham's explosive device left behind in Al-Ash'ari injured four civilians and killed a women.
Daraa:
Clashes and mutual shelling continue in Daraa and surrounding areas between Syrian Arab Army and various rebel factions, the former is also supported by Syrian and Russian warplanes.
Rebel "Daraa Martyrs Documentation Office" reported death of seven civilians in rebel-held areas of Daraa governorate due to SAA's shelling and airstrikes.
Iraq
Nineveh:
Iraqi forces are reportedly in control of most of Al-Zanjili district in west Mosul, sources are suggesting that 85-90% of the district is captured from Islamic State. Two IS' fighters surrendered to Iraqi forces in Mosul after Haider al-Abadi, Prime Minister of Iraq, issued a decree promising fair trial to IS' fighters which lay down their weapons and surrender.
Three Islamic State's inghimasi (suicide fighters) infiltrated Iraqi Army-held Al-Thawra district in west Mosul. In their attack, inghimasi allegedly killed 20 Iraqi troops and destroyed over a dozen of military vehicles.
Latest map of western Nineveh governorate. Source: Nineveh Media Center
Kirkuk:
Kurdistan Region political leaders agreed to hold an independence referendum on the 25th of September regarding the future of the Kurdistan Regional Government.
Iraqi Air Force targeted IS' Hawija pocket, strikes mainly concentrated on the city of Hawijah and the main IS' sharia court in it. The strikes reportedly killed more than 30 IS' fighters, including IS' commander Abu Baraa al-Muhajir.
Diyala:
Iraqi intelligence killed the second IS' member part of an IS' sleeper cell planning future attacks in Diyala governorate, the group planned to attack several Iraqi Army's checkpoints.
Islamic State's Amaq claimed at least 15 elements of Iraqi intelligence were killed by an IS' suicide bomber yesterday. The attack reportedly occurred in Al-Mueallimin neighborhood, Baqubah.
CJTF-OIR:
On the 6th of June 2017 CJTF-OIR has conducted 20 strikes in Syria. CJTF-OIR's main focus in Syria at the moment is Tabqa-Raqqa-Deir al-Zour region where they did 18 strikes supporting SDF's operations against IS destroying seven fighting positions, two IS bridges, two vehicles, an IS boat, and an IS communications tower.
Other area where two strikes occurred is Abu Kamal (Al-Bukamal) destroying three vehicles and a front-end loader. Full report on CJTF-OIR strikes conducted in both Syria & Iraq can be found here.
Intellectual credited property used may vary from an edition to edition.
Feel free to voice your opinion in the comments section below, constructive criticism is welcomed.
For those of you interested, you can follow us on an official Twitter account @SyrianWarDaily, or me personally on my biased twitter @joskobaric where I occasionally tweet some things.