Hello and welcome to the 113th installment of the SWD.
Military events/news are listed below by the governorates:
Aleppo:
Another wave of Syrian Arab Army's advances took place south of Maskanah. SAA captured Rasm Falah, Al-Jawim, and Mushirfa Kabira. The village of Al-Jawim is administratively part of Raqqa governorate, meaning that SAA now has, even though limited, presence in the governorate.
According to Amaq's statement, IS' destroyed SAA's tank with an anti-tank guided missile in the village of Muftahih, south of Maskanah.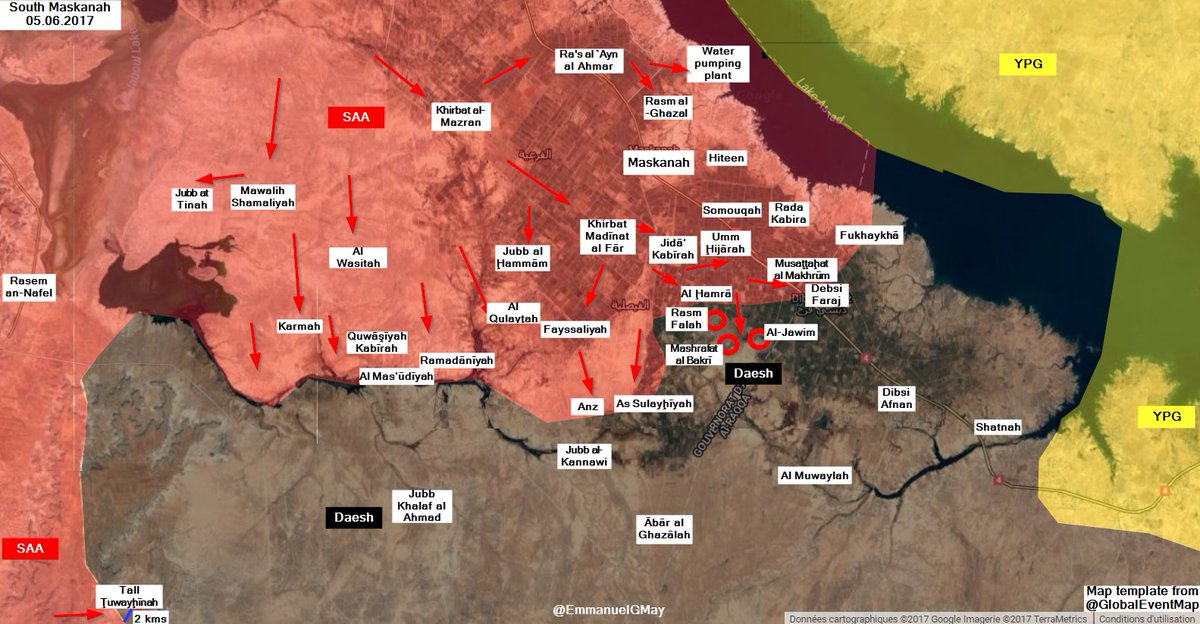 Situation around Maskanah. Source: Emmanuel
Raqqa:
Syrian Democratic Forces cleaned half of the IS' pocket created yesterday northwest of Raqqa. SDF captured Rabia, Al-Adnaniyah, Al-Sakoura, and Bir al-Hashim, while the clashes with IS are still ongoing in Hawi Hawi, Yaarub, and Abu Sous. In the battles for the pocket, IS reportedly lost 36 fighters.
Situation around Raqqa. Source: Syrian Civil War Map
Al-Hasakah:
Amaq Agency claimed IS' improvised explosive device destroyed a vehicle carrying SDF fighters yesterday. The incident occurred in the village of Al-Azawi, south of Al-Shaddadi.
Idlib:
As the tensions continue to rise between Hayat Tahrir al-Sham's and Ahrar al-Sham's camps, assassination attempts of rival military figures are rapidly increasing. Faylaq al-Sham's commander of Idlib sector, captain Yousef al-Daghim, was wounded by an explosion which targeted his vehicle in Maarat al-Numaan. Two Ahrar al-Sham's commanders survived two separate assassination attempts in Saraqib and Maarat al-Numaan.
Hama:
Syrian Arab Army launched an offensive against Islamic State in Hama governorate, east of Al-Salamiyah. SAA advanced around Aqarib and captured eight checkpoints, on the second axis, south of Sheikh Hilal village, SAA captured Rasm al-Tinah. SAA lost a tank as it advanced southeast of Sheikh Hilal, the tank was destroyed by an anti-tank guided missile. Amaq's statement reported death of three SAA's soldiers due to clashes with IS in the village of Umm al-Balaya, east of Al-Salamiyah.
Islamic State launched another attack on SAA's position in Wadi al-Adhib area, the attack caused the closure of Al-Salamiyah – Ithriya road. SAA eventually repelled the attack and subsequently reopened the road. IS' attack included shelling of Ithriya as well as destruction of two SAA's "rocket launchers".
Homs:
Faylaq al-Sham's commander, Omar Kanju, was wounded by an improvised explosive device which targeted the group's HQ in Al-Ghantu, Northern Homs rebel pocket.
Syrian Arab Army backed by allies captured several localities around Al-Ulainiyah, localities captured today are located in the vast uninhabited area. These advances occurred south of Palmyra and the captured localities include Tarat al-Alab, Sharat Duhlawn and Bir Dawlah.
Islamic State destroyed a BMP and damaged a tank belonging to SAA during the encounter between the two parties north of Palmyra silos.
Situation in eastern Homs governorate. Source: loomis
Deir al-Zour:
Situation is still a bit unclear in Deir al-Zour, pro-government sources reported that Islamic State, after all did capture the driving school. The same sources continue to dispute Islamic State's capture of Panorama roundabout, which means that the area should be considered as contested with clashes still ongoing.
Damascus:
Syrian Arab Army reportedly launched at least eight attacks against Jaysh al-Islam-held Hawsh al-Dawahirah. Jaysh al-Islam repelled all of today's attacks.
Syrian Arab Air Force's MiG-23 crashed in desertous Al-Dakwa area, east of Damascus. Free Syrian Army group, Jaysh Usud al-Sharqiya claimed to have downed the MiG-23 and found pilot of the warplane dead. It is unclear at the moment if rebels actually downed the warplane or if it crashed due to technical failure.
Technical failure seems like a more likely explanation, since Syrian MiG-23 warplanes are quite outdated and used very frequently with little maintenance. Even though the rebels in the southeastern desertous Syrian territory are military backed by the Western powers, their main role is to fight against Islamic State, which means that the delivery of advanced anti-air weapons isn't in the equation because IS' doesn't have an air force.
Daraa:
According to several sources, Syrian Arab Army launched an attack on Daraa camp and captured some areas inside of it.
Rebel "Daraa Martyrs Documentation Office" reported death of two Free Syrian Army's fighters in clashes with SAA, confirmed rebel death toll is now 13 fighters. The same office reported death of nine civilians due to the recent Syrian and Russian airstrikes across Darra governorate. One more civilian was killed by SAA' s shelling on the city of Daraa.
Islamic State's affiliate, Jaysh Khalid ibn al-Walid claimed death of 13 rebel fighters and injury of another 14 as the two clashed at the outskirts of Jallin.
Iraq
Nineveh:
Islamic State is being accused of using chemical agent chlorine against the Iraqi forces and potentially civilians in Al-Zanjili and Al-Saha districts, west Mosul.
Clashes between Iraqi forces and IS in west Mosul resulted in the destruction of three bulldozers and a Humvee belonging to the former in Al-Zanjili district. Another statement from Amaq claimed IS' sniper killed four Iraqi soldiers, including an officer in Al-Zanjili district and Bab Jadid neighborhood, Old Mosul.
Al-Hashd al-Shaabi (Popular Mobilization Units) continued to secure areas around Baaj from Islamic State by capturing Toman, Hamd al-Madlol, Aliya, Baar Asabey, Tala al-Markab, Sharji al-Rawi and Rekba al-Faras
Latest map of west Mosul. Source: Nineveh Media Center
Salah al-Deen:
Islamic State's improvised explosive device reportedly destroyed a vehicle carrying Peshmerga soldiers near the Zarka bridge, west of Tuz Khurmatu. The other IS' act in the governorate includes IS' sniper killing two Al-Hashd al-Shaabi's fighters in the villages of Al-Kahf and Al-Khanouka, around Al-Shirqat.
Diyala:
Islamic State's suicide bomber detonated himself at a checkpoint in Balad Ruz. Casualties were reported from the explosion, but their number is unknown for now.
CJTF-OIR:
On the 4th of June 2017 CJTF-OIR has conducted 20 strikes in Syria. CJTF-OIR's main focus in Syria at the moment is Tabqa-Raqqa-Deir al-Zour region where they did 17 strikes supporting SDF's operations against IS destroying 90 IS oil barrels, 10 IS oil refinery stills, 10 vehicles, four IS oil separation tanks, three IS well heads, and four fighting positions.
Other areas where three strikes occurred are Abu Kamal (Al-Bukamal) and Al-Tanf destroying an IS well head, an IS oil manifold, two tactical vehicles and two IS vehicles. Full report on CJTF-OIR strikes conducted in both Syria & Iraq can be found here.
Intellectual credited property used may vary from an edition to edition.
Feel free to voice your opinion in the comments section below, constructive criticism is welcomed.
For those of you interested, you can follow us on an official Twitter account @SyrianWarDaily, or me personally on my biased twitter @joskobaric where I occasionally tweet some things.