Hello and welcome to the 112th installment of the SWD.
Military events/news are listed below by the governorates:
Aleppo:
Syrian Arab Army advanced against Islamic State south of Maskanah and captured a couple of localities. Some of the localities captured by SAA today include Khirbet al-Anz, Al-Makhzoum, Aziziyah, Al-Qaramtah, Al-Haj Saliha, and Al-Sadisat.
Situation in eastern Aleppo governorate (darker red = recently captured), HD version of this map can be found here.
Raqqa:
Syrian Democratic Forces captured and secured Baath dam and its surroundings from Islamic State. On the front west of Raqqa, SDF captured Al-Qahtaniyah and Al-Khatuniyah villages as well as encircled Adnanieh, Bir Hashim, Yarub, Rabia, Skoura and Abu Sous.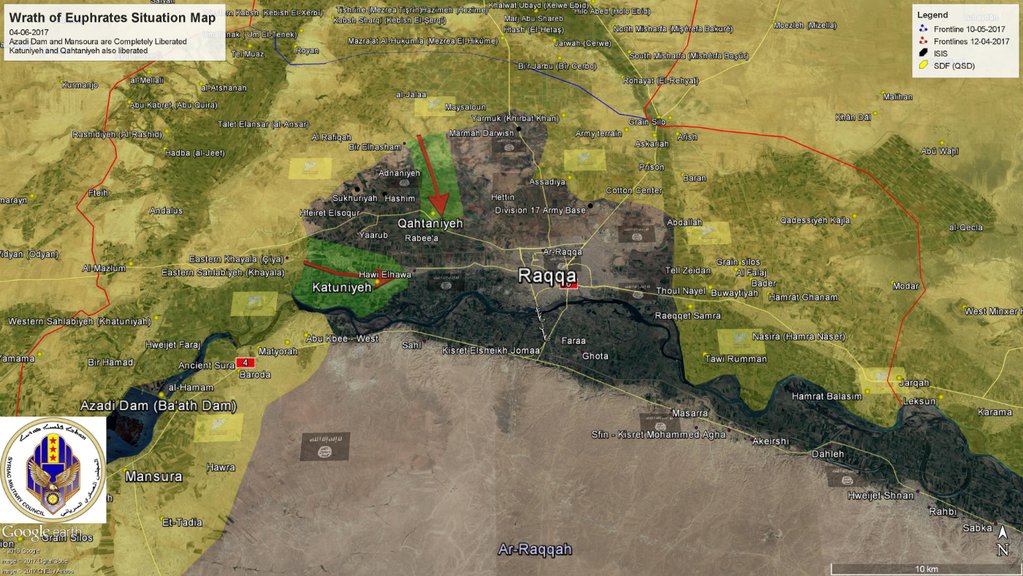 Situation around Raqqa. Source: Syriac Military Council MFS
Idlib:
Turkish Red Crescent announced the plan to build 1000 residential units in Idlib governorate for the civilians evacuated from Aleppo.
Hayat Tahrir al-Sham's sharia judge, Lili Hassan al-Lili (Abu Tarab) was assassinated by unknown gunmen in Salqin.
Improvised explosive device exploded on the road between Saraqib and Maarat al-Numaan in Khan al-Sabil, according to the reports, explosion took place in a vehicle carrying Faylaq al-Sham's fighters and killed at least six of them.
Deir al-Zour:
Islamic State reportedly captured Panorama roundabout and driving school from Syrian Arab Army in the southern part of the western SAA pocket. IS' advances were denied by several pro-government sources which continue to claim that heavy clashes are still ongoing against IS.
Daraa:
Sporadic clashes continue in Al-Manashiyah between SAA and rebels, but most of the reports from Daraa were focused on SAA's shelling and heavy air raids by Syrian and Russian warplanes. Casualties from the recent SAA and rebel fighting in Daraa are allegedly 26 killed rebels and 19 pro-government fighters, out of which 10 Hezbollah fighters.
Rebel "Daraa Martyrs Documentation Office" reported death of one Ahrar al-Sham's fighter due to clashes with SAA, bringing the confirmed rebel death toll to 11 fighters.
Iraq
Nineveh:
Islamic State launched another wave of attacks in west Mosul against Iraqi forces in an attempt to slow down offensive and buy more time for IS' fighters in Old Mosul to build even more defenses. IS' attack at the outskirts of Al-Zanjili district reportedly destroyed five Humvees and two bulldozers. The attack in Ras al-Jadah neighborhood, Old Mosul district, killed six and wounded a dozen of Iraqi Federal Police members, according to Amaq's statement.
Clashes between Iraqi forces and Islamic State in west Mosul reportedly killed 10 Iraqi soldiers in Al-Zanjili, Al-Saha and Bab al-Toub. Furthermore, Islamic State claimed to have downed two Iraqi reconnaissance aircrafts/drones in Bab al-Toub neighborhood, Old Mosul district.
Al-Hashd al-Shaabi (Popular Mobilization Units) made huge advances against Islamic State in western Nineveh governorate, the main capture of the day is the IS' stronghold of Baaj. After capturing Baaj, Iraqi forces started securing the surrounding area by capturing over a dozen of localities, some of which are Al-Sahreej, Siha Sakar, Al-Jabriya, Tal Hatem, Al-Keraan, Maghsal Ali, Asdira Shamaliya, Abu Khadhab, Farkho, Tal al-Kari, Al-Ajoz, Tal al-Nofali, and Umm Hajara.
Islamic State launched an attack on Tel Zalat, destroying two vehicles, killing five, and injuring nine Al-Hashd al-Shaabi's fighters, according to Amaq's statement.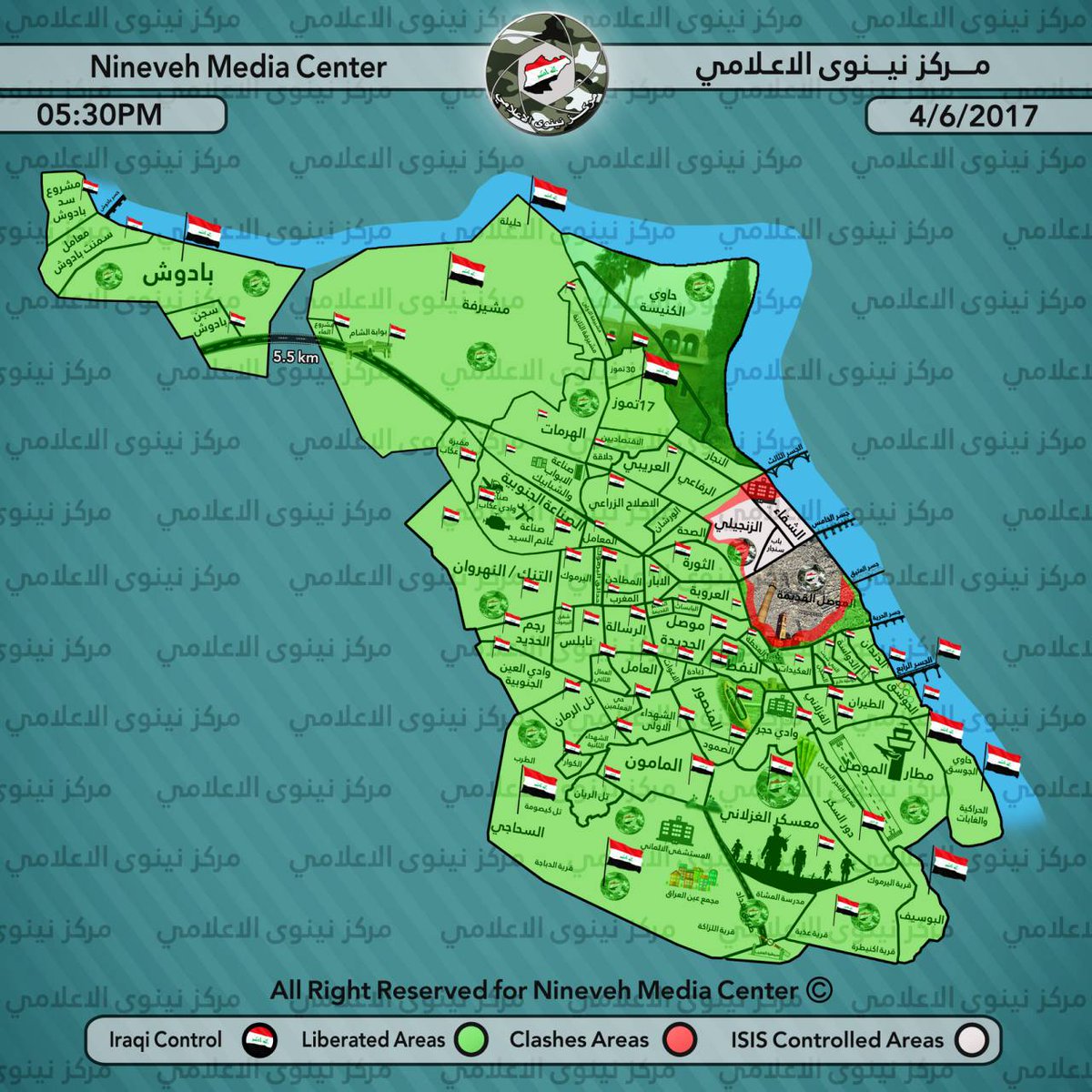 Latest map of west Mosul. Source: Nineveh Military Council
Situation around Baaj. Source: Harakat Tahrir Tal Afar
Kirkuk:
Governor of Kirkuk governorate, Najmaldin Karim, held a press conference where he accused Munazzama Badr (Badr Organization) of carrying out killings, kidnappings, and assassinations in the governorate. Munazzama Badr (Badr Organization), part of Al-Hashd al-Shaabi, denied these accusations and demanded the list of the alleged assassinated and kidnapped Turkmens.
Diyala:
Islamic State is increasing its activity in Diyala governorate as the Amaq Agency claimed two group's attacks in the governorate. IS' fighters reportedly detonated a building killing an officer and three members of Iraqi intelligence in Ajbil village, Al-Waqf area, northeast of Baqubah. The other IS' attack happened in Al-Nada area, Mandali district, east of Diyala, where IS' improvised explosive device destroyed Iraqi Army's Humvee.
CJTF-OIR:
On the 3rd of June 2017 CJTF-OIR has conducted 23 strikes in Syria. CJTF-OIR's main focus in Syria at the moment is Tabqa-Raqqa-Deir al-Zour region where they did 19 strikes supporting SDF's operations against IS destroying three ISIS well heads, 17 fighting positions, four vehicles, and an IS excavator; and suppressing an IS tactical unit.
Other areas where four strikes occurred are Abu Kamal (Al-Bukamal) and Palmyra destroying two IS well heads and two IS pump jacks. Full report on CJTF-OIR strikes conducted in both Syria & Iraq can be found here.
Intellectual credited property used may vary from an edition to edition.
Feel free to voice your opinion in the comments section below, constructive criticism is welcomed.
For those of you interested, you can follow us on an official Twitter account @SyrianWarDaily, or me personally on my biased twitter @joskobaric where I occasionally tweet some things.