Hello and welcome to the 111th installment of the SWD.
Military events/news are listed below by the governorates:
Aleppo:
Syrian Arab Army captured Somouqah, Maskanah Water Pump Plant, Hiteen, Radah, and the last major Islamic State's stronghold in Aleppo governorate, Maskanah.
On the Khanaser front, SAA captured northeastern and central parts of the Jabal Tuwayhinah mountain range from Islamic State. According to Amaq's statement, IS' fighters organized themselves on Khanaser front and repelled SAA's attack on Al-Hamam village. During the failed SAA's attack, IS reportedly killed 18 soldiers and wounded another 10.
Situation in eastern Aleppo governorate, HD version of this map can be found here.
Raqqa:
Syrian Democratic Forces captured Al-Mansourah, southwest of Baath dam from Islamic State. Clashes were very intense in Al-Mansourah during which SDF destroyed one SVBIED and seized a VBIED, weapons, ammo, and at least five tanks.
Clashes are still ongoing in Hunaydah west of Al-Mansourah between SDF and IS, several sources reported Hunaydah as captured by SDF, but the capture should be treated as unconfirmed for now.
Islamic State's fighters tried to attack SDF-held Abu Qabab village, SDF repelled the attack and reportedly killed three IS' fighters.
Amaq Agency claimed assassination of three SDF's fighters in the village of Jadidat Qahit, east of Raqqa yesterday.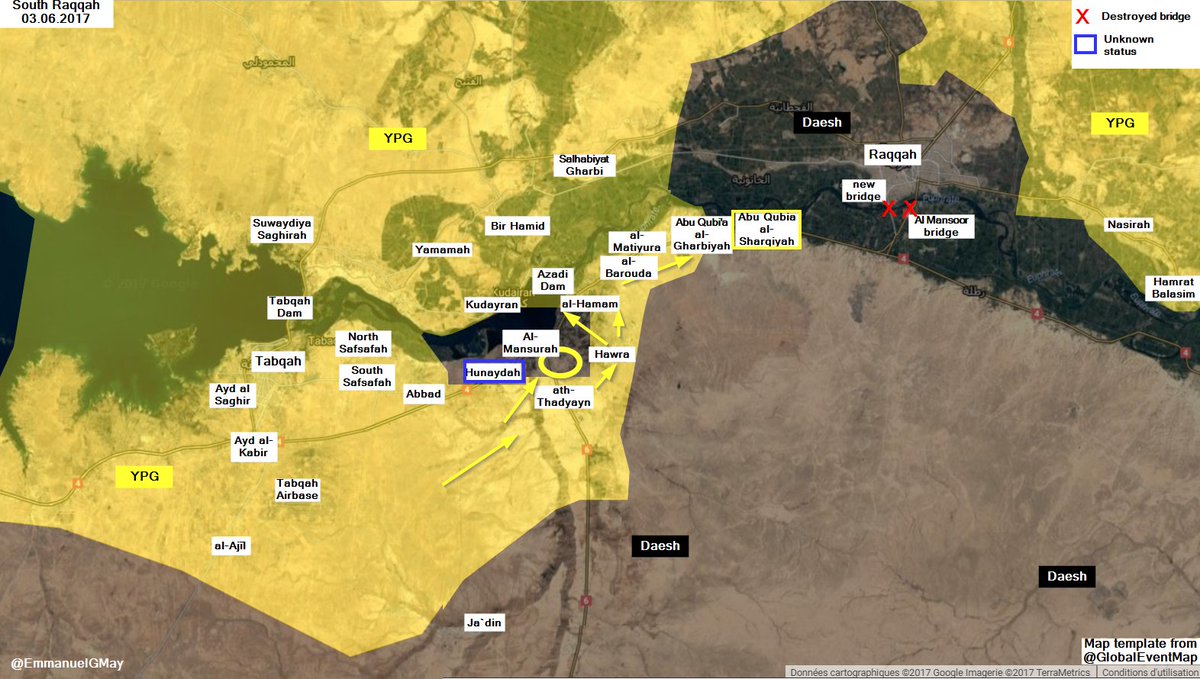 Situation west of Raqqa. Source: Emmanuel
Idlib:
Tensions continue to rise between Hayat Tahrir al-Sham and Ahrar al-Sham in Idlib governorate, the latter arrested one of the former's fighters in Kafr Nabl, which resulted in HTS encircling the court in charge of the aforementioned locality.
Improvise explosive device exploded near the Sharia Court in Al-Dana, no casualties were reported from the explosion.
Homs:
Katibat al-Shahid Muhammad Asad Badr, which is led by Abu Omar al-Omar and operates in Saraqib, defected from Hayat Tahrir al-Sham and joined Ahrar al-Sham. Ahrar al-Sham's statement regarding the defection can be found here.
Damascus:
Heavy clashes are still ongoing in Al-Ash'ari, as the Hayat Tahrir al-Sham backed by Faylaq al-Rahman is trying to advance in the area against Jaysh al-Islam.
Arbin Court, in Arbin, suspended their activities due to Faylaq al-Rahman's attack on the "Directorate of the Arbin area" and its elements. Court's statement can be found here.
Daraa:
Clashes erupted between rebels and SAA in the northern part of Al-Manashiyah and in Al-Sijnah districts, rebels reportedly destroyed SAA's HQ in Al-Sijnah district with an Omar Missile. Furthermore, rebels also reportedly destroyed SAA's tank in Al-Sinjah and killed a number of SAA's fighters in Al-Manashiyah.
Rebel "Daraa Martyrs Documentation Office" reported 10 rebel casualties from clashes with SAA in Al-Manashiyah district. Out of those 10 killed fighters, six belonged to various Free Syrian Army factions while the remaining four were a part of Hayat Tahrir al-Sham.
Unconfirmed reports from pro-rebel sources suggest that IRGC-backed Afghan milita, Liwa al-Fatemiyoun withdrew from the Al-Manashiyah district. The reasons for the withdrawal are supposed high casualty numbers and disagreement with other pro-government groups.
Firqa Fajr al-Islam led by Muhammad Salami joined Jaysh al-Thawra, part of the Free Syrian Army's Southern front, statement by Jaysh al-Thawra can be found here.
IS-affiliate Jaysh Khalid ibn al-Walid allegedly damaged rebels' tank with an improvised explosive device at the outskirts of Adwan. Another statement from the group claimed eight dead rebel fighters from clashes also around Adwan.
Iraq
Nineveh:
Iraqi forces killed 120 Islamic State's fighters during the battles for Al-Saha district, west Mosul. In Al-Zanjili district, Iraqi forces freed more than 700 civilians used as human shields by Islamic State.
Islamic State's snipers, the deadliest weapon still available at Islamic State's disposal in west Mosul reportedly killed over a dozen of Iraqi soldiers. Three Iraqi soldiers were killed in Al-Saha, four in Al-Zanjili and six in Bab al-Toub and Bab Jadid.
Al-Hashd al-Shaabi (Popular Mobilization Units) captured two localities today from Islamic State, Tall Safuk village west of Baaj near the border between Syria and Iraq. The other captured locality is Al-Risala, southeast of Baaj.
Situation around Baaj. Source: Harakat Tahrir Tal Afar
Salah al-Deen:
Amaq Agency claimed destruction of a vehicle carrying Al-Hashd al-Shaabi fighters yesterday, the incident occurred in Al-Eith area, northeast of Tikrit.
Anbar:
Three Islamic State's inghimasi (suicide fighters) stormed the HQ of Al-Hashd al-Shaabi in Al-Halabisa village, west of Baghdad. According to Amaq's statement, IS' inghimasi entered the HQ and then detonated themselves.
CJTF-OIR:
On the 2nd of June 2017 CJTF-OIR has conducted 17 strikes in Syria. CJTF-OIR's main focus in Syria at the moment is Tabqa-Raqqa-Deir al-Zour region where they did 15 strikes supporting SDF's operations against IS destroying 25 IS oil barrels, four IS oil stills, four IS well heads, two IS oil trucks, 12 vehicles, five fighting positions, four tactical vehicles, two VBIEDs, and an ammunition cache.
Other area where two strikes occurred is Abu Kamal (Al-Bukamal) destroying nine IS oil tanks and seven IS oil stills. Full report on CJTF-OIR strikes conducted in both Syria & Iraq can be found here.
Intellectual credited property used may vary from an edition to edition.
Feel free to voice your opinion in the comments section below, constructive criticism is welcomed.
For those of you interested, you can follow us on an official Twitter account @SyrianWarDaily, or me personally on my biased twitter @joskobaric where I occasionally tweet some things.