Hello and welcome to the 110th installment of the SWD. For those of you interested, a new Facebook page for Syrian War Daily is now up and running, you can find it here.
Military events/news are listed below by the governorates:
Aleppo:
Syrian Arab Army made sizeable advances against Islamic State in eastern Aleppo around Maskanah. Today's advances resulted in Maskanah being practically besieged, as the last big road coming from IS territory is now under SAA's control. Some of the villages captured today by SAA may have been reported as captured in the past, but the troops only entered them today. Some localities reported as captured today are; Faysaliya, Umm al-Man, Umm Hajara, Quwasiyah, Khirbat al-Fakha, Al-Balisiyah, Al-Sharida, Rasm al-Ghazal, Al-Mawaniyah, Al-Hamra and Jubb al-Hammam
Liwa Maghawir al-Islam, which got expelled from Faylaq al-Sham recently, has joined Hayat Tahrir al-Sham. The group is based in northern Aleppo which means that HTS now has a foothold in the region, but the question is, for how much since most of the groups based in northern Aleppo have shown anti-HTS behavior. HTS' statement regarding the Liwa Maghawir al-Islam joining them can be found here.
Situation around Maskanah. Source: Global Event Map
Raqqa:
According to several pro-government sources, Syrian Democratic Forces allegedly made a deal with Islamic State regarding the latter's departure from Al-Mansoura, southwest of Baath dam. Pro-SDF sources indirectly denied rumors about IS retreating from Al-Mansoura by saying that the SDF entered the town and that clashes are ongoing between the two.
Hama:
Syrian Arab Army renewed their attack on IS-held village of Al-Barghoutiya in east Hama, SAA targeted IS' HQ in the village and reportedly killed 15 IS' fighters.
Deir al-Zour:
Islamic State launched an attack against Syrian Arab Army's positions west of Deir al-Zour.
Damascus:
New batch of rebels and civilians will leave Barzeh neighborhood towards Idlib, more than 500 people who originally accepted reconciliation and settled their cases chose evacuation to Idlib. Around 150 rebels from Barzeh who refused evacuation to Idlib, settled their cases today.
Hayat Tahrir al-Sham backed by Faylaq al-Rahman attacked Jaysh al-Islam in Al-Ash'ari, usage of heavy weapons and civilian casualties were reported. Jaysh al-Islam has been accused of burning civilians' crops in Al-Ash'ari area.
Former Jaysh al-Islam's spokesman, Islam Alloush, released a personal statement saying that he left the group. Alloush also stopped using his nom de guerre and started using his name, Majdi Mustafa Nameh.
Iraq
Nineveh:
Iraq Joint Operations officially announced the 1st part of Al-Saha district, west Mosul as completely liberated by the Iraqi forces from Islamic State. In the same district, Islamic State claimed destruction of three Humvees and death of five Iraqi soldiers. Furthermore, a Humvee and three bulldozers were damaged by IS in the district.
Clashes between Iraqi forces and Islamic State in Al-Zanjili district reportedly resulted in destruction of the former's bulldozer, the latter also claimed an SVBIED targeted gathering of Iraqi Federal Police members at the outskirts of the district.
Islamic State's snipers allegedly killed seven Iraqi soldiers in Ras al-Jadah neighborhood and other parts of the Old Mosul district.
Northwest of Baaj, near the border between Iraq and Syria, Al-Hashd al-Shaabi (Popular Mobilization Units) captured the village of Jayar Ghalfas from Islamic State.
New anti-IS group arose in Nineveh governorate with a main goal of targeting families of IS fighters, the group is known as Thura Hamam al-Alil. The group has so far reportedly killed six men, three children and eight women. Members of Thura Hamam al-Alil mainly use grenades against their victims. Info transmitted by Mosul Eye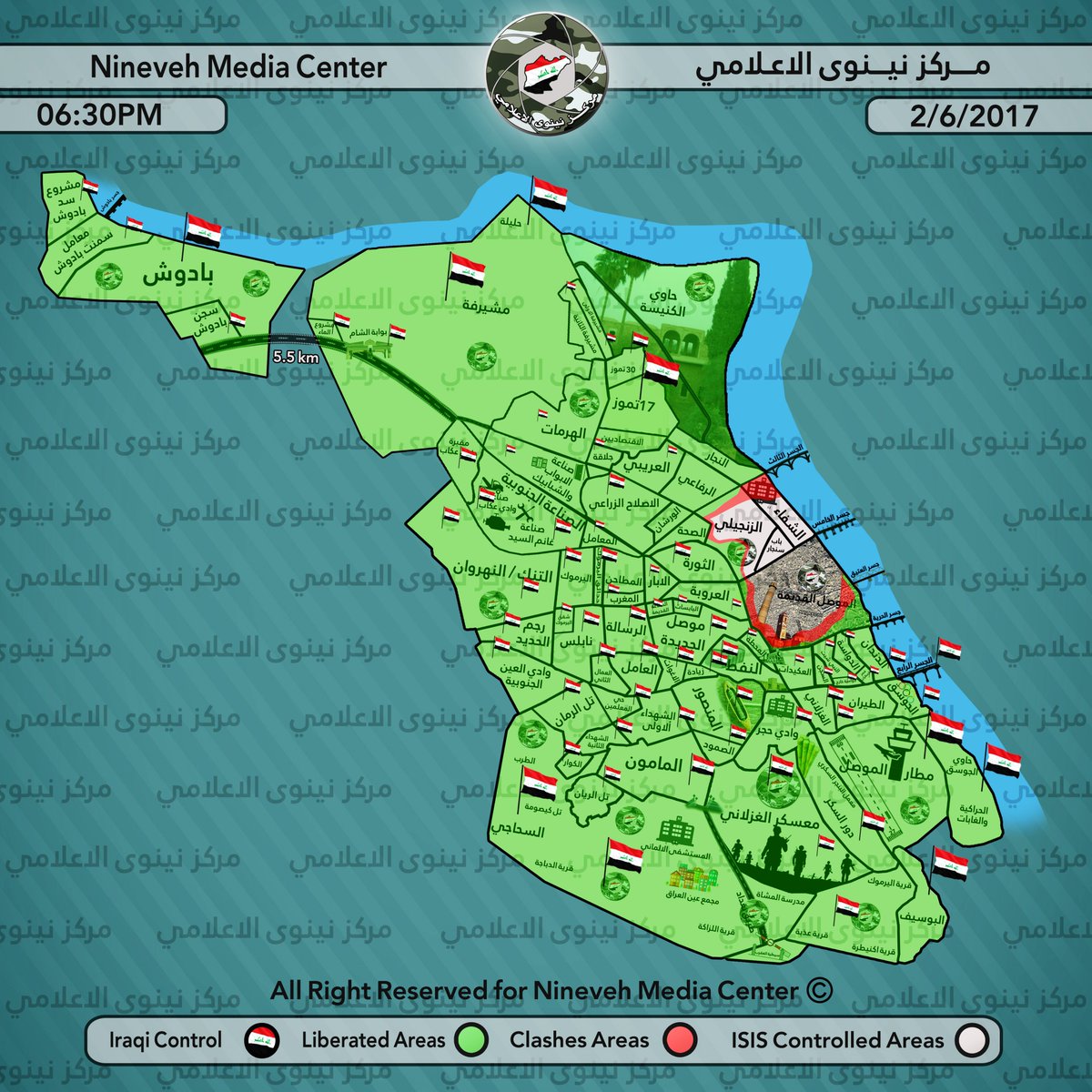 Latest map of west Mosul. Source: Nineveh Military Council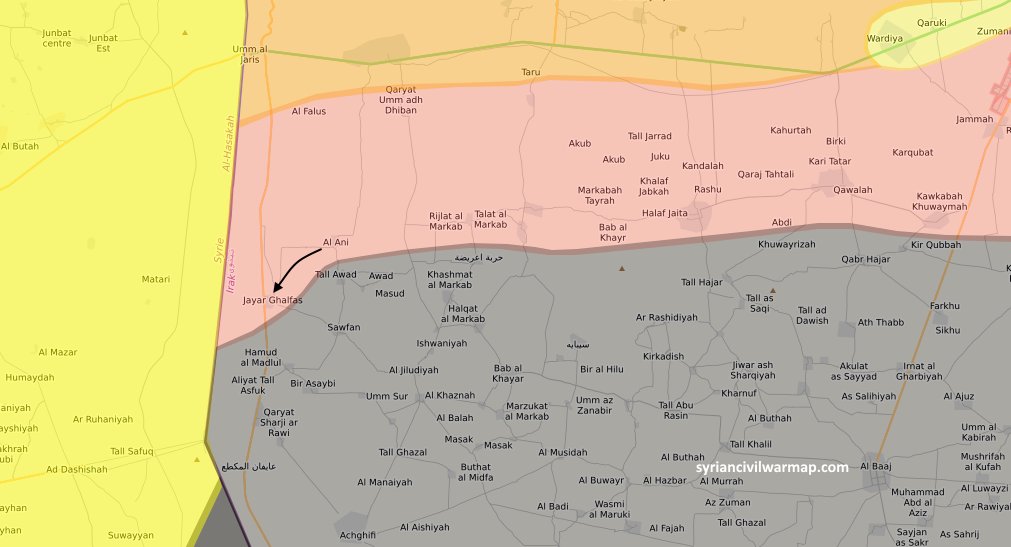 Situation west of Baaj, in the border area between Iraq and Syria. Source: Syrian Civil War Map
Salah al-Deen:
Islamic State detonated an improvised explosive device near Al-Tarmiyah yesterday, the explosion reportedly destroyed a vehicle, killed a member of Iraqi Federal Police, and wounded another policeman.
Baghdad:
According to Amaq Agency's statement, Islamic State's improvised explosive device destroyed a vehicle and killed four Al-Hashd al-Shaabi's fighters in Al-Aulwani area near Al-Ishqati, north of Baghdad
CJTF-OIR:
On the 1st of June 2017 CJTF-OIR has conducted 19 strikes in Syria. CJTF-OIR's main focus in Syria at the moment is Tabqa-Raqqa-Deir al-Zour region where they did 15 strikes supporting SDF's operations against IS destroying six IS well heads, five IS oil trucks, five vehicles, three fighting positions, a front end loader and an IS crane.
Other areas where four strikes occurred are Abu Kamal (Al-Bukamal) and Mayadin destroying nine IS oil stills, four vehicles, an IS oil storage tank and an IS oil truck. Full report on CJTF-OIR strikes conducted in both Syria & Iraq can be found here.
Intellectual credited property used may vary from an edition to edition.
Feel free to voice your opinion in the comments section below, constructive criticism is welcomed.
For those of you interested, you can follow us on an official Twitter account @SyrianWarDaily, or me personally on my biased twitter @joskobaric where I occasionally tweet some things.